Liquid raw chocolate –

Come sooth my sweet tooth
Sugar pie honey bunch, you know that I love you. I can´t help myself I WANT you and nobody else… du du dududuuu. Hrm, all right. What I meant to say was that there are a few things that I could eat every day and this chocolate milkshake deluxe definitely makes it to the top of my list (yes, you guessed it, the rest of my list ALSO consists of a lot of raw chocolate).
I would love to say that this summer is wild and crazy and that the sun heats up our Swedish world wonderfully, but I would be telling a lie. However there is nothing coming between me and my annual Strawberry picking, not even the 5 á day rainfalls. Never. Growing up we always went off the whole family to pick strawberries and then stocked our freezer with plainly mixed strawberries that lasted the entire year. This time around it was only me and my sister that went loco in the fields and the berries ended up as dessert at Fabians 25th B-day party by the beach. Of course there were plenty of raw chocolate sauce as well. I´m telling ya, not much can beat that liquid choco love that quite frankly gives me quite a high. In a good way.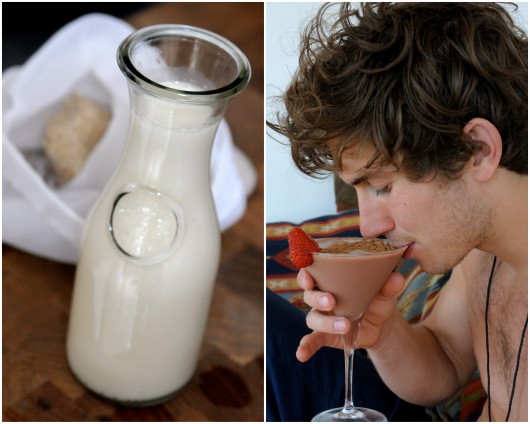 Fun & Fabulous Facts
I know you have all had the chocolate milkshake in many many different shapes and forms. This one is adapted for summer and therefore has a sweet touch of strawberries. Why I don´t keep it plain and simple with only chocolate? Well partly because I always use that which is in season (Strawberries) and partly because this would not be a recipe á la Earthsprout if it was not filled to it´s very limits with nutrition.
 When I CRAVE something sweet I am a huge fan of berries. See, berries are smart little dudes who does not contain as much sugars as other fruits such as bananas (now I know that there are bananas in this recipe as well but let´s stick to the berries in this section, ok?). To keep that precious blood sugar under control it is wise to opt for berries instead of a ton of fruits if you are having trouble controlling cravings or if you are kicking some chronic diseases ass. Keeping berries in the freezer can save any afternoon.
The Strawberry in particular contains more Vitamin C then it´s berry friends and it´s bright red color tells us that it is loaded with lycopene. Studies show that lycopene is one of the most powerful antioxidants and it is considered to be a potent prevention of some types of cancer, prostate cancer mostly. Lycopene is also a type of carotenoid which protects and strengthens our skin tremendously. So the combination of lycopene and Vitamin C gives us a very powerful boost and protection during summer when we are out and about in the sun (well, those of you who are not in Sweden).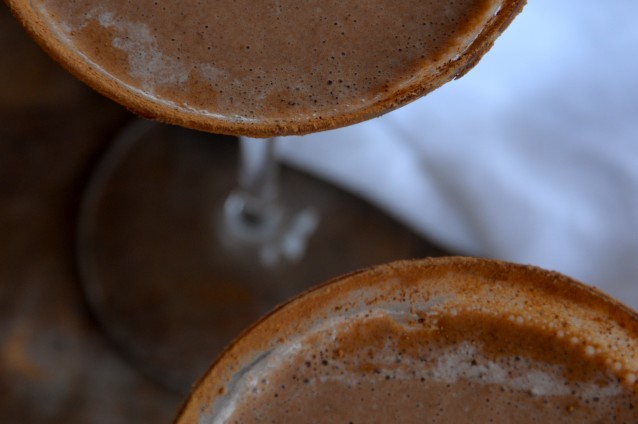 Raw Chocolate Milkshake Deluxe
What is better during summer then to indulge in a milkshake that will without doubt let you keep your childish enthusiasm towards life tres intact. You can get this one ready within seconds since you are very clever and keep peeled and sliced bananas in the freezer at all times (yes?). Go get choco shakin!
Two cocktail glasses of milkshake
3/4 cup bananas, frozen and sliced
2 cup almond milk (or other veggie milk)
A handful of Strawberries
2 tbsp Lucuma powder (a sweet south american superfood, optional)
3 tbsp Raisins
4 tbsl Raw cacao
a pinch of pure vanilla
1. Prepare all ingredients, put in a blender and blend away.
2. Add more cacao/sweetener if you wish.
Arrange Press a slice of lime around the edge of each glass, then dip the glass onto a plate dusted with raw cacao. This makes the milkshake way more interesting flavor-wise (and more beautiful).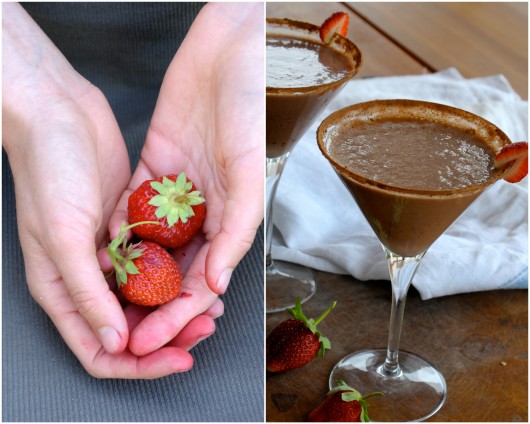 I can still see some red spots on my hands from picking the berries and as they fade I get to long for blueberries and blackberries that comes next.
Until then I would love to know how you use them beautifying berries? (Cuz, you know they are beautifying, eh?). Tell me all about your super clever berry snacks and or stories. Let us in on your secrets, ever made a berry face mask and frightened your entire family or maybe on Wednesday afternoons you simply cannot be without frozen cranberries dipped in honey? You tell me in the comments below!
And why don´t you come along to Twitter and Facebook. I would love to get to know you more, baby.
Sources:
Staying Healthy With Nutrition, Elson M.Haas, MD, Celestial arts 2006
Supermat, Helena Nyblom, Albert Bonniers 2007