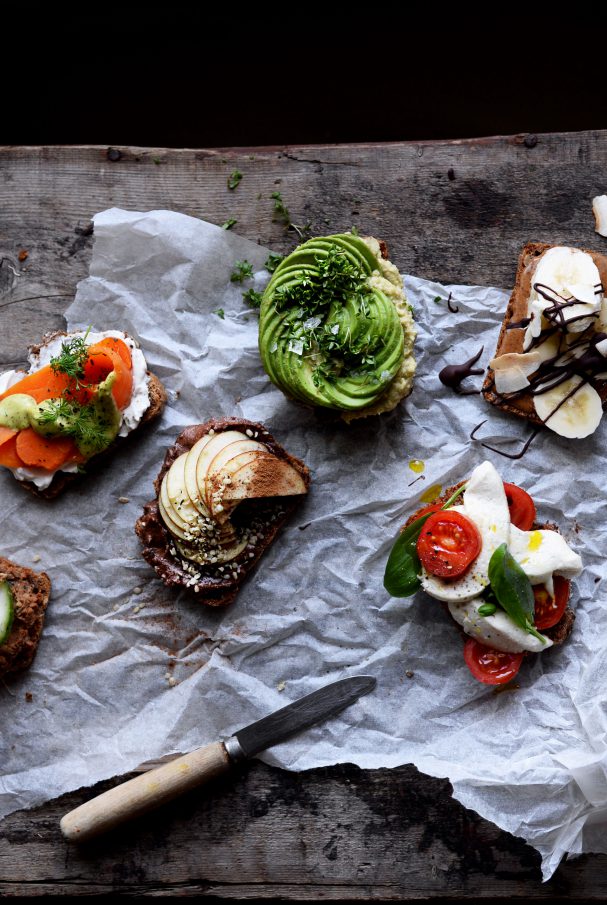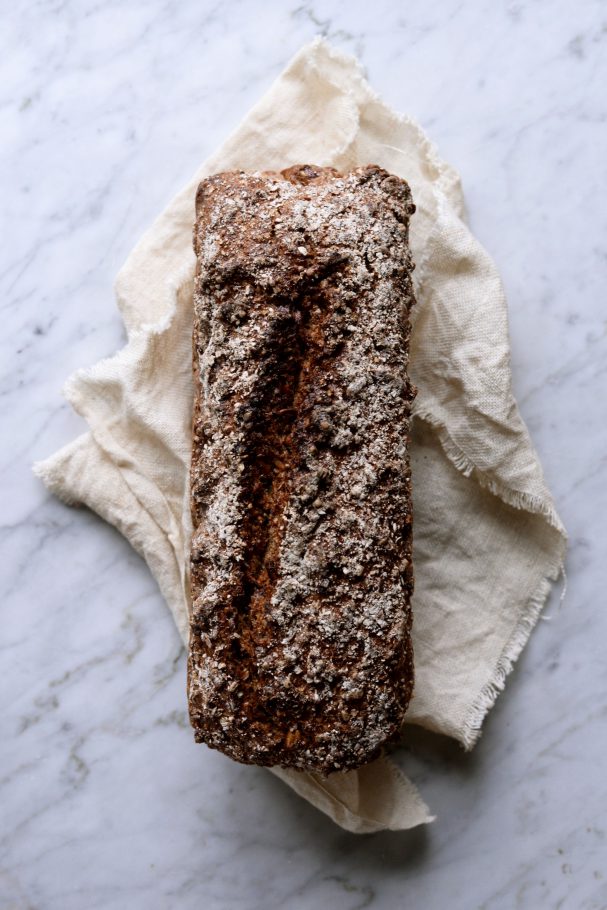 Hi guys! I'm alive! (waiving wildly) and I'm FINALLY here with THE Rye Sourdough Bread. That only took what, 4 years or so? I'm so psyched to bake this together with YOU! Soo..
There is no doubt this Greenylicious path I'm on has it's roots in a myriad of intricate and clever mysteries, as do all of our strange and genius paths. However, I do know that my fierce interest in hanging out in the kitchen began when holding a bubbly little jar of weird-smelling gunk. A sourdough starter.
I took that jar all over. Traveling, working, baking, kneading, tweaking, learning and reading SO MANY SOURDOUGH BLOGS (seriously, the explosion of sourdough bread was wild, do you guys remember?). 8 years later, I still have that same culture of bacteria. It has survived years of neglect here and there, and it still ensures that the dreamy smell of freshly baked bread doesn't only happen in my daydreams and fave bakery.
Few things beats it. Opening up the oven, letting the hot loaf cool down and slicing up that first piece. Y'all feeling it? This recipe below gets a million bonus points for the super low maintenance process that only requires a kitchen scale and a spoon. Yup, you heard me. No kneading and no heavy-as-hell machine, just barely 5 (times two) minutes of your time. The process is super flexible too. You can get it done in 24 hours OR totally forget about the starter dough and pick up the baking some 6-12 hours later. It will be slightly more sour but totally amazing.
This recipe has been my go-to for years and it's the optimal base for fun topping experiments. Now you, get some of that wierd-smelling gunk (aka a sourdough starter aka new best friend) and get baking. THE Rye Sourdough Bread awaits.
..It's hard work but someone has got to keep the #avocadotoast hashtag alive. We can do it, amiright?! 
PS. Friends, I know that making sourdough bread can feel like a somewhat daunting project to take on, but get this: THE Rye Sourdough Bread is crazy low maintenance. Honestly, it's a bit ridiculous how easy it is considering the dreamy outcome. I've collected some frequently asked questions I often get around baking this bread and answered them for you below. So if you have a burning question, chances are you can find my answer to it last in this post 
PPS. The toppings in the pictures (all vegan!) are exclusive recipes from one of my past events. Interested in coming to a Greenylicious events? Subscribe to the newsletter and be the first one to know about dates for 2017!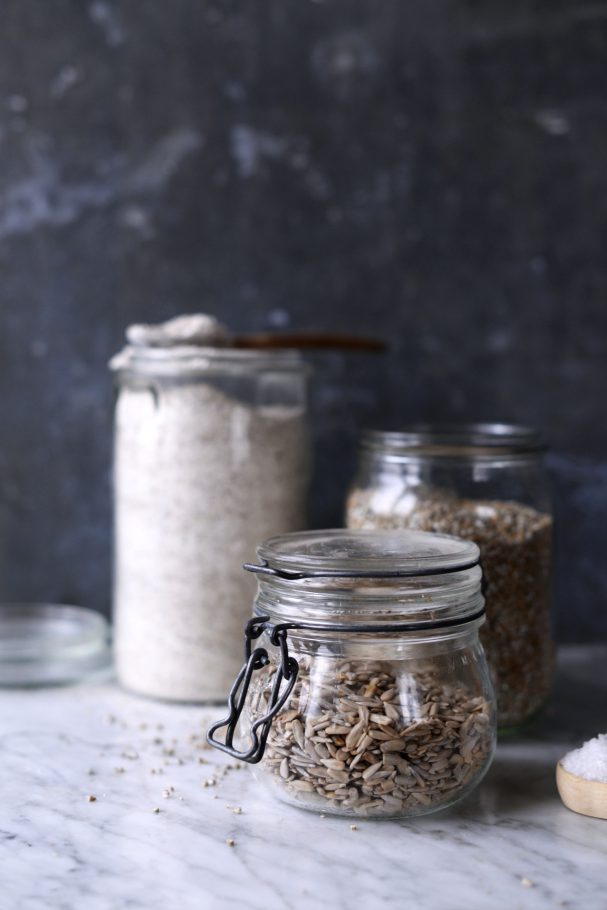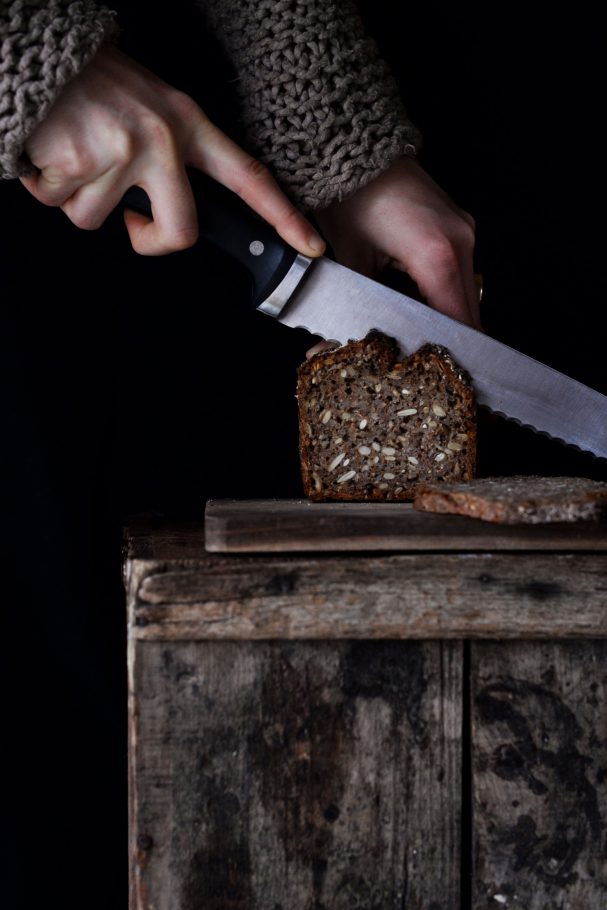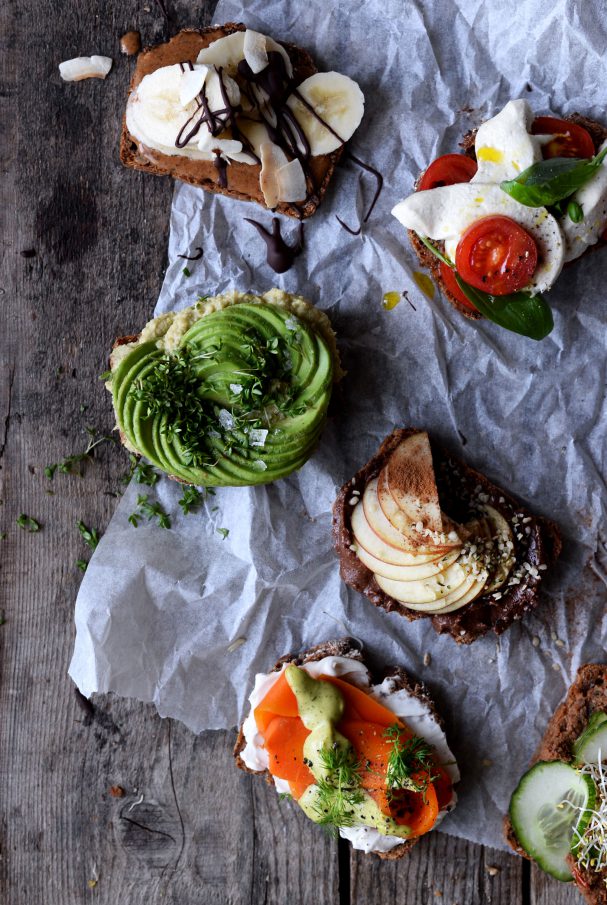 Fun & Fabulous Facts
– Why Sourdough is (really damn) Sensational
There are many reasons as to why this loaf taste like utter bread perfection AND is seriously good for you. Why? One; The organic steel-cut rye, stoneground whole rye flour and whole sunflower seeds which is basically all this bread is made of. The other reason is:
The Sourdough process. This is the original way to bake bread, in which you use the naturally occurring bacteria in the air, water and pretty much anything and everything to ferment a mixture of flour and water. This bubbly mixture is your sourdough starter which you keep refrigerated. When you want to bake bread, a small amount of the sourdough starter is added to fresh flour and water and the powerful bacteria in the starter will 'eat' all this new food, spreading through the whole dough, fermenting it in some 6-24 hours depending on what you are making. There are a thousand different ways to approach this process but the basic step is this. Add sourdough to fresh flour & water, let ferment, bake.
So.. Is sourdough bread healthier? In short. Yes. Why? Well let's make one thing clear first. We are now talking about REAL sourdough bread. A slow fermented mixture of basically only flour and water. No additives/sugar/yeast or anything along those lines at all. We are NOT talking about the supermarket versions where sourdough powder is added to regular quick yeasted bread for the extra tangy flavor. When whole grains, ground grains (flour) and water is fermented using sourdough starter many amazing things happen like…
Absorbing Nutrients
The phytic acid in the grains get neutralized during the fermentation process which (just as when you soak nuts/seeds/grains for eating) makes the bread more easily digested and nutrients more bioavailable. Also, since the phytic acid is gone it will not bind to and strip your body of important minerals. If you feast on a what looks like a really healthy whole grain bread made with quick yeast, the phytic acid is still present in the grain. This means that you will not get the benefit of the nutrients locked up inside those grains and digesting all that phytic acid will in fact bind to + rob you of some of the minerals in your body. Boo! Sourdough bread for the win!
Blood Sugar
Another cool thing about naturally fermenting bread is that it ends up lower on the glycemic index scale. Eating a slice of an all-wheat sourdough bread doesn't cause as much of a rise in blood sugar / as high of an insulin response than an all-wheat, quick yeasted bread. Since, from a health perspective, we aim to keep blood sugar and insulin levels as calm and close to normal as possible this is really good news. It seems that the fermentation process alters the starch in the grain and our bodies end up digesting it slower than we would yeasted bread and that is what's making this difference. Stabile blood sugar, happy, centered us!
The Transformation of Gluten
Even though most sourdough bread is made of gluten grains, it is less irritable for the gut than regular yeasted bread due to a number of different reasons. Sourdough Lactobacilli (the strain of bacteria in sourdough) can modify the bits of gliadin and glutenin protein that are toxic to some people and even lessen the total amount of gluten in the end product. The beneficial bacteria from the fermentation also helps (which studies suggest can actually survive the heating process and actually give the bread probiotic properties). Some people who are coeliac or sensitive to gluten might be able to enjoy some (real) sourdough bread without health issues. This is more likely if the bread is made of rye, which has less gluten in itself than wheat has. Meaning: THE Rye Sourdough Bread below is super friendly!
Health Conscious AND Eating Bread..?
Today, many either never eat bread or they eat bread and feel crazy bad about it afterwards (been there). I think looking at bread in a new light is the way to go. Think of it as a source of great pleasure, experimentation, an array of nutrients and even history. In my mind it's not a great idea to ban certain food groups (in this case carbs) that are essential to our wellbeing so why not instead go for the high quality stuff that actually are good for us? Like slow fermented, organic, stone ground flour based sourdough bread. It may sound fancy and sure, artisinal sourdough bread at a bakery is pricy compared to the white packaged fluff ("bread") in supermarkets but with this recipe at hand, your wallet can take a chill pill. Making this at home is not pricy. Plus, the whole process is beyond gratifying and you WILL want to high-five yourself (and you should) after taking that first bite. I'm not saying 'base all your meals on bread' but I am saying 'go enjoy the truly good stuff AND feel great about it'.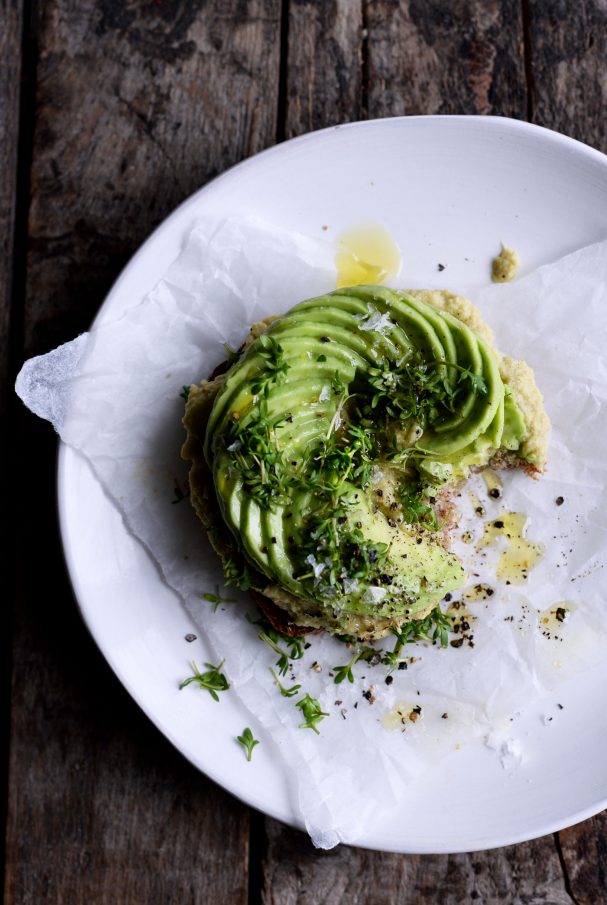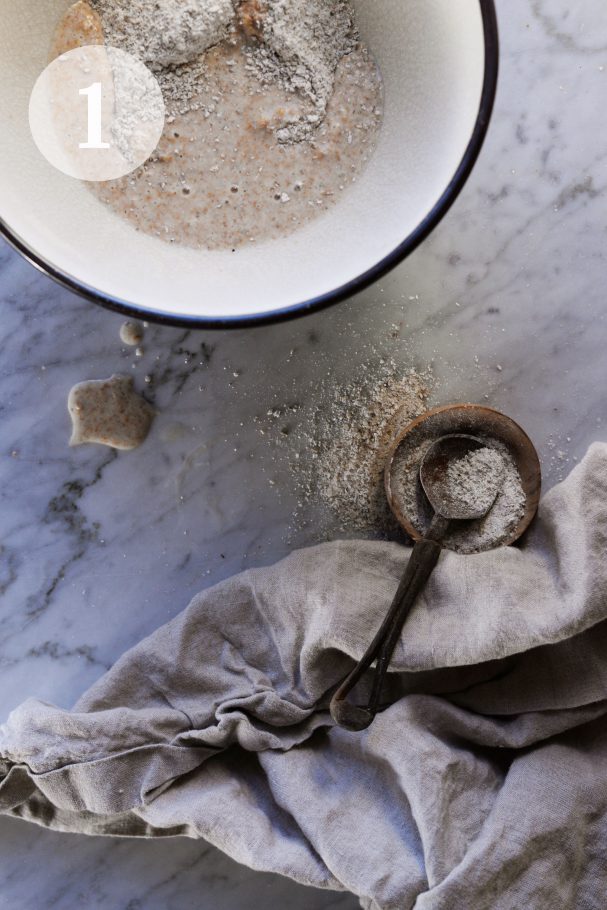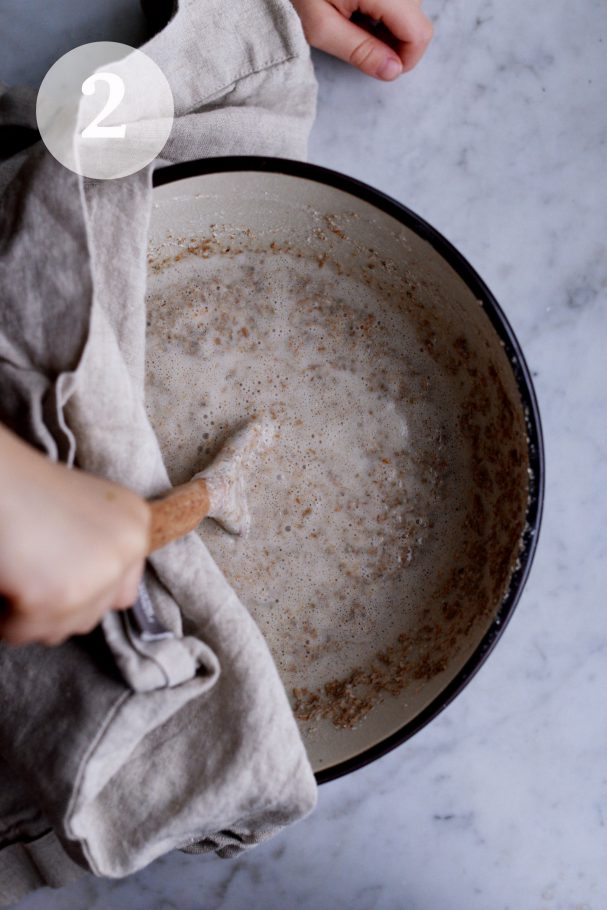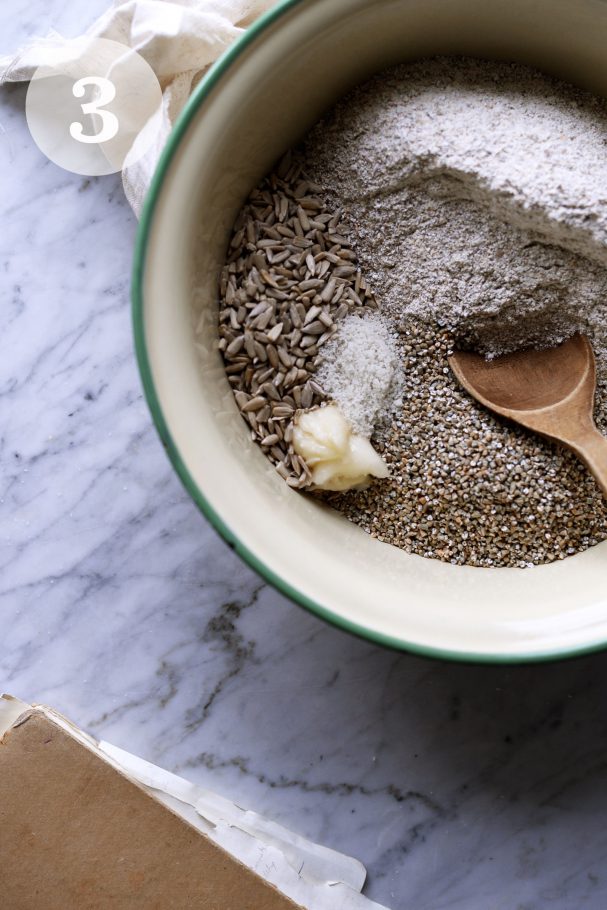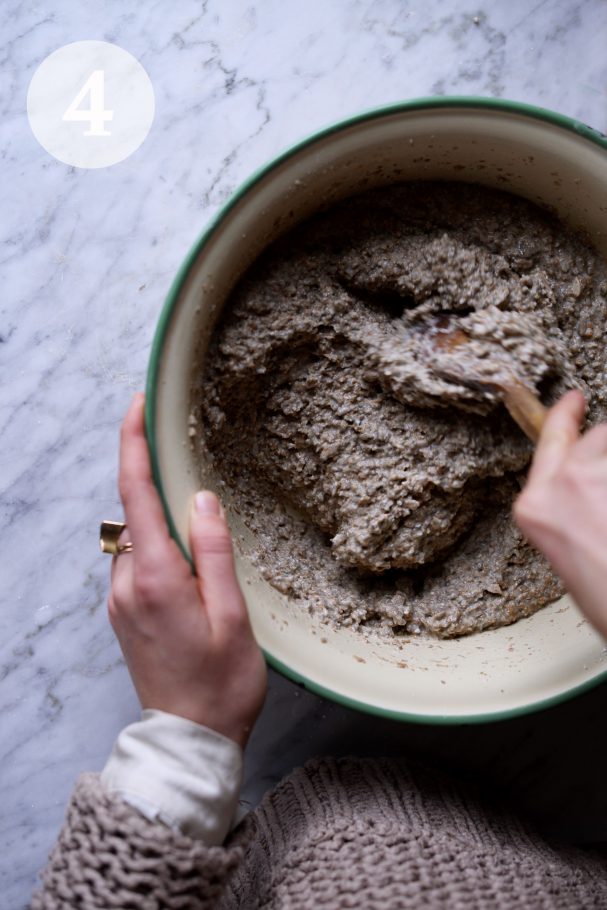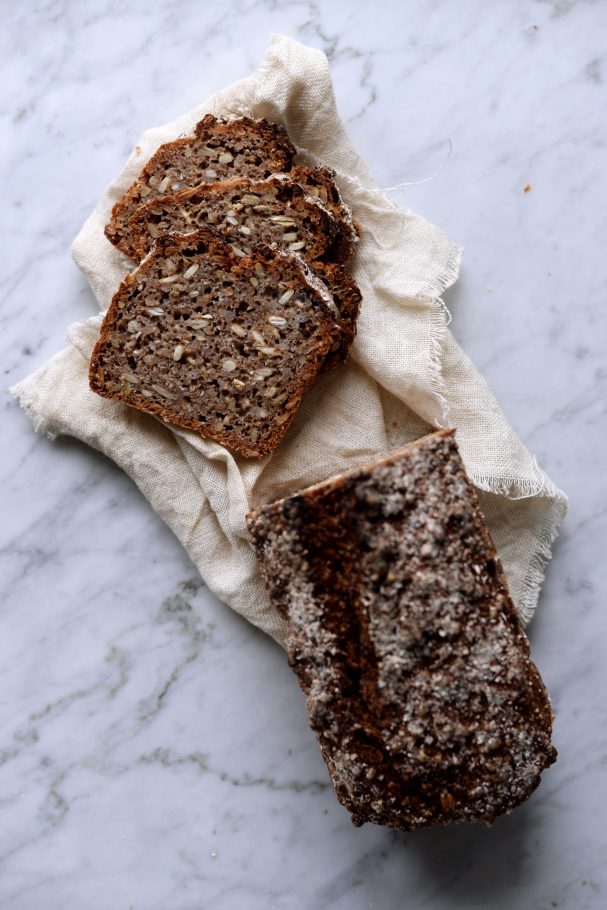 THE Rye Sourdough Bread
[Read entire recipe before beginning the baking process]. This is THE Rye Sourdough for your fun toast creations! I am not an experienced baker but still this recipe never fails. There's no weird caramel coloring/ lots of sweetener (very common in whole grain rye loaves), it's naturally leavened with only sourdough (no yeast) and it's super good for you. You'll end up with two loaves. I usually cut up one of the loaves and store air-tight in the freezer. When you're out of the fresh bread, fetch a slice from the freezer and toast. A bonus with sourdough bread is that it stays fresh for a long time and it freezes well too. Store the fresh loaf in either a paper bag, a bio bag or in bee's wrap for 6 days. You need 4 tbsp of sourdough starter to make this bread. Either ferment your own from scratch, get some from a friend or ask at a bakery. Some supermarkets sell packaged sourdough starter. If you're using that, add two extra tbsp of starter. Use organic ingredients for the best result and find stoneground whole rye flour if you can. It makes all the difference in texture, taste and nutrition.
Special tools you need: A kitchen scale, 2 loaf pans
Makes two loaves
Starter Dough
4 tbsp sourdough starter (mine is based on rye but if you have one based on wheat, use it)
1 1/3 cup water
1 1/4 cup wholegrain rye flour (preferably stoneground)
Add all ingredients to a bowl, mix well, cover with clean tea towel and let sit in room temperature away from windows for 8-24 hours (I start the process either in the evening and let ferment overnight OR in the morning and let ferment until evening). If you let it ferment beyond 8 hours, I recommend putting it in the fridge. It's not necessary but you will get a slightly more sour end-result if you leave it in room temperature. Up to you!
Main Dough
The Starter, 430-460 g (recipe above)
250 g wholegrain rye flour (preferably stoneground)
400 g steel-cut rye 
300 g sunflower seeds
600 g water
2 tsp high quality salt
1 1/2 tsp honey/maple syrup/rice syrup (boosts fermentation and balances flavor)
Add all ingredients to a large mixing bowl (not plastic) and mix well with a wooden spoon or the like. Cover with a tea towel and let sit in an undisturbed place for 12-24 hours. I usually do this overnight.

Get two loaf pans, either silicone pans or regular ones laced with baking paper. I have gotten away with lightly oiling the loaf pans when I was out of baking paper but it's kind of taking a chance since the dough might stick. Divide the dough into the two pans, cover and let sit for 15-60 minutes. Even 5 minutes is fine but the longer you let them sit (tops 1 hour though) the more they'll rise once in the oven. This step is purely for aesthetics. 

Preheat the oven to 260°C / 500°F. Put one baking sheet in the middle of the oven and one baking sheet at the very bottom of the oven. 

Just before adding the pans to the oven, make a shallow cut with a sharp knife along the top of each loaf and sprinkle with some extra rye flour. Also prepare a glass with 3/4 cup really cold water. 

Add baking pans to the middle of the oven and quickly empty the glass of water onto the baking sheet at the bottom of the oven. After 10 minutes, open the oven door slightly and keep it opened until the temperature goes down to 175°C / 350°F. Close oven door and bake for 50 minutes. The bread should sound hollow if you remove it from the pan and tap it's bottom. If not, bake for an additional 10 minutes without the pan.  

Remove bread from pans and put on a cooling rack. Wait at least 45 minutes before cutting

. Enjoy with toppings of choice!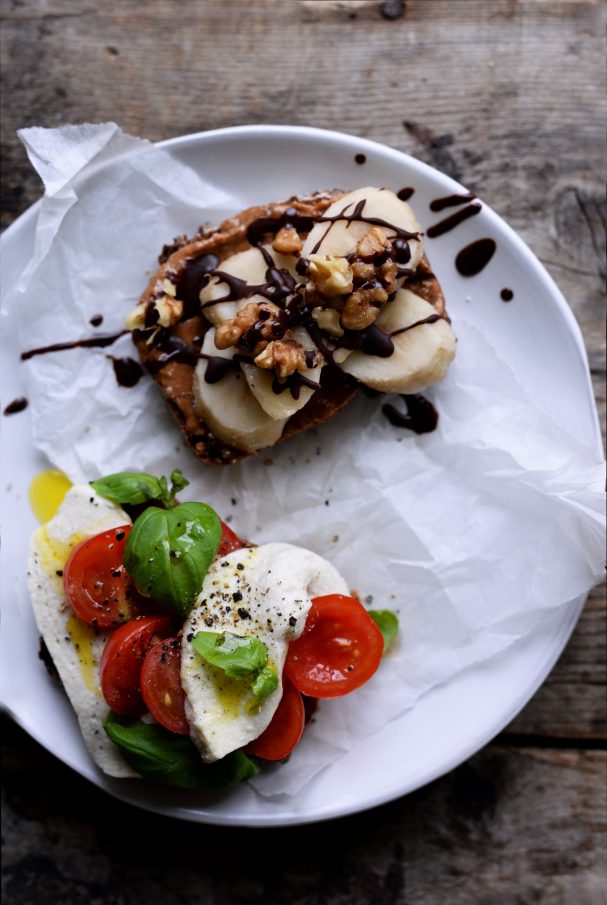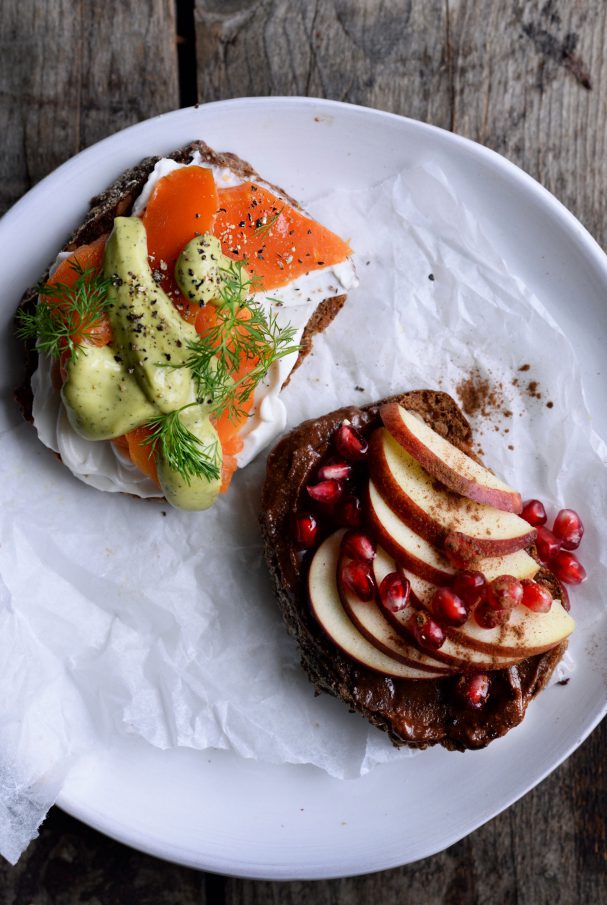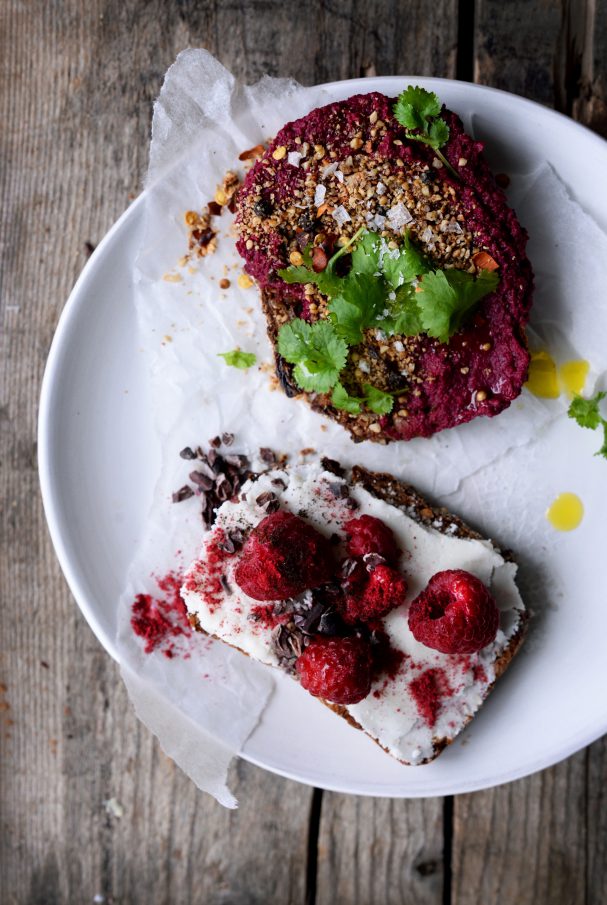 Q&A
How do I get a sourdough starter?
You can make one on your own, using only water and flour (the naturally occurring lactobacillus in the air will start the fermentation process). It takes about a week and can be done in your kitchen. A quicker way is either getting a couple of tablespoons from someone who already has a starter, asking for some at a sourdough bakery or buying a starter at a well-stocked supermarket. 
Can I make this bread even if I'm a total baking novice?
Yes you can! All you need are the ingredients, a bowl, a kitchen scale, a spoon, two loaf pans and two times 5 minutes during the process of 24 hours. Oh, and an oven. That last thing comes in really handy.
Can I eat this bread if I'm sensitive to gluten?
Many people can tolerate some rye even though they are sensitive to gluten (myself included). The fact that it's a solely sourdough based bread (no yeast) also makes it more easily digested and not as harsh on the gut/intestines.
Can I eat this bread if I'm coeliac?
There is gluten in rye (less than in wheat) but still, some with coeliac disease have found that they can enjoy some real sourdough bread without a reaction. It's unusual but can happen. Go slow and be gentle.
Can I make a gluten free sourdough bread?
Sure you can! Google it and find a way/ingredients that suit you.
Why are the measurements in grams and not in cups?
1 cup of a certain kind of flour can actually weigh more or less than another kind. Not to mention, even cup measurements vary in size. When getting into sourdough baking it's a good idea to use a kitchen scale to get as precise as possible.
Any other questions? Add a comment below and I'll get back to you asap. My hopes are that you'll all get to slice into a loaf of THE Rye Sourdough Bread so I'm here for you guys, every step of the way! /Elenore
Oh! and join the hashtag action on Instagram! #THEryesourdoughbread because It's an epic #avocadotoast community!