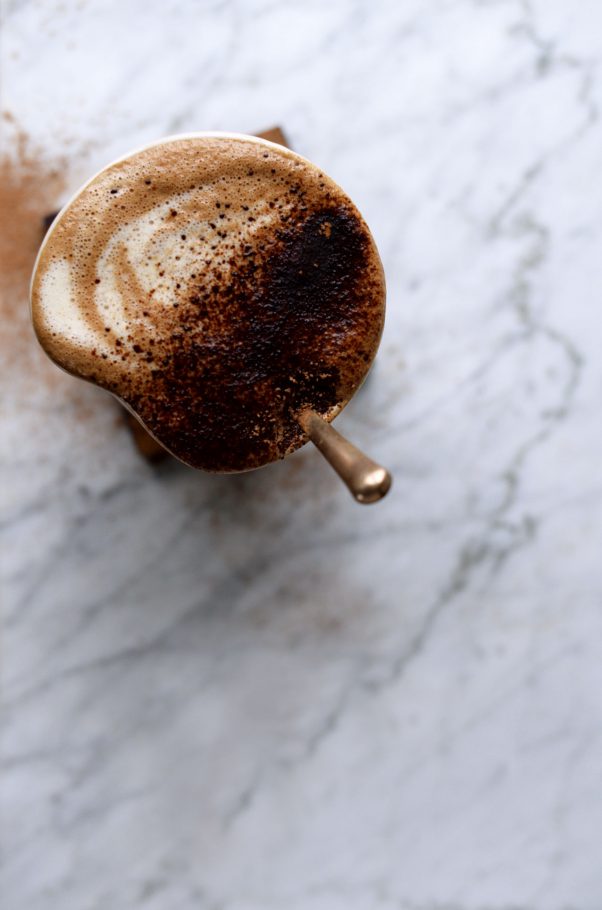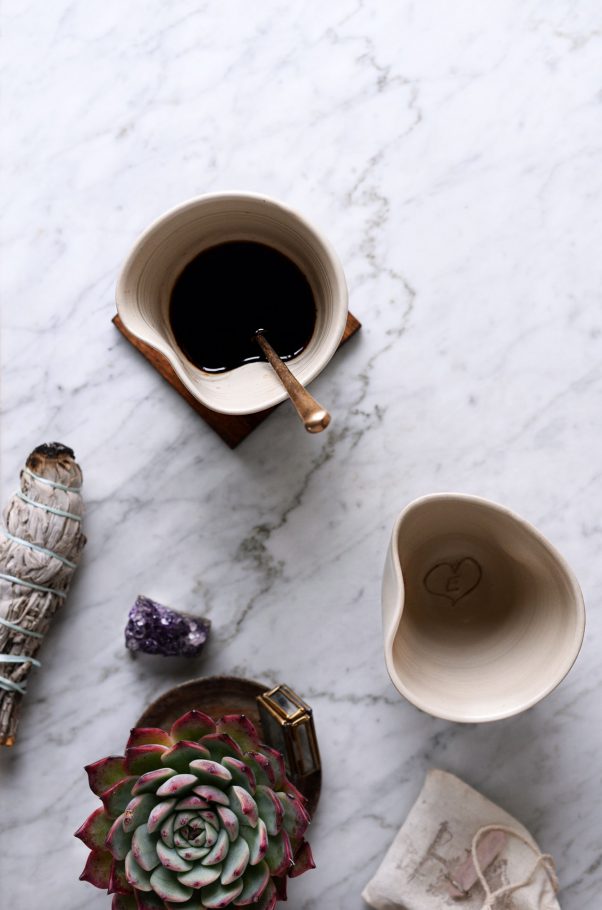 A healthy green juice to start my morning..? Um NO thank you. I don't know about you but all I want is a cup of cosy herbal chai, frothy plant based lattes, tonics, infusions and other warm concoctions. Mornings are now really chilly, rubber boots are muddy and my hands wouldn't mind being glued to a gigantic cup of something warm pretty much twenty four seven.
Caspian is at his outdoor kindergarten a couple of hours a day, 4 days a week and heading out the door is now a huge rain-gear mess complete with both laughter and sweat. I get back home just in time for Avalons nap and once he's snoozing it's super latte time! These Herbal Coffee Super Lattes have totally been taking over my Instagram lately but for a good reason. They taste incredible and they are a perfect base that I can boost with medicinal herbs, superfoods and adaptogens (which I SO need with these two wildlings in my life). Essentially they are like a huge grounding hug but with powers to elevate. Since I'm finding myself craving something a little bit more substantial than a cup of tea after that morning excursion, these lattes are perfect.
Having small routines that give me a breather and boosts inspiration -that somehow works as a reset- that's where it's at. May it be a quick walk in nature, some deep breaths ..or a silky, smooth, sexy'n frothy latte. I can promise that this babe is gonna give your winter days that extra little somethin' somethin'.
BY THE WAY. Get a milk frother, it will change your life. With a milk frother you simply add the spices/superfoods/herbs of your choice directly to the milk before frothing it + pouring it over the herbal coffee. It's genius. Seriously. It's one of my best kitchen hacks at the moment 'cuz lattes, golden milks, tonics, hot chocolates in a jiffy = a way more sane me.
Fun & Fabulous Facts
– Herbal coffee, say what now?
Well first of all, you coffee lovers out there – no, I'm not claiming it's like coffee. Herbal coffee will never BE coffee since there are no coffee beans in it. It's simply a glorious mix of herbs and spices (among other things) that with it's deep, roasted aroma slightly resembles the taste of coffee. Faux coffee have been a thing forever and there are many examples of herbs and grains that have been roasted, brewed and enjoyed as actual coffee. If you have tons of time on your hand you could most likely make your own blend but if you don't feel like diving into that, there are some good brands out there. I've tried many different kinds and I'm not sponsored to say this but because you are going to ask, I'm currently loving Teeccino. When you are on the hunt for herbal coffee you want to look for brands that are organic (or to an as high percentage as as possible) with no added preservatives or difficult-to-pronounce ingredients.
I really love the taste of good quality coffee and I'll have a small cup a couple of times a year if I'm i the mood but I'm not a big fan of what that concentrated caffeine does to me. I get shaky, feel super weird and since I'm well aware that I need to support my endocrine system and adrenal health as much as I can, herbal coffee is perfect for me (and countless others who needs to cut back on those cups of joe). One very straightforward positive thing about switching (at least some of your coffee cups) to herbal coffee is that these lattes in the pictures here actually comes with so much great-for-you nutrients and you can customize the added adaptogens/spices to support your current life/health/goals. Regular coffee I dare say, isn't really that bad ass.
If you are interested in diving further into the caffeine/health discussion I recommend reading these two article by my gorgeous friend Lauren over at The Holy Kale and the ever so brilliant Kris Carr. Does Coffee Cause Infertility and Is Coffee Bad For You?. There are many sides of the story and in the end, as with all things, we just have to find what suits us best.
How to use herbal coffee
In a latte or a cup of 'coffee': All brands are different. Some will suggest stirring 1 tsp into your cup of hot water and the coffee itself will dissolve. Other brands, like the one I use leaves coffee grounds. I usually add my herbal coffee mix to a tea pot, pour over hot water and let it sit for 10 minutes then pour though a strainer into my cup. I then compost the coffee grounds and save leftover coffee in a glass bottle in the fridge for the following day(s). It will last for a week if you choose to make a bigger batch.
In baking or the like: An addition of herbal coffee (the dry mix) in cinnamon buns, waffle batter, raw ice cream, spiced dessert-y smoothie is incredible. Play around and use it where you would regular coffee in cooking or uncooking.

Herbal Coffee Super Lattes
Roasted, delicious 'coffee' with none of the caffeine and with added nutrients from both the herbal coffee blend and the added (of your choosing) spices, herbs, superfoods or adaptogens. Below are 4 of my favorite ways to spice & spike my herbal coffee latte to upgrade it to a wildly delicious health tonic. You can skip the addition part altogether if you want a really basic latte with just a dash of cinnamon.
1 serving
1/2 cup strong herbal coffee (brewed according to instructions on package)
1/2 cup plant based milk
Note: If you are into sweetening your coffee, feel free. I personally think the milk & herbal coffee gets it sweet enough.
Brew your herbal coffee. This can be done with a Chemex, in a tea pot, in a pot on the stove or whatever you have on hand. Even in a 'regular' coffee maker. If using a pot or tea pot you simple our the coffee through a strainer after 10 minutes.




2. Pour 1/2 cup of coffee into your favorite cup (save any leftover coffee in the fridge for later use). Compost or discard the herbal 'coffee grounds'




3. Heat up your milk (either in a milk frother or on the stove). Add spices / superfoods towards the end. Wisk to work up a foam if you're doing this in a pot on the stove.
What makes this latte so super?
4 versions that boost the base
Cinnamon / Cardamom
Add 1/4 tsp each of cinnamon and cardamom when heating your milk
Pumpkin Spice
Add 1/2 tsp fresh pumpkin spice when heating your milk (2 tbsp of pumpkin puree is also amazing here)
Chocolate Vanilla
Add 1/2 tsp raw chocolate, 1/2 tsp maca and a pinch pure ground vanilla bean when heating your milk.
Mushroom Medicine
Add 1/4 tsp each of reishi, cordyceps and chaga powder when heating your milk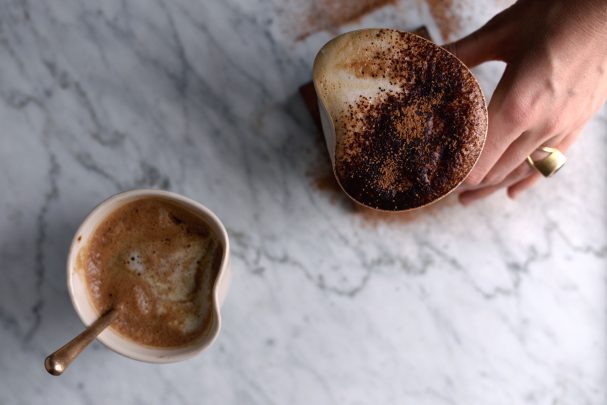 So will you try one of these creations? ..Or are you already a badass herbal coffee magician? Tell us all about it in the comments below! Then, grab a superboosted cuppa, wrap your hands around it and take a big breath. Do something good today. Make this NOW matter. It's up to us.
Let us take a peek into that yum-moment of yours by sharing a pic on Instagram with the hashtag #earthsprout
All the Love, Elenore