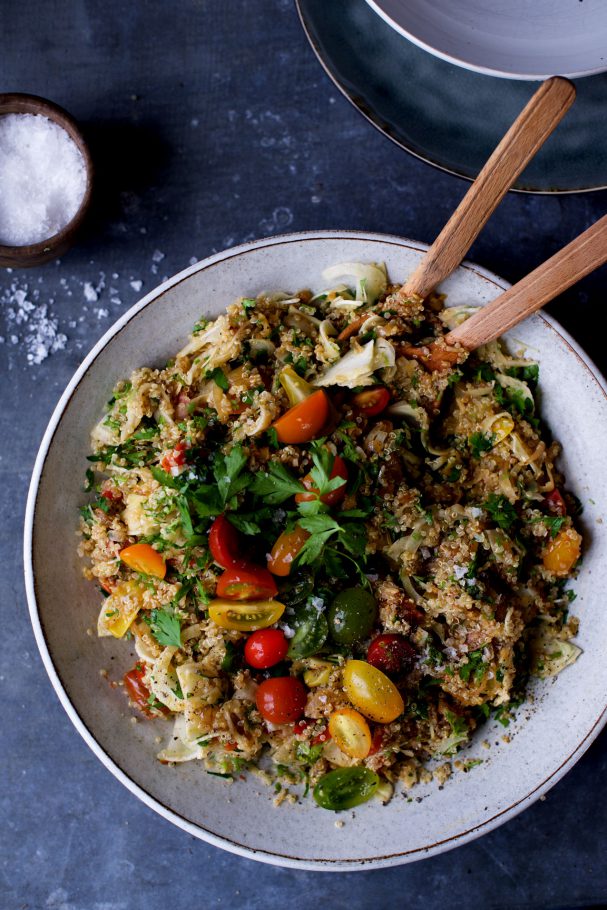 Fresh tomatoes in October? Really? I don't know about where you live but here in the very south of Sweden the shift from late summer to full blown fall came incredibly fast. One day me and the kids were running around semi-dressed and the next I wondered why I didn't have a proper winter jacket around (seriously!).
So when me and Karoline, my darling co-veggie monster (with whom I developed + host our tv-show) had an event at a beautiful tomato greenhouse two weeks back it was still pretty much summer. We developed this recipe because we wanted to showcase a quick (15min!), delicious, uncomplicated vegan meal that people in the audience could take to their heart in an instant and that used tomatoes in a fun way. Sometimes it's so easy to get caught up and make really elaborate recipes that requires both speciality ingredients and lots of time in the kitchen. Just like life! Simplifying is often where it's at and this recipe shows just that.
Karoline is the best and grounding me and when I spin off like that in life and work. When I worry or overanalyze, she pulls me back to a grounded way of thinking (or recipe developing) Countless of times have I come off the phone with her feeling like she said just the words I needed to hear in that moment. While we are very different, her and I on workmode are unstoppable and our never-failing telepathic river of ideas are super convenient. 
Life right now is BIG, beautiful and require moments of grounding. I'm having so much fun putting on lots of events and sharing this Greenylicious groove with so many of you on Green Food Market in Malmö (see more below). We just started our house-building journey and broke ground by digging our water well. Caspian turned three the other week and family life is full of love and very intense. On a personal level there are so much going on and while I navigate these waters, figuring out my next move (and working with the time that I have) I'm keeping things short and sweet here. Ideas are disco dancing, thoughts are buzzing ..I should probably call Karoline. She'll most likely make sense of it all in 5-ish seconds. 
By the way! Our show is currently traveling the world and this weekend it's hanging out in Cannes at the tv-show festival (probably sharing unforgettable moments with big-shots like Game of Thrones and Homeland as we speak ;). So rad!
To you and your weekend, take a big-ass breath and hold your hands around a warming cuppa and relax for a second. See what's around you in this moment. See what's good. See what things have come to life by your loving attention and care. Own it and let that smile (I know it's there) spread across your face. When you get hungry, dinner is only 15 minutes away with these bowls. Happy Saturday!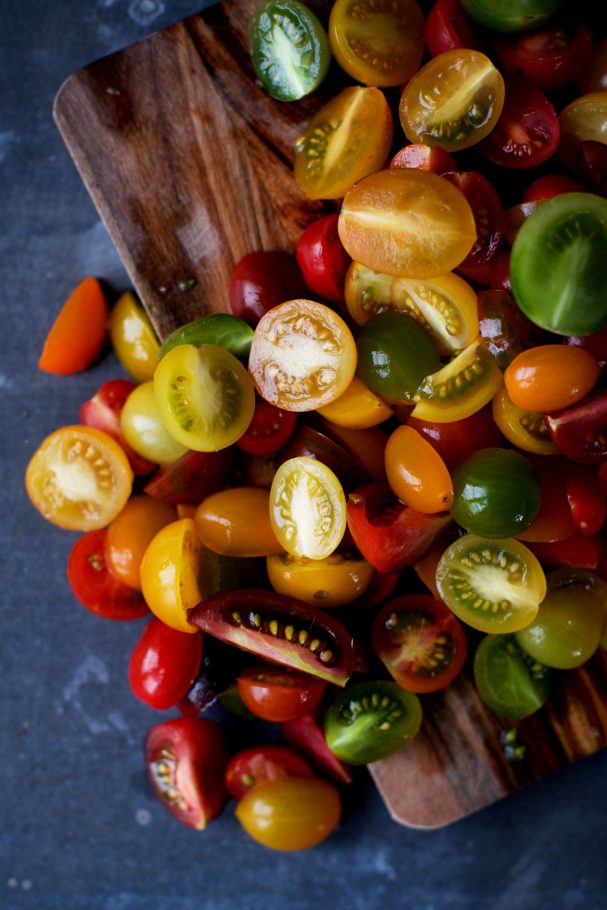 Semi-warm Herbed Quinoa Bowls
Is it Italian? Moroccan? Who knows! It's delicious! Loaded with filling and nurturing ingredients that go together so well. These bowls are super quick to make and it's a great idea to make a double batch for future lunches. Perfect as either main or as a side. Texture & flavor-wise this recipe is a dream. Crunchy and creamy. Unexpected and familiar. Try it and hopefully love it.
Quinoa
1 cup quinoa
2 cups water
1. Rinse quinoa thoroughly under lukewarm water in a colander. Bring the 2 cups of water to a boil in a saucepan, add the quinoa. Cook until done (about 13 minutes) on medium heat. While cooking prepare the tomato sauce and the marinated fennel.
Tomato Sauce
4 small yellow onions
3 garlic cloves
2 large hands cocktails tomatoes
1/2 quality salt
1 fresh chili, use dried if that's what you have
1 tsp coconut oil or ghee for cooking
1. Halve and slice onions into half-moons. Add oil to a frying pan over medium heat and add onions to the pan once oil is hot. While frying onions, halve cocktail tomatoes lengthwise, slice chili finely (check how spicy it is before adding an entire one). Now add minced garlic to the onions, stir and then add tomatoes and chili. Sprinkle over quality salt and cook for 10 minutes. Stir every now and then.
Marinated Fennel
1 medium fennel
1/2 lemon, the juice
salt & pepper
1 tsp virgin olive oil (sesame oil is divine here so use if you have it)
Slice 1 medium fennel very thinly on a mandolin slicer or with a very sharp knife. Add to a bowl and squeeze over the lemon, season with salt and pepper and finish off with a drizzle of virgin olive oil. Set aside.
To serve
1 cup roughly chopped fresh parsley
1 cup roughly chopped fresh cilantro
1/3 cup roughly chopped fresh mint
1/3 cup gently toasted almonds
1/3 cup roughly cut kalamata olives, optional
Assemble
Add Quinoa to a large bowl and on top of it add the tomato sauce, fennel and chopped herbs. Toss to coat quinoa in tomato sauce and herbs. Finish off with almonds, olives (optional) and a sprinkling of flaky sea salt. Serve in smaller bowls and enjoy!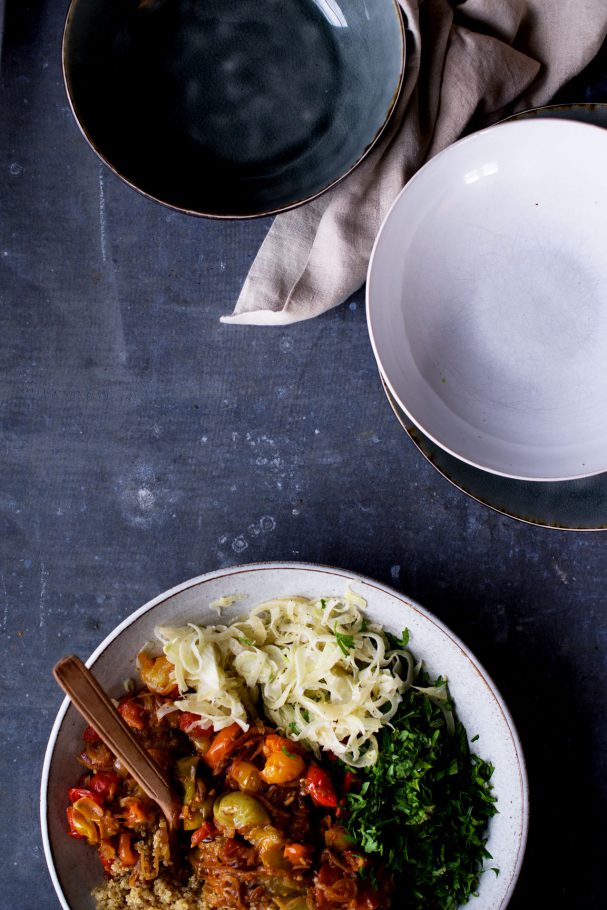 I love hanging out with you on Instagram + Insta Stories! Come say hi + follow along on other Greenylicious adventures! 
Have a fantastic weekend and remember to zoom in the full moon <3
Elenore
Ps. Below are two of the past events I've held and also my next Cooking Event (Monday) all about innovative and simple root recipes! Everything Info + Booking at Green Matmarknad