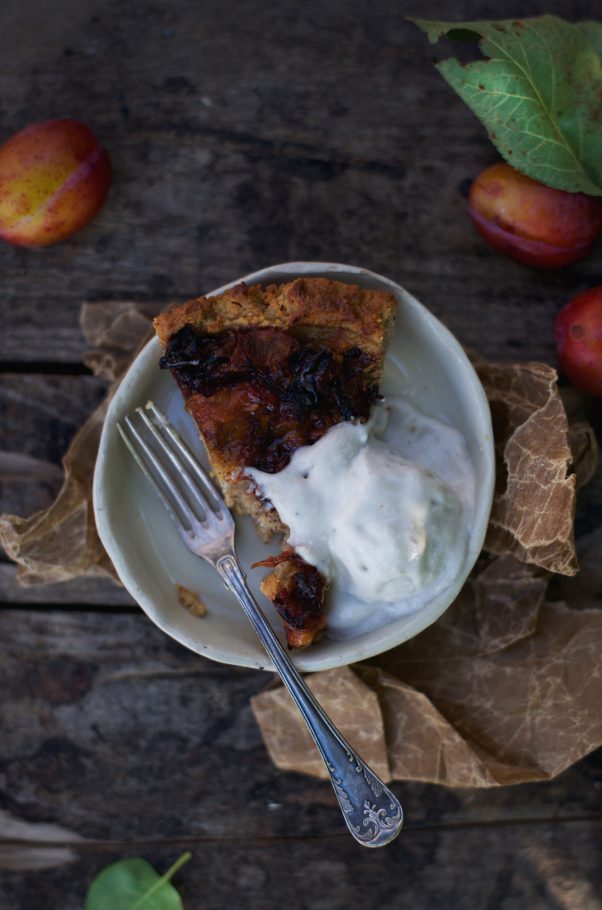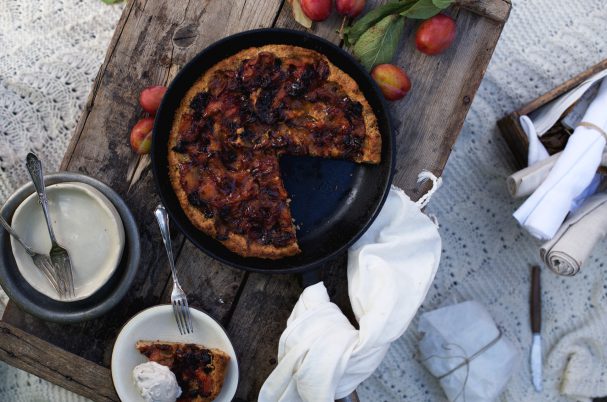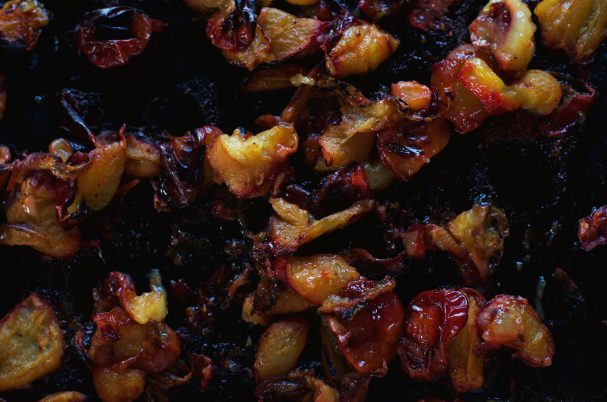 Plum Frangipane.
Ever since I heard the name I haven't really been able to let it go. Pluuum Frangipane. Doesn't it just sound kind of sexy?! I feel like I want to play smooth french tunes in the kitchen while creating this now apparently somewhat saucy tart (was it the full moon?!), totally ignoring the fact that the floor is covered in toys and that there are avocado and turmeric stains all over that cute waist-high lil' apron.
So sure, it might not have been a perfect setting in that way but totally perfect in another. Caspian was very exited to all of a sudden get a cake and ice cream-picnic and Avalon was crawling around, happily investigating (+ tasting) leaves.. It got gloriously messy and that's really what life is. It's all about our point of view and this was not very sexy but however, it was definitely 100% sensuous.
I've been thinking a lot about sensuality the past weeks, realizing that it's vey much my preferred way of living. That diving deep, connected, inspired, loving, using all senses-way of life. It has nothing to do with sexuality. To me, sensuality is tapping into the senses instead of buzzing around in the constant mind-chatter. Can you relate or what does the term mean to you? It is to lean in instead of future tripping or history hopping. It's a connected life. A juicy life. And in the end, that is kind of sexy. Just like a Plum Frangipane.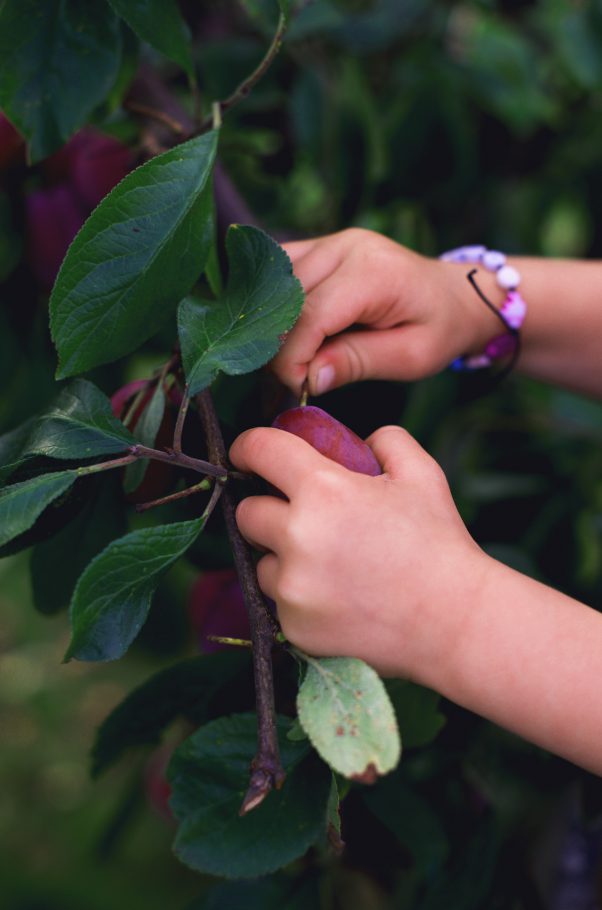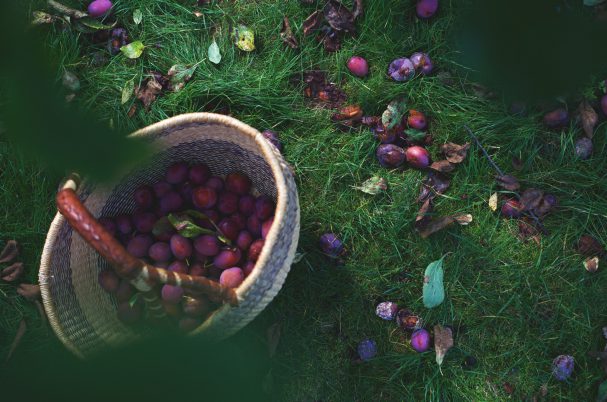 Fun & Fabulous Facts
– Green home dreams come true!
Here's a fun and fabulous fact that has absolutely nothing to do with the frangipane itself. We're building a Greenylicious Home! We are now the incredibly, wildly psyched owners of our dream land. It' has been a long process of paperwork, intense planning, meetings and waiting since we embarked on this journey 1.5 years ago. It's an absolutely gorgeous 12 acres that we cannot wait to be living on/with. As you can probably imagine, ideas are running wild and the red thread running through it all is of course that the materials/systems that we use are as kind for the earth and for the family as possible (luckily those two go hand in hand) and ohhh the future garden! We've been working like crazy with this project and our time have been filled with blueprints, sketches, inspiration boards, meetings, endless research and dreams. That and our two babes  ..and work. I am so ridiculously excited to finally be sharing this all with you! Taking action for a greener planet goes far beyond being plant-passionate in our kitchen and for as long as I can remember building a green home has been one of my biggest visions. 
I will be sharing this process here on Earthsprout on a separate page because to me it has never been just about the food. The Greenylicious Lifestyle is the whole picture. I hope you'll want to join us on this adventure of building A Greenylicious Home. A natural home using sustainable materials and systems that take good care of both us and planet Earth. As inspiration, out of curiosity or just to see some of the crazy :) and as a bonus, it's going to be one darn good-looking house. Here we gooo! HERE is a little sneak-peek showing part of the land.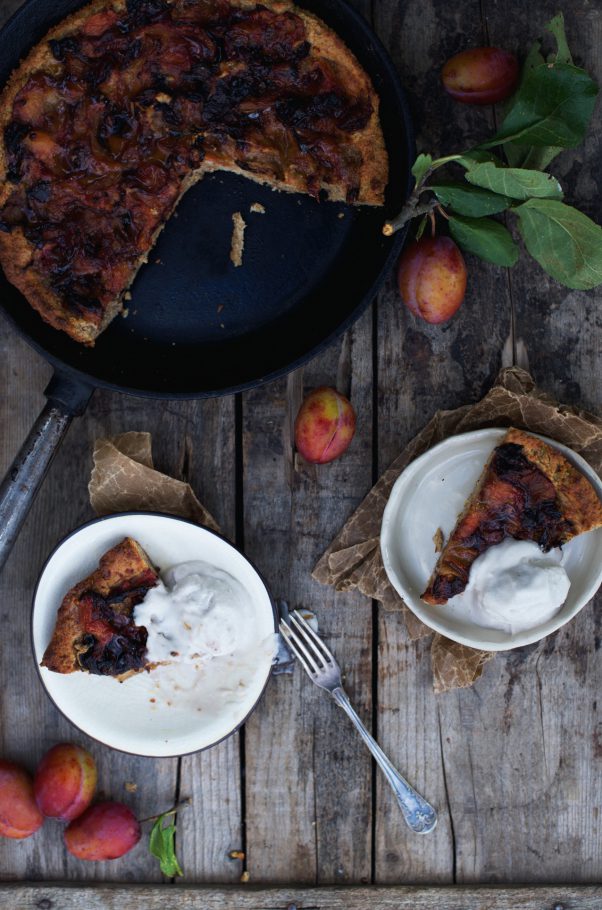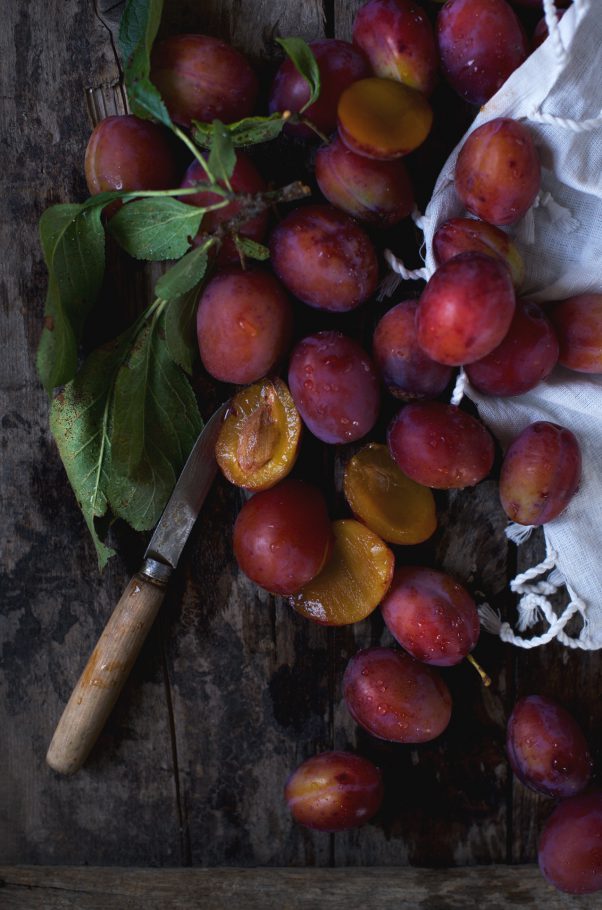 Plum Frangipane
Now that branches are heavy with gorgeous plums of all sorts this is THE treat. I roast the plums first which creates sort of a jam situation. It's my way of packing even more plums into the tart. This Frangipane is vegan, gluten free and uses wholesome ingredients that are actually great for us. Serve as is or with a scoop of ice cream (I made a quick frozen banana/coconut cream/vanilla ice cream). Have fun baking!
8-10 small slices
550g / 4 large handfulls pitted plums
1 cup almonds
1/2 cup coconut flour
1/2 cup oat or buckwheat flour
1 tsp baking powder
1/4 tsp baking soda
1/4 cup coconut sugar (granulated coconut nectar)
1/4 cup coconut oil, I used cooking, not virgin
1/2 cup plant-based milk
1 lemon (medium), zest & juice
1-2 bitter almonds or 1-2 drops bitter almond extract.
pinch quality salt
1. Preheat oven to 150° C | 302° F
2. Pit & halve plums, adding them to a lined baking sheet, cut sides up. Roast for 30 minutes. Make the dough below while plums are roasting
3. Add almonds to a food processor and blend into a flour. Now add all other dry ingredients to the food processor and blend. Lastly add lemon juice + zest, oil and milk and blend into a sticky paste-like dough.
4. Rise heat to 175° C | 347° F
5. Smear/drizzle a teaspoon worth of coconut oil into a cast iron pan (or baking dish of choice). Pour Frangipane mixture into the pan and spread out evenly with a spatula. 
6. Add roasted plums to the pan, gently pressing them into the dough and bake for 20 minutes in the middle of the oven. Serve as is or with cream/ice cream/vanilla sauce.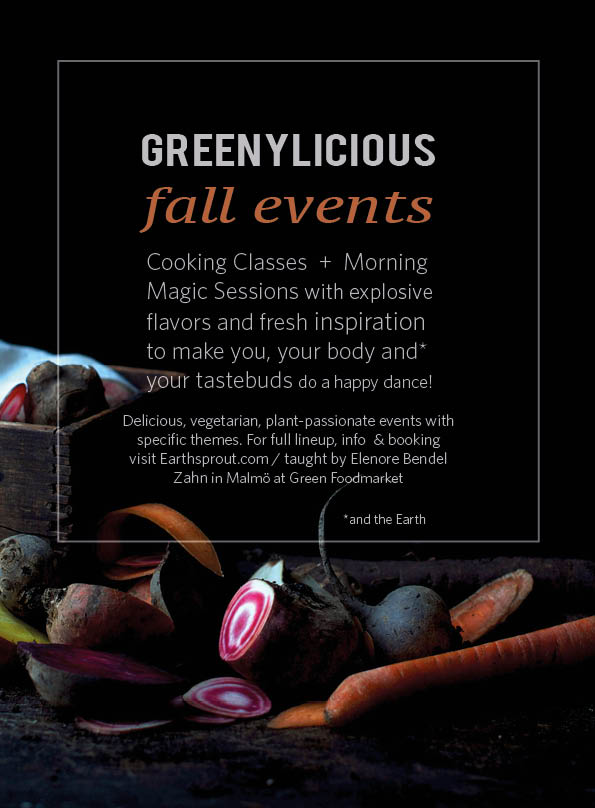 I am holding cooking classes and morning magic sessions in Malmö! The first event was last week and we had the best time. A wonderful group of participants, wildly delicious recipes (Breakfast themed), heaps of inspiration and sweet goodiebags. Next theme is Superboosted Morning Drinks. For full lineup, info and booking visit my event page. Me and Karoline (with whom I am hosting the tv-show) are doing a cooking demo / event on Saturday if you're anywhere nearby.
See you in the Insta-verse
All love, Elenore