I had this crystal clear feeling today that I would never again feel like the weight of this world rested on my shoulders. In other words, no more unnecessary lows or sticking around in the darker shades of grey. I'm pretty sure that's not the truth/future of mine (which is ok!). Up's and downs are good exercises to stretch, evolve and grow, however painful it might be – an gosh, it can be pretty crayzay painful.
Why I had this sudden sweet little ephipany? Well, my fingers were digging in the vegetable garden, my hands were covered in soil and my heart was giddy with excitement to be spending an entire day outside in the sun (!) for the first time this year. In moments like those it feels completely impossible that even the lightest shade of grey could ever enter my life again. Mother Earth can do that to a person. I also know that in moments of darkness or doubt, even if I might resist it, nature always and without fail brings me back (and not only back, she brings me up). My spirit doesn't thrive within four walls, it thrives when disco-dancing with the real world. The world of trees, wild winds, blinding sunrises and impromptu barefoot walks. So more of that! ..also, a little Raweo picnic in the sun never hurt anyone, am I right? Happy Spring, gorgeous friend!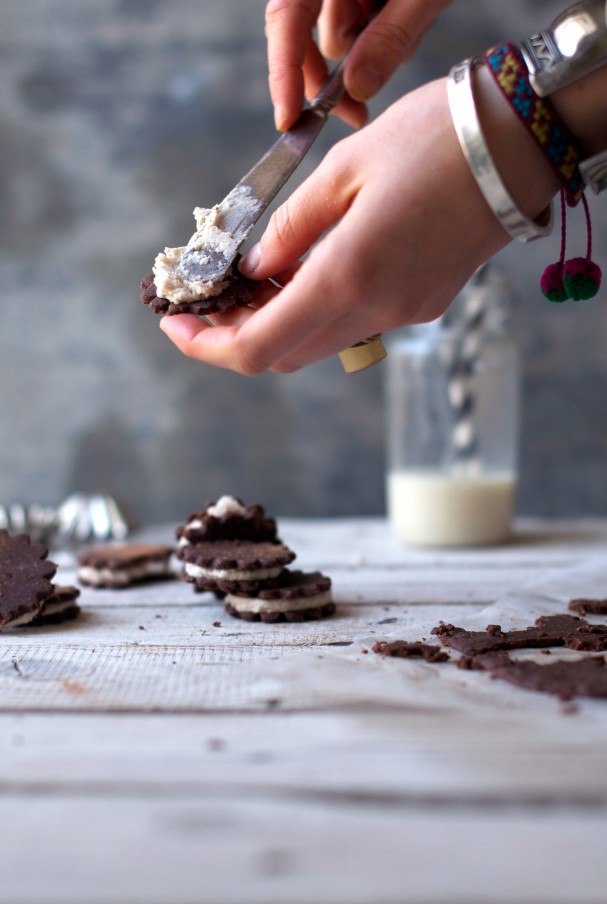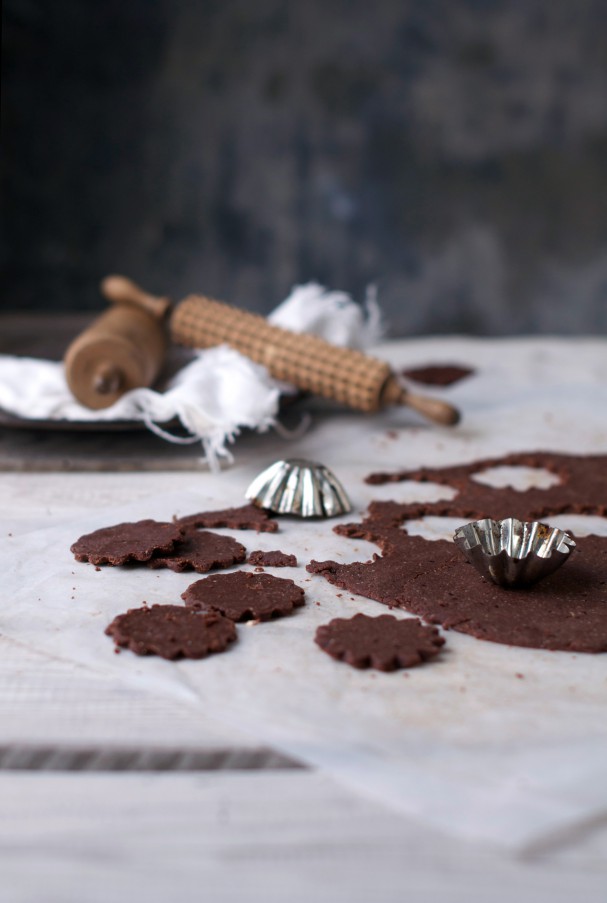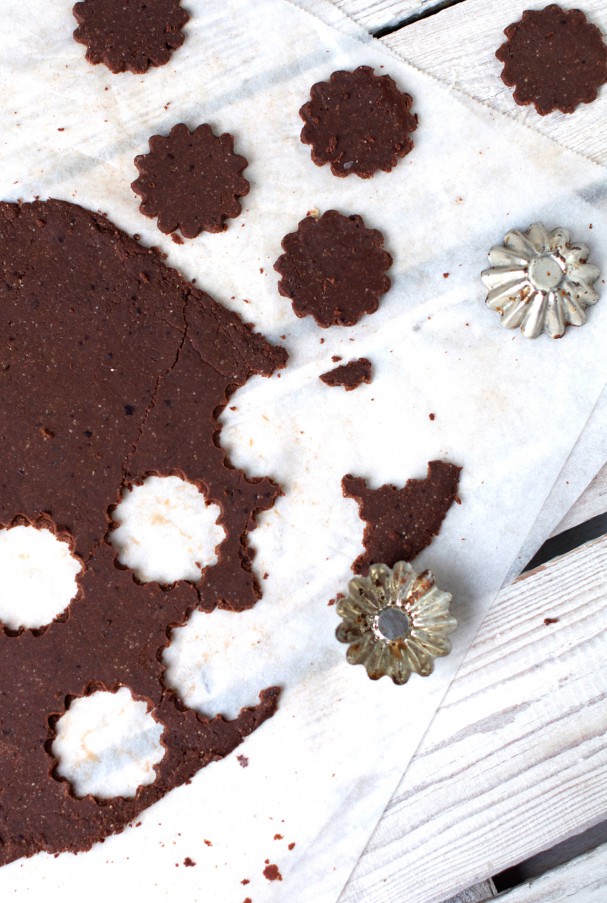 Fun & Fabulous Facts
-Why Raw Treats Rock
I was 18 the first time I tried an Oreo cookie and ironically enough it took place in Thailand (fresh fruits and coconuts, anyone?!). While growing up in Sweden, Oreos didn't exist. Now, on the other hand they do and in every tiny supermarket at that. As a person who isn't a huge fan of crumbly cookies (treat-wise I'm more of a chewy, gooey kind of person) I was surprised that I even liked this almost black, cream filled little creation. So luckily enough, once Oreo's began popping up where I now live I was a full blown whole foods nerd and not really tempted to munch on those sweet-tasting but highly processed + weird ingredients. Over the years I've gone through many a food-phases and my way of eating is now mostly based on following the seasons + my intuition. One thing that has stuck with me though is that I most often opt for raw treats when it's dessert time (or when my sweet tooth decide to enter). Why is that?
So let's look at the most common treat: Chocolate desserts/candy. Versions of this loved sweet treat is all over the place and in street corner shops or sleazy bakeries you'll likely find a large variety of quite cheap bars, muffins, cakes, pick 'n mix or ice creams. So why not go with these? Why opt for a raw Oreo instead? There are a couple of reasons.
Tons of buzzing nutrients vs zero nutrition. It's a no-brainer really. With raw treats what you're doing is basically working with/ using unprocessed whole foods (nuts, seeds, fruits, vegetables etc) or very kindly processed whole foods (virgin coconut oil, raw nut milks, superfood powders etc). By doing so the amount of minerals, vitamins, antioxidants and enzymes present in the end result is almost limitless. Check the list of ingredients on a store-bought, plastic wrapped cookie with a shelf-life longer then you and you'll find that it's components are exclusively highly processed. Not only will you not get zero nutrients, you're awesome bod will actually be robbed of stored minerals and vitamins. If you want to feel on top of your game then a sweet treat swap (from highly processed to unprocessed) is a wildly amazing idea. 
Quality of energy boost. Yes, raw food treats are packed with energy and not meant to be enjoyed as a substitute for a balanced meal or mindlessly munched on throughout the day. Energy is energy and a good way to consume it is in proportion to how much energy your need for your everyday life. Are you a marathon runner? Breastfeeding or hard at work in your garden on days at end then you need high quality energy. Guess what is a good source? Whole foods! Meaning that if you feel like a sweet boost, a raw treat is much better for your then that microwave baked croissant or peanut butter cups with freaky ingredients.
Kinder for the earth and it's inhabitants. While stuffing our face with cheap chocolate we're not only "satisfying" our sweet-tooth we're also supporting processes around the globe that are devastating for the health of this planet and it's people. The working conditions in conventional cocoa plantages are often outrageously horrible just as an example. Rain forests and sensitive biotopes with incredible bio diversity will be no more if we continue chopping them down to plant palm trees and produce palm oil (or used to hold cattle for that matter). Hundreds of rare and important (and even unknown) species are being killed every day. This is a big effing deal, people. For real. Eat honest stuff. I'm not asking you to stop eating yummy things and only munch on dandelion leaves or something. This isn't hard. It's swapping something that's apparently awful for your health and for the health of the entire planet to something that is insanely delicious and so much better (and even healthy!) for you.
With the boost of alive nutrients and enzymes, raw treats have the goods to give both our body and spirit a quite nice gift. Let's take that opportunity, eh? Raw Oreos For The Win! 
..and If you're not an Oreo fan try a these other (healthy!) go-to treats!
White Bean Chocolate Chip Cookie
Naturally Colored Cake Pops
Raw Love Chocolate Bar
Chocolate Strawberry Milkshake
Raw Snickers Bars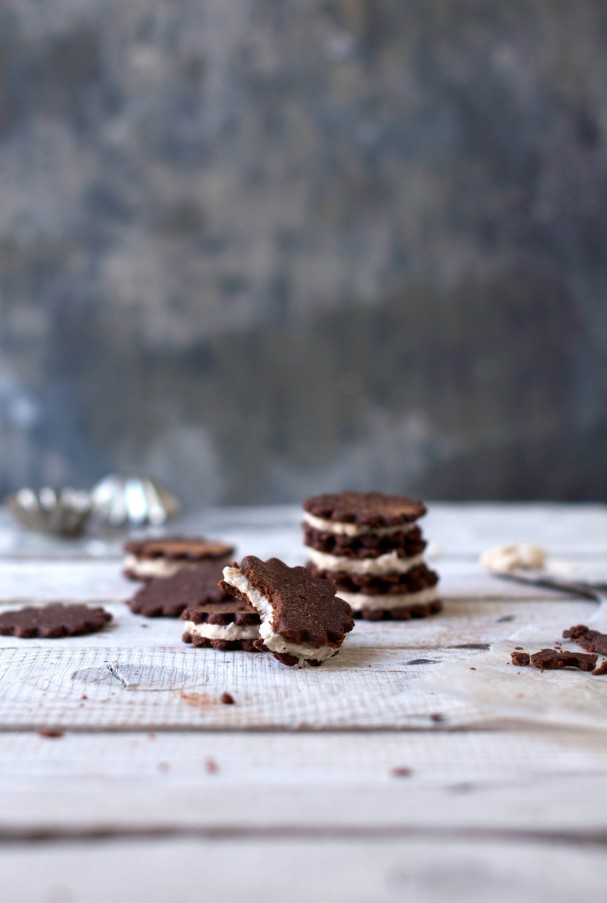 Raweos
A deliciously rich and crumbly raw cookie without needing to use a dehydrator. A filling so smooth and soft blessed with sexy vanilla notes. This is the perfect Raw Oreo if I may say so myself. Welcome to heaven. Ps. creating the ticket to heaven will only take you around 11 minutes. Yup, you're welcome. I used dehydrated pulp leftover from making almond/coconut milk but you can also use store-bought flours. Note that you may be left with some extra cream filling. If so – add it to smoothies, raw energy balls/bars, blend into an ice cream with some frozen avocado or place in freezer for later use. 
Makes 8-11 Raweos depending on the size of your cookie cutter
Raweo Chocolate Cookies
1/2 cup almond flour/meal (not ground almonds)
1/2 cup coconut flour 
1/4 cup raw cacao powder
1/4 tsp vanilla bean powder
4 medjool dates, pitted
3 tbsp virgin coconut oil, room temperature or gently melted over hot water
tiny pinch high quality salt
1. Add all ingredients to a food processor and blend until thoroughly combined. The result might be crumbly but should stick together if you press a small amount into a ball in your hand.
2. Place "dough" between two parchment papers and roll out using a rolling pin or such. A 0.2 inches/5mm thickness is perfect. At least not thicker.
3. Use a cookie cutter or anything that can get the job done and cut little rounds which you then place on a plate. Freeze for 5 minutes. Make the filling (recipe below) while you wait.
Raweo Cream Filling
1/2 cup coconut butter (either buy or make your own by blending 2 cups unsweetened shredded coconut in your food processor until a soft butter is formed).
2 tbsp coconut cream (from the solid top layer of a can of coconut milk that you've refrigerated overnight)
2 tsp liquid sweetener (honey/maple syrup/ rice malt syrup all work well)
a pinch vanilla bean powder
1. Place all ingredients in a your food processor and blend until smooth. Sidenote: my food processor isn't fantastic with smaller batches like these so I've used my immersion blender and it gets the job done perfectly.
2. Spread desired amount of cream filling onto half of the chocolate cookies that you've now removed from the freezer. Pop the other chocolate cookies onto the ones prepared with cream filling. Enjoy! ..and welcome to heaven.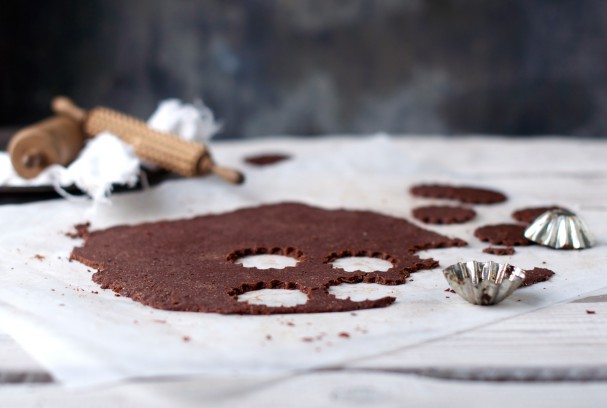 Right, I'm off to the garden aka total bliss-land and I hope you decide to head out and hug a tree or something this sunny day. Who knows, maybe you'll have a dreamy lil' epiphany too ;)
See you on Instagram and please remember to use the #earthsprout hashtag when recreating recipes or I'll miss your gorgeous stuff!
LOVE,
Elenore