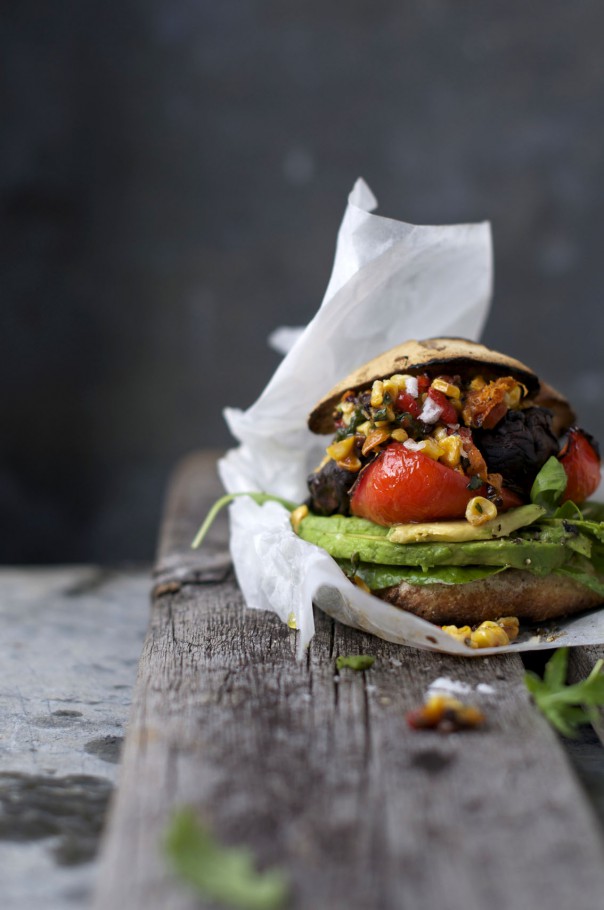 There are few things I find as empowering as fingers flying fast and free over the keyboard (or journalling with the favorite pencil). However, it's been a long while since I've had a moment or feeling like that. Up until yesterday.
Yesterday something bigger got hold of me (thank goodness) and I grabbed my computer as soon as Fabian got home from work, kissed Caspian (& Fabian) and marched outside with a fiery determined look in my eyes (or, you know, if anyone had seem me they would have noticed that look. Does the chickens count as witnesses?). I then sat and wrote my heart out for 30 intense minutes. Fingers flying, feeling, noticing and touching upon things that this hard working body of mine holds onto. 
Yesterday I went from exhausted / totally crashing to tired / happy and lastly to inspired / in the zone. Whoa. Motherhood. What a ride.
Although I always liked writing in school, I never ever thought writing would be a big part of what I do and it's not until recent years that I have discovered how much I need and love it. That feeling when you write straight from your heart'n soul or when you read someone else's real and true expressions.. Guh! So full of passion, so free.. so sexy! Know what I mean? 
Even if it might not make any sense to you, here's a piece of yesterdays keyboard dancing. If it inspires you to take a few minutes off this weekend and fall in love with words I'd be (way) over the moon. Because you know what? They are already deeply in love with you and they are so ready to help you open up, stand tall and live life at least a little bit more like you really, truly mean it.
---

"A wisper, a loud song, ongoing vivid and wild poems from my heart and the heart of the earth. The moon and the stars. The grass and the tomatoes. The deer and the freshly collected eggs. I have only love. Moving away from fear, Because what is that anyway. The only thing that melts away when stading in the early evening sun with prince Caspian on my hip, is all things rooted in fear. Melts. Ahhhhh.
It's a prayer. A song. A conversation. With the earth. With love."
---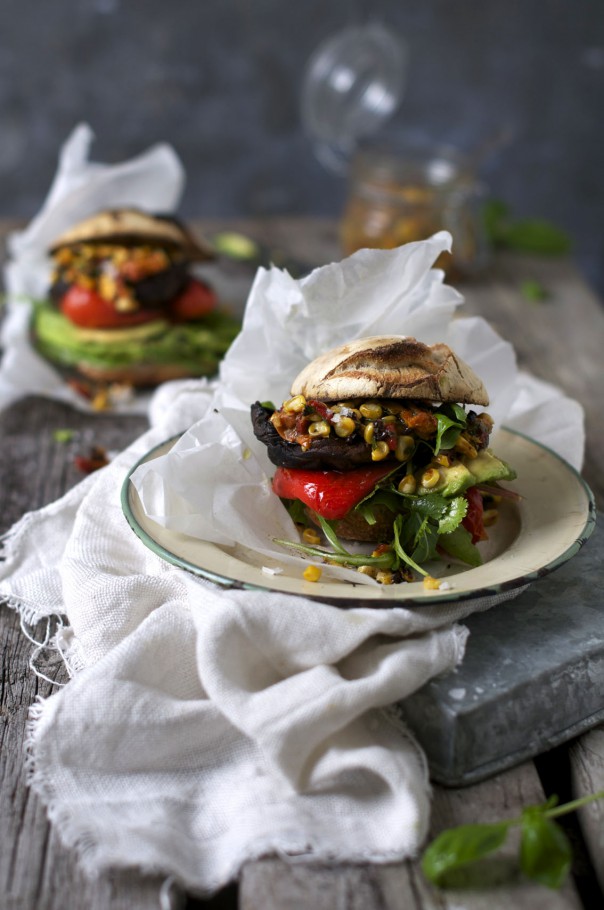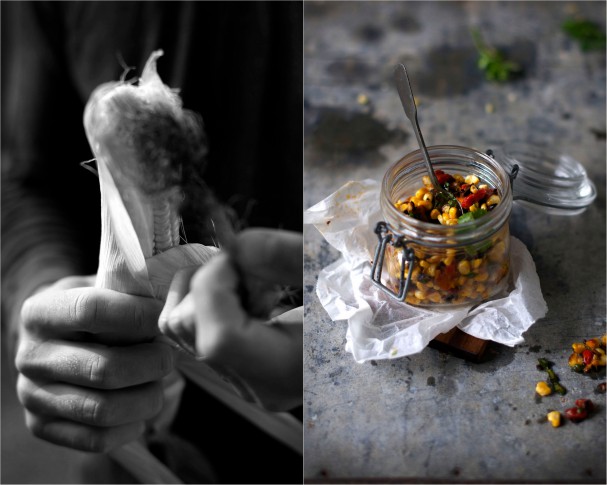 Ps. TGIF!!!
Ps 2. Creative wordsmith maven Alexandra Franzen (who has Swedish roots!) never fails to inspire me when I need it the most. If your into awesome words, saucy language and soulful writing then do yourself a favor and sign up for her newsletter. You won't regret it.
Ps 3. No Fun & Fabulous Facts- section today. Short'n sweet is the melody with the few sleeping hours á night we get. However, I can assure you that this over-the-top looking burger will hit the right spot both when it comes to flavor, texture and health. Don't judge their indulgent appearance in the pictures. What can I say, I mask 'healthy' well..  Ah, just try it, will you?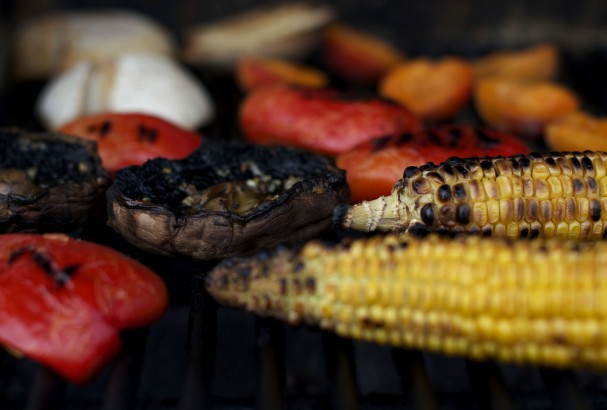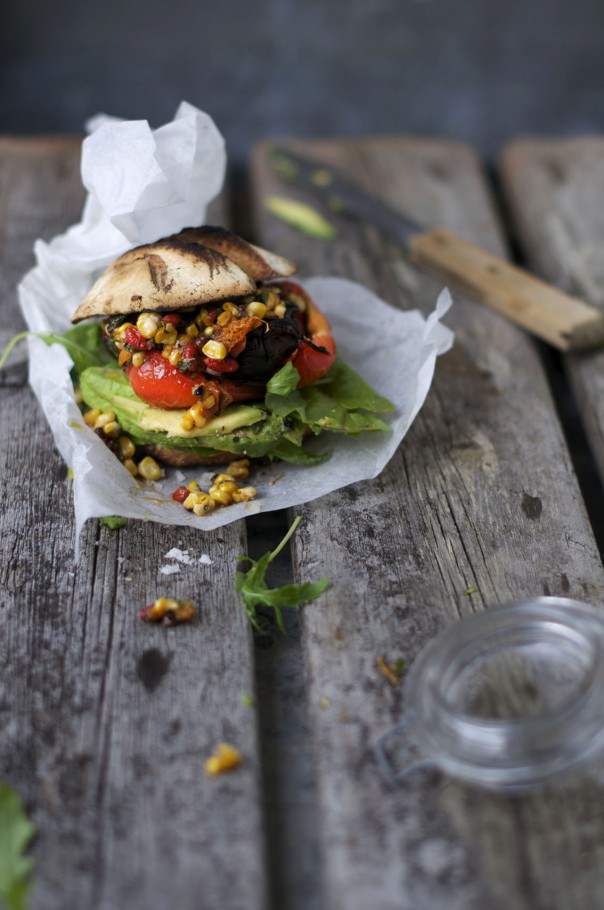 Grilled Portobello Burger w Seriously Sensational Salsa
Grilled and raw goodness all merged into one ridiculously delicious and packed with flavor veggie burger. There is no way that even the most meat loving person won't feel fulfilled after a meal like this. The juicy apricot drips over the creamy avocado, the greens provide some crunch and the grilled portabello mushroom is heavy and smoky. All this topped with a superfood-y salsa. Goji berries and cacao nibs, anyone? Yes!
Sensational Salsa
2 corn cobs, grilled
3 fresh apricots, grilled
1 handful basil leaves
1 handful cilantro leaves
1/2 tsp chiliflakes
1/3 tsp good quality salt
2 tbsp goji berries
2 tbsp raw cacao nibs
1. Get the grill going and once it's ready, put the halved apricots and corn cobs for the salsa along with the marinated portabellos (see below) as well as the quartered bell peppers for the burgers. Once vegetables and fruits are done, cut off the corn from the cobs with a sharp knife. Put corn, apricots and all other ingredients listed above for the salsa in a bowl. Stir and set aside while preparing the burgers.
'Burgers', makes 4
4 large portabello mushrooms
1 clove garlic, minced
1 1/2 tbsp virgin olive oil 
2 bell peppers
2 handful leafy greens like arugula, spinach or the like
1 avocado, pitted, peeled and sliced
Sourdough bread/buns (Remember: Bread Matters)
1. Brush off mushrooms with a damp paper towel
2. Mix minced garlic and olive oil in a small bowl then divide over the four mushrooms, bottom side up. 
3. Rinse, de-seed and quarter bell peppers 
4. Put bell peppers and portabello mushrooms on the grill together with the corn and apricots for the salsa (above). Grill for 5-10 minutes or until done.
5. Lastly put the sourdough bread on the grill for a couple of minutes just to get them a little bit warm and crispy.
Assembly
1. Add leafy greens to a piece of grilled sourdough bread, then add slices of avocado, grilled bell peppers, the portabello burger and top it all off with some spoonfuls of the sensational salsa. Ready? Dig in!


Let words love you up this weekend, give your journal some attention or open up a gorgeous blank document on you computer. Give yourself some space and see what might pop up. I assure you that whatever it is, it's the start of something good. Just like eating this burger. 
With a whole lotta goodness + gratitude,
°°Elenore°°