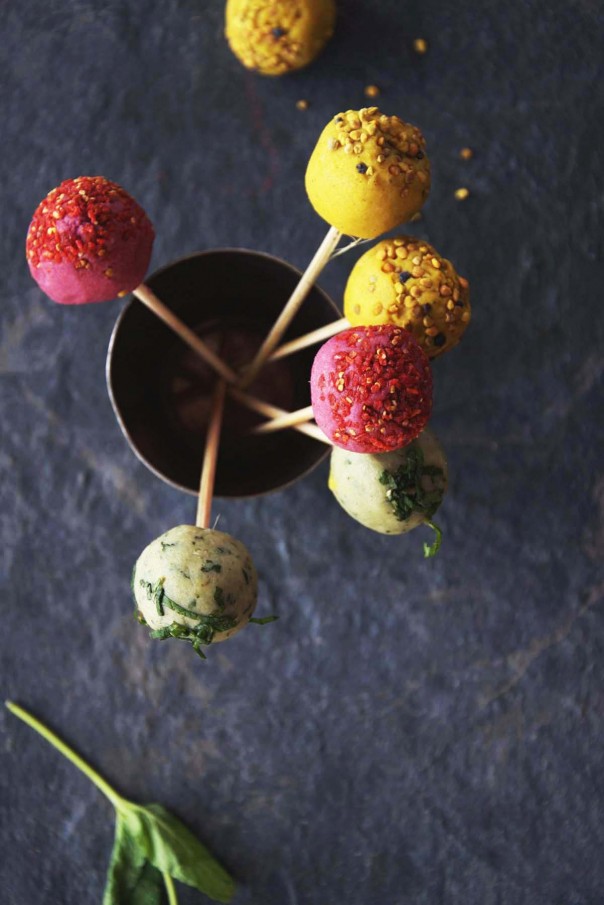 I´m at my parents and the house is buzzing with activity and preparations for the Easter celebration/activities of today. Making birdhouses in the garden, paint eggs from our chickens, drink tea to keep warm since it's still snowing (!), laugh, talk and eat amazing food is what's on the schedule. Uber religious? Not really. Fun and full of life? You bet! For me and my older sister Easter was always about running around bright and early in the garden dressed in our pajamas looking for our Easter eggs filled with sweets. The Easter bunny did a good job every time so thanks.. ehrm, mom. The tradition still lives on as we now have much younger siblings but now I get to fill the hands of my family with raw food treats – fun times! In fact, one of the first ever raw truffles I made was at Easter and quite frankly they were a disaster. Luckily worlds away from these gorgeous color-bombs!
Even if the cake pops in the pictures could fool any hard core creative 3 year old, these are not balls of "Play-Doh" so no worries, you can eat them without putting your life at risk. And hey, check out the list of ingredients! No ridiculous chemical laden sugar colors as far as the eye can see plus they are so easy to whip up I'm almost ashamed to admit it. Sensational Easter treats for everyone!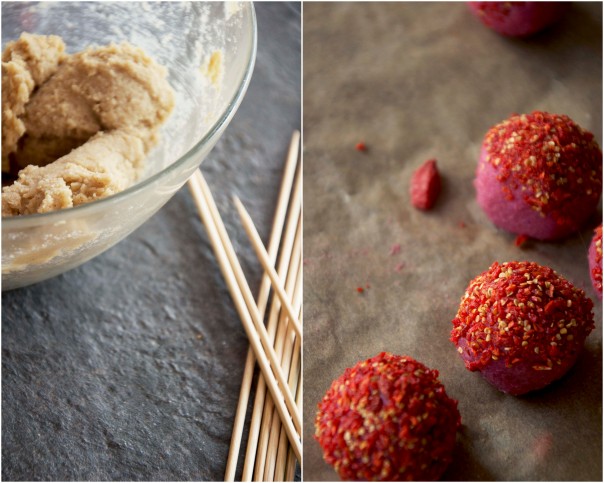 Fun & Fabulous Facts
Tiny, fragile and extremely delicate – Vanilla is pretty far from vulgar but still, isn't it quite the little vamp? Vanilla is rather seductive and can easily sweep us off our feet. It's a carrier of so much goodness and I'd say this recipe is a keeper simply because of it. But who and what is Vanilla the vamp aside from from utterly delicious? Any health benefits? Well, I thought you'd never ask! Vanilla beans has been used for hundreds and thousands of years as a natural medicine to treat nausea, relieve stress and give the love life a little kick. It was the Totonac indians of Mexico who started cultivating vanilla (which is the fruit of the climbing orchid Vanilla plan folia) to use it in rituals and as perfume. First later it became the loved flavoring agent we know of today.
One of the most interesting things I found while researching is that vanilla is commonly used to regulate hormones and balance an irregular menstrual cycle. That is quite powerful stuff to say the least. Some also use the vanilla bean because of it's antiseptic, anti- inflammatory and pain-relieving properties for example on blemishes, in warm (almond) milk and hot baths. I say it's time we start widening our vanilla scented horizons, don't you?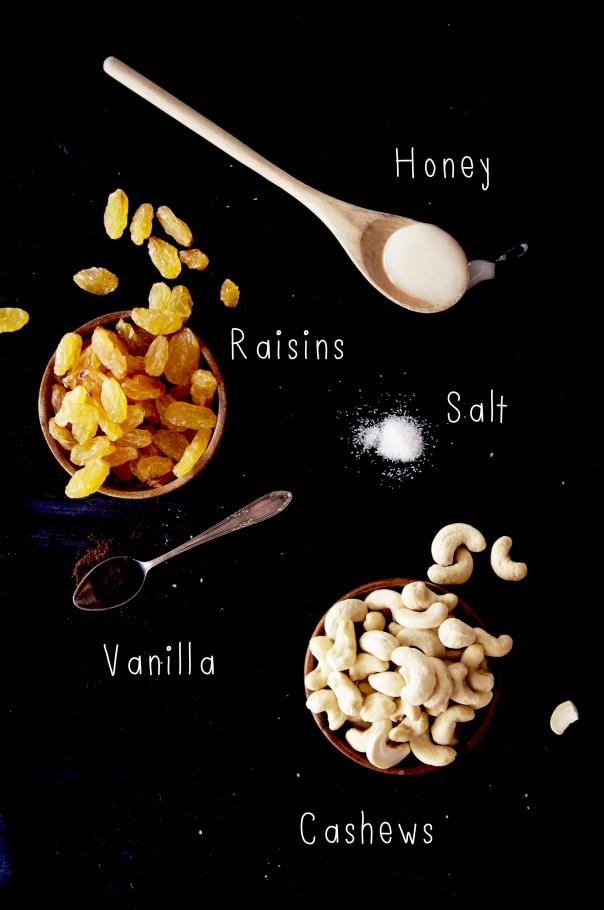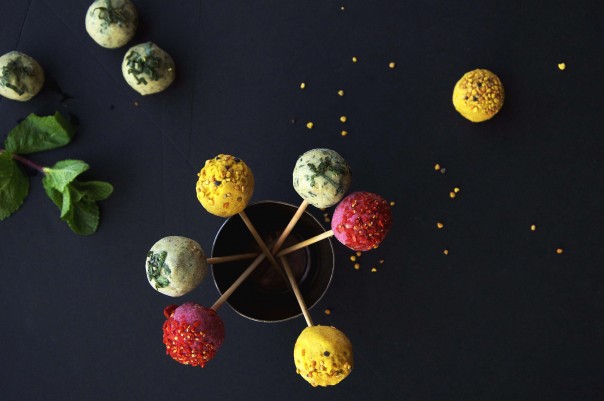 Raw Easter Cake Pops
We've already made it clear these cake pops are not made of Play-doh, instead we use a very simple raw food base and play around with the bouncing natural colors of wheat grass, turmeric and beet. Go crazy and find your own favorite color and taste, what about lavender/liquorice or a total chocolate covered craze?
Makes around 25 cake pops
Base
1  1/4 cup natural cashews
1 cup yellow raisins
4 tbsp cacao butter, melted (coconut oil works fine)
1 tbsp firm raw honey
a pinch of good quality salt
1/2 tsp pure vanilla (ground)
1. Soak the cashews for at least 5 hours or overnight, rinse well.
2. Add the cashews to a food processor and blend until a butter is formed, add the rest of the ingredients and blend until fully combined.
3. Divide cashew dough in 3, add the coloring and flavoring ingredients, decorate, put on sticks and let sit in the freezer up until 10 minutes before serving.
Red cake pops
2-3 tsp juice of beet root (Tip! Peel, grate and squeeze)
3 tbsp dry goji berries, ground – for decoration
Yellow cake pops
1/2 tsp turmeric
1/2 lemon, zest and juice
3 tbsp bee pollen – for decoration
Green cake pops
1/2 tsp wheat grass powder
10 mint leaves, finely chopped
5 mint leaves, finely chopped – for decoration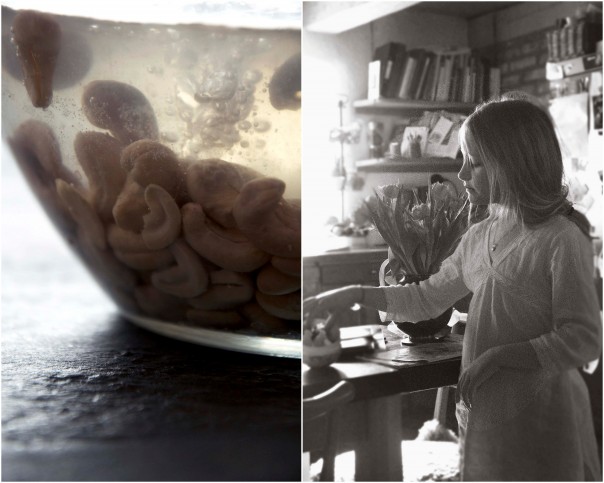 So now we can all get on a happy Easter high without the insane blood sugar lows that follow truckloads of chocolate (all while we paint the world with natural colors).
Ohhh, and why don't you share your fave cake pop flavor in the comments below?!
Have a happy full-of-life´n love Easter.
°°Elenore°°