11/4 – 2016 Health talk, Parapeten Helsingborg
22/5 – 2016 Cooking demo + Cooking ws, Skåne food festival
19/6 – 2016 Foraging walk + Cooking demo, Mossagårdsfestivalen
3/9 – 2016 Cooking demo, Vegomässan
22/9 – 2016 Cooking Event, Breakfast Bowls  – How to compose the most delicious breakfast bowls that will fill you up with nutritious goodness. Power Porridge in different ways, smoothie bowls with toppings galore (and how to make them!). We will take on both sweet and savory and I'll hand you keys for your upgraded breakfast routine. Where? Malmö, Green. Booking & Q's – info@greenmatmarknad.se
1/10 – 2016 Cooking demo + talk, Vikentomater

9/10 – 2016 Morning Magic Session, Superboosted Morning Drinks – Your warm cuppa in new and super boosted way! Healthy Hot Chocolate, Matcha- & Pumpkin Lattes, Golden Milk and other exciting things. It's 100% plant based, will load you up with energy and not to mention, it's incredibly tasty. Where? Malmö, Green. Booking & Q's – info@greenmatmarknad.se
17/10 2016 Cooking Event, Roots Rock! – We're diving into the forgotten land of roots and explore hidden gems and how to use them in fresh and ridiculously delicious ways. Crips kohlrabi, celeriac fries, sweet potato brushetta or salsify chips! The possibilities are endless and the recipes are perfect for busy weekdays. Where? Malmö, Green. Booking & Q's – info@greenmatmarknad.se
24/11 2016 Cooking Event, Veggie Flavor Bombs – Are you at loss on what to use to make your plant-based recipes sing? Which basic ingredients give that something extra to both regular weeknight meals and a gourmet Saturday? We'll explore easy favorite flavor bombs + recipes to enhance your kitchen creations. Where? Malmö, Green. Booking & Q's – info@greenmatmarknad.se
7/12 2016 Morning Magic Session, Snack Attack – Incredible and powerful snacks to avoid the dreaded 'hangry' situations or fussy kids. Healthy snacks with a total treat-y feel. Crunchy Grain-free Granola, minute made puddings, nut & seed butters, blends and trail mixes. What to use and when for optimal endurance & balance. Where? Malmö, Green. Booking & Q's – info@greenmatmarknad.se
11/12 2016 Morning Magic Session, Towers of Toasts – Tartines! Toasts! Open-faced sandwiches! Smörrebröd! Many names for that hard-to-beat favorite. Toppings, spreads and dips (for your own rye sourdough or easy gf bread) that are both sweet and savory. Our go-to meal gets a seriously delicious upgrade! Where? Malmö, Green. Booking & Q's – info@greenmatmarknad.se
17/12 2016 Cooking Event, December Desserts – Winters desserts and treats are often plentiful so we'll simply take it all to the next level and load up on ingredients that are incredibly healthy, completely plant-based and so, so good. Superfood raw candy, dreamy chocolate creation, vegan pannacotta to satisfy your cravings. All made with whole foods. Where? Malmö, Green. Booking & Q's – info@greenmatmarknad.se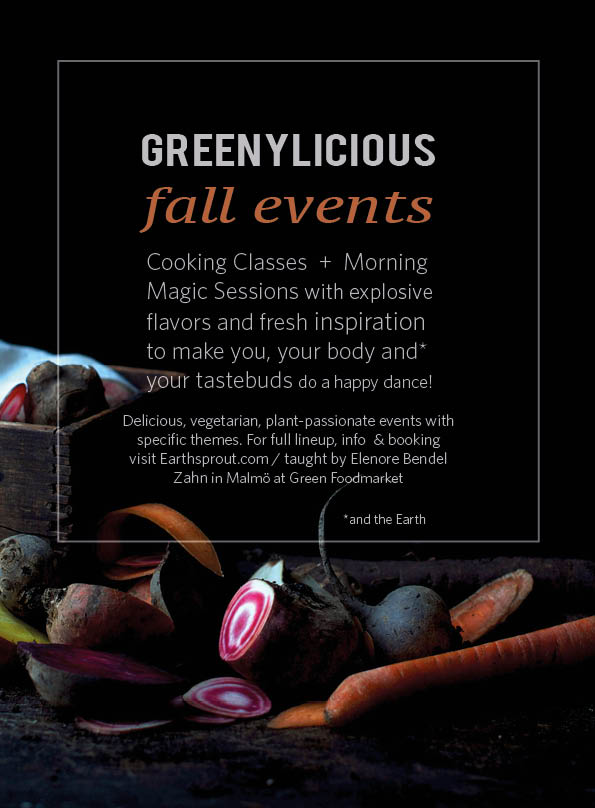 Are you interested in hosting an event with Earthsprout and bringing the Greenylicious ka-pow to your city? Please head over to my contact page for more info.
..look forward to tons of healthy happenings and food fireworks!
And hey! Make sure to put your name and e-mail in the box below, that means you'll get the latest news and flavor explosions straight to your inbox – it's absolutely FREE!
.