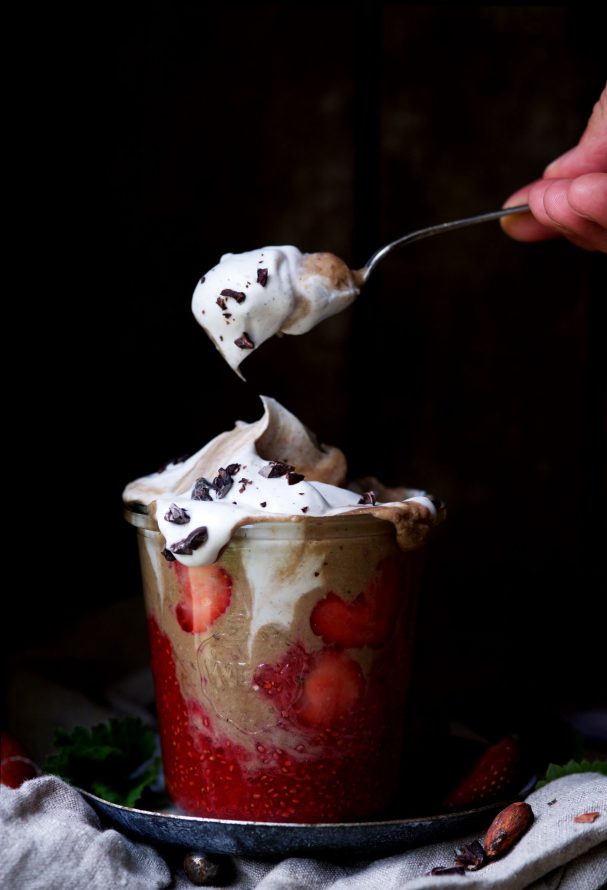 I'm thinking, should I refrain from going all 'Friday Friday, gotta get down on Friday..'? I guess not. So.. Happy Friday party people!
Fabians off work and we're hanging out by the beach for a few days, soaking up that ocean breeze and playing with our boys. It's my father in-law's summer house, the one we lived in for 2 years before moving out last June and it's odd and also comforting being back "home".
Being here makes me think of the saying "Your home is where your heart is". It says so much but notice the little hidden twist. Our true home is within ourselves. Within our hearts. Within our love. That's "where our heart is". Certain places will always call to us and make us feel nurtured or inspired. True, they can even make us feel "home" but I believe that's because we're then on a spot where our heart feels free and at ease. Wherever we are, we need to strive to plant ourselves in environments where our souls can be wide open and absolutely nuttily joyous. By the way, that could totally just mean going for walks, spending time doing something creative or hugging a loved one.
We sure have had some crazy living arrangements over the last years and I know we will get to land on a spot of our own soon. The most important thing though, is centering in love and feel right at home wherever I am. At least, you know.. almost all the time. #imhumantoo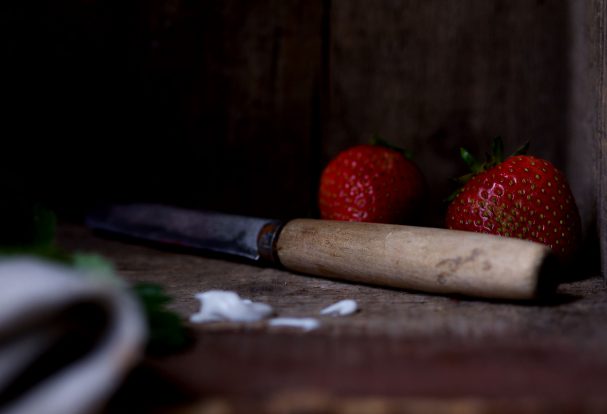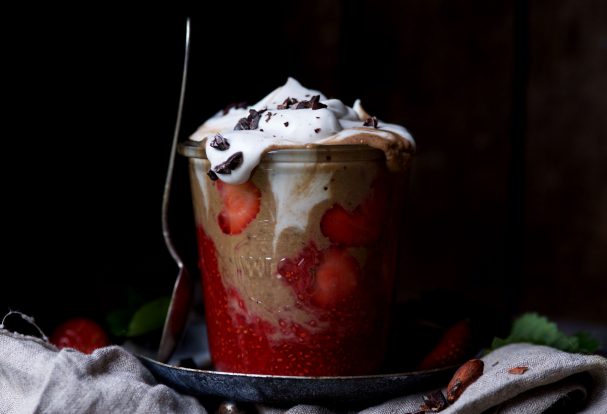 App Summer Sale + Giveaway
Anyway, I'm a little bit distracted writing this because the 'Java Shake w Maca & Strawberry' in the pictures is so good it makes my brain go for imaginary trips to the kitchen again and again. This recipe is a riff on the Java Smoothie in my app 30 Raw Breakfasts and it's just such a treat (with all of the health benefits too!).
I am a hard-core breakfast enthusiast. Always have been, always will be. I know not everyone feels this way so as an effort to spread delicious and inspired morning meals I developed and launched the 30 Raw Breakfast app a couple of years back. It's filled with app-exclusive recipes and I use it often because I need to infuse my plate with fresh ideas too. All the recipes are super easy to make (10-ish minutes or less) plus most of them can be prepared beforehand and they are all superheroes in the nutrition department.
Summer feels like the perfect time to up our breakfast game and I want everyone to feel amazing in the mornings (makes for way better days too) so I had a strike of genius that resulted it this APP SUMMER FRIGGIN' SALE! We dumped the price to 2 dollars, added a refreshing new summer recipe and some new features (so for everyone that already has it, go update!). I'm also giving away 10 apps, for free. Because, love.
How to enjoy the app NOW: Find the app on app store HERE. The Summer Sale continues until next Friday, July 16th. Go!
How to enter giveaway: Leave a comment below this post with your fave breakfast spot and dream breakfast company (I'm nosy) and I'll randomly pick 10(!) winners on Wednesday (July 14th). Share the word!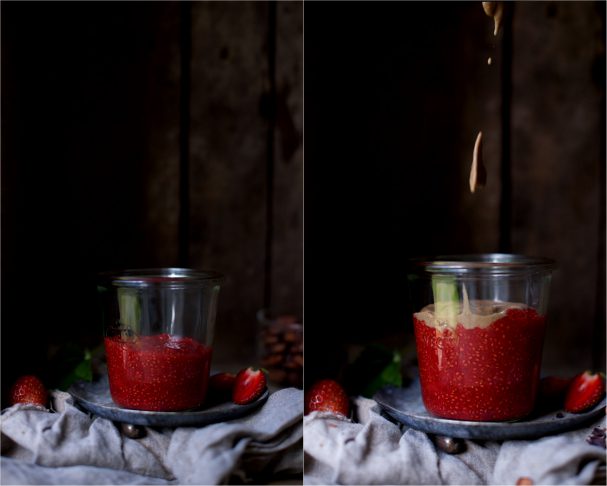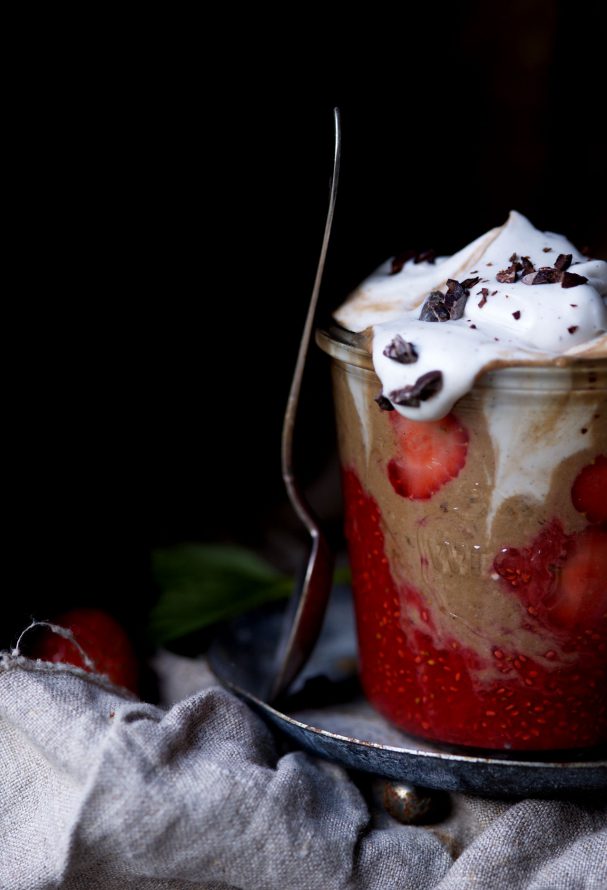 Java Shake w Maca & Strawberry
A riff on the Java Smoothie in my 30 Raw Breakfast app, this delicious and great-for-you dessert/snack/breakfast is all you need this summer. Really easy to prepare, pretty darn sensuous to devour and leaves you on such a high (on the good stuff). That's why I named it Java Shake. No need for caffein in this one. 
1-2 servings
Strawberry Chia layer
2 handfuls fresh strawberries
2 tbsp chia seeds (I used white chia seeds because I wanted them to just look like strawberry seeds but you can use whichever color)
Rinse and pick through strawberries and add to a bowl along with the chia seeds. Blend with a hand blender until smooth. Let sit for at least 10 minutes (or overnight) Add to a bowl/glass.
Java Shake layer
1/2 cup water + 1 cup for soaking
3 tbsp sesame seeds
1 large banana, peeled and frozen in pieces
1/4 large avocado, peeled and pitted
1/4 tsp maca powder (I like this one)
1 tsp carob powder 
1.5 tsp raw or roasted cacao powder, unsweetened
4-6 cardamom seeds or 1/4 tsp ground cardamom
1/4 tsp pure ground vanilla
1 date, pitted (optional)
Add sesame seeds to the 1 cup of water and let soak for at least 3 hours or overnight. Rinse thoroughly and add to a blender (preferably a high-speed blender). You can skip this step but soaking will be better health-wise. If you skip soaking, then rinse the sesame seeds very thoroughly in warm water before using. 
Add all other ingredient to the blender and blend away until thick and silky smooth. Add to the bowl/glass of strawberry chia mix. 
Topping
1+ tsp cacao nibs
3+ fresh strawberries
3 tbsp whipped coconut cream 
To make coconut whip: 1 can of full fat coconut milk, refrigerated overnight, solid top layer scooped out. Blend half of the solid layer with 1/2 tsp honey or maple syrup and a touch of pure ground vanilla using a hand blender or a hand wisk until soft). Store leftover (?) coconut whipped cream in airtight container in the fridge for 3 days. Use leftover coconut cream and coconut milk in cooking/smoothies/soups.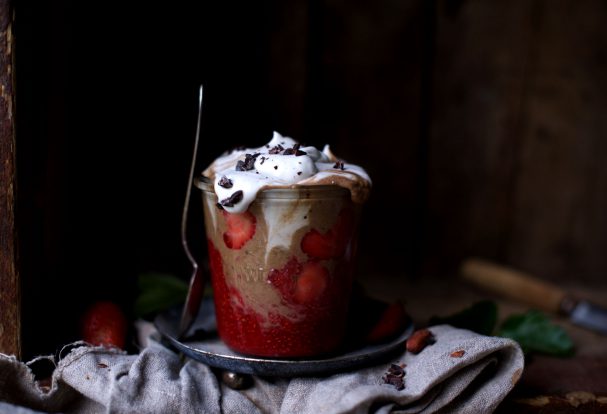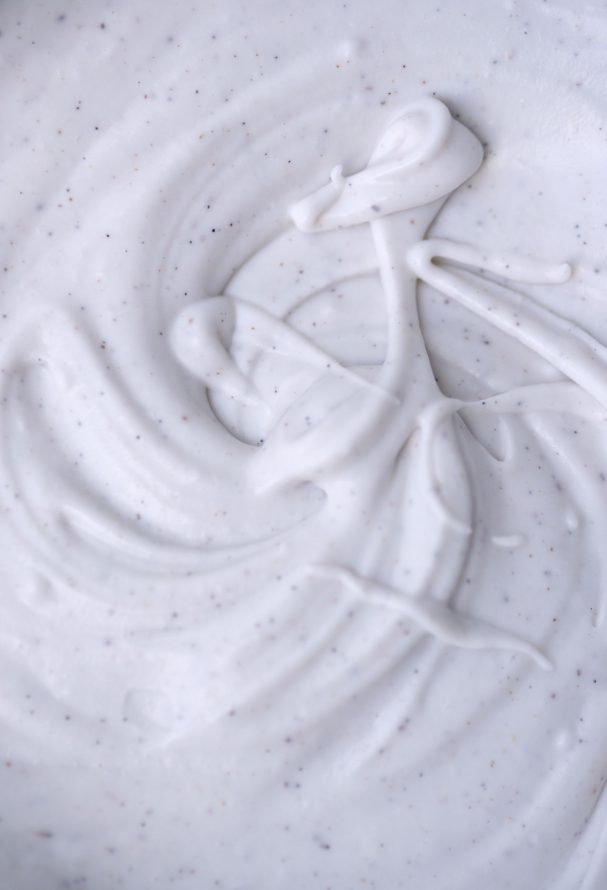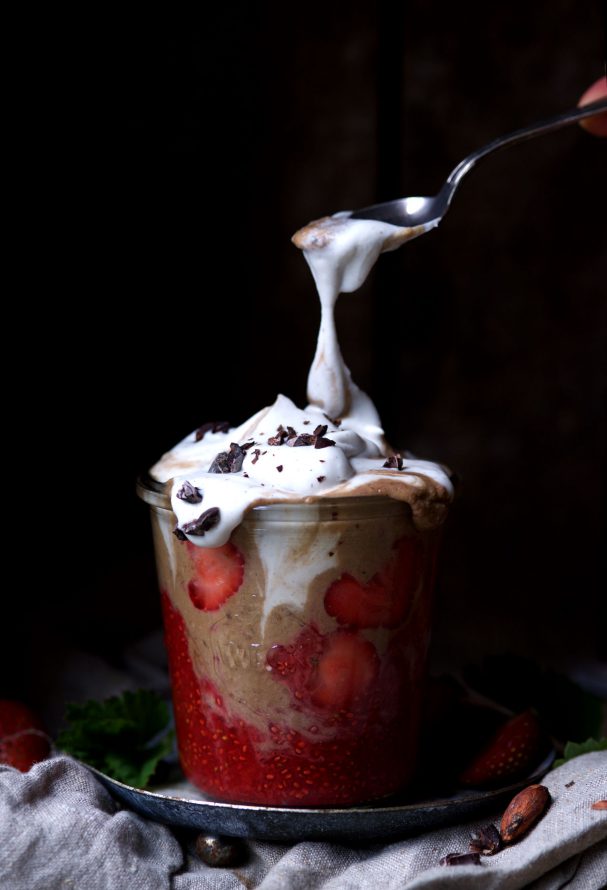 Now go grab a 30 Raw Breakfast app of your own (+ share the word, friends!) ..and look forward to the weeeekend breakfasts!
I'd love to see your app morning adventures! Use #30raw & #earthsprout hashtags on Instagram!
°°Elenore°°