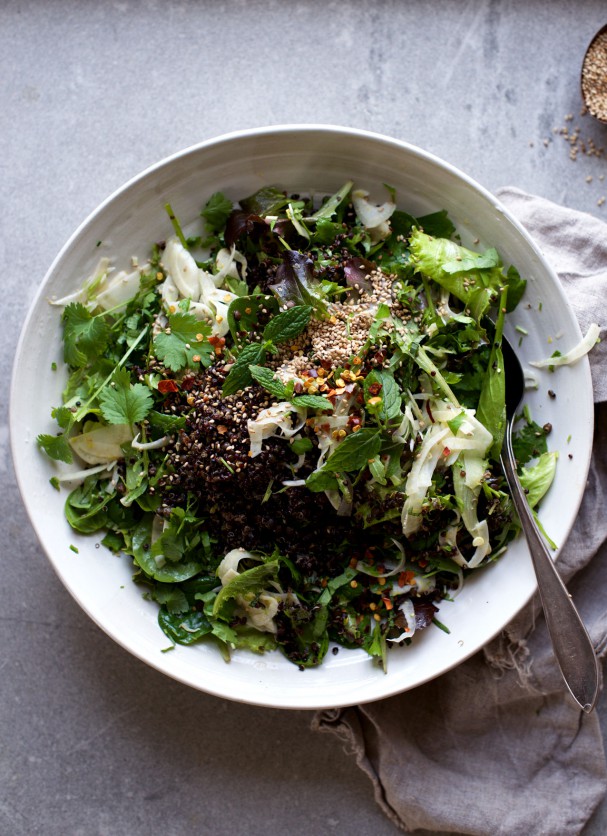 There is a HUGE pile of laundry longing to be folded, Caspians wooden train tracks are scattered all over, the door is flung open to let in the sun set and in the kitchen, traces of dinner are still on the floor, table and counters (um, is that a half eaten apple in a sandal  over there?). I'm flying solo for a moment ('cuz sitting on the couch sans any wild kids can sort of feel like flying, knowwhatImean?!) while the boys are busy falling asleep. I'm in my pj's and my braid should've definitely been replaced by a fresh one this morning but I have a glass of bubbly home-brewed strawberry/ginger kombucha (because I'm fancy like that. Hah) and life is pretty good.
A beautiful way to collect these priceless everyday moments (apart from really being present in them) is taking pictures. Many of these end up on the internet but really, few are of messy living rooms. Instead everything looks perfectly set and calmly beautiful. No half-eaten apples in a pile of shoes, instead healthy, colorful meals, show stopping surroundings and smiling kids. Even though I'm one of the picture-takers myself, the abundance of well-styled shots on the web overwhelms me and I can forget that just as intense and insane as my reality is, as is the reality of others. Nothing is 'perfect' and everything is wild. Still, all is actually beautiful. The slightly dirty hair, the train tracks and the cloth diapers (clean!) on the floor. Beautiful details are laced with madness too. The thing that matter is what we choose to focus on. What do you choose to see?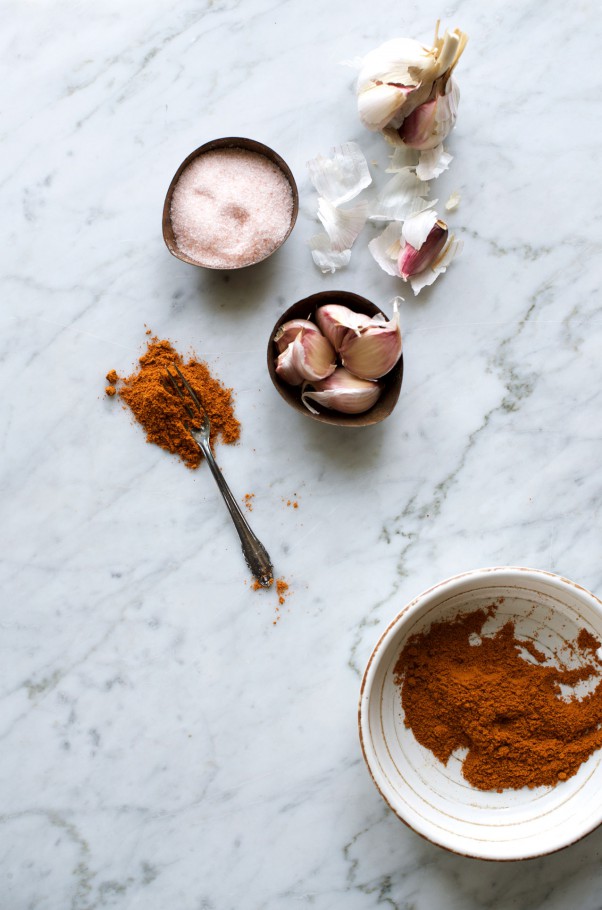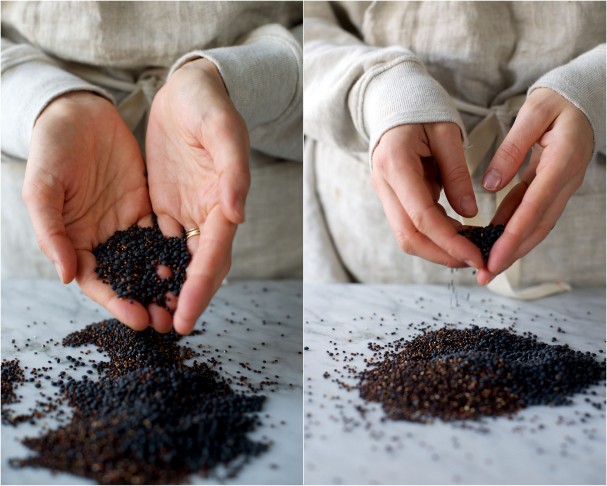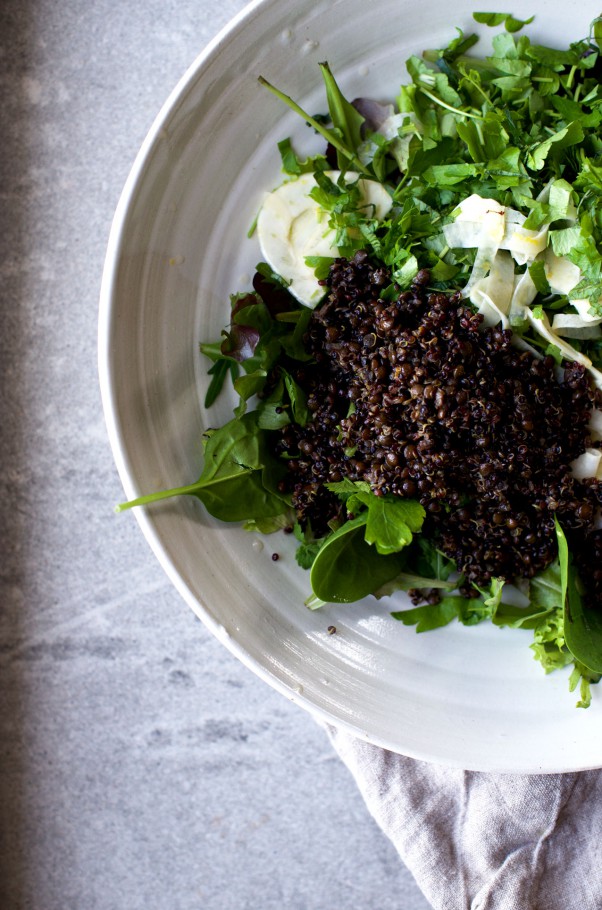 Fun & Fabulous Facts
In a world where even the biggest fast food chains serve Quinoa in some form, most of us have heard about this super seed. Gluten free, white, fluffy, packed with protein (a complete source of protein!) and really versatile. But black quinoa, folks, have you tried the black quinoa yet? Chefs all over the world swear by it's incredible nutty flavor and unique texture, not to mention it's absolutely stunning appearance. To be honest it's the looks of this seed that had me falling head over heals in love with it. Yup that's how shallow I am. The prettier the food/produce the more intrigued I am (this gorgeous color-bomb of a salad is probably proof enough). When it comes to the nutrition side of things, black quinoa (and red for that matter) is a little bit more bad-ass then their white sibling. Their bold color lets us know about the load anthocyanins they carry. Anthocyanins protects our cells from free radicals (yay!) just as they protect the plant from UV damage and oxidation. We really are one and the same, nature and us.
Nutrition and appearance set aside I think the coolest thing about black quinoa is actually the way it came about. It is said that some farmers in Colorado began growing this 'Mother of Grains' that the Incas called it, during the late 18th century (after being grown for thousands of years in the Andes). Suddenly they realized that their white Quinoa had crossbred with Lamb's quarter and produced a new darker variety. Both Quinoa and Lamb's quarter belong to the Goosefoot family, Chenopodiaceae (just as amaranth!) so these things can easily happen. I just think this is the most amazing proof of how fantastic it is to explore growing our own food and the important world of seed saving. I mean, you might just 'create' the next Black Quinoa – how rad would that be?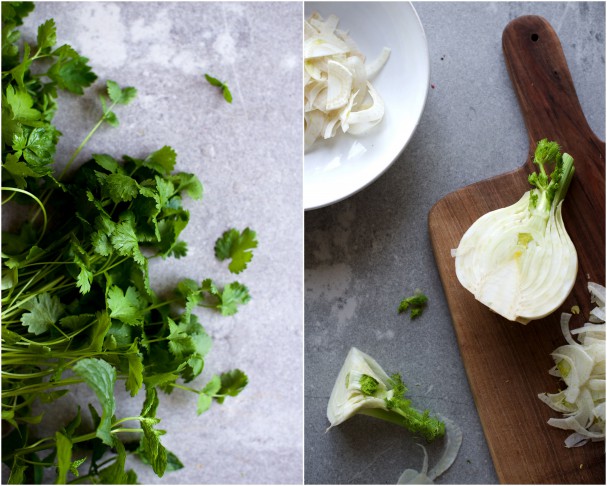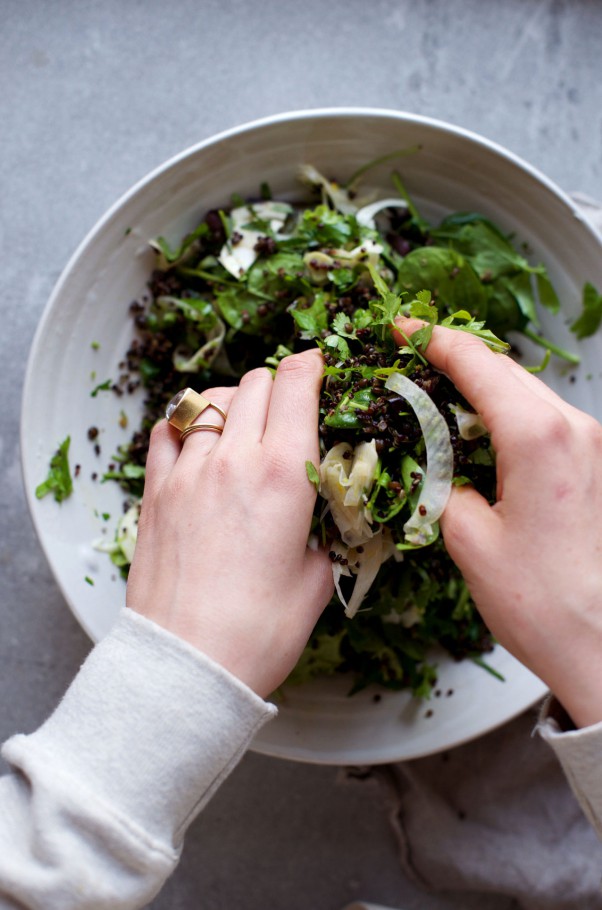 Shawarma Spice & Herb Salad w Tangy Fennel Kicks
Because of the chopped herbs, this salad is best enjoyed the same day as it's made. It is perfect on it's own or paired with some BBQ. I love adding it to wraps along with avocado, marinated tempeh and other yummy components. Enjoy! Ps. It's really easy to make your own Shawarma spice mix but you can also find either in a well-stocked supermarket or online.
For the salad
1/2 cup beluga lentils
1/2 cup black quinoa
1 1/2 cup water
1 large handful fresh cilantro, chopped
1 large handful fresh parsley, chopped
1 small handful fresh mint, chopped
2 handfuls baby leafy greens, optional
2 tbsp lightly toasted sesame seeds
1/4 tsp chili flakes
For the Shawarma seasoning
1 tbsp apple cider vinegar
3 tbsp virgin sesame oil
1/2 tsp quality salt
1 1/2 tsp Shawarma spice mix
1 garlic clove
Bring water to a boil then add quinoa and lentils. Cook covered on low heat for 20 minutes. 
While quinoa and lentils cook, make the tangy fennel (recipe + instructions below)
Add apple cider vinegar, salt, shawarma spice mix, sesame seed oil and 1 minced clove of garlic into the pot of cooked lentil & quinoa. Mix well with a big fork and put the lid back on. 
In a large bowl, add chopped herbs, baby leafy greens and shawarma marinated black lentils and quinoa. Toss to combine. Add tangy fennel and top with lightly toasted sesame seeds, a sprinkle of chili flakes and some fresh mint leaves.  
1/2 fennel bulb
1/2 lemon, juice+zest
1 tbsp apple cider vinegar
Slice fennel really thinly, preferably using a mandolin slicer. Add to a bowl along with the lemon and apple cider vinegar. Combine well and let marinate until the salad is completely done. Add the fennel.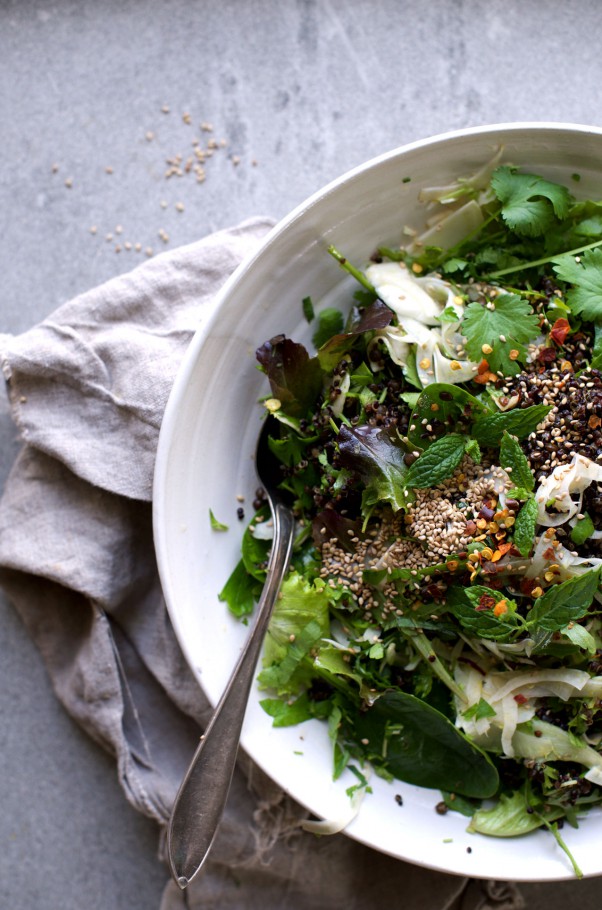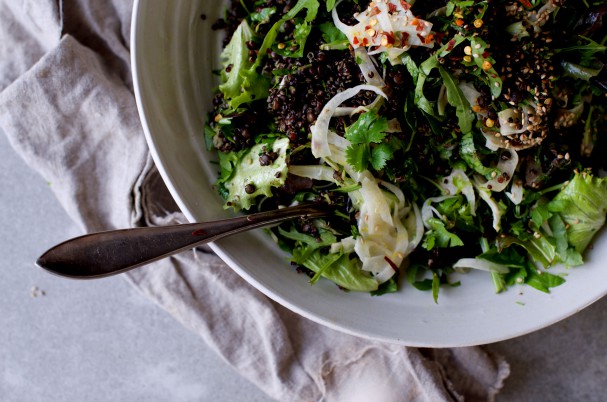 Here's to beautiful details and a (generous) sprinkle of madness. Happy Sun-day, friends ..and until next time – let's connect on Instagram!
°°Elenore°°