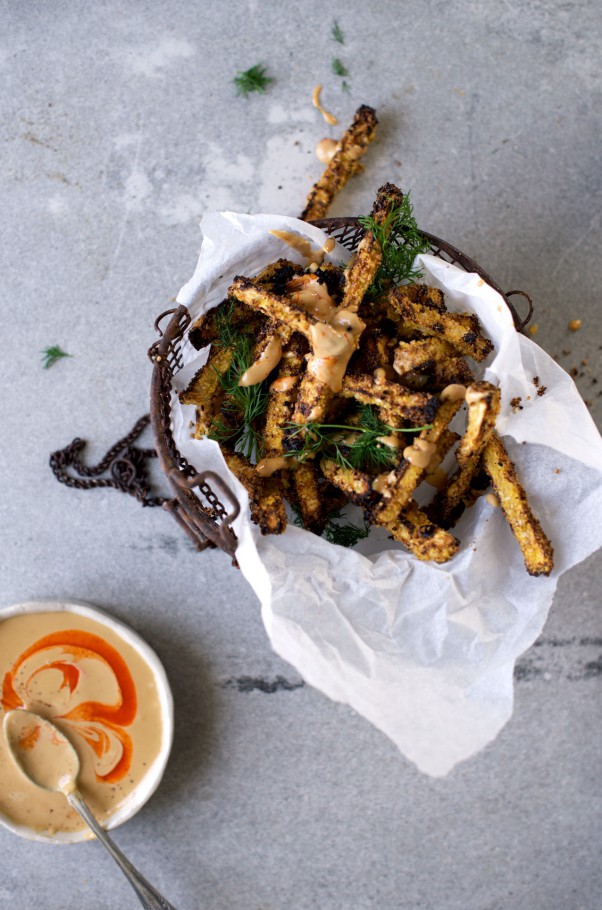 So, dinner. The struggle is Real (yes, even with a capital 'R'). A full on buzzing, busy baby + toddler life is filled with lots of in public boob-flashing, counting how many hours of sleep I got last night (bad idea), gazing deep into big blue curious eyes, hearts melting and juggling all.of.the.things. Our batch cooking routines? Lost.. Our meal-planning routines? Lost.. Stuffing the Vitamix full of kale, fennel, frozen berries and other things and calling it dinner? Lost.. (Cruciferous vegetables still isn't best friends with Avalons belly, damn it).
As you might guess, at the moment it's all about any and all life- and meal hacks I can come up with. These crunchy celeriac fries and this awesome-sauce miso dip? Total dinner hacks! The fries aren't only major crowd pleasers, they also only require 4 min of prepping and taste so darn good. The dip makes Caspian eat basically everything else that's on the table (he just recently started dropping the "I don't like that"-bomb), it whips up in no time and it goes with pretty much everything we eat. Turn it into a spread? Sure! Add it to soup/stews/grains/legumes for some extra punch? Heck yeah! Thin it and use as dressing? Good thinking! Obviously these two recipes are major winners when it comes to both flavor, nutrition & time saving. Score! More time to gaze at the gorgeous waning moon/pass out, tonight! Scroll down for more of our current dinner hacks!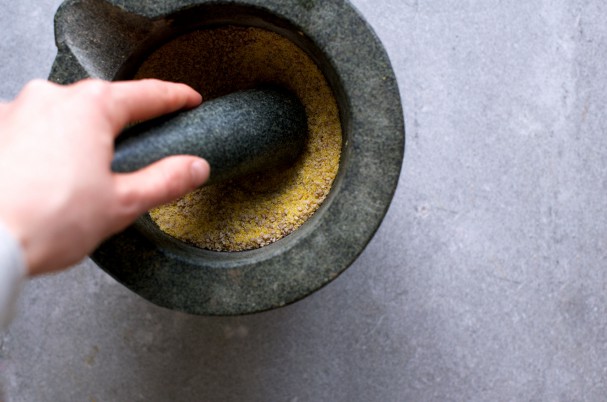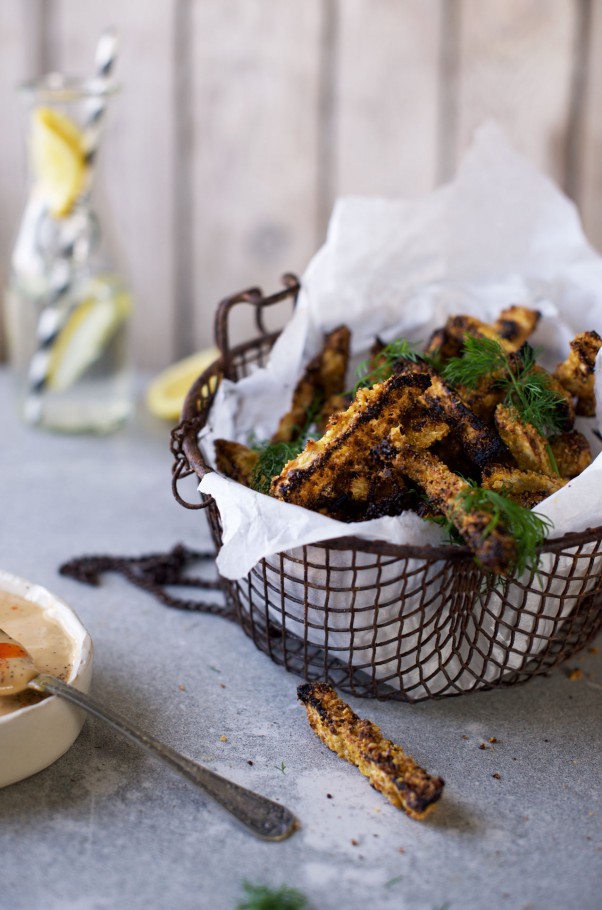 Fun & Fabulous Facts
–  Our Everyday Dinner Hacks
Stock up! This is number one without a doubt. If you have a a well-stocked pantry, fridge and spice cabinet you'll always find something to make and eat. Keeping trustworthy favorites at home, like root vegetables, legumes, grains, gf (or not) noodles, leafy greens, your favorite veggies and sprouts is the best. Cans of coconut milk, tomatoes and readymade beans (although home-cooked are way tastier) are real life-savers too.
Make More! While I might be off the Sunday batching'/meal planning for a bit, we still make sure to make double meals while we're cooking. This goes for everything; legumes, grains, dips, falafels, one-pot-meals like daal, soup, lasagna and even breakfast waffles. This leaves us lunch and maybe a little more for the next days. Obviously if you have 1.5 hours to spare on a Sunday batch it, baby!
Dips! This isn't just the best dinner hack when it comes to kids. Having a dip at hand in the fridge make everything easier. The Miso Dip below is my current favorite. Other awesome ones are a good hummus (lentils! beans! beets! ..add what you feel like!), ajvar, baba ganouch, raw mayo, guacamole, umami sun choke sauce, vegan special sauce. Rotate and find your faves. Ps. See me and Karoline make the best raw mayo on our tv-show HERE (at 17.36)
Fermented foods! Kimchi, sauerkraut, spicy fermented carrots, olives. All these makes either great sides to whatever you're eating or added to nori rolls, tacos, pancakes, wraps etc.. Both your tastebuds and strengthened gut flora will thank you.
Raw Veggies! Kohlrabi, rutabaga, carrot, celery, zucchini, burdock and fennel are great vegetables to cut into sticks or thinly slice on a mandolin. Sprinkle with some herbsalt or use as dipping material. If you have a spiralizer – use it! And again, make double while you are at it.. Plain and simple but SO good.
Steamed Veggies! Takes no time at all and adds beautiful greens to anything. I love steaming broccoli, greens beans and even root vegetables and then tossing them in some virgin olive oil, nutritional yeast, tamari and spices.
Ovenroasted Veggies! Need I say more? Parsnips, Celeriac, Beets, Rutabaga, Sweet potato, Jerusalem artichoke, Pumpkin, Carrot, Cauliflower. Rotate your spices to create different flavor experiences. Go mediterranean, north african, indian or whatever you feel like. And again, make more than for just this meal. Tomorrow you can cut them up and throw in a semi-warm salad, add to a soup or blend up a hummus.
Spices/Herbs/Condiments! Having fresh herbs at home is one of the greatest things in my opinion. It  turns seemingly boring leftovers into a glorious tabbouleh, fragrant wrap or works as flavorful topping. Same goes for spices and dried herbs. If you have a good base at home, miracles can happen. A good hot-sauce, Dukkah, Za'atar, tamari and miso are also known to save the day in our house.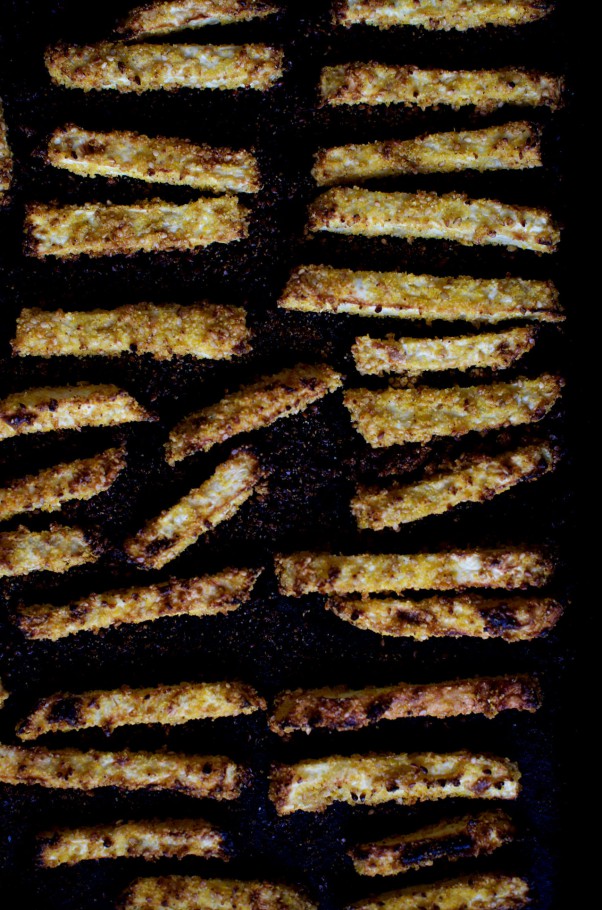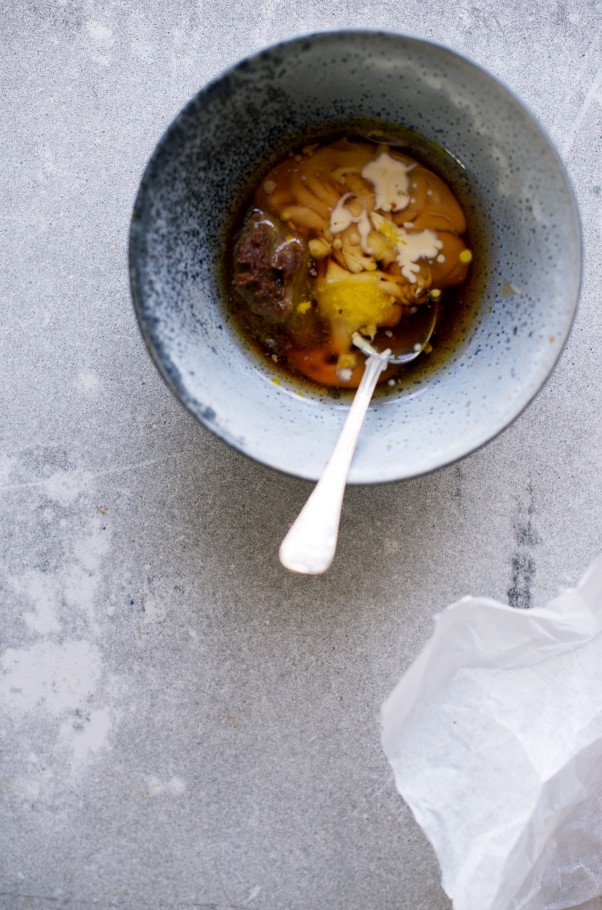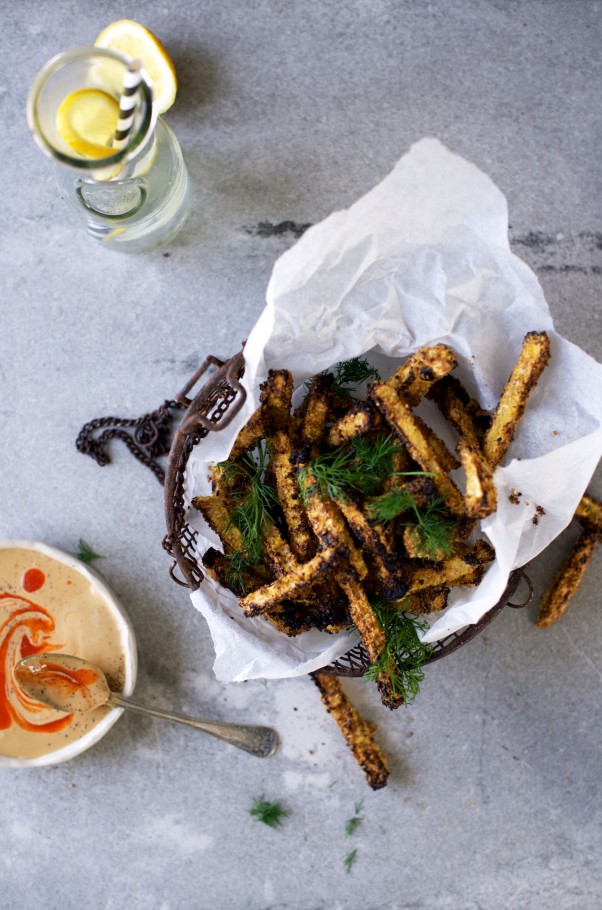 Celeriac Fries w Creamy Miso Dip
Notes: Rosting the fries at at lower temperature at first draws out moisture, bumping up the heat towards the end (and using the grill setting) gives them the crunchiness that we want. Absolutely follow these steps for the perfect fries. The Creamy Miso dip + springs of fresh dill is the best pairing for the Celeriac fries that I have found but they are delicious with pretty much anything. As is the dip. 
Celeriac Fries
makes 1 baking pan full
1 medium sized Celeriac
2 tbsp flavor free coconut oil/ghee/quality non-GMO canola oil
2 1/2 tbsp unhulled sesame seeds, slightly ground using mortar + pestle
2 1/2 tbsp polenta (find an organic, non-GMO one)
1/2 tsp quality salt 
Preheat the oven to 175°C/347°F
Peel Celeriac root and cut into fries.
Add fries to a baking pan and add oil, sesame seeds, polenta and salt. Rub sesame/polenta mixture onto the fries until they are as covered as can be. 
Arrange fries so that they aren't touching and pop into the oven. Bake at 175°C/347°F for  25 minutes. After 25 minutes bump up the temperature to 275°C/527°F on the grill setting and bake for an additional 7-8 minutes. During these last minutes I strongly advise you to check the fries every minute as they burn easily at this high temp. Serve with Creamy Miso Dip and fresh dill.
Creamy Miso Dip
1/4 cup water
3 heaping tbsp runny tahini
1 tbsp dark miso paste
1/2 tsp apple cider vinegar
1/2 tsp tamari
Add all ingredients to a bowl and mix with a fork until creamy. It will seem watery at first but the runny kind of tahini absorbs water like nothing else.
To Serve
Serve celeriac fries with the creamy miso dip, fresh dill and some drops of hot sauce.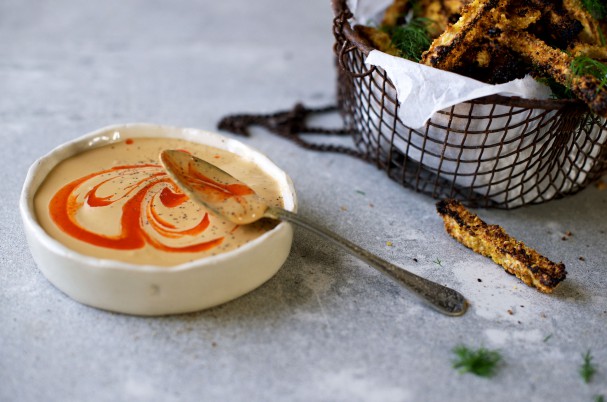 You can't even guess how much I've been longing to share this recipes with you and I'm so psyched for you to try them out! #-tag the heck out of it all on Instagram [#earthsprout].
..and guys! Leave your awesomest Dinner Hack in the comments below! I'm super excited to hear them (..and add more short-cuts to my crazy evenings :)
xoxo
Elenore