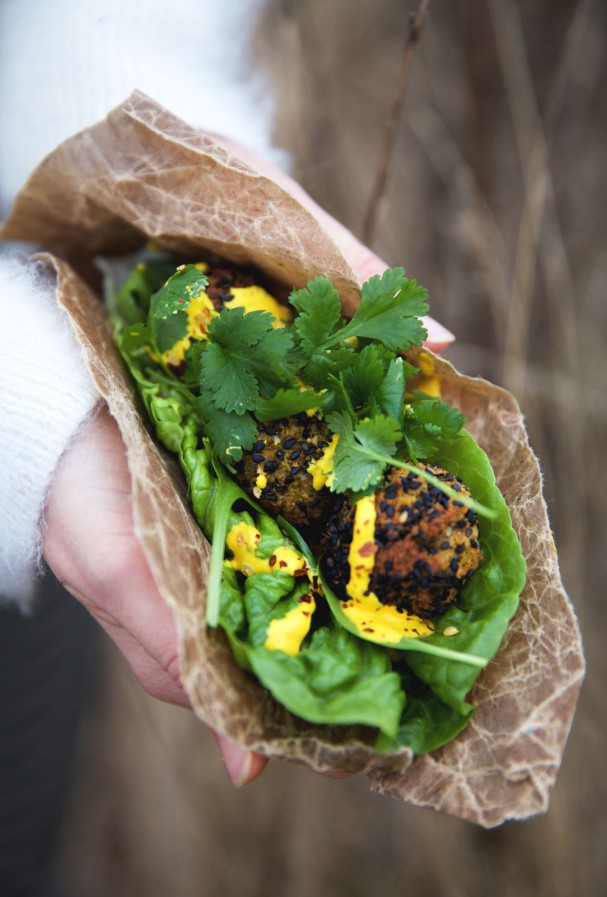 Some things just make you feel all the feels, know what I mean? Me, I am a total winter-nerd. I don't just enjoy frost, snow, high winter air and everything that comes with it. No, I effing passionately love it with all of my being.
Last week for the first time in what feels like ages, I woke up to a frosty landscape. I was headed to Stockholm that day and got to fly over a white Swedish landscape with a very happy heart. Me and Karoline (my partner in crime when it comes to all things veggie tv-show) were in Stockholm to create a green'n gorgeous spread of holiday-y recipes in Swedish morning tv. The recipe you see here today is one of my favorites (although it's very hard to pick out one!) of our 'One Thousand and One Night'-themed buffé.
We only got one or two days of the winter wonderland vibes but it was nothing short of magical. As a bonus, the feelings that came with it was a great reminder that we can create whichever Now we want. It all really depends on which emotions we allow to play main character. So today, when skies are gray, rain puddles deep and winter-wonders feels like worlds away, I copy paste the feelings my whole being vibrate with when I see a bright, light winter world. It doesn't hurt that we're headed for a skiing holiday today either. Caspian is wildly excited to stand on ski's for the first time ever by himself (although he's been in the slopes both in my belly and on our backs). I might add that me and Fabian are as crazy over the moon as he is.. Wii!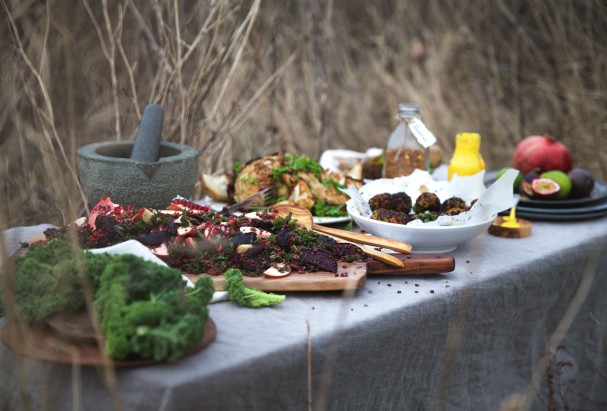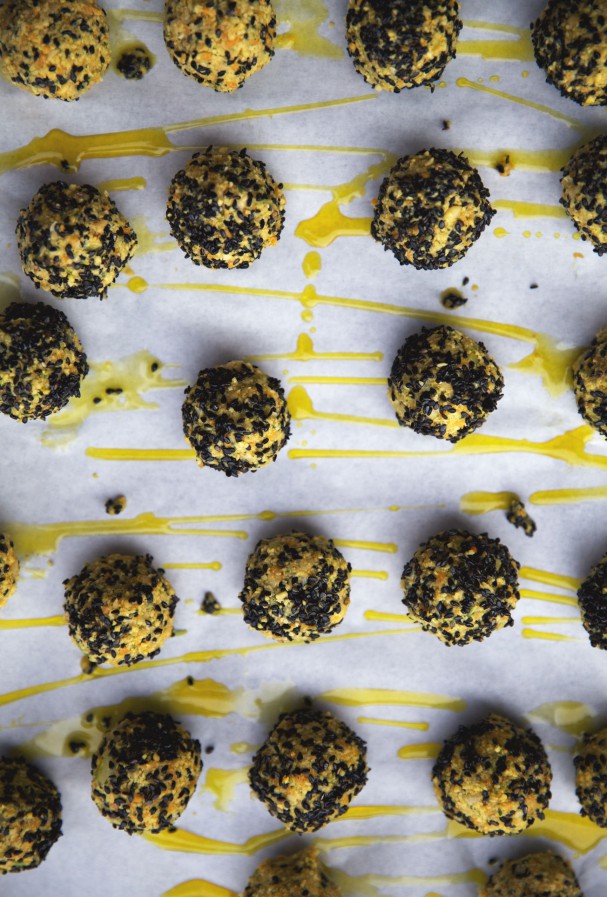 Fun & Fabulous Facts
– Why you wanna be totally baked instead of totally fried
Developing this recipe took 4 rounds and lots of thinking. I tried making it with cooked chickpeas, then cooked split peas (to make it more nordic) but the texture was just meh. Then I pulled out my Bon Appetite mag from this fall and went for the only soaking-route that they did in their gorgeous meze-spread (but I swapped deep-frying for baking). When I pulled out the falafels from the oven I knew I had a winner. Totally crispy, deliciously satisfying and just plain awesome. No deep-fryer in sight! The flavor is somewhat unexpected with lots of citrus, notes of herby sage and parsley and then of course the love of my life: pumpkin. Karoline and I decided to pair these winners with a creamy, dreamy saffron sauce and to say that the pair quickly became quite popular in the tv-house is an understatement. This is an epic, explosive flavor-combo and really, you.just need.to.make.it.
A common question I get is if deep-frying really is such a bad thing? Falafels, chips, fries.. If I set aside the messiness that an oil bath in my home would create, why do I turn to my oven instead of a deep-fryer? Many years prior to cooking really entering my life I never got how people could justify the over-use of oil in such a wasteful way but after studying nutrition (and learning as I go) a few other things have been added to my pro oven-baking list. 
AGE's (Advanced Glycation End Products). When foods that contain both protein and starch meet with the high temperatures that deep-frying require, these form substances called AGE's. AGE's are strongly inflammatory and high levels of these in our blood have been clearly linked to diabetes, cardiovascular disease, premature aging and even alzheimers. It's not only deep-frying that produce AGE's but all form of processing or cooking where foods meet both high temperatures and oxygen. However, deep-frying is the least smart way if you want to choose an as kind route as possible to cook.
Low quality oils When deep frying, low quality oils like partially hydrogenated oils (another word for trans fats) are often used because these have been processed in a way to make them withstand extreme temperatures and also make them last for a very long time. They are of course also plain cheaper. Trans fats are a know health hazard causing inflammation, weakening our immune system and have been linked to diabetes, strokes and obesity. These oils are not something you want to bathe your system in, trust me (or trust Harvard).
Oxidation is a fact when all fats reach their smoke point. Some oils are stabile enough for us to use when frying or baking whereas other oils need a more delicate touch (like being drizzled over meals or used for toppings and dressings). Oxidized oils form carcinogenic substances and having these in our food is nothing I'd recommend if you can choose another way of eating that falafel (yay – baking it!).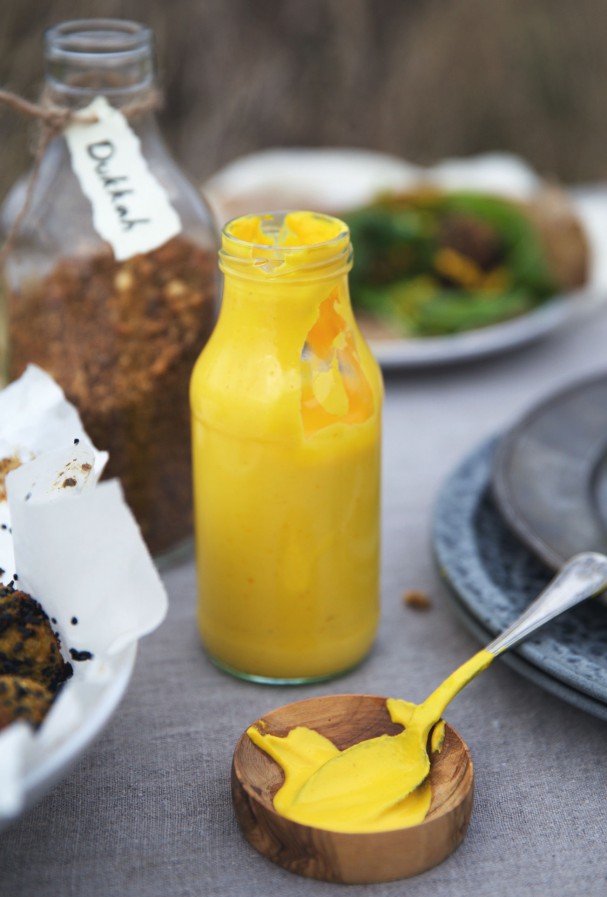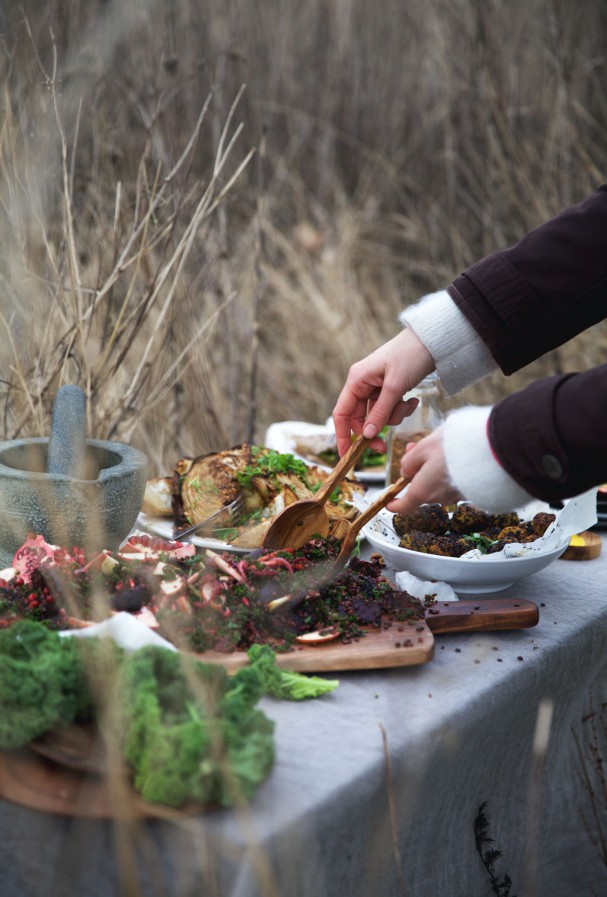 Crisp Baked Pumpkin Falafel w Saffron Sauce
Pumpkin falafel | 10-14 pieces
1 cup dry chickpeas/garbanzo beans
1/2 small Hokkaido pumpkin or Butternutsquash
1 large handfull fresh parsley
3 small garlic cloves
1/2 tsp cardamom
1 heaping tsp quality salt
1 small organic lemon, zest from whole, juice from half
1/4 tsp spicy chili powder
4 tbsp brown rice flour
1/2 handfull fresh sage, optional
3 tbsp coconut oil, ghee (both gently melted) or quality non GMO canola oil
4 tbsp black sesame seeds
For serving
'bowls' of gem salad or savoy cabbage leaves (or pita/Lebanese flat breads)
watercress/sprouts/shoots/baby leafy greens
chili flakes
fresh cilantro
saffron sauce, recipe below
Soak chickpeas / garbanzo beans for 24 hours in lukewarm water and a splash of some form of acidic agent such as lemon juice or apple cider vinegar. The beans will double in size so make sure you use a large bowl and a good amount of water. Note that I have tried soaking the beans overnight and it works just fine but if you want to be as kind as possible to your belly I do recommend the 24-hour soaking time.

Preheat oven to 375°F / 180°C

Once soaked, drain and rinse chickpeas and add to a food processor

Peel and roughly grate 1/2 Hokkaido pumpkin / Butternut squash. You need 1 1/4 cup grated pumpkin. Save the rest for future meals. Add grated pumpkin along with parsley, garlic cloves, cardamom, salt, lemon juice, lemon zest, chili powder, brown rice flour and fresh sage to the food processor. Blend until a coarse but thoroughly combined texture that holds together when you press into a ball in the palm of your hand. Make 10-14 little falafels and set aside.

Mix oil and sesame seeds in a small bowl and roll/cover falafels in the mixture. Add falafels to a covered baking pan and drizzle a little additional oil over the falafels. Bake for 45 minutes in the center of the oven or until completely golden and crisp.
Saffron Sauce
3/4 cup untoasted cashew nuts
0.5 g saffron (1 sachet)
1/3 cup water, less or more depending on desired consistency
a tiny pinch quality salt
1/2 tsp raw honung or maple syrup (brings out the saffron flavor)
1/2 lemon, the juice
Soak cashews overnight or for at least 5 hours in double the amount of water. Once soaked, drain and rinse.

Add all ingredients to a high bowl and blend with a hand blender or add all ingredients to a high-speed blender and blend until creamy and smooth.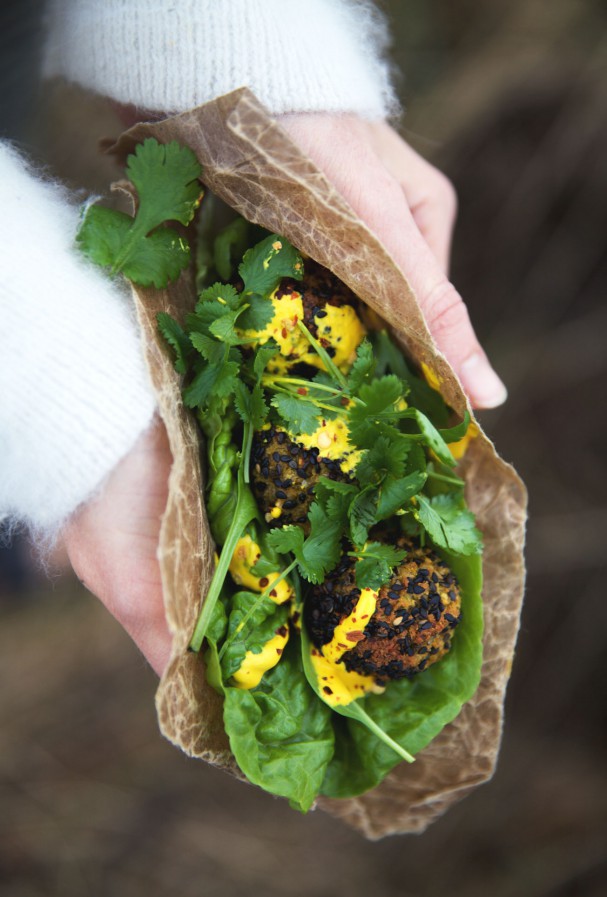 So dearest friends, I'm off to spend time with family and enjoy some snow and I hope that wherever you are you can feed your soul some of the things and thoughts that make your very core buzz with all those glorious feels ;)
Btw! Sorry to say that the clip of us rocking that green holiday spread in morning tv isn't up any longer.. But the tv-show airs soon! (19/1-16) and it'll be available for streaming globally (not yet with english subs, hopefully soon though!)
See you in 2016!