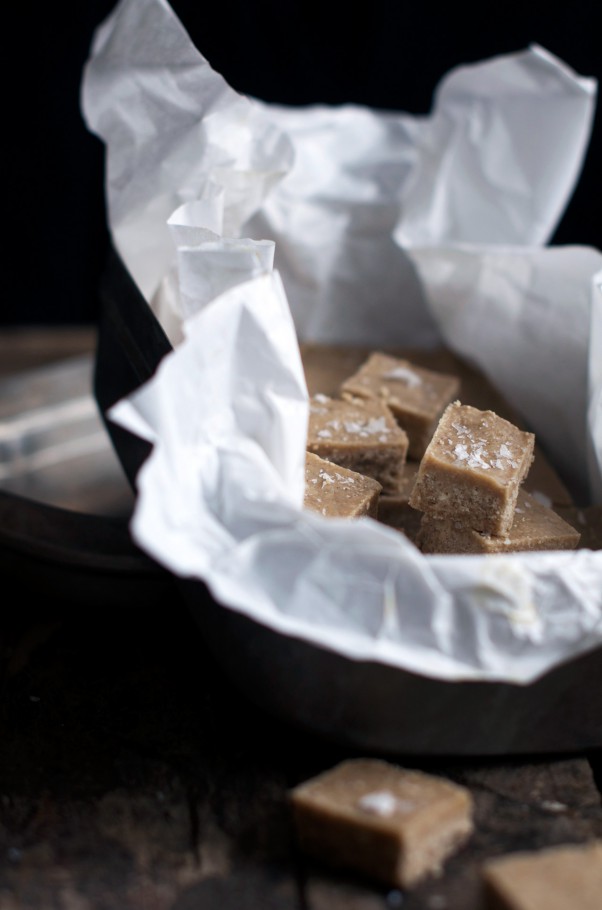 Some things tend to sit on my long list of recipes to post (a really crazy-looking thing in Notes) forever before it actually happens. This Tahinoffe = one of those things. It's not that those recipes aren't 'perfected', more so it's the change of seasons combined with how I always put my finger high up in the air to find just the right time for a certain recipe to pop up here. I actually think it's well over 1 year ago that this scrumptious, totally addictive and -I even dare saying it- healthy(!) treat made it's first appearance on my Instagram and a handful of people have been asking for it ever since. Sorry 'bout that dear friends but I'm finally here to deliver! Wohoo!
It was when last weeks bowl of Pumpkin & Spice Ice Cream screamed – Top me with Tahinoffee, lady! that I realized this might be the right time! I often make this recipe (or some variation of it) during Holiday season to give to family and friends (who always seem to wish for edible treats!). So of course it only seemed fare to give it to you too. Now, just imagine it gorgeously wrapped up in recycled paper, hemp ribbon, greenery and with a lil' messy handwritten note. A box of Tahinoffee – a gift from this Greenylicious heart of mine. 'Cuz I Luurv you!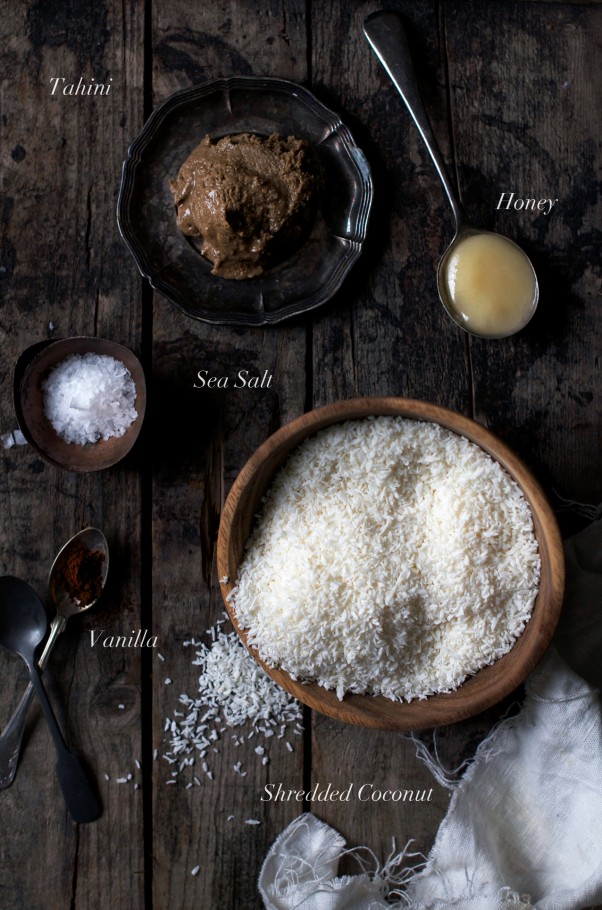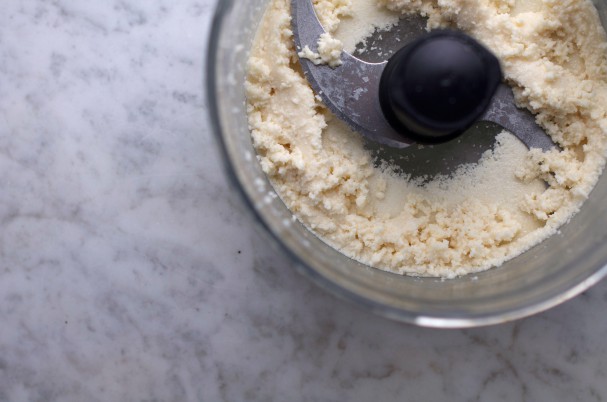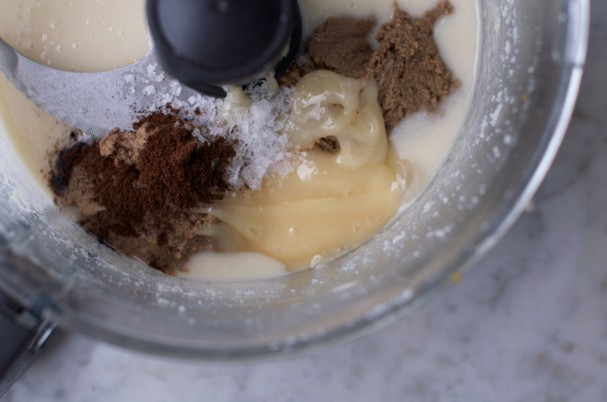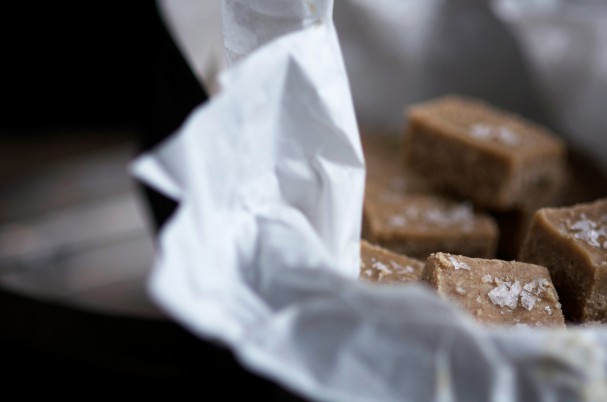 Fun & Fabulous Facts
.. Or not
In the spirit of stepping back a bit when I can and trying my best to be a part of slooowing down the crazy-town that can be the Holidays, I'm doing something different. I'm leaving you with a couple of (badass) links instead of a fresh Fun & Fabulous-section, sound good? Follow them and be blown away (because you know, #plantsaresexy) OR go make the Tahinoffe below now.
Since Tahini is the star of the show in this recipe – all the magic of Sesame Seeds HERE 
Because this is a semi-raw treat – the greatness of making your own raw goodies HERE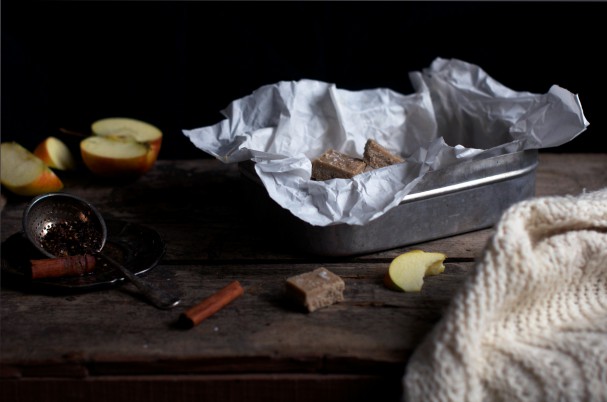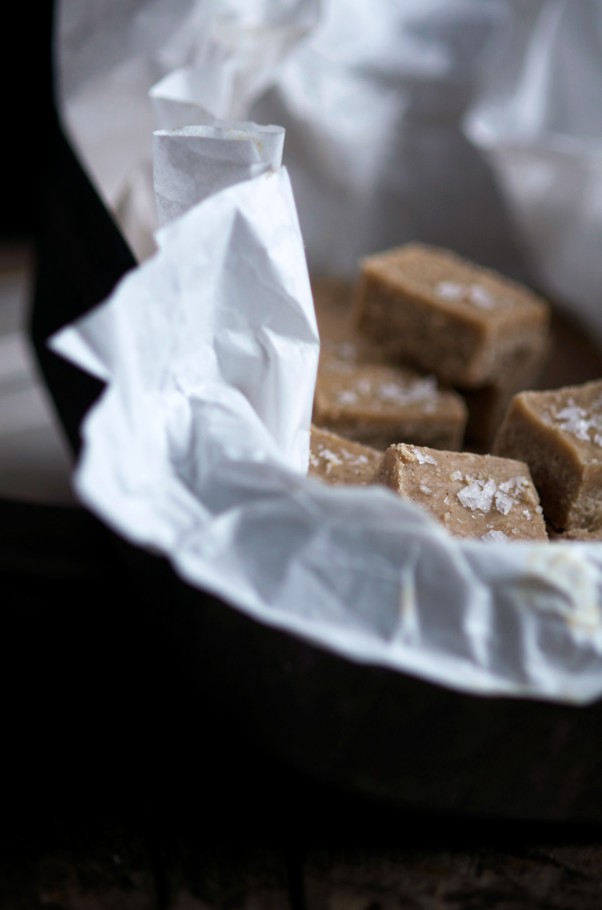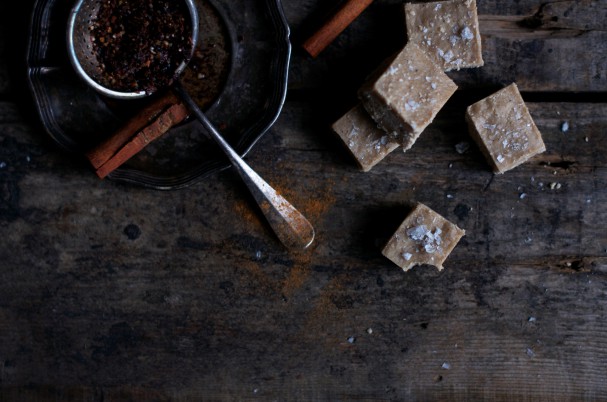 Tahinoffee
Makes approx 25 bites
2 2/3 cup shredded coconut (unsweetened) Note: 3/4 heaping cup store-bought coconut butter if you're not making your own
1/2 cup tahini, I used roasted
3-4 tbsp honey or maple syrup depending on the level of sweetness you prefer
1/2 tsp pure vanilla bean powder 
1/4 tsp himalayan salt or sea salt
Start by making your own coconut butter. Add the shredded coconut to a food processor and blend until completely liquid and smooth (see pictures at the top of this post).

Now add all other ingredients and blend for a couple of minutes. The result may be completely smooth or a bit 'crumbly', it does not matter as long as all the flavors have been blended together.

Line a 4 x 8 inch / 10 x 20 cm loaf tin (or the like) with parchment paper and add the Tahinoffee mixture to it. Use your clean hands to press and flatten out mixture.

Sprinkle some flaky sea salt over the Tahinoffe and refrigerate for 15 minutes. Remove from fridge and cut into little squares. Add back into the fridge for storing and eat either straight from the fridge or after a little while of hanging out in room temperature. Both options are optional. 
Ideas!
1. In smaller pieces the Tahnioffee is a glorious addition to a dessert such as last weeks Pumpkin & Spice Ice Cream or whatever your genius heart can think of.
2. Store Tahinoffe in freezer and add to dessert-y smoothies, raw treats, ice creams or whatever!
3. Whiz up a couple of pieces Tahinoffee with some drinking water and you have yourself a dreamy plant based milk.
4. I love adding some Maca and Lucuma powder to treats such as this one that have nutty/caramel-notes.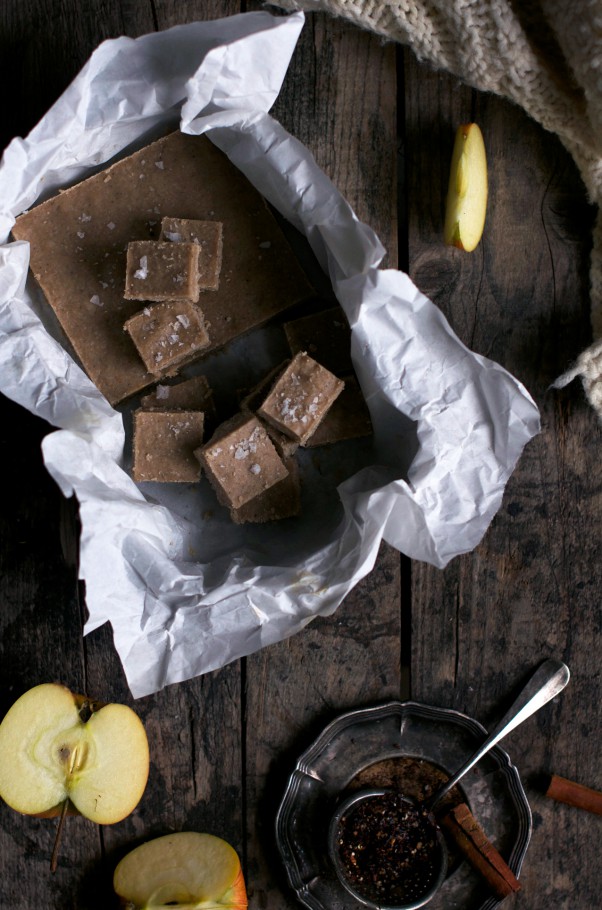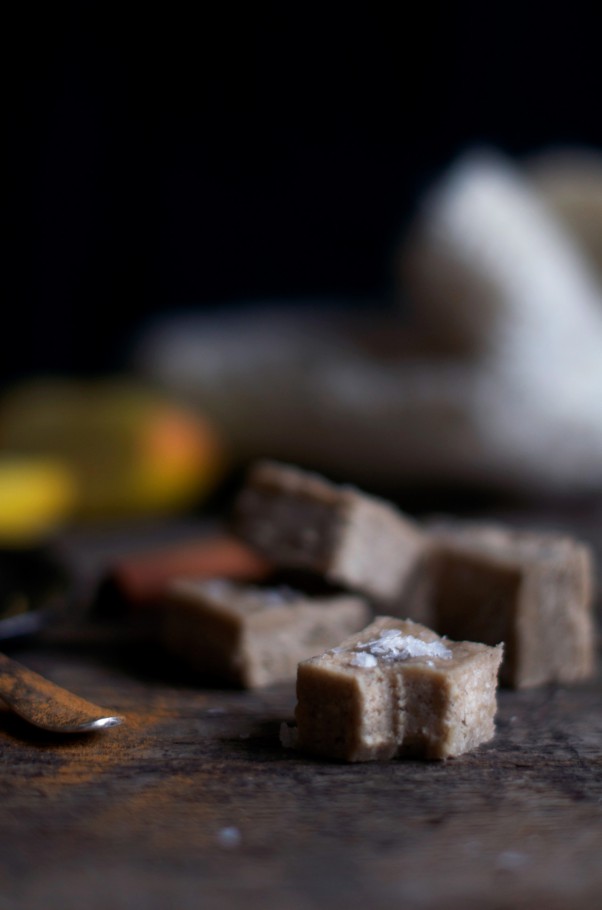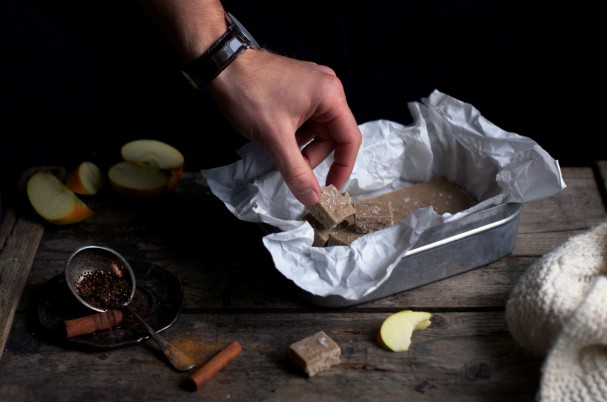 Btw, from time to time I get questions about where Fabian got his wrist watch (..I now sport one too! Yay, no more Iphone "time checks"). Well, they are Daniel Wellington's and if you want to order one for yourself or a loved one -before January 16th- enter 'Earthsprout' at checkout and enjoy 15% off!
Until next time, HAVE FUN – that's where the magic and miracles happen!
Lotsa Love, Elenore