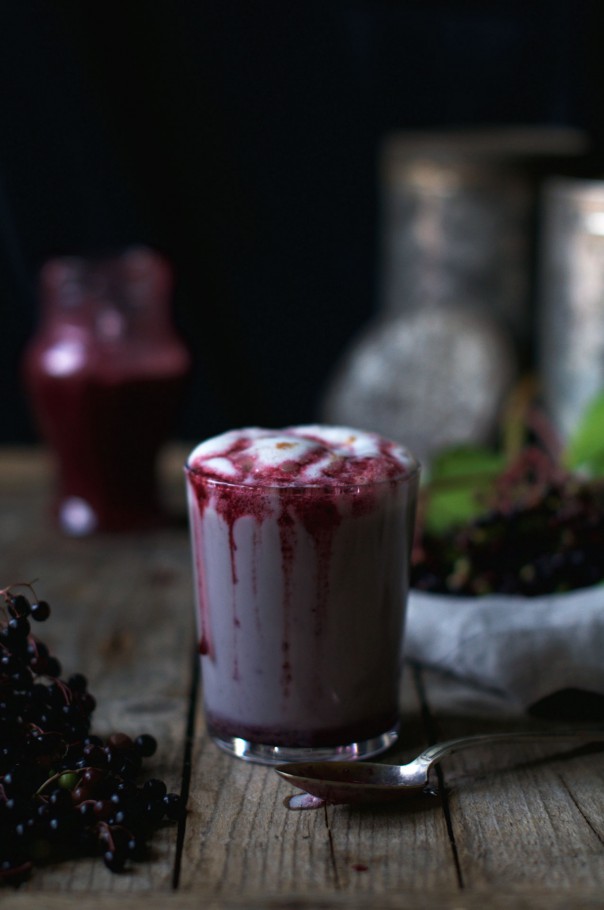 I'm writing this in a hotel room in Stockholm, its early morning and the full Taurus Supermoon is still shining brightly, keeping me company. This text is a must for me. It has been building up since spring and finally I put the pieces together. This is something that needs to be talked about and I have a feeling you'll be able to relate.
Online sharing from our shoulds rather than our musts and when it's time to effing stop (& start!)
So go get yourself a cuppa (Immune Activating Elderberry Latte?), curl up in a cosy nook and have a read. If you're here only for the Fun & Fabulous Facts about Elderberries + the recipe, scroll down.
The strange thing that made me reevaluate my online presence
A couple of years back, me and Fabian began listening to Tony Robbins, we have his PowerTalk cd's in the car and the value we continue to get from these talks is just mega. Early this summer, one of the things he mentions suddenly popped into my heart. 'What are your shoulds and what are your musts?'
This was around the time a tiny life began growing in my belly (yup! expecting a lil' one in February!) and all of a sudden I wasn't only struck by 'morning sickness' but it turned out I completely resented all of technology (and a couple of other more edible things). Although I knew I 'should', just thinking of picking up my phone or opening my computer made me want to throw up. This is how I was forced to see my time and how I used it in new light, what my 'shoulds' and 'musts' really were and how we got to a place where our 'shoulds' are prioritized over our 'musts'. 
So what do I mean by a 'should' and a 'must'? It's simple really, a should is something we believe we need to do because our parent said so, a friend did so or someone we look up to spoke about it. You should have that certain look to be viewed as successful, you should get that degree, you should have the latest phone, you should be really social, you should, you should, you should. Ah!
The musts are way more fun. When you put a must next to a should it becomes clear which one of those two are rooted in You instead of being based on What Other People Say/Do. Take one of my musts for example. I must spend time outside every day or else I loose it. I might think 'I really should take that walk now' and suddenly it looks like a 'should'. But! When compared to 'gosh I really should be more engaged in social media today' it becomes obvious which one of those two will create a larger sense of accomplishment and ultimately long lasting true goodness.
The (seemingly) radical solution 
There I was realizing that a lot of the time, posting and sharing online felt like a 'should' which in turn made me confused as it definitely began as one of my 'musts'. This one needed some thinking.
So what did I do? I took a big ass break from all of it. Stopped instagramming, removed the social media apps, stopped blogging and started just being in the very real life that I have here. I lived my 'musts' and let so many of my 'shoulds' wander off to Neverland and let me tell you, being the 15 projects at once-entrepreneur that I am, it was weird at first but then it was just so, so good.
Months have now passed and I want to share what I took with me from all of this and I truly hope you'll find value in it. Please share your own experiences in the comments below and/or send this text to a friend. I have a feeling I'm not alone in thinking like this.
What happens when we prioritize shoulds over musts in our online presence? (This aint pretty)
Our world is so heavy with shoulds that the things we're supposed to be most easily tuned into – our musts – are difficult to access. Being in our musts -the things aligned with our core and purpose of our souls- are only seen when we take the time to identify and then remove the shoulds, or the fluff as I like to call it. If you are reading this, chances are you live in a world with a hellah lot of fluff too and peeling some of it off sure does ask something from us. Intention and a little time. This in turn requires that we pause all the things we're so busy with (like technology, even if it's for work) for a couple of minutes a day. I know that when we're in the middle of all the fluff, taking this break feels difficult. But seriously, 3 minutes to tap into our own true genius and align ourselves with our inner GPS-system is quite reasonable, wouldn't you agree?
As noted previously, our online presence -a site, Instagram, blog, vlog or whatever- may very well be rooted in a must of ours. I know this to be the case for both myself and many others reading here and now I aslo know this can get complicated. We feel a strong urge to create and share but we also have to remember to stop and fill ourselves up to actually be of service. This can be tricky when 'shoulds' are sometimes whispered in our minds about what other people do and how successful they are by doing so.
So what's the solution? I believe it to be this: taking that 3 min pause each day will help us align with our truth, passion and mission -our musts- and from this place the content we post will have true value. Plus, you'll have more fun creating. Withholding posting/sharing just because your presence "needs" to be continuous, is way better in the long run.. I fully believe that people sense when we're sharing from our shoulds rather than from our musts. Our love and care will always radiate incredibly strongly from creations born out of our musts and that right there, is noticeable.
Drawing in our real tribe by only sharing from our musts
This is all tied to something I've thought about tons; connecting with and finding our community and tribe. I wondered, could my passion to share and be in a global community exist without using social media daily ("everyone else" does it that way?!). I realized something sad. There seems to be a fine line between wanting to connect with the souls I have the privilege to know thanks to the internet, and the feeling that I should put out daily content to have 'a presence' on the web.
What I thankfully then remembered was this: the ones that are meant to be in our sphere will be there. I trust that. To create true community, online sharing from a place of honesty, inspiration and realness -consequences of living our musts- is where it's at. Our truth will without a doubt call in the ones that are meant to stand beside us. Our tribe, our forest. So if you need a pause, take a freaking pause! If you come back to sharing online you'll then most likely be stronger and more rooted in your purpose which in turn will help attract your tribe.
So.. Why the eff don't we pause?!
So what makes us not take those tech-related 'should'-breaks then? If we know and trust that the people who are meant to be around will be around? It's fear. It's us needing reassurance that we are important and good enough. That we are part of something and ultimately that we're being seen. When we share from our shoulds, the risk is that it'll be rooted in the fear of what will happen if we drop quantity-wise in our online presence. A fear that the trustworthy dependability of regular posting will lead to loosing 'followers' and us being forgotten.
Know that our actions will always impact others. Check in! Does your actions spring from some form of fear (a bit annoyed I noted this was true for me at times) OR from what you truly want it to be rooted in?
So am I done now? Lesson learned? 100% in my musts and not confused at all? Well.. no. This is a journey, it's not easy and I have to remind myself daily to take those 3 min (or much longer) breaks to reevaluate and connect. However, it's very rewarding once I'm in that space and when I can share and post aligned with my souls musts. Like today. Like with this text. 
Can you relate? I have a feeling you can. Because you know it too, ultimately we're in this life to be, work and create from our core. From our souls musts. There is no other way to truly make a difference in our own lives and in this world. Yes, creating from our heart and soul takes courage and we will always need each other to do the work we're here to do. A forest is always stronger than one lonely tree and I think that's the beauty of it. We need our sisters and brothers. We will always need to follow our own inner GPS but we will always need support to do so.
Major Takeaway + Call to Action
Think about this: how can hopping off the Instagram-bandwagon for 6 weeks be radical? How can pressing pause on weekly blogging/whatever make you feel stressed out and like a complete failure? Many times in our life we will have things that we need to prioritize more then our online presence (yes again, even if it's related to work). I think we have to remember that while technology and all the possibilities it brings is absolutely amazing, life, our very real life still goes on and is waiting for us to stop, stare a bit …and be in awe. 
Once the de-cluttering is done, when the weight of the shoulds is lifted, what is left is the genius and purpose of You and that is pretty awesome.
So back to the beginning, how do we share from our 'musts' rather then from our 'shoulds'?
By peeling away the fluff of the 'shoulds' and prioritize our 'musts' first. Let us all check in and be certain that the things we share are not rooted in What Other People Say/Do but rather firmly based in Us and all of our real, raw, passion and light.
Only then will our sharing —whenever it happens— have grand value and carry miracles.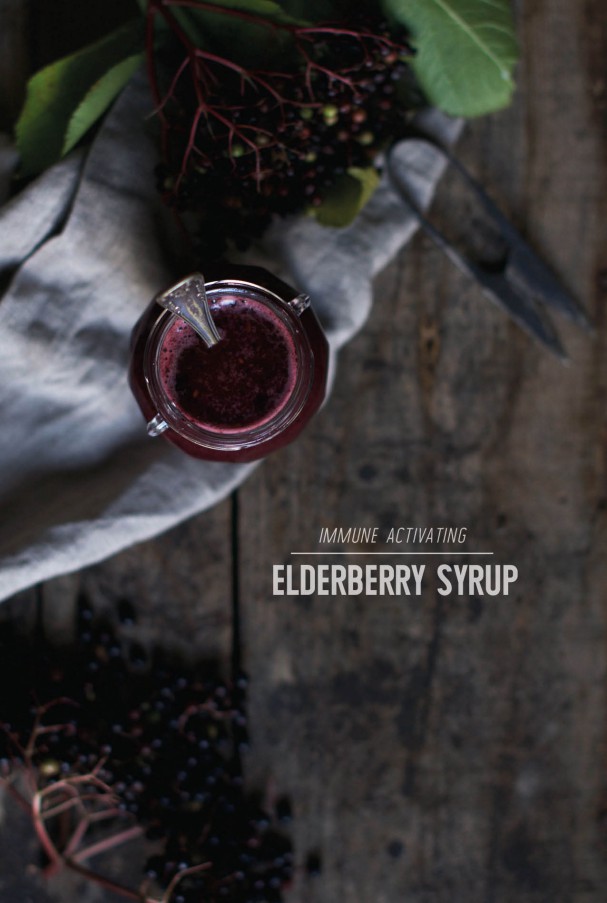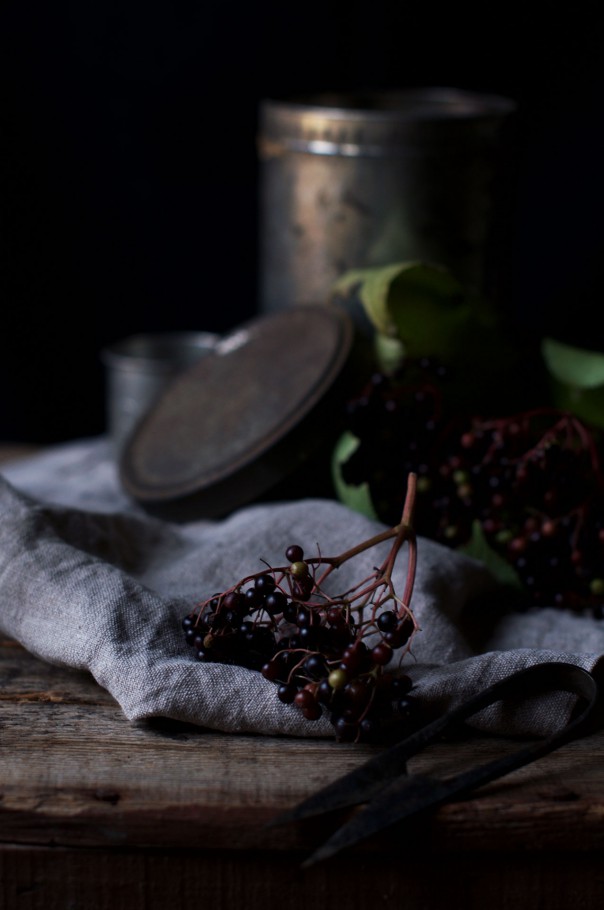 Fun & Fabulous Facts
Elderberry lemonade and elderberry jam I knew of but it's only since I began walking on this path of natural nutrition, plant alchemy and organic gardening that I heard of elderberry syrup. Look no further for your all natural, flu shot, friends! 3-ish years ago when I truly understood the potent power of these berries I decided they were to be an important part of my handcrafted Nordic Superfood Mix. Elderberries (Sambucus Nigra) is a true fall tonic that offer us a glorious party of the things our body need to prepare for these cooler months ahead. These black/purple gems have been used in folk remedies for centuries and were revered by romans for their ability to stimulate the immune system.
What we know -apart from it's impressive part in natural medicine in history- is that the amount of flavonoids in their dark skin has anti oxidative power that support over-all cell health thus strengthening our cells resistance to infections and general cell damage. Whoop Whoop I say with all the runny noses around during fall. Elderberries are famous for the enormous amount of Vitamin C that they carry and when it comes to immune support Vitamin C is golden. Sidetone: Vitamin C also help our body to absorb the important iron which is why it's a such a good buddy of the iron-rich nettle in the #nordicsuperfoodmix. Some studies show that elderberries not only acts as a strengthening preventor of infection but also very effectively speeds up flu/cold recovery. Get this! Elderberries are known to be effective against eight (!) strains of influenza including a couple of strains of strep bacteria known to be responsible for throat infections (which is why elderberry is commonly used to treat coughs or soar throats). In my Elderberry Syrup the berries are paired with the powerful medicine of antiviral, antibiotic and health supporting raw honey + selected spices to make a potent, natural (and cheap) flu shot.
How to use the Elderberry Syrup Elderberries are the fruit of the Elder tree native to Europe and North America and you collect the berries once they've turned dark purple, almost black. It's not suggested to eat unripe or raw elderberries because it may induce vomiting and nausea. If you still wish to get their raw power it's best to dehydrate them and only eat 2-3 berries a day in a smoothie/porridge/baked goods. We need to remember that this natural medicine is very potent and ought to be consumed with that in mind. I don't recommend taking this syrup every day all year around but rather 1 tsp 1-5 times daily depending on your need. Do you feel the onset of a cold or are directly exposed to one? Go for 5 tsp spread out in 1 day for 1-5 days. Feeling like your immune system may need a couple weeks boost? Take 1 tsp daily during those 2 weeks.
Elderberries & Pregnancy/Breastfeeding There are no evidence or enough studies to back up that it would be unsafe to use elderberry during pregnancy but it's suggested to discuss with you health care provider before taking powerful herbs during those times. I would personally not exceed 1-2 tsp syrup a day for any more than 2 weeks at a time and I would skip it completely during the first 3 months of pregnancy and 1st month of breastfeeding. This is powerful stuff and while it's an amazing immune support for the slightly weakened immune system of a pregnant mama, it's also best to use this medicine wisely and with care.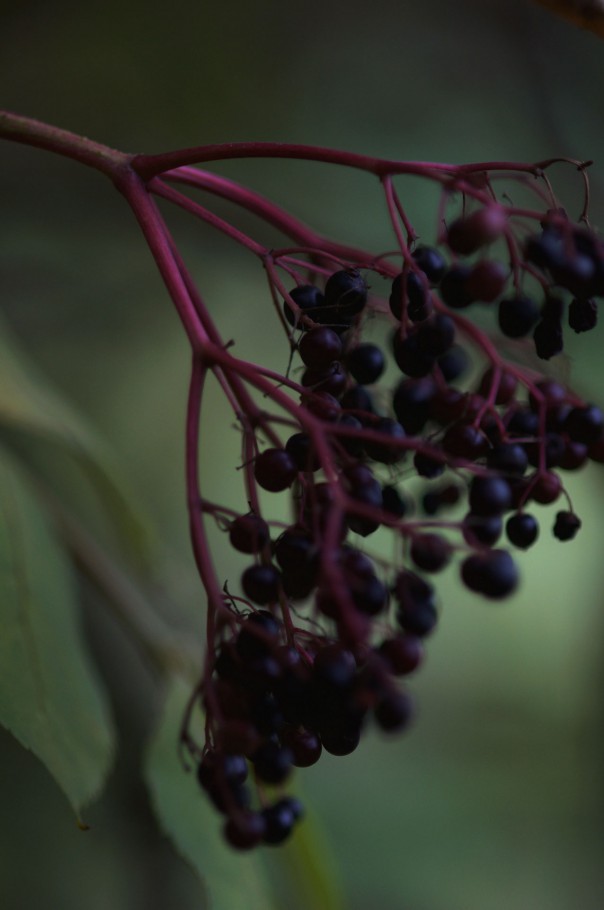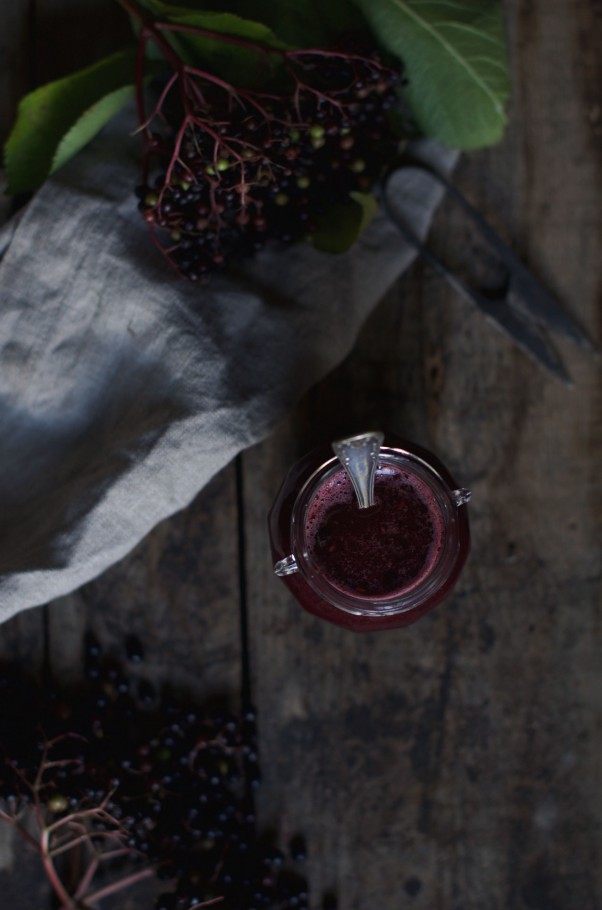 DIY Elderberry Syrup
2 cups fresh elderberries (dried/frozen ones for an all-year-round possibility)
4 cups water
1 large thumb fresh ginger, peeled + sliced
2 tsp cloves
3 small cinnamon sticks
1 little piece organic lemon peel
15-20 cardamom pods
1/2 cup raw unpasteurized local organic honey, vegans use rice/barley/maple syrup
Go over your elderberries to make sure you're only using really dark and ripe ones. Rinse thoroughly and add to a medium saucepan along with all ingredients except honey.

Bring to a boil then reduce heat to simmer and cover. Let simmer for 45 minutes, stirring a couple of times to make sure it's not too hot which would then make the water evaporate all too quickly. 

Over a glass bowl, pour the fragrant elderberry concentrate through a strainer/colander and press thoroughly with the backside of a spoon for a while to make sure you get as much juice as possible from the berries and spices. Discard/compost the remaining pulp + spices and let the concentrate turn room temperature.

Once the concentrate is at room temperature you add the honey and stir. If you add the honey when the concentrate is warmer than room temperature all the active enzymes and components of the honey will be lost.

Pour elderberry syrup into a sterilized glass jar and refrigerate. If you're unsure how much syrup you'll consume or if you're a 1 person household I recommend freezing half the batch.

Read 'How to use Elderberry Syrup' above.
Immune Activating Elderberry Latte
serves 1
2/3-1 cup plant milk
1 tsp freshly grated ginger
a dusting of cinnamon
1 tbsp elderberry syrup
Gently heat the plant milk. For this latte I like heating my milk in a milk frother because: foam! Once the milk is warm (not hot!), add the grated ginger and let it sit for a bit. You want to wait until it's around lukewarm to preserve the active compounds of the raw honey. Now add the Elderberry Syrup, top with cinnamon and devour.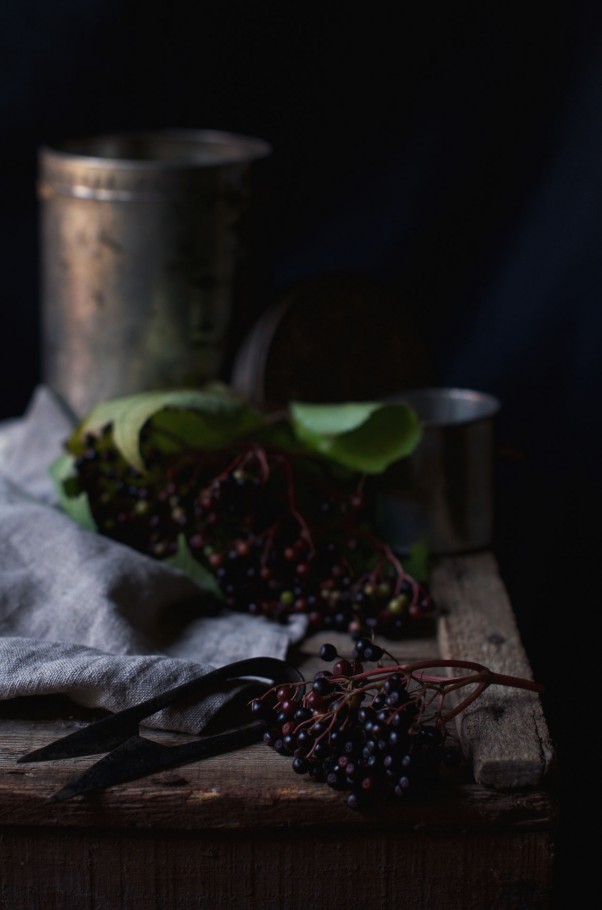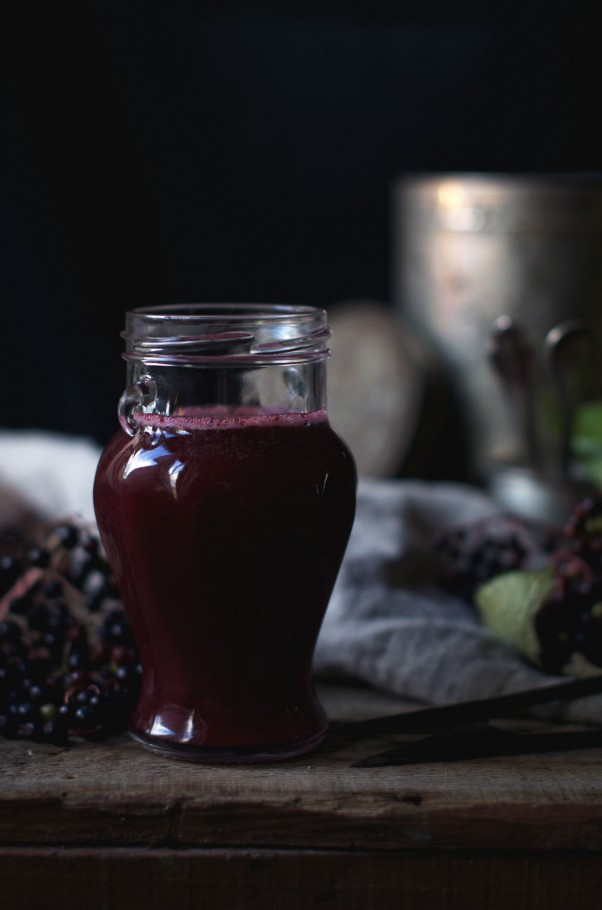 Friends, it's on. Next level online sharing based in our musts (+ very strong immune systems). We can do this.
Let me know your thoughts and share away!
All love, Elenore
Combined with some good soul digging and forest walks, these resources helped me understand and develop my buzzing thoughts on True Community + Online Sharing rooted in Musts instead of Shoulds.
Tony Robbins Powertalk cd's
Oprah Winfreys book, 'What I know for sure'
Elle Lunas talk ' The importance of doing what you love'