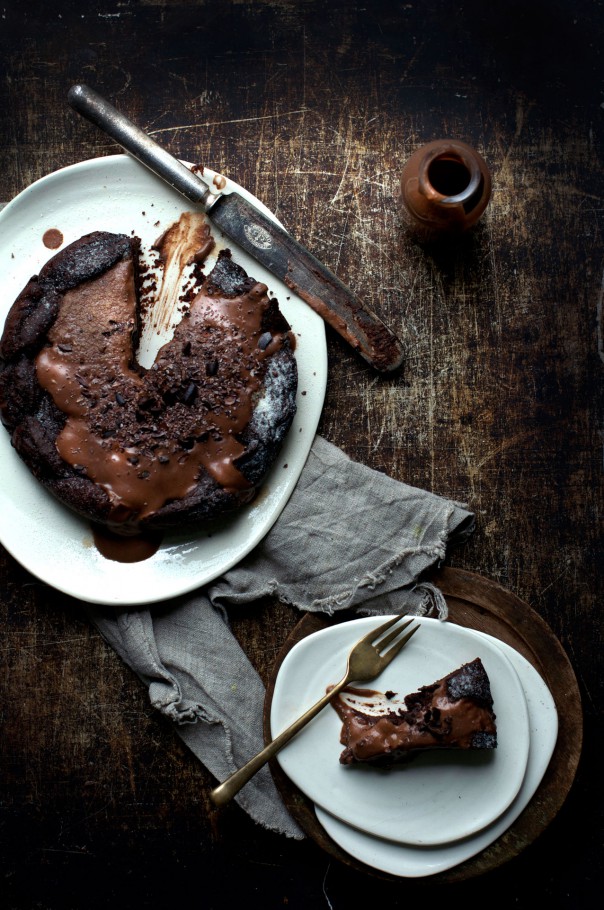 Yes, there are lilacs in these pictures so I've obviously been longing to share this recipe with you ever since early summer. Life happens, projects explode (like this tv-show thing!) and slightly unexpected things pop up. Anyhow, if there is any season more suitable for a rich and gooey chocolate mud cake it's gotta be fall, right? (..although honestly, it's a pretty perfect flavor any time of year).
But let's talk about this creation, friends because truthfully – it has climbed to the very top 3 of my favorite recipes ever and made itself very comfortable there. This might be due to that chocolatey melt-in-your-mouth consistency, the one that makes you roll your eyes and float away to cloud nine on a total foodgasm trip. Just being honest over here you guys, this cake hits the spot on so many levels. Take my word for it, you wanna make this and you wanna make this now.
Ehm, also – did I mention this flavor bomb is totally good for you?! Yeah. That too. I'll tell you that Fabians mom who's pouring the milk chocolate sauce in the pictures below was one happy & healthy taste tester. The other day when I made this again (just you know, "securing" the recipe before posting..) Caspian even got a little piece after being the best helper. This marks his first ever sweetened treat so that's how confident I am that this cake is really high vibe and full of goodness.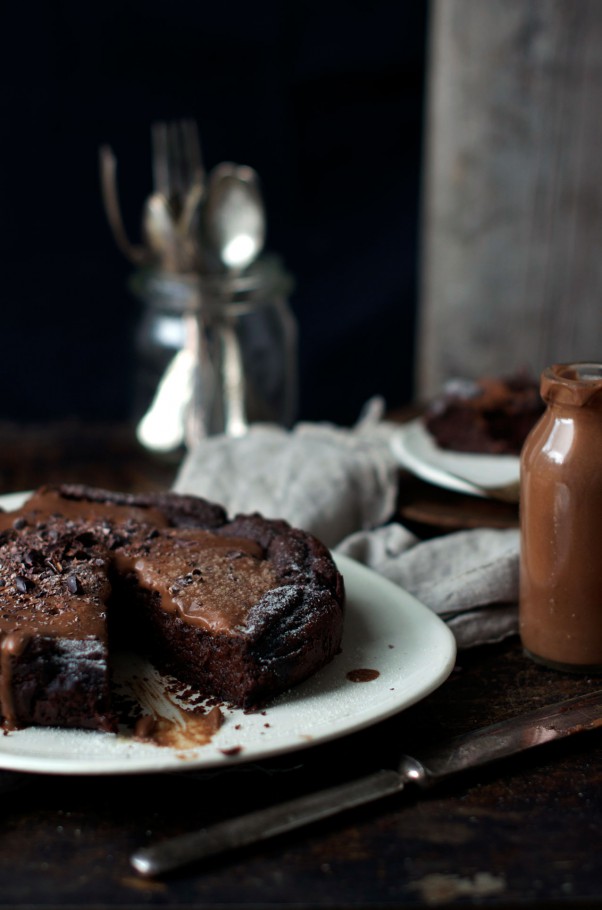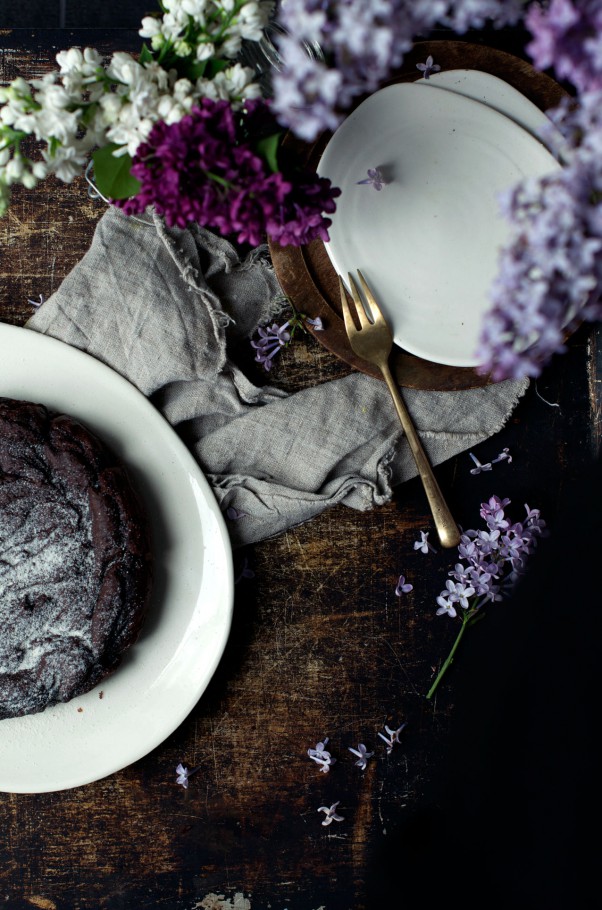 Fun & Fabulous Facts
– Black Bean Superfood Desserts
I think all the "free's" can be rather overused these days and I prefer using more inclusive words. Still, I want to let you know how far from the transfat-laden and non health promoting original (that I had in coffee shops as a teen) this is. This dessert is actually flour-free, vegan, gluten-free and refined sugar-free. It's a good-for-you-cake with clean & whole ingredients but it still has that rich and indulgent feel. No white flour, no eggs, no dairy, no white sugar and no store-bought chocolate bar in sight and still so delish. The secret, you ask? Black beans! I know you may have tried a black bean dessert before and chances are it's been really good but I dare you to try this mud cake and prepare for friggin' paradise.
When it comes to making chocolate desserts black beans are a dream. The color, the consistency, the filling feel you get after eating them and the health benefits they lend to your creation. By being a total fiber and protein superhero like many other legumes are, these gems are terrific for your gut health and for securing your intake of protein. In 1 cup of cooked black beans you'll actually find the same level of protein as in 1/4 cup of fish or chicken plus you have tons of fiber and incredible health promoting and cell protecting phytonutrients (and you're way kinder to the earth). This rad combination of fiber and protein is also what works wonders with regulating your blood sugar by steadying the pace of which the foods you eat move through your digestive tract. So if desserts (even healthy ones) gives you that shaky sugar spike then try this mud cake.
So, ehm.. need more convincing? Didn't think so.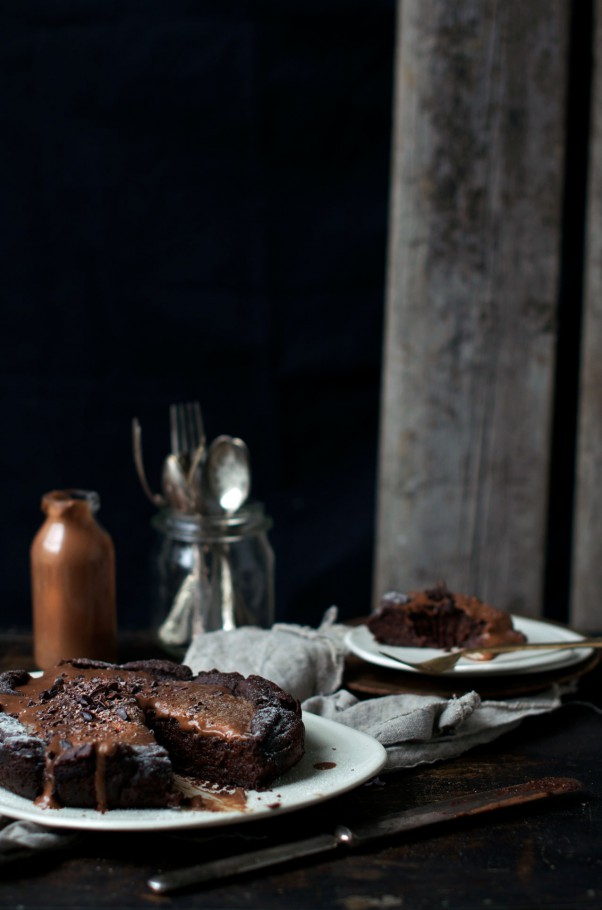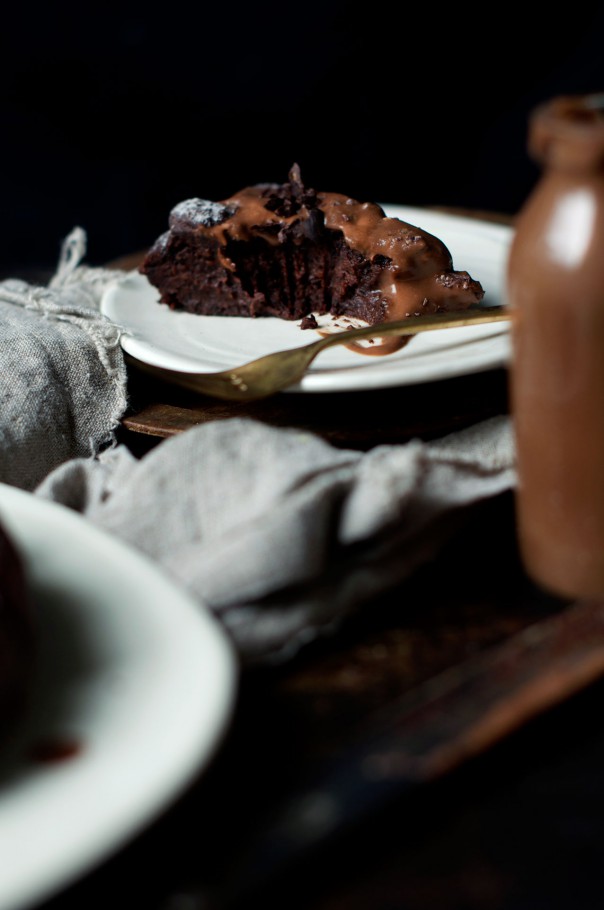 Black Bean Chocolate Mud Cake
Serves around 6-8
You'll need: a 7 inch springform pan
Dry Ingredients
1/2 vanilla bean, scraped OR 1/4 tsp pure vanilla powder
1/4 tsp high quality salt (himalayan, sea salt etc)
1/4 cup organic fair-trade cacao powder
1 tsp baking powder
Wet Ingredients
1 2/3 cup cooked black beans (you can use 1 can store bought beans here if you wish)
1/4 cup maple syrup
2 tbsp flax flour (grind 1 tbsp flax seeds or buy pre-ground) + 4 tbsp water
1/3 cup virgin coconut oil, gently melted
1 cup / 165g dates (approx 10 medjool or 15 deglet nour)
1 tsp apple cider vinegar
Preheat the oven to 175°C | 347°F
If making your own flax flour then grind 1 tbsp of flax seeds now. You'll end up with 2 tbsp of flax flour which you'll add to a small bowl along with the 4 tbsp water, stir well and let sit for 5-10 minutes until it forms a gel.
Pit the dates and rinse the beans well. Add dates, beans, maple syrup, flax gel, vinegar and liquid coconut oil to a food processor (melt the oil in a water bath or on the stove in a saucepan on low heat). Before blending, add the dry ingredients. Blend until you have a smooth chocolatey mousse mix (see last picture).
Line a 5 inch pan with baking sheet or simply grease it with a small amount of coconut oil and pour the batter into it. Bake in the center of the oven for 25 minutes. Let cake rest for 10 min before cutting into it. Dust with a teaspoon of coconut flour and serve as it is or with your preferred toppings. Fresh berries, coconut chips, cacao nibs and a lil' milk chocolate sauce (below) are amongst my fave picks. 
Notes: This Mud Cake is gooey so if you're into less gooey-ness then bake it for 5-10 more minutes OR simply let it set in the fridge for a bit. I do however have to say that the best way to enjoy this creation is while it's still warm from the oven.
Milk Chocolate Sauce
3 tbsp unsweetened plant based milk
1/4 cup raw cacao butter, gently melted
1/4 tsp pure vanilla powder
1.5 tsp organic cacao powder
0.5 tsp arrowroot powder (makes sure the sauce does not separate)
1 tiny pinch good quality salt
0.5 tbsp raw honey / maple syrup / a pinch or drop of stevia (although sweetener here is optional)

Add the raw cacao butter to a saucepan on low heat. Immediately stir in the rest of the ingredients and remove from heat as soon as the cacao butter has melt

ed. Let set in the fridge for some 15 minutes (or while the cake is baking + resting).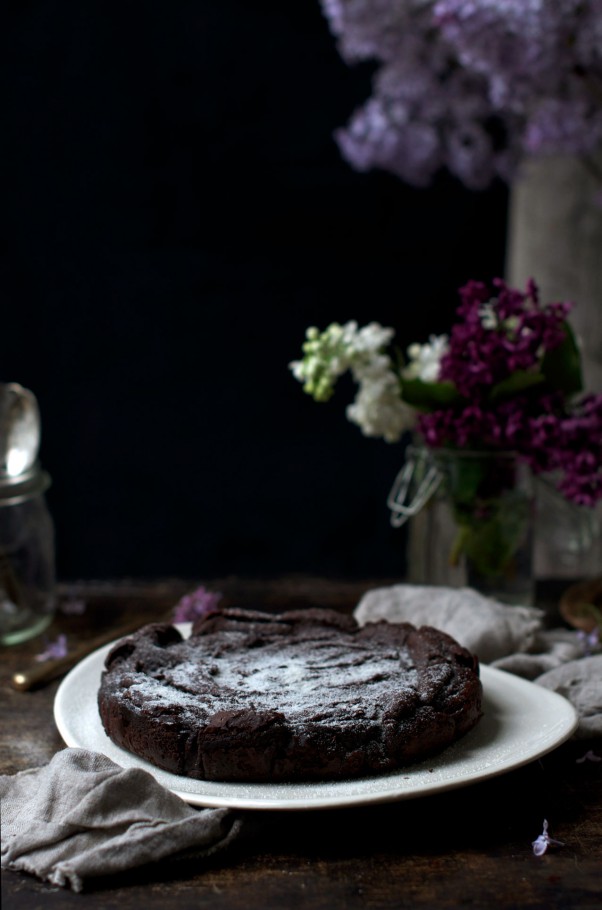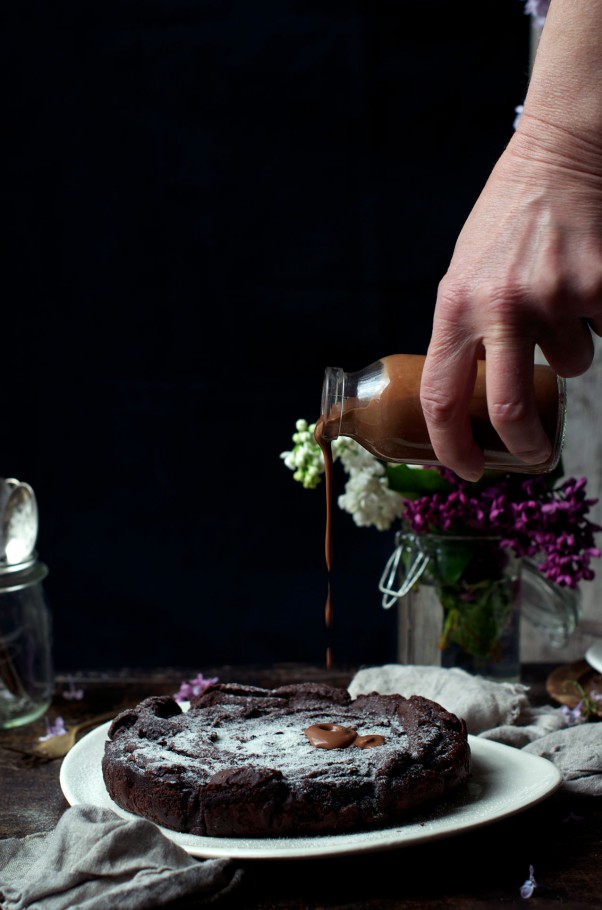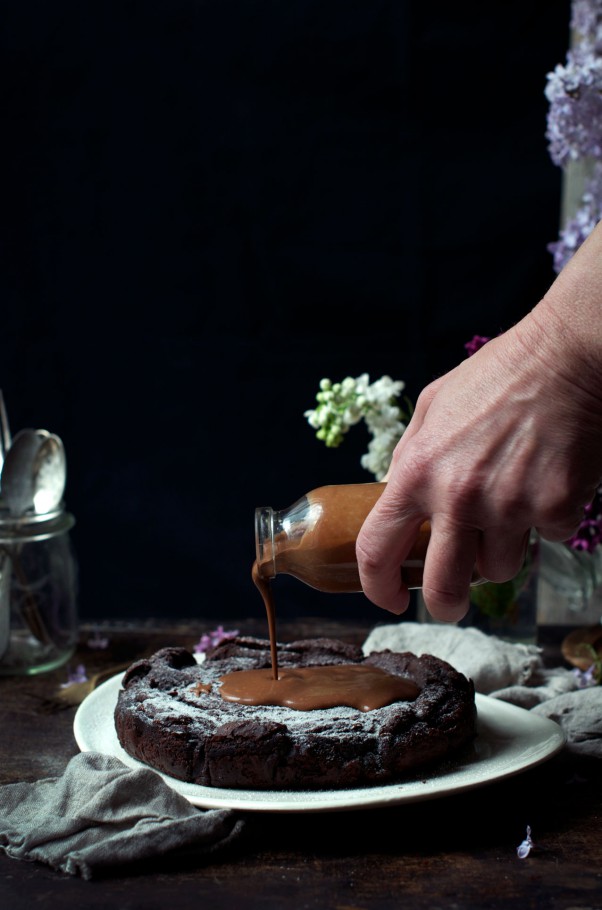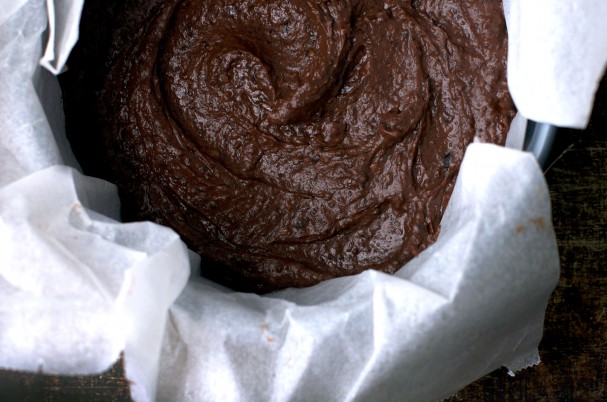 Oh! Please let me know about your previous experiences with beans in desserts in the comments below! Had one? Made one? Total disaster? Loved it?
Also, may your lips have some chocolate stains very soon! (Let me see them on Instagram! #earthsprout @elenoreearth)
Elenore
*Also in these picures, my favorite ceramics by Nomadic Essentials with all natural Spanish clay made with so much love.