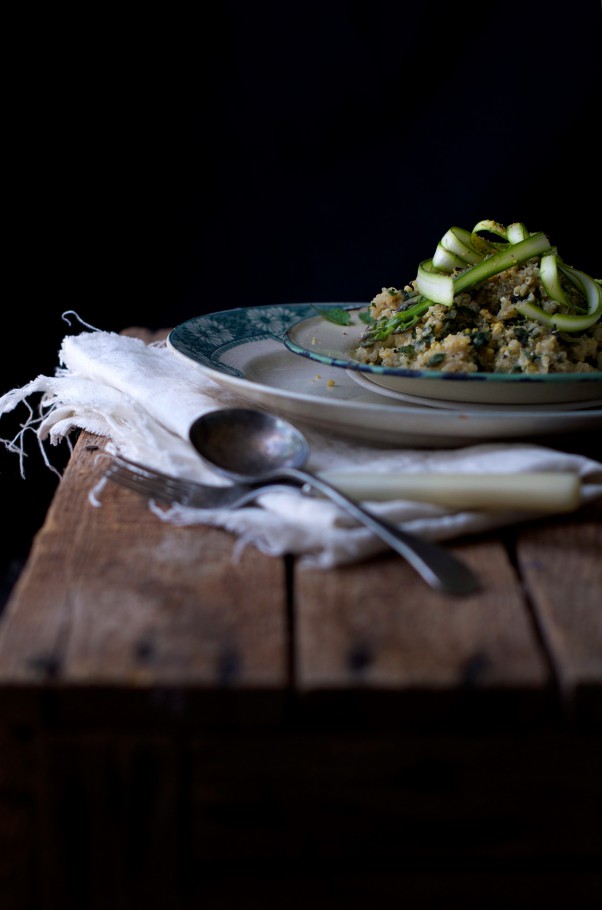 Thruthbomb: Pictures of my messy slob-self and random (and sometimes really weird) meals rarely make it to social media irregardless of the lineup of fancy filters available. Why? Blame it on the photographer in me.. In the captions however you'll never find me prettifying anything I choose to share. Raw honesty rules. Bam.
While it's a well known fact that looking at someones life through the lens of the internet does not give us a multifacetted picture, the unconscious act of comparison is instantaneous. You'll never hear me saying that's a bad thing though! I mean – how awesome is it to be able to clarify ones greater vision by seeing whats possible? While we absolutely ought to create our very own truths and gloriously unique puzzle, it's amazing how we connect + get inspired + dream bigger when given the honor to take a peek into others rad puzzle.
So what does the Nettle Quinotto have to do with all of the above? Well, sometimes it just hits me that even though I l-o-v-e styling a plate/meal, many of my go-to lunches or all-to-late dinners might not really look like this or this. The Nettle Quinotto however was just something I threw together during my first trimester of pregnancy in a desperate attempt to lure some greens into my system (a system that yelled: gimme simple carbohydrates!!). With a pot of quinoa cooking, I went for a quick nettle foraging sesh in the garden + did some sprinkling of 'Rawmesan' and ended up with an epic creation that has been recreated countless of times ever since.
So, I give you; The Nettle Quinotto. A crazy powerhouse of a meal disguised as a creamy dreamy carb-fest. And, yes, you guessed it. The asparagus ribbons may not have been a part of that first round. What can I say – it just looks much prettier this way.. Damn Instagram!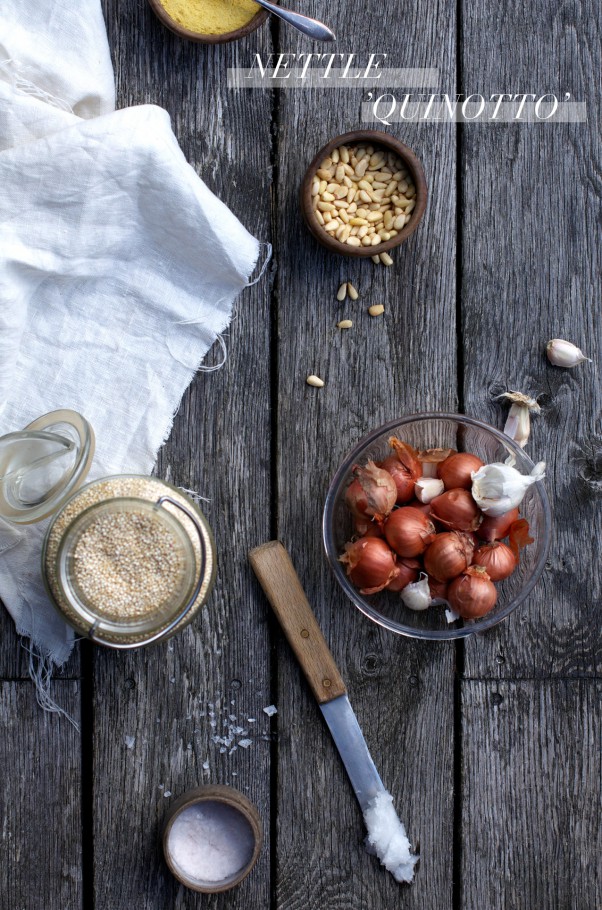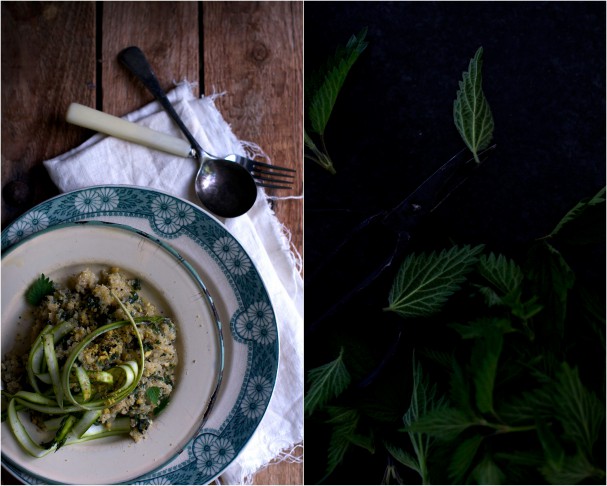 Fun & Fabulous Facts
– Nutty for Nettles!
These friends not only helped me keep my iron levels healthy during pregnancy (and still do to this day), check out what I wrote about this stinging obsession of mine back in 2012:
Excerpt from THIS post:
"Growing up on the Swedish countryside means I've always had nettles around and nettle soup have been a part of our lives for as long as I can remember. When I learned about the amazing nutritional value and medicinal properties of the nettle I got even more hooked. This little (although it can grow to a crazy height) is one of the most powerful detoxifiers known to human. By being a diuretic it works it's wonders eliminating toxins through your oh so humble pee. This is also why it is commonly used with people who have kidney related diseases/problems to strengthen the kidneys.
One of the most amazing things, I think is that the stinging Nettle Urtica dioica help rid the connective tissue of toxins. This is worth mentioning big time since there are very few things that can make this happen. The connective tissue loads up on toxins from our food, drinks, overall habits and environmental toxins since it is the most stable place for the body to store these. As the years go by without detoxifying the connective tissue problems may arise. Including foods that are mildly detoxifying in your daily diet sure is a smart one!
Also, to you with pollen allergies – stinging nettle can help! Wooho! So put on some gloves and go foraging!"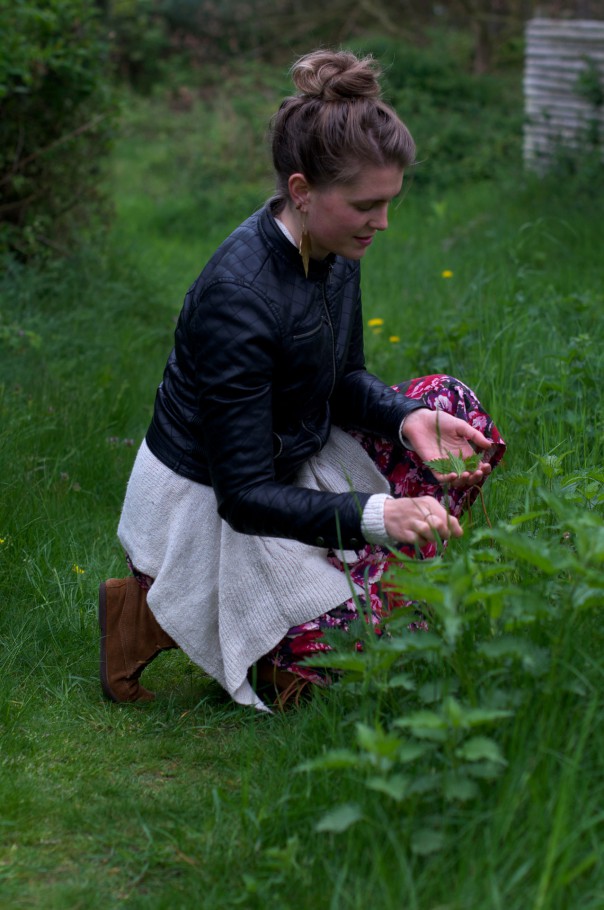 Nettle Quinotto
Who knew quinoa (millet and buckwheat works wonderfully too) cooked with a little extra stock, some Rawmesan (parmesan/pecorino if that's your thing), some greens and organic white wine (optional but if you're not using wine I recommend using vegetable stock in place of the water) turns into this insanely delicious 'risotto'? You might never reach for arborio rice again.. Nutrient-dense for the win! If you prepare the Rawmesan beforehand this meal is ready in 15 minutes!
4 generous servings
1 cup white quinoa
2 cups water
2 heaped cups nettle tops (or use fresh spinach/bear's garlic/arugula)
3 large shallots
2 garlic bulbs
1/2 tbsp coconut oil or ghee
1/2 cup white wine, organic (sub for vegetable stock if you're not into using wine)
1/3 cup Rawmesan (or parmesan/pecorino)
1/4 tsp himalayan salt or sea salt
To serve (optional but so good)
4 asparagus stalks, ribboned on a mandolin slicer
additional leafy greens
an extra sprinkle of Rawmesan
1. Add quinoa to a mixing bowl, fill with warm water and 'massage/rub' the quinoa using your hands for some 10-20 seconds. Rinse thoroughly using a colaner/sieve. Set aside.
2. Peel and finely chop shallots and garlic, heat coconut oil/ghee in a saucepan on medium heat. Add garlic and shallots once oil is hot. Give it a quick stir and cook until translucent. Add the rinsed quinoa and cook for around 2 minutes, stirring occasionally.
3. Add the water and wine (alternatively all vegetable stock if you're not using wine). Bring to a boil then reduce heat to simmer, cover.
4. Rinse and chop nettles rather finely (use gloves!). Set aside.
5. If you haven't prepared the rawmesan, this is the time to whip up some.
6. After 5 minutes of cooking add the nettle and rawmesan, gently combine with a fork. Cover again and let cook for an additional 10 minutes.
7. Enjoy with some extra leafy greens (although not raw nettles – ouch!), a sprinkle of rawmesan and a few asparagus ribbons.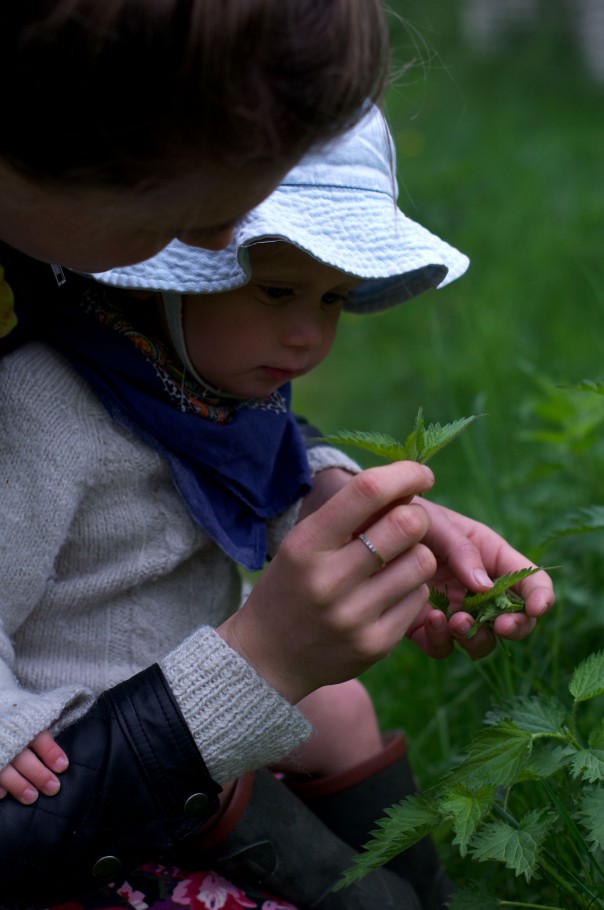 I'd love to hear your thoughts/experiences when it comes to how comparison can actually be a good thing! Such a juicy subject, eh?!
Here's to glorious spring produce, realistic meals, hiding greens and upping our real-ness-game! Ps! I love being inspired by your creations so keep tagging if you share! #earthsprout
Elenore
---
By the way, friends! I'm going to be a part of this amazing FOOD STYLING + PHOTOGRAPHY + PORTRAIT WORKSHOP in July here in Sweden. Why don't you join me, Eva Kosmas Flores of Adventures in Cooking, Carey Nershi of Reclaiming Provincial and Izy Hossack of Top with Cinnamon for a fantabulous 4-day lake house retreat in the Swedish forest? More details + registration HERE. I for one CAN.NOT.WAIT and oh how I hope to see you there!