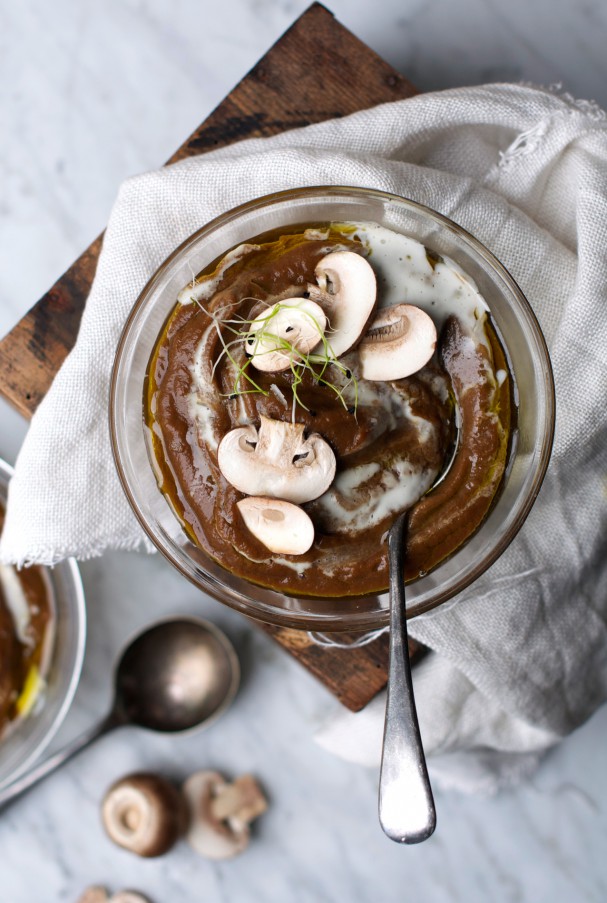 I like measuring time by following what's going on in nature. Take Salsify for example. Do I really need to know it's 4pm the 12th of April (officially known as 'what the flipping' crazytown should I prepare for dinner – time of day'). Wouldn't it be enough to know from the warmth of the earth beneath the palm of my hand that it's time to harvest the Salsify roots and make soup? To go dig a little in the veggie garden and remember those other years that I've done the same thing. To explore the memories that arise, and from that know more about what's to come (in nature – life doesn't seem to be as predictable). I mean, it's pretty cool to draw the conclusion that I can absolutely sow radishes and carrots this week by the vague hints of green in the birch trees or the size of the nettles. How's that for a watch? I know it's not completely realistic unless we quit living our lives the way we currently do and move out into the wilderness. What I do know is that whenever I can, I ignore the urge to check the time and instead follow rumbling tummies, heavy eyelids or in this case the harvest of the very last root vegetables.
Time is funny. It's the strangest human invention ever and so often it feels like an outer power ruling our lives. Newsflash: it isn't! We're the ones who made it up so why not take charge!? I'm opting for a slightly more Greenylicious way to go about our lives. May it be a whole foods style seasonal eating, checking in with the phase of the moon from your busy city window or whatever works. Just know that you're the one in charge and that following nature instead of glowing digits on an iPhone (at least sometimes) is so darn juicy.
Also, creamy and seriously dreamy soup of slow roasted Celeriac and sexy Salsify? Whoever said beige foods are boring is awfully wrong. You guys, beige foods just got smokin' hot!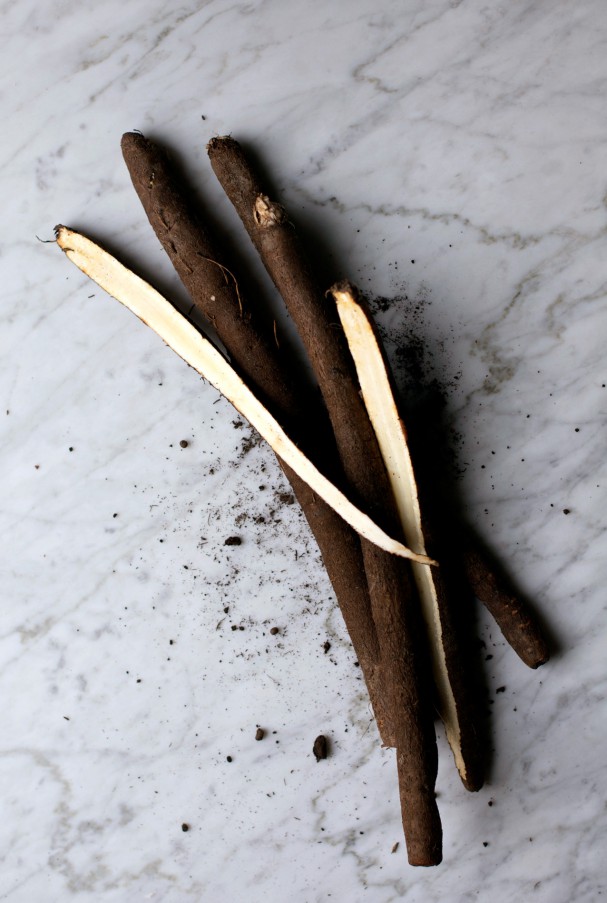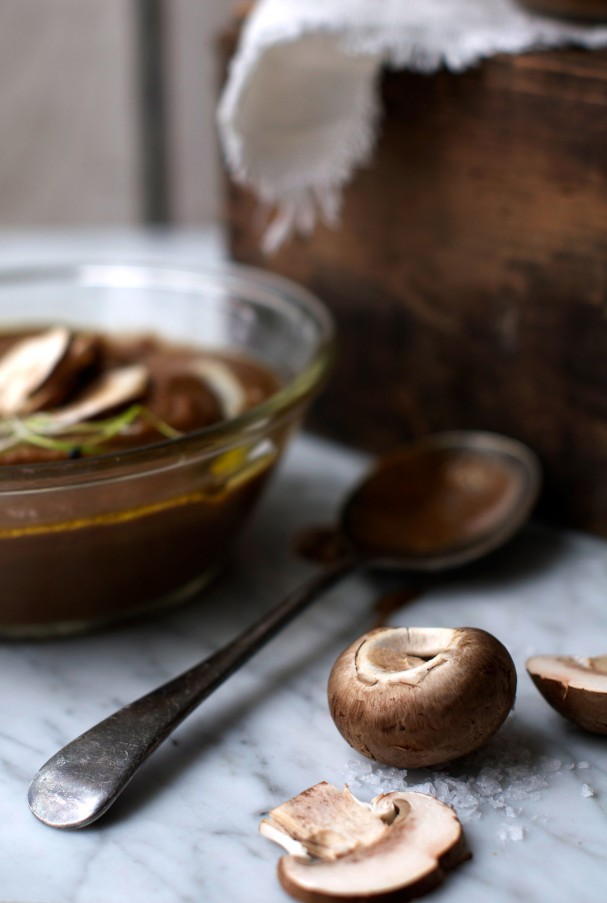 Fun & Fabulous Facts
– Did you dump them beige's? Time to rethink!
Don't get me wrong, I'm not saying it's time to pile that plate of yours with processed bread, pasta, crackers, fries or chips. In fact I'm not telling you what to do at all. I'm merely suggesting that even though beige foods has gotten some real bad rep (all while 'foods of the rainbow' are praised) there ARE some cool veggies that happen to be both beige and healthy. I personally l-o-v-e anything parsnip, celeriac, salsify, jerusalem artichokes and shrooms but I know that so many are walking past them at the market or grocery store just because they look too plain or even intimidatingly ailien-like. Can you relate?
So. I made it my mission to shake things up a bit in this certain "food group" and create the most satisfyingly decadent meal. One that makes you pause and just go; 'Guuuh – how good is this?!'. You may may think it's strange but to me, food can be outright sexy. It may be the texture, temperature, taste or overall vibe (romanesco? figs? berries? fresh nut milk on a sweltering hot day? I mean seriously..) and I wanted to let you experience even beige foods that way. Tell you what? I think I succeeded with this soup. Holy cow. Yes.
But let's take a closer look on or pal Salsify. Salsify contains inulin, a natural insulin and since our pancreas is an insulin producing organ the inulin in salsify support pancreatic functions. This means that munching on salsify may help our body to regulate glucose -sugar- levels and make sure there isn't too much glucose in our blood. How cool is it that things the human body naturally produce on it's own is also found in whole foods? This blows me away. I mean, how can we feel separate from everything/alone when we're literally made out of the same building blocks? Bags of chips and loads of pasta may not be a match made in beige food heaven for our body but, Salsify – we're so meant for each other!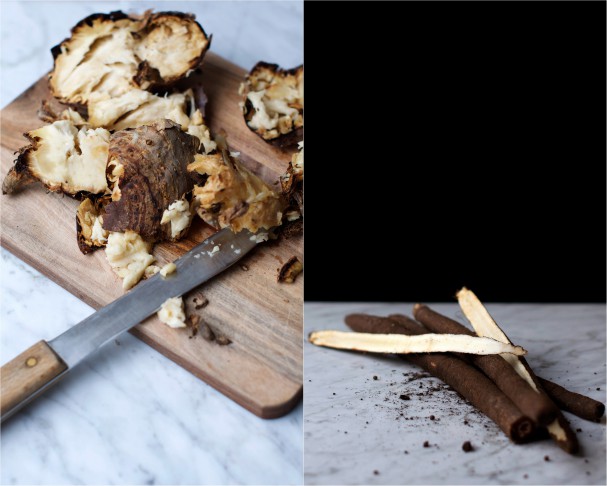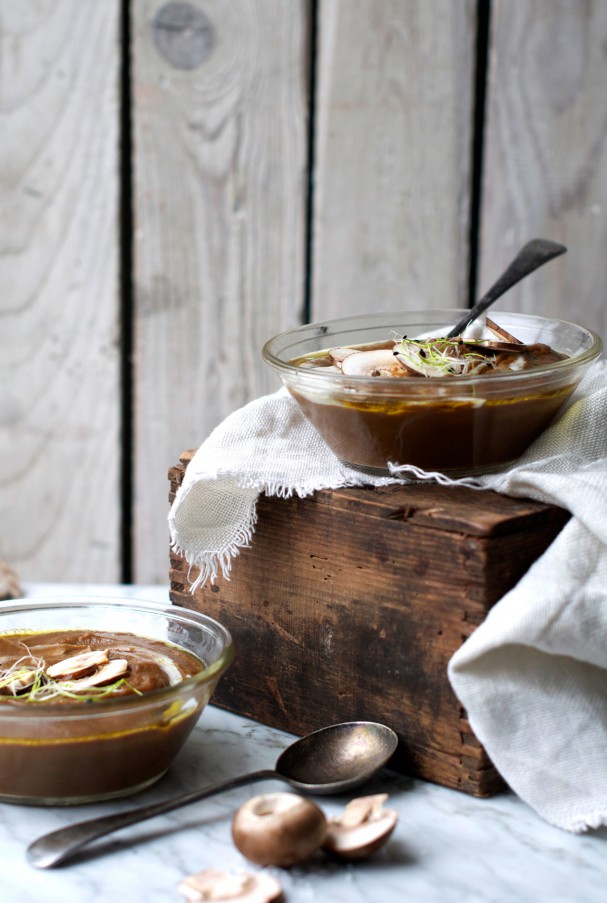 Creamy Salsify & Celeriac Soup
4 servings
275 g Salsify (around 5 roots) – if you absolutely cannot find Salsify then use Parsnip.
1 Celeriac
2 Shallots
1 1/2 tsp ghee or virgin coconut oil
3 Garlic cloves
1 2/3 cup Water
3 tbsp Dark Miso + 1/2 cup water
1 tsp ground cinnamon
pinch cayenne
For Serving
A splash of plant based milk or cream
A handful of sprouts
A few button mushrooms, optional
1. Preheat the oven to 175 °C / 347 °F
2. Rinse, trim and scrub the celeriac root. Put it on an oven proof baking tray in the oven. Preferably bake some more then the one celeriac you'll be using for the soup. Leftovers are best! Let celeriac bake for 2 hours (small-medium size) and up to 3 hours for a big root.
3. Once the celeriac has finished baking it's time to make the soup. Peel and thinly cut shallots while heating ghee/coconut oil in a saucepan over medium heat. Add shallots and peeled + crushed garlic to the saucepan and let cook until translucent and soft on medium heat (around 5 minutes).
4. Rinse and peel salsify and roughly cut them into 4 cm/ 1.5 inch pieces. Add salsify, to the shallots and continue cooking while heating up water both for the soup and for the miso paste. Once water is boiling add the 1 2/3 cup to the salsify/onion mix along with cayenne and cinnamon. Cover and cook for 8 minutes. Check the salsify for doneness after 8 minutes. You should be able to easily cut a piece all the way through but it will not be as soft as a boiled carrot for example. Now add the baked celeriac that you've cut into rough chunks. Cover again and let cook on low heat for another 3 minutes. 
5. In a small bowl mix the miso paste with the 1/2 cup water with a fork. Add this to the soup and stir.
6. Blend soup in a high speed blender or by using a hand blender/immersion blender. Both works fine but a high speed blender will give you that to-live-for smooth-ness. Add more cayenne to taste and enjoy hot with a splash of milk/cream, some sprouts and a few slices of button mushrooms (optional). 
In what way can you nature-ify your everyday life and time-checking? Did the idea of looking at the moon from your window each night sound intriguing? Or maybe you're a farmers market kinda person and closely following the veggie seasons is where it's at?
Please share your recreations or bursts of inspiration on Instagram by using the #earthsprout hashtag <3 Loving all your amazing ideas and creativity!
°°Elenore°°
---
On another note, I'm creating/writing/cooking/shooting for the incredibly fantastic organic textile + lifestyle company Coyuchi this year. I am so psyched to be a part of their team even for a little while and constantly inspired by their mission, heart and not to mention, impeccable style.
Most recent are the Baked Root Chips and Deconstructed Raw Citrus Tart below. I'd be so happy if you'd want to take a peek!