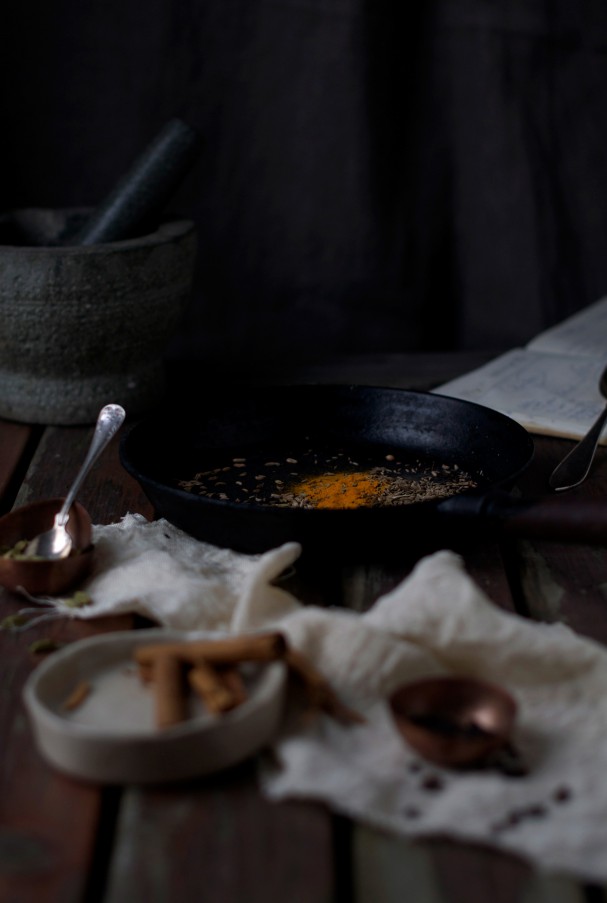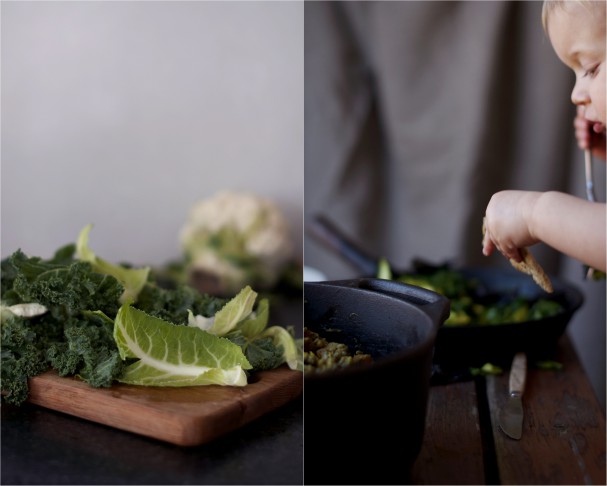 I feel everything. It's not pretty and it's not convenient. It's often really effing uncomfortable.
Unncessecary things can tip over the edge because there is just so much EMOTION. Emotions that require attention and let's be honest, life is kinda full. Before Caspian came earthside there was time to explore and talk about all the stuff but now? Well, let's just say that the face behind this particular screen isn't all angelic at times.
Sometimes a strangely put text/email or Fabian getting home from work 20 minutes late when I'm hangry can send me down the rabbit hole of negativity. Some days someone else's emotional rollar-coaster or learning how many endangered species disappear every day will do the trick. Sometimes just knowing that I'm too tired to de-tangle, wash and then brush my hair because that would require dealing with Caspian in the shower, going crazy from seeing my boobs and not being able to breastfeed right then and there leaves me rather blah. Ya know, those kinds of things.
Life has grown bigger and bigger over the past couple of years in very obvious ways (hello house plans, baby, travels and being a slightly overachieving entrepreneur and mother with that I-can-help-the-world attitude). However (and here's the good news!), I have without really thinking much about it found a way to declutter and downsize the things I can actually affect (which is saying a lot, overachiever and all) So I..
Go with the flow of the day (it's all about that badass intuition and the possibility it'll bring), make few plans (but absolutely have a good structure of the little things), smile (because even if it's "fake" for 1 second it'll make a change) and lastly I have and find FUN wherever I am!
What it can look like? I might turn down going for a great trip that require hours in the car with Caspian by myself and instead I have energy and spark to have THE most amazing day at home with him, going for walks and finding adventure in the ordinary. Or it's something as simple as respecting the small amounts of me-time I have by truly making the most out of it instead of playing small or feeling guilty. Last week I had a full 24 hours in Copenhagen with my Darling – ehm, total awesomeness!
I know that me being able to stay with this shift in intention and perspective goes hand in hand with the fact that Caspian now sleeps better which means more outlets for all that roaring energy in motion (EMOTION). I am grateful for how quick I can recognize and thus flip something that could have easily been the beginning of that dreaded downward spiral. I do not take it for granted, it's been a rough ride but you know what? Life is good. High fives, world!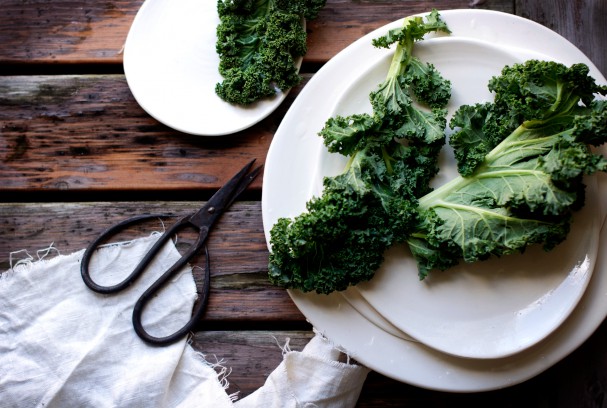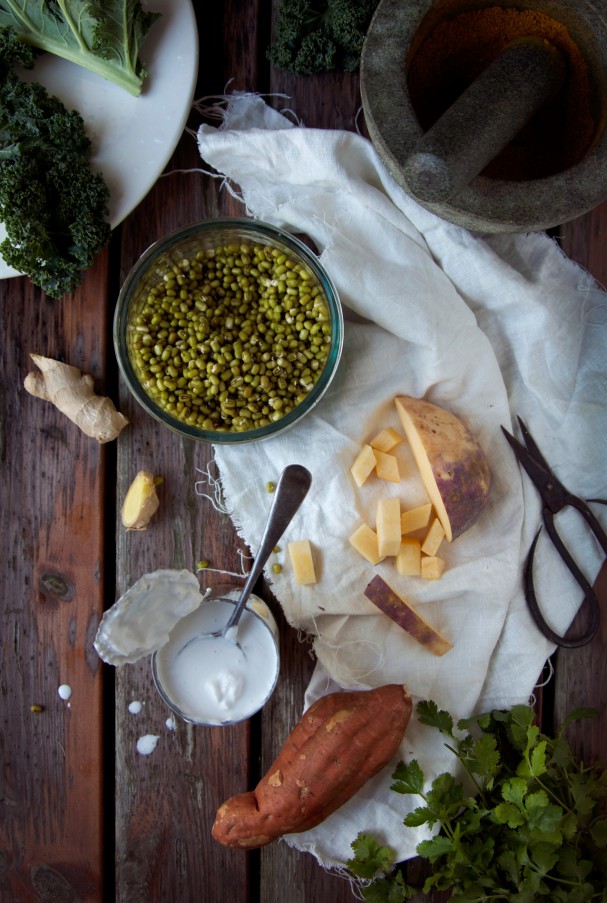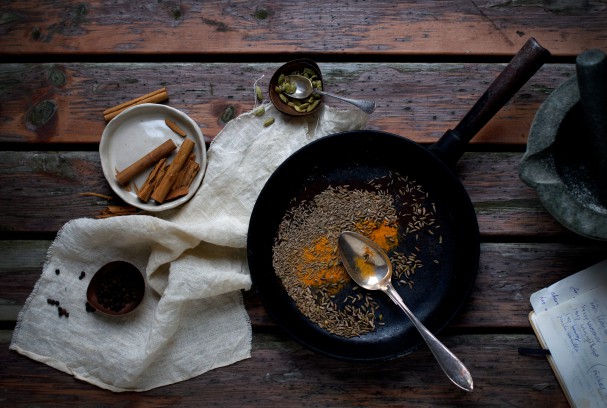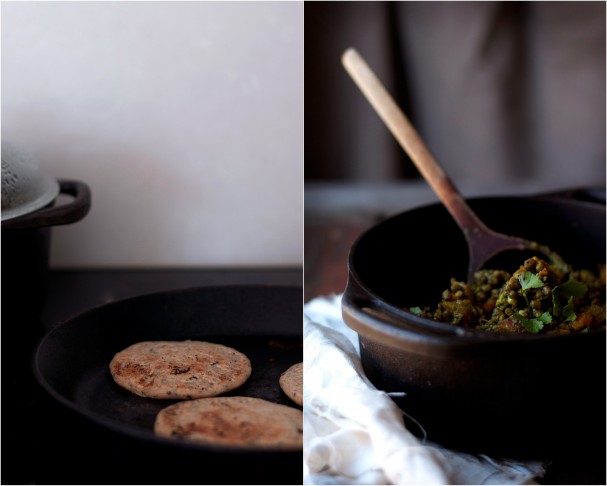 Fun & Fabulous Facts
Eating with intention = awesome gut health
Feeling everything isn't only bad news and unnecessary energy-leaks. I'm going to go ahead and say that it's a total lifesaver too. I love tickling everyone I talk with to look, smell, appreciate and feel the things they get to eat. Every tiny snack, meal or drink is such a gift and wouldn't it be awesome if we truly recognized them as such too? Everything feels more lush, nourishing, sexy and empowering when I'm really present while preparing and eating a meal. As opposed to let's say rushing through a gorgeous salad while standing with one foot out the door or nervously filling your mouth with handfuls of high vibe trail mix while in the middle of a discussion laced with irritation (what good will that food do?) ..and don't tell me I'm the only one who finds themselves eating while scrolling through Instagram or having a quick lunch in front of the computer at times. This is ok! We're not reaching for perfect. We're reaching for a little better day by day because let's get real here, we are busy people. So what can we do and most importantly are there things we can all work into our lives? You bet!
Be truly hungry when you eat. Sounds obvious? Well how many times do you eat something just because you're bored, restless, tired or nervous? Honestly, I think we do that way more then we like to admit.
Be as present as you possibly can. If you for some reason cannot do this then try practicing that presence at least a couple of times a week. Look, feel, smell and taste everything you prepare, cook and eat. Love up your food and let yourself be seduced every part of the way.
Set the scene. You'd be surprised how much difference soft background music, a lit candle and a properly set table (even if it's your trusty old mismatched ceramics or freaking silverware!). When I do this I go into savor-mode in instantly. The plates in this particular post I picked up from my my friends at Sid Sid, it's all organic, natural clay and I feel like I'm eating ON the earth. Which I am but you know ;) 
Minimize the buzz. Turn off your phone, tv, computer or any other electrical device, throw your to-do list in the nearest drawer and however crazy you're day might have been let conversations (inner or outer) be calm and free from the not-so-awesome things. Sad or disturbing news can be discussed later. Rad foods aren't so very rad if downed in an unsupportive scene.
Give thanks. Regardless if it's a bowl of noodles or an over-the-top layer cake, just before digging into that sensational meal, have a little pause. Take a few breaths and put both of your feet on the ground. This may be seriously harder then it sounds but you'll notice your belly relaxing much more then when your sitting cross-legged. Lastly, give thanks for the fact that all that yumminess is here to nourish You!
You'll notice how food begin tasting plain better, how your breathing slows down and how your time by the table is way more fun then it used to be. You are likely to notice less bloating or any other signs of digestive stress. Personally I feel more satisfied and stay full for a longer period of time (no reaching for snacks after 5 minutes) when my meals are somewhat like what I've just described. You'll be able to assimilate much more of the good stuff and it will lead to noticeable change such as better gut health, skin tone and lasting energy. It's not just what you eat, it's HOW you eat it.
Eating is much more then the end result of feeling full. It's a fun, fabulous and sensuous practice of preparing and eating with all senses! [Tweet it!]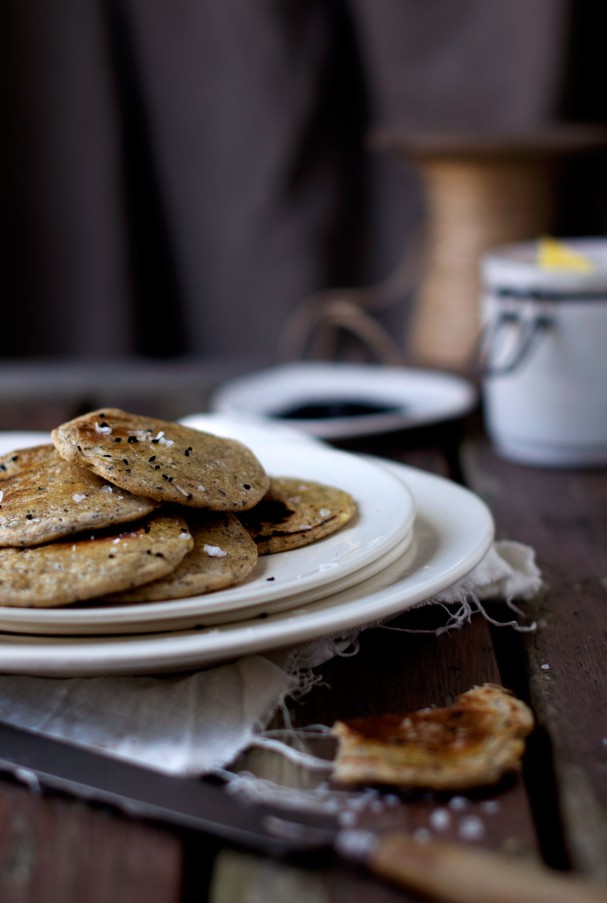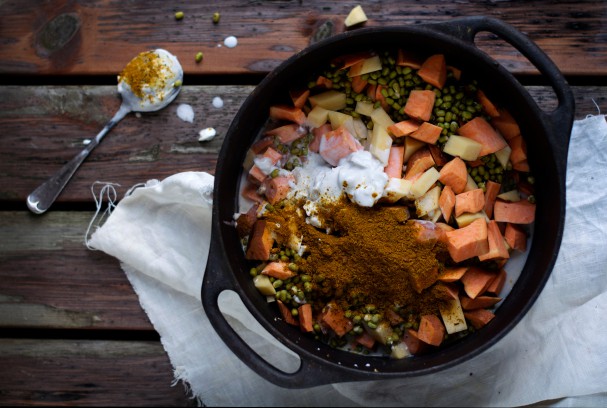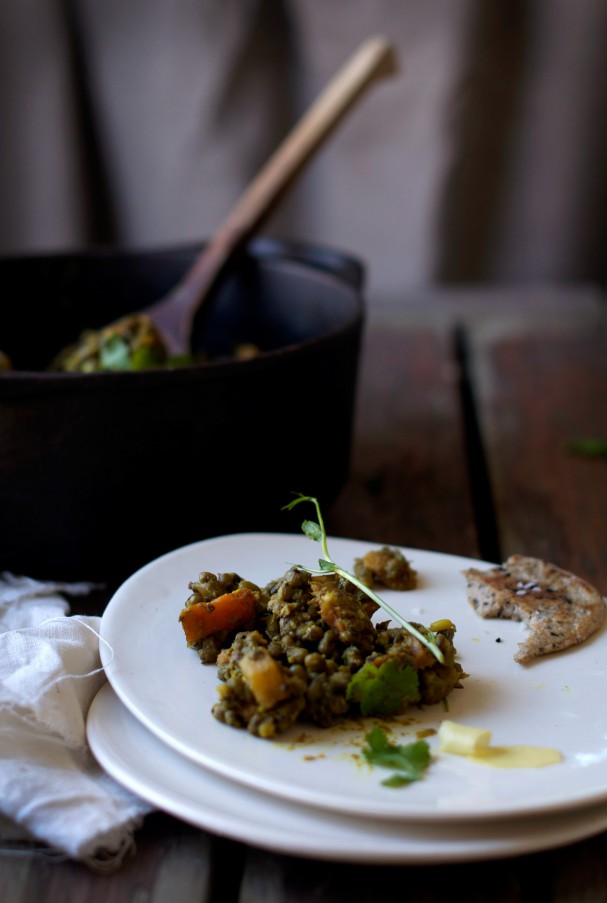 The Winter Feast
Ginger appetizers to make those digestive fires burn even brighter, a seriously tasty + cold season-supportive homemade masala, a huge pot of creamy Kitchari full of fiber, protein and complex carbohydrates. Top it all of with a side of simple yet drool-worthy sauteed greens with pieces of crunchy nori algae and my favorite – gluten free (and totally fuss-free) sourdough Naan bread. And not to forget! Ghee!
Serves 4-6
Ginger Appatizer
1 small bulb of fresh ginger (about the size of half a thumb)
1 tbsp lemon or lime juice
a pinch good quality salt
1. Peel fresh ginger by scraping off the skin with the backside of a spoon. 
2. Slice really thinly, add to a small plate and drizzle over lemon juice and sea salt. Let sit while you prepare all other components of the winter feast.
Winter Masala
1 tbsp fennel seeds
1 tbsp cumin seeds
1 tbsp turmeric
1/2 tbsp mustard seeds
5 cardamom pods
1 cinnamon stick
1. Crush cardamom pods ever so gently with a pestle or backside of a knife, this will make it easy to remove the peel and get your hands on those seeds inside. Add cardamom seeds along with all other ingredients to a hot and dry skillet (preferably cast-iron but whatever you have will work). Toast until golden and fragrant stirring often. This will take about 4 minutes on low heat.
2. Add all toasted spices to a mortar and using a pestle and circular movements grind to a smooth powder. It will take a little while so allow yourself to really be there, enjoying the incredible fragrances coming to life. Kids (of all ages) seem to love this. There is something deeply centering about grinding toasted spices. Once ready, set aside your masala for the Kitchari.
Rice-free Kitchari
1.5 cup mung beans
1 sweet potato, scrubbed & cubed
1/2 rutabaga/swede/swedish turnip, scrubbed & cubed
1 can coconut milk
1.5 cup pure water
1 tbsp freshly minced ginger
2 tbsp ghee/virgin coconut oil
3 tbsp winter masala (recipe above)
1/2 tsp good quality salt
1. Soak mung beans in 3 cups lukewarm water+something acidic (a splash of apple cider vinegar/lemon juice is good) for 8-15 hours. Once soaked rinse thoroughly and add to a big pot/dutch oven along with all other ingredients.
2. Grab a spoon and reserve 4 tbsp of cooking liquid for sautéing the greens later.
3. Now give it all a stir and cook under lid on medium heat for around 30 minutes or until all liquid is absorbed and vegetables are cooked. Sprinkle with a generous amount of fresh cilantro once ready to serve.
Gf Sourdough Naan
2 cups Oatghurt  <—link to my recipe for homemade fermented oatghurt. Storebought won't work sadly.
2 tsp virgin coconut oil, gently melted
1 tsp baking powder
1/4 tsp good quality salt
2 tbsp Nigella seeds
1 tbsp ghee/virgin coconut oil, reserved for spreading onto Naan once done.
1. Combine all ingredients in a mixing bowl. Heat a dry skillet, pour in "dots" of 1/4 cup worth of batter and cook on medium-high heat until the top side is completely dry. Flip to the other side using a metal spatula and cook until browned and easily removed. Put bread onto a cooling rack and spread a little dollop of ghee/virgin coconut oil onto each one + a pinch of flaky sea salt. Let cool for at least 5 minutes before eating. The centre will be too soft for eating straight out of the pan but will set after a little while. Now: no need to clean, use this skillet to sauté your greens straight away!
Sauteed Greens
4 handfuls sturdy leafy greens for example:
Curly kale, dinosaur kale, cauliflower greens, chard, beet greens, carrot greens
1 sheet nori algae, teared in small pieces
4 tbsp reserved cooking liquid from the Kitchari.
1. Rinse, de-stalk and tear greens of choice into smaller pieces and add them to the skillet you just used for frying your Naan bread. Add the cooking liquid and cook on medium heat until greens are wilted and soft. Add pieces of nori algae and serve.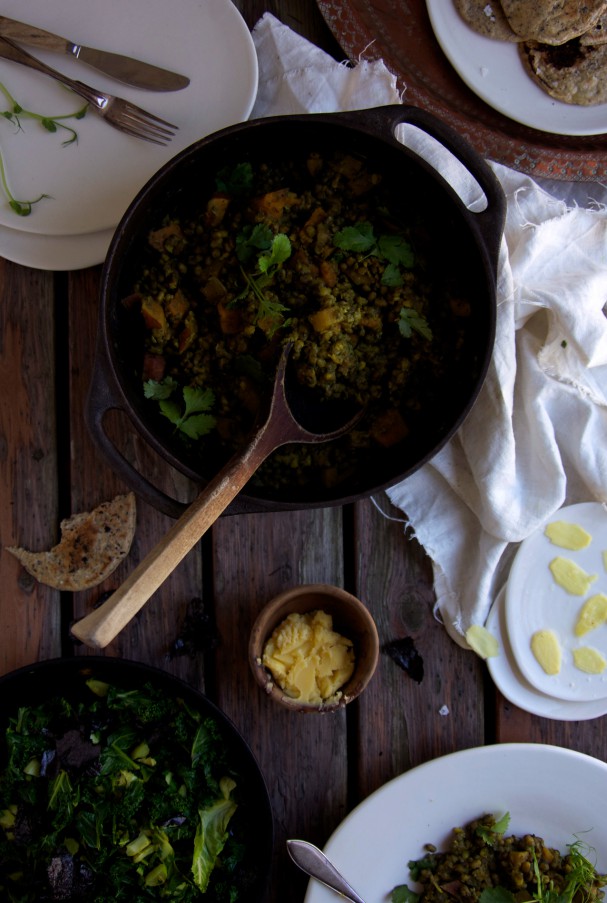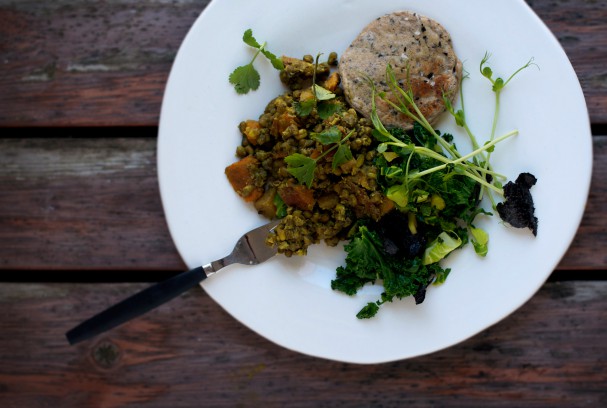 As I'm guessing this will be my last very wintery recipe I wanted to celebrate + give thanks to this past few beautiful cold months. Come join my Winter Feast table and let's be totally in awe of every tiny detail of it, feeling and absorbing all deliciously decadent and nourishing parts. Because while feeling every tiny thing in life can be overwhelming at times, using those open senses and awe when enjoying a meal might be the best thing you've ever done for your health.
How do you make sure you have energy to flow with that The-ordinary-is-the-biggest-adventure-attitude?
Peace + Greens (and #earthsprout hashtags ;)
Elenore