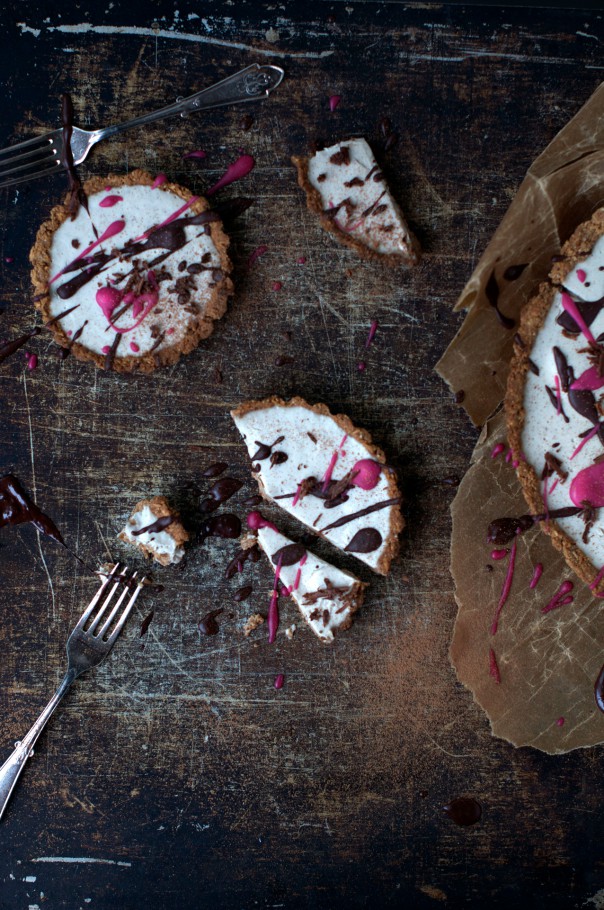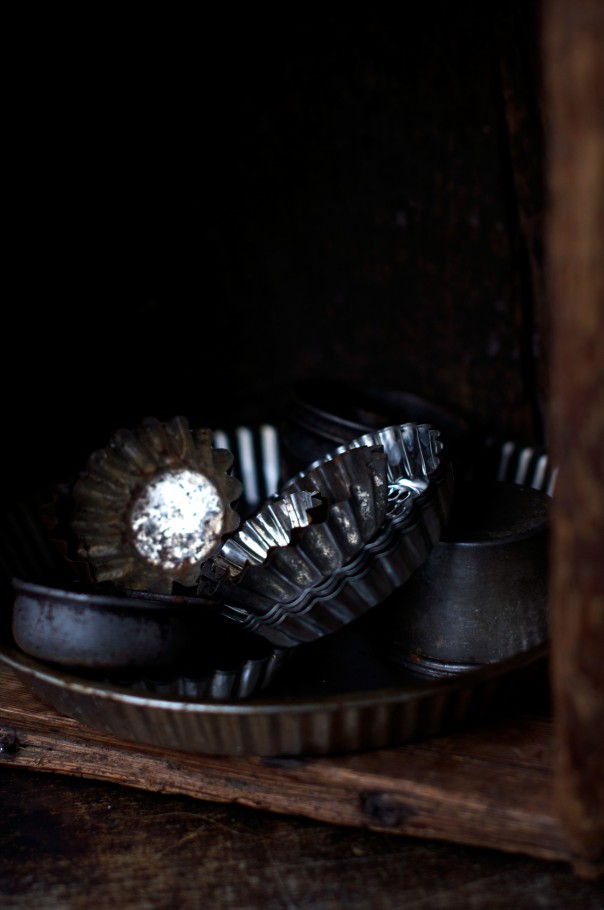 The 10th of February 2015 was in my world a brilliant party of baby cuddles, medicinal hot chocolate, hot kisses, wild surprises, red grapefruit, heels, tree hugging, awesome food (hello  'When Harry met Sally'-moment). Also a crazy mix of happy tears and laughter. It was my birthday and damn it was a good one.
Maybe the end of the rainbow didn't literally follow me around neither did the mango tree that I keep hoping will magically appear in our garden pop up (in Sweden..).. Still, last Tuesday I had the best birthday ever and I know why! I expected it to be over-the-top unbelievably (believably!) delicious, sensational and all things awesome.
To me birthdays are sacred. A day to pause and align ourselves with the ever flowing river of energy that runs through us all. This creative force that takes on different juicy expressions depending on what's supposed to come to life through us. I believe we are a unique and divine filter for the all-around life force to seep through and to me a birthday is a magical day to appreciate and explore that. To check in and see what's going on, which lessons we're in the middle of being taught (guh!) and what kind of golden moments and situations we've drawn into our life by being, thinking and radiating the reality we want for ourself and others. So on your next birthday (or today for that matter!) make sure that you are allowing the brilliance that you are meant to give to this world is free to shine (regardless of what it is!). Are you letting it show? Are you being all that you can be? Are you embracing the deliciousness that you and only you are?
..Since becoming a mother I gotta say that I also very much celebrate and acknowledge the huge journey that me and my family embarked on a February evening at 7.50pm 26 years ago. Woha.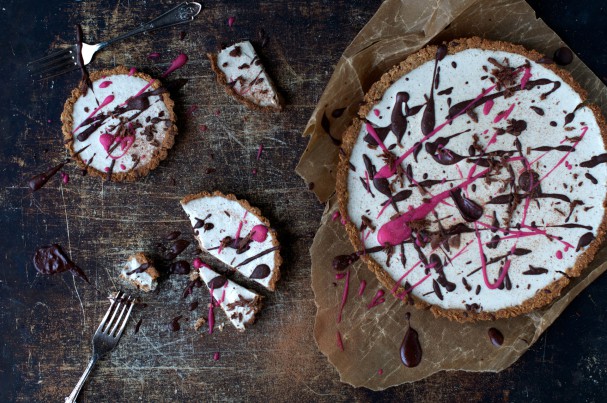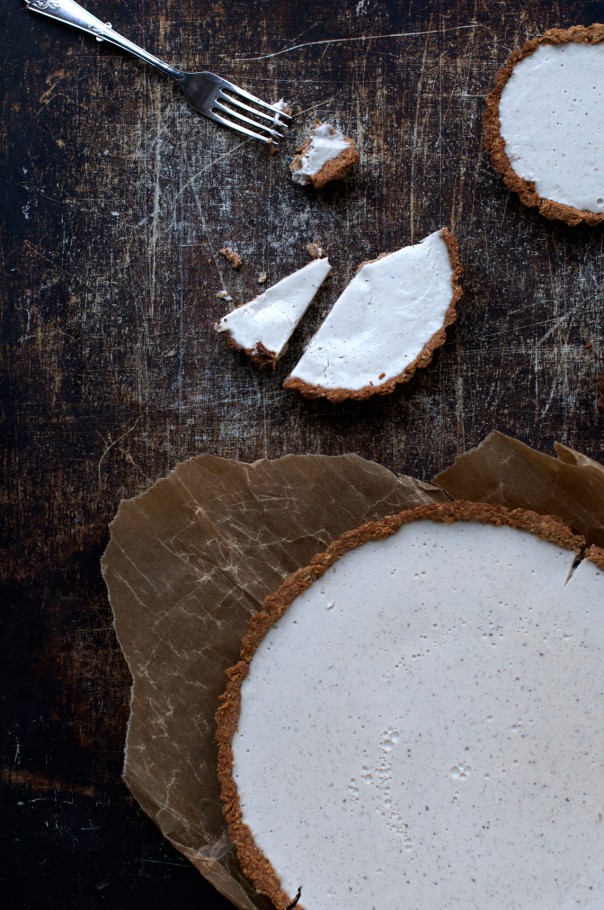 If you've been totally distracted by the look of this pink-flecked creation while I've been babbling away (I don't blame you) I'll tell you that it's a slightly adapted version of a recipe from a book I love so much that I want You to have a copy too! So since it's my birthday week and all I think it's time for a Giveaway! Yay! I give you, Amy Chaplin's At Home In The Whole Food Kitchen.
At Home in the Whole Food Kitchen is the best book I've read in a long time (and I've read it cover to cover). It's a masterpiece packed with Amy's incredible knowledge when it comes to a nourishing, fun and fabulous whole food kitchen and life around it. Seriously guys, Amy is sensational in so many ways and your collection of books will not be complete until you can lay this beauty on your coffee table (at the very top of that pile of course).
TO ENTER THE GIVEAWAY (Giveaway has ended and the winner have been contacted) 1). Write a little comment below this post and let us know of one or two essential part(s) of your whole food kitchen. 2). Link to this post on Facebook/Twitter or give a lil' mention on Instagram (@ElenoreEarth #Earthsprout) The Giveaway is WORLDWIDE and ends the 25th of February when the winner will be drawn at random. More Amy and more Whole Foods to the people!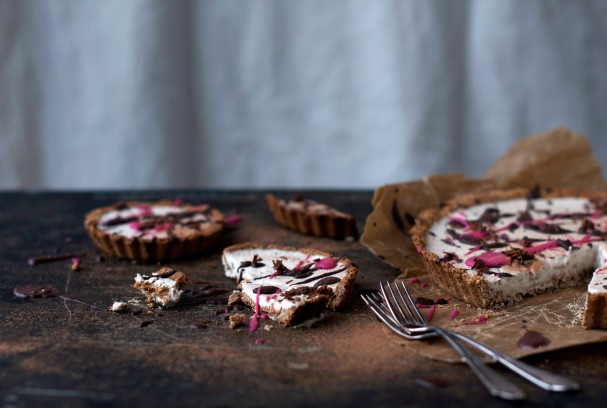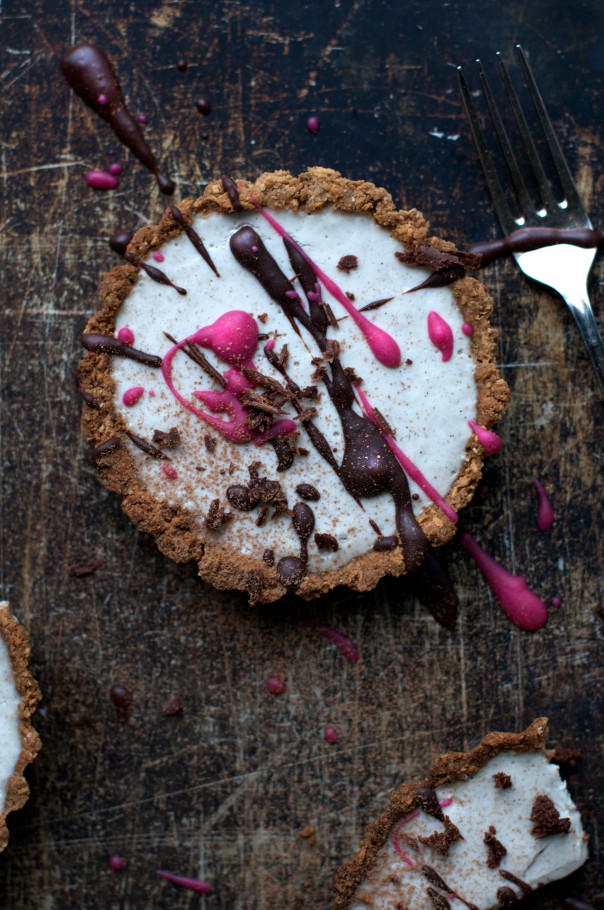 COCONUT CUSTARD TART WITH TOASTED COCONUT CRUST  –Slightly adapted-  from At Home In The Whole Food Kitchen by Amy Chaplin
Notes: Since organic blanched almonds are hard to come by you can soak whole raw almonds and then slip off their skins. If you have blanched almonds, feel free to use them instead; just soak them for a couple of hours to soften them up. Don't be tempted to use canned coconut milk, as it will result in a heavy filling. If you have an upright blender that has an 8-cup capacity, then you can make coconut milk in one batch. It can be made up to two days in advance.
Makes one tall 9-inch springform pan or three smaller tart pans as pictured in this post
Crust
1½ cups dried, unsweetened, shredded coconut
¼ cup plus 2 tablespoons regular rolled oats
3 tablespoons brown rice flour
¼ teaspoon sea salt
1 cup whole buckwheat flour
¼ cup melted extra virgin coconut oil, plus more for oiling pans
¼ cup maple syrup
1 tsp vanilla bean powder
Instructions for TARTLET PANS:
1. Preheat oven to 300°F. Line a rimmed baking sheet with parchment paper, add coconut, and spread out evenly in a single layer. Place in oven and toast for 4 minutes; stir, and toast for another 2 to 3 minutes or until golden and fragrant. Remove from oven and set aside.
2. Raise oven temperature to 350°F. Thoroughly oil tartlet pans and set aside.
3. Grind oats, rice flour, salt, and ½ cup of the toasted coconut in a food processor until finely ground, about 30 seconds. Transfer to a bowl, and stir in buckwheat flour and remaining toasted coconut. Drizzle in coconut oil; mix with a fork or your fingertips until all flour is moistened. Add maple syrup and vanilla, and mix until evenly incorporated. Dough should be moist but not sticky. Wash and dry your hands, then press crust evenly into tartlet pans. Trim any excess dough from the edges. Prick each crust with a fork several times and place on a baking sheet. Bake for 16 to 18 minutes or until deeply golden and fragrant. Remove from oven and set aside to cool
Instructions for SPRINGFORM PAN:
1. Preheat oven to 350°F. Line the bottom of a springform pan with parchment paper and lightly oil the sides. 
2. Press crust evenly into bottom and all the way up sides of oiled pan, making sure there is no excess dough around the edges. Leave top edges uneven. (This looks nice and rustic, and it also makes it easier to remove the sides when the crust stays below the curve of the pan edge.) 
3. Prick bottom of crust with a fork several times, and bake for 18 to 20 minutes or until deeply golden and fragrant. Remove from oven and set aside to cool while you make filling.
Custard Filling
1 cup whole raw almonds, soaked 8 to 24 hours in filtered water
5½ cups filtered water
3 cups dried, unsweetened, shredded coconut
1 1/2 tsp vanilla bean powder
4½ teaspoons agar flakes
¼ cup maple syrup
pinch of sea salt
2 teaspoons arrowroot
1/2 tsp vanilla bean powder
1. Line a large strainer with a nut milk bag; clean, thin kitchen towel; or several layers of cheesecloth. Place over a large, heavy-bottomed pot and set aside.
2. Slip the skins off the almonds, rinse, and drain. Add half the almonds to an upright blender. Add 3 cups water and 1½ cups coconut and blend on high speed for 1 to 2 minutes or until smooth. Pour into lined strainer and repeat with 1½ cups water and remaining almonds and coconut.
3. Gather edges of bag or excess cloth and gently squeeze out liquid. The recipe says you should be left with just under 6 cups of milk but both times I've made the cake I got a little less then 5 cups and that has worked great too. Dehydrate, freeze or refrigerate leftover pulp and save it for later use in pancakes, bread, crackers, smoothies, spreads or other.
4. Add vanilla powder to coconut milk, along with agar, maple syrup, and salt. Bring to a boil over high heat, whisking frequently. Cover pot, reduce heat to low, and simmer for 15 minutes or until agar has dissolved completely.
5. In a small bowl, dissolve arrowroot in remaining water, and slowly whisk into simmering coconut milk. Continue whisking until mixture has thickened slightly and returned to a simmer.
6. Remove from heat and set aside uncovered to cool slightly for 10 minutes, then whisk again. Pour into pre-baked crust(s).
Once filling has stopped steaming, place in the fridge and chill for about 3 hours or until completely cold and set. Serve cold, with raw chocolate sauces (below)
Elenore's Raw Chocolate Drizzle
Chocolate base
4 tbsp virgin coconut oil, Raw Cacao butter or 50/50 of each
1 tsp maple syrup/honey/coconut sugar
pinch high quality salt
1. Add all three ingredients to a small bowl and let gently melt over water bath. Once completely liquid remove from heat and divide in two small bowls.
Raw Pink Chocolate Drizzle
Add 1 tsp beet juice (grate and squeeze half a beet) to one of the bowls and refrigerate for a couple of minutes then stir again. The beet juice and the chocolate base will only fully combine once it's chilled and halfway set. Drizzle over custard tart using a small spoon.
Raw Chocolate Drizzle
Add 1 1/2 tbsp of raw cacao powder to one of the bowls, combine with a fork and refrigerate until halfway set. Drizzle over custard tart using a small spoon.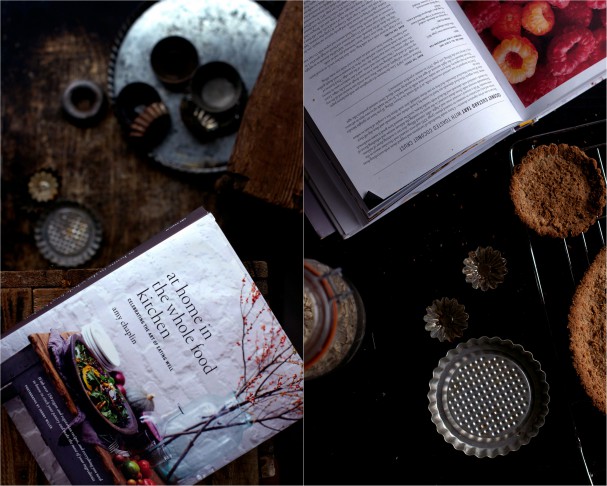 It must be something in the water because my emotions are running wild with love and gratitude for YOU. I'm so darn happy to be sharing this space with you. Thank you from the depths of my soul for being all that you are. Oh how you shine!
..and remember, enter the giveaway (directions above) to be able to win your own copy of Amy Chaplins's masterpiece. I'll be routing for you!
See you on Instagram!
°°Elenore°°