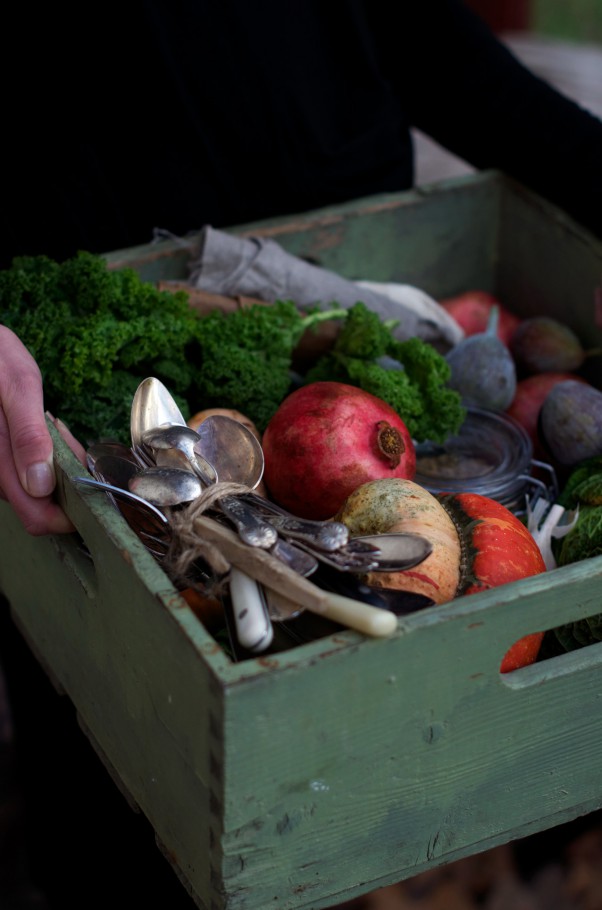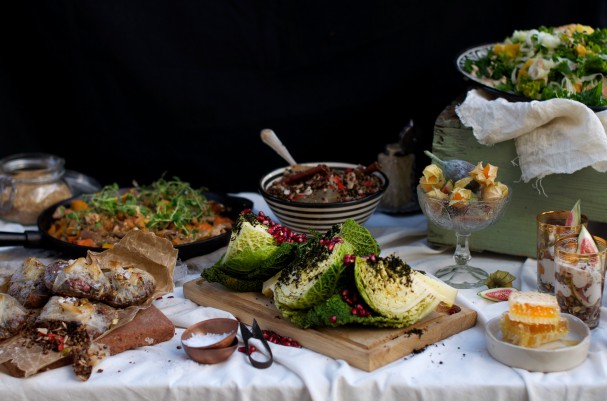 Healthy Holiday Menu
vegetarian + dairy-, egg-, gluten-free
Serves 4-6
– Saffron Baked Pumpkin & Sweet Potato Skillet with Porcini's and a sprinkle of Homemade Dukkah
– Crunchy Bundles of Fragrant Moroccan Quinoa & Beluga Lentils
– Rosemary & Garlic Steamed Savoy Cabbage with Charred Kale Dust & Pomegranate Seeds
– Fresh Green Salad with 4 Citrus & Ginger Miso Dressing
– Baklava Spiced Trifle with Raw Honey (can be made vegan!)
We celebrate something called Advent the four Sundays leading up to Christmas Eve. One candle is lit each Sunday and in the midst of all kinds of craziness (Because: Life) the lighting of that candle is still somewhat sacred. I glance over at our kitchen table and all of a sudden, three of the four candles in our copper candlestick definitely show signs of having been lit. So even though the world outside of my window is seriously lacking snow there is no denying it, Christmas is near. 
If the mere thought of Christmas gatherings tickles your stress levels to rise, you're not alone. I'm certainly not some totally serene and perfect person who can handle a constant flow of happenings and people like it's nothing and I very much need to have my moments of peace. This is why I went all in (mights sound counter productive but just wait) to create a healthy menu that could infuse this busy times with truckloads of nutrients and feel-good creativity because let's face it, the kitchen is my happy place and I think you'll dig locking up yourself in the kitchen and just play as well. So gather the ingredients, print the recipes and most importantly: put up a sign on the door saying "Fingerlickin' genius in the making, do not disturb". I mean we gotta eat..
I made these recipes in collaboration with the ever so amazing The Chalkboard Mag and all recipes except for the dessert can be found below. The recipe for the Baklava Spiced Trifle can be found by clicking HERE. With all my heart, I hope you en-joy!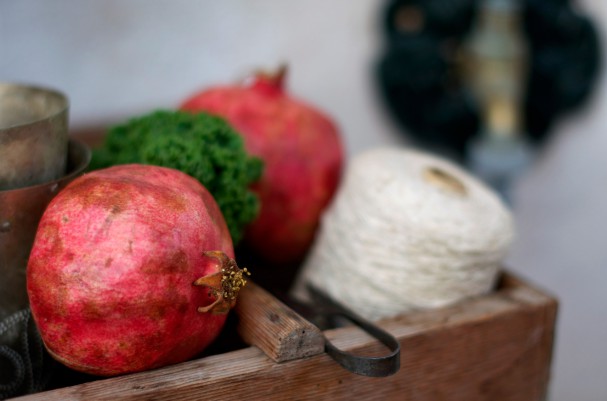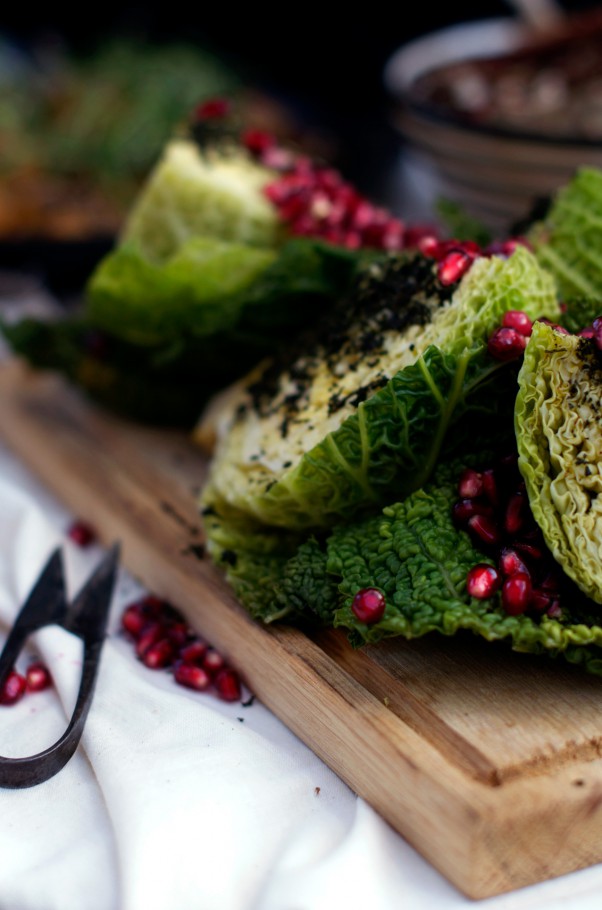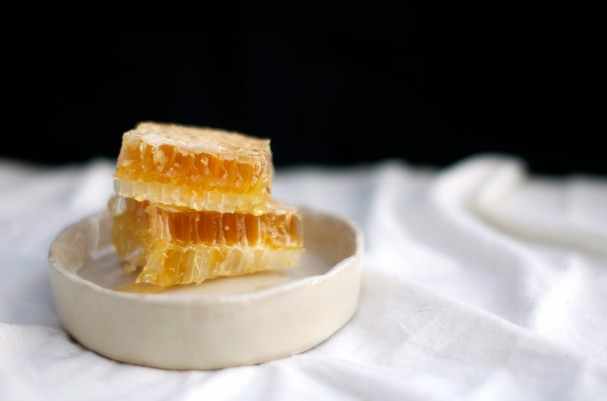 Fun & Fabulous Facts
– A superfood spotlight in each holiday dish
Pumpkin
I sure hope you're not tired of pumpkin season yet and if you are, this dish right here is sure to revive your interest. Pumpkin should from now on be included in your handful of BFF's and not be seen as a pretty but sort of boring decoration. Pumpkins are the perfect food to heat up a freezing human this time of year as they are of warming thermal nature. It just might seem like nature produces just the thing we need at just the right time. Go figure. The wonderfully colored flesh is not very surprisingly filled with beta-carotene and vitamin A. And might there be some sweet cheat-eating during the holidays? If so, winter squash (pumpkin) is your friend, loaded with anti-inflammatory Omega 3´s and blood sugar regulating B-vitamins. This is why pumpkins are popping up in both diabetes- and cancer studies at the moment and why choosing to munch away on these honeys during Thanksgiving and Christmas (and all other days) is a very clever choice.
Cinnamon
I'm not sure about you but I cannot deny my total cinnamon obsession. Good thing it doesn't only make our tasebuds sing with delight, cinnamon is also know to give the immune system a much-needed boost, it balances blood-sugar and also contains some great essential fatty acids. Cinnamon is not surprisingly a traditional warming remedy often used on the onset of a cold. To enjoy it's power, simply steep some freshly crushed cinnamon bark in a mug of hot water (& cover!) for 10 minutes or sprinkle 1/2 tsp of cinnamon powder over you breakfast cereal or pop into your blender while making a smoothie and you have yourself quite the medicine. Recent studies also highlight the incredible anti-microbal properties of cinnamon as well as its ability to -by only smelling it- boosts brain function. Cinnamon, in our books you just went from tasty but slightly "Eh" to a miracle packed and oh-so very "Oh Yeah" superfood.
Cabbage
I know this may be tough to hear but get this: cabbage just might be the new kale! All members of the amazing Brassica family is known to pack quite a punch when it comes to nutrition, medicinal benefits and let's face it overall tasty good-for-you-ness. Cabbage is, when eaten raw or lightly steamed filled with the immune boosting, cancer preventing and oh-so supportive Vitamin C. It is a blood-sugar balancing and filling veggie with incredible amounts of detoxifying fibers. Cabbage is also often noted for it's Vitamin K content (hello awesome bone and blood support!) and last but not least as a major hormone balance fix. How is it hormone balancing and why should I care, you might ask? Well, the compound called DMI, present in all Brassicas (otherwise known as Crusiferous vegetables) aids our body in the (quite important if I may say so) daily process of getting rid of the bad-for-us xeno-estrogens coming from plastics, soy and low quality meat and dairy. So get crunching on some cabbage and stay healthy!
Citrus
Did you know that if our mind and body are under a lot of stress we use more Vitamin C and can easily get run too low? Vitamin C support the adrenal hormones that help us cope with stress and invisible inflammation. What Vitamin C does in our gorgeous body is stimulating the immune system and together with it's antioxidant function helps to prevent and treat both infections and other diseases at the same time. By "it's antioxidant function" I mean that the Vitamin C actually help prevent oxidation of molecules that when oxidizing could otherwise create a bounty of free radicals which in turn can harm our cells and lead to disease. Also, you like both feeling and looking great, am I right? Vitamin C supports the maintenance and formation of collagen in our skin (can you say smooth and soft?) and help heal wounds, make blood vessels stay healthy and all tissues flexible. Bring me some Citrus this holiday!
Honey
It is time we climb up on roof-tops to shout about the incredible properties of raw honey, royal jelly, propolis, bee pollen and such. We owe it to the world. And to the bee's of course. Humans have been harvesting honey for well over 10 000 years not only for it´s nutritional value but also for it´s spiritual value and surely because it is so very tasty too. Raw, unheated honey has incredible anti-bacterial, anti-inflammatory and anti-septic properties and has been widely used as a healing method in many ways. Honey can for example be used to balance hormonal issues, relieve stress and depression, treat high blood pressure and numerous other amazing things like clear up your skin and hair and heal wounds. Recent Swedish studies show that freshly harvested, raw honey is many more times powerful than even antibiotics and it´s miraculous properties are being investigated in more depth as we speak. Make sure to invest in really good quality bee-products to support the very hard-working and quickly disappearing bee population. These tiny beings need our support.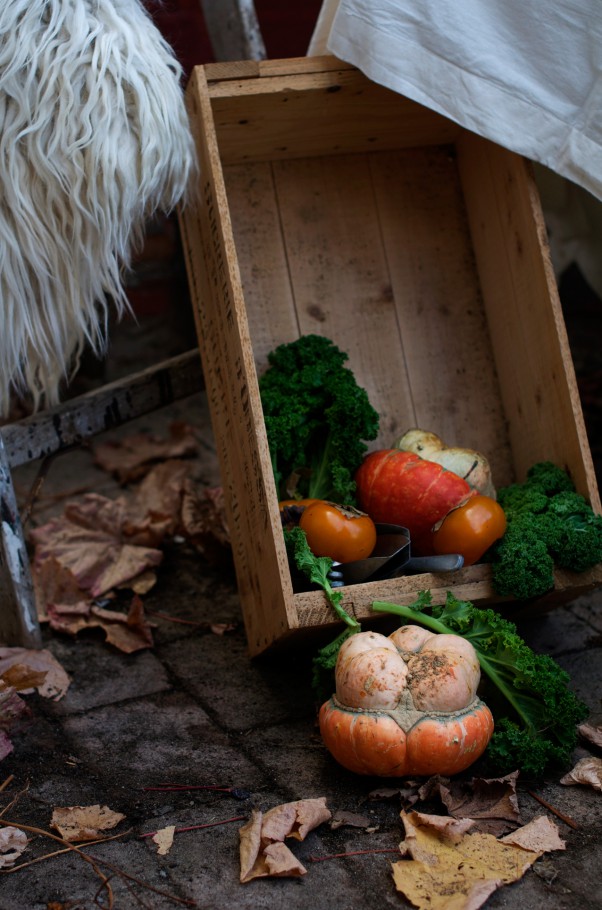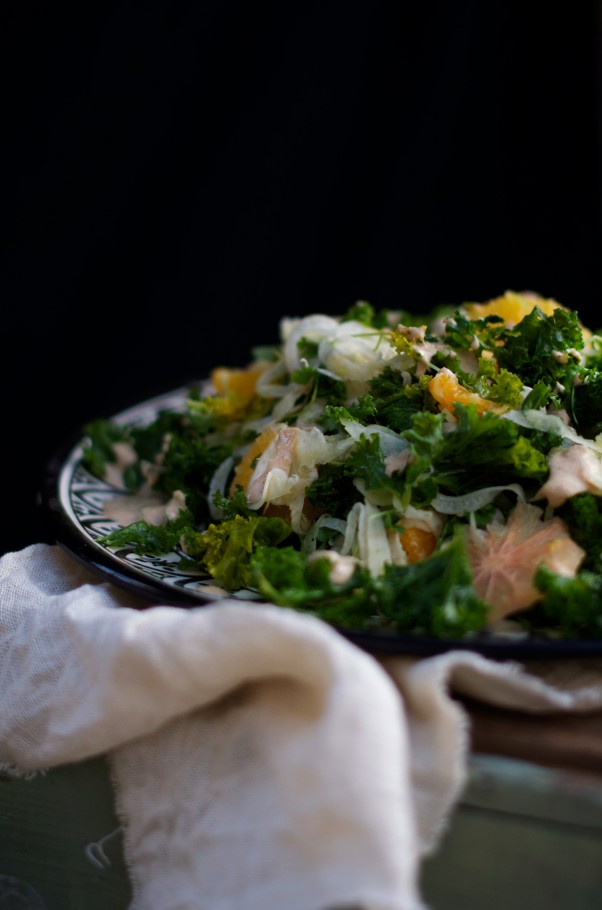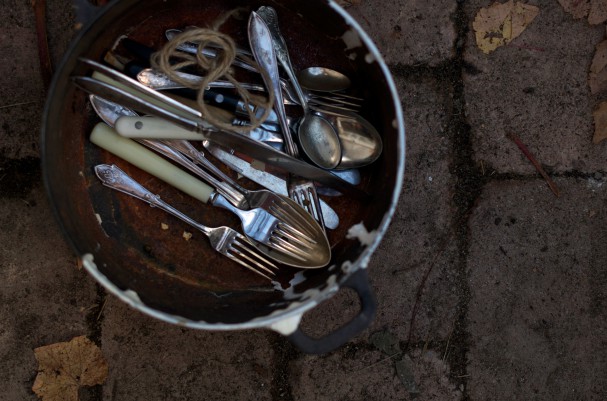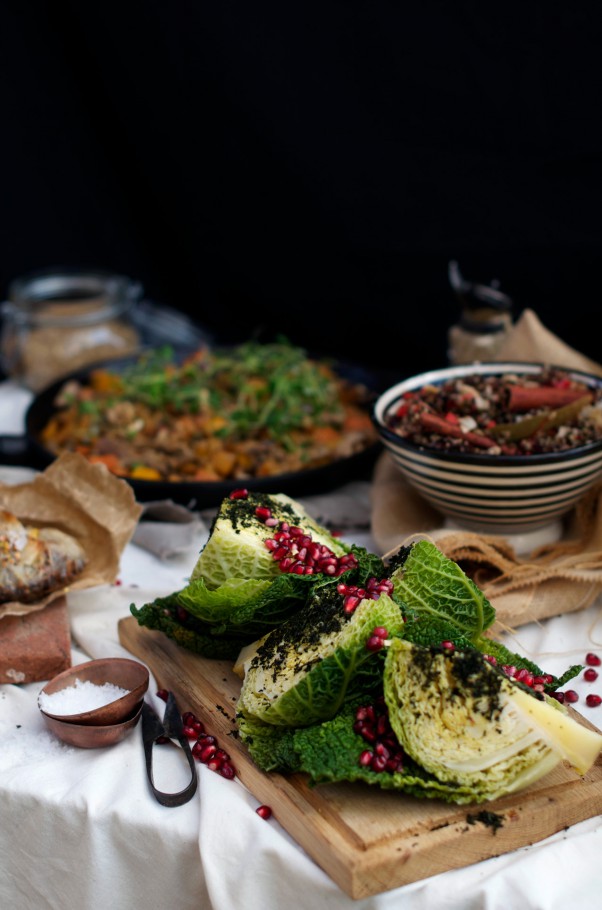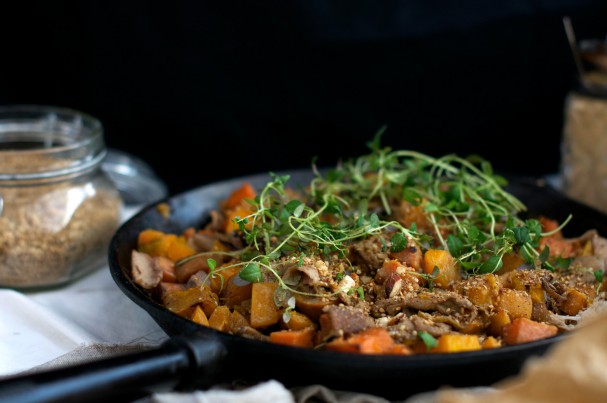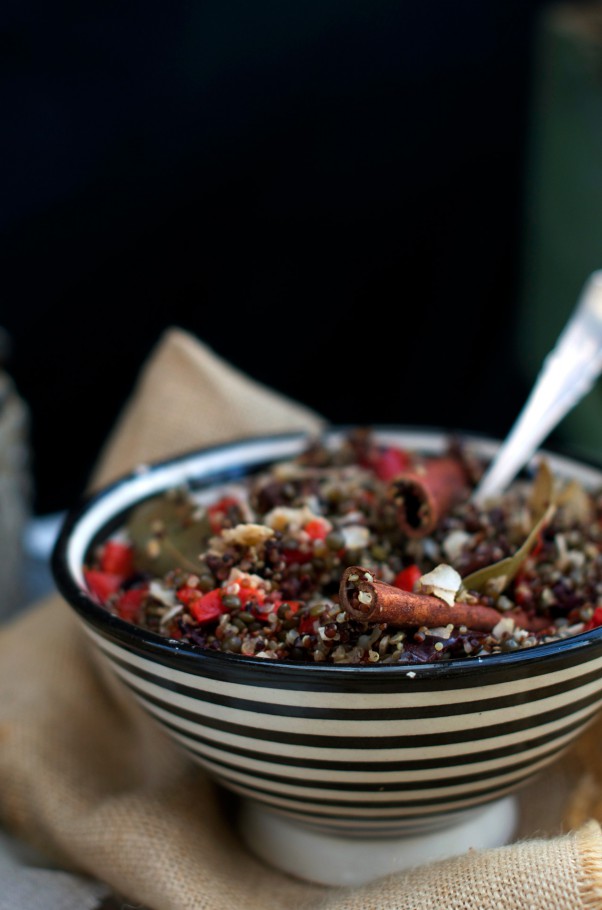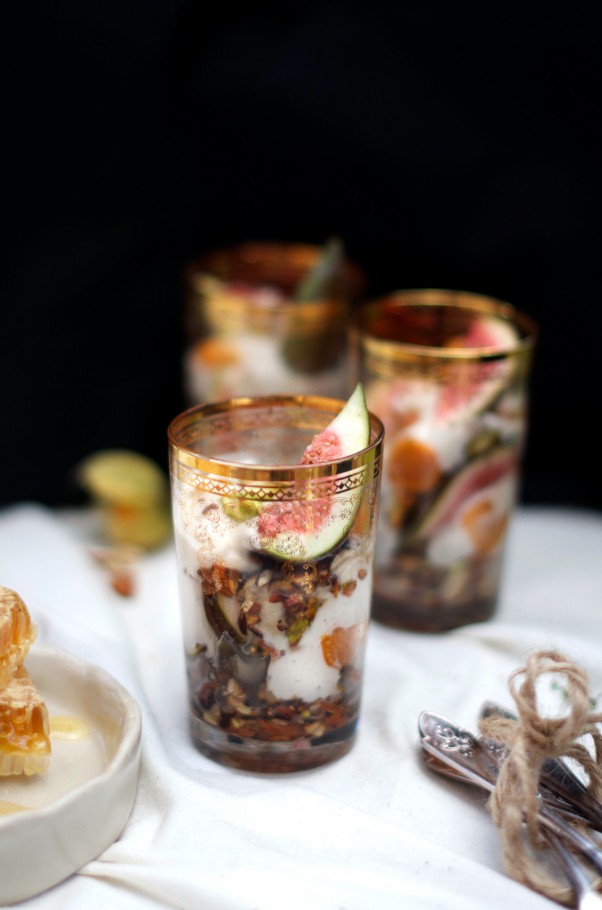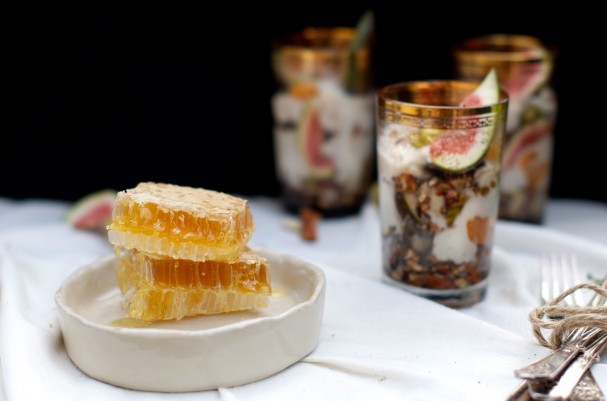 Saffron Baked Pumpkin & Sweet Potato Skillet with Porcini's and Homemade Dukkah
1/2 meduim hokkaiko pumpkin
2 medium sweet potatoes (approx. 850 g)
1/3 leek
1 cup dried porcini mushrooms (can be substituted for fresh if at hand, if so measure 1.5 cup sliced mushrooms)
1 tsp ghee/virgin coconut oil, for frying
Fresh thyme, flaky sea salt & dukkah (recipe below), to serve
1. Preheat oven to 175 °C / 347 °F
2. Scrub sweet potatoes and pumpkin if using organic, if not peel them. Cut in large chunks and set aside
3. Wash and finely cut leek, heat coconut oil or ghee in a cast iron skillet and once hot add the leek. Cook until slightly caramelized, around 5 minutes.
4. If using fresh porcinis, add them to the skillet now and cook for an additional 5 minutes, stirring as little as possible.
5. Add pumpkin and sweet potato to the skillet and cook for 10 min or until lightly golden around, turn every other minute.
6. If using dried mushrooms add them now as well as the saffron cream. Put in the oven to cook for 15-20 minutes or until pumpkin and sweet potato are soft to the centre.
7. Add springs of fresh thyme, flaky sea salt and at least 1/2 cup dukkah to serve.
Saffron cream
1 can coconut milk, the white layer
pinch saffron
1. Refrigerate a can of coconut milk at least overnight and make sure not to shake it.
2. Open can and scoop out the top white layer of coconut cream and add to a medium sized bowl. Save coconut water for soups or smoothies.
3. Add a pinch of saffron to the bowl and carefully mix it together using a ballon whisk or something similar. The end result should be smooth without any coconut lumps. refrigerate until it's time to use. (Tip: Use this cream as a base to make a christmasy ice cream or topping for a cake!)
Dukkah
1/2 cup sesame
1/2 cup hazelnut
1 tsp salt
1 1/2 tbsp cumin
1 1/2 tbsp coriander
1/2 tbsp black pepper corns
1. Add hazelnuts to a dry skillet and toast over medium heat for around 7 minutes. You will know that their done by the fragrant smell and by cutting one in half and seeing a roasted brownish center.
2. Add roasted hazelnuts to a clean tea towel, fold and rub off their skins as much as you can.
3. Add sesame seeds, cumin and coriander to the skillet and lightly toast for around 4 minutes. Keep a close eye, these burn easily.
4. Now add all toasted and remaining ingredients to a food processor (or use a pestle and mortar) to grind/blend it all into a slightly chunky delicious dukkah. Store in fridge and add a generous sprinkle to salads, soups and anything you eat really.
Miso Ginger Dressing
1 tbsp light miso
1 tbsp grated ginger
2 tbsp water
2 tbsp tahini (salted)
1/2 tsp maple syrup
1. Peel fresh ginger by scraping it with the backside of a spoon. Grate it until you have 1 tbsp.
2. Add all ingredients to a high speed blender (using an immersion blender works great too) and blend until smooth. Set aside
4 Citrus Kale Salad with crunchy veggies
1 grapefruit
2 oranges
2 satsumas
1 lime
a buch fresh kale, around 5 leaves
1 fennel bulb
2 celery stalks
1 tsp high quality salt 
1. Wash and de-stalk kale. Tear leaves in smaller pieces and add to a large bowl along with sea salt. Massage until slightly wilted and soft, remove any water from the bottom of the bowl. Toss massaged kale with half of the miso ginger dressing (recipe above)
2. Slice fennel and celery very thinly, preferably using a mandolin slicer, add to the massaged kale
3. Peel and slice all citrus fruits, add to the salad
4. Drizzle remaining dressing over salad once ready to serve or let guests add themselves.
Fragrant Moroccan Spiced Quinoa & Lentil Bundles
1 cup quinoa
1 cup beluga lentils
2 red peppers
1/2 cup kalamata olives, pitted
1 cup toasted coconut flakes
10-20 rice paper sheets depending on how many bundles you wish to make 
For the Quinoa
2 cinnamon sticks
2 star anise
1 bay leaf 
For the Lentils
1 tbsp aged balsamic vinegar
1 1/2 tbsp olive oil
1 tsp high quality salt
1 tsp cinnamon 
Cook Lentils
1. Add beluga lentils to a bowl, cover with water and let soak for 8-15 hours. Overnight or during the day works fine.
2. Rinse and cook lentils in 1 1/2 cup vegetable stock by first bringing to a boil and then reducing heat to low. Soaked lentils cook fast, around 7 minutes and you do not want them to loose shape by overcooking. Discard of any remaining cooking water (or save for future soup base) but leave lentils in saucepan and add the aged balsamic vinegar, olive oil, salt and cinnamon. Stir and set aside, lid on.
Cook Quinoa
1. Add quinoa to a bowl, cover with water and let soak for 8-15 hours. Overnight or during the day works fine.
2. Rinse and cook quinoa in 1 1/2 cup water, 2 cinnamon sticks, 2 star anise and 1 bay leaf by first bringing to a boil and then reducing heat to low. Soaked quinoa cook fast, around 7 minutes and you do not want them to overcook. Discard of any remaining cooking water (or save for future soup base) and remove cinnamon sticks, star anise and bay leaf. Put lid back on and set aside.
Prepare Peppers
1. Rinse and grill peppers. Either whole over open gas flame on your stove, turning every minute until skin is soft, charred and wrinkled. Or add halved red peppers onto a lined baking sheet and roast in the pre-heated 230° C / 450° F degree oven for about 25 minutes or until the skins are completely wrinkled and the peppers are charred.
2. Once cool enough to handle, cut peppers in small chunks and set aside
Making the bundles
Add cooked lentils, quinoa, peppers, pitted olives and crushed toasted coconut flakes to a large mixing bowl and combine using a large wooden spoon or rubber spatula. Soften 1 rice paper sheet at a time by letting it rest for around 20 seconds in a bowl/ plate with warm water, add 1/3 cup of filling to each rice paper sheet and fold the edges up over the filling. Put prepared bundles onto a lined baking sheet and once all are done, brush with a little olive oil and cook for 15 minutes or until lightly golden and crisp in a pre-heated 190° C/ 374° F degree oven. Sprinkle with some flaky sea salt and serve.
Rosemary & Garlic Steamed Savoy Cabbage with Charred Kale Dust & Pomegranate
1 whole savoy cabbage
1 pomegranate3 garlic cloves
3 springs fresh rosemary1 cup kale chips (recipe below, or use quality raw ready made kale chips)
 1. Quarter the savoy cabbage lengthwise, rinse as thoroughly as you can without breaking up the pieces.
2. Bring some water to a boil in a sauce pan, put a steaming basket or metal steamer onto the saucepan and add cabbage, slightly crushed garlic cloves and rosemary twigs to the steamer of choice. Let steam, lid on over medium heat for around 10 minutes or until you can pierce the center of cabbage with a pairing knife and it feels soft but still with color and some crunch left.
3. Arrange steamed cabbage onto a serving plate, crush kale chips using a pestle and mortar util you get a fine powder that you dust the quartered cabbage with.
4. Cut open the pomegranate in a bowl full of water and remove all seeds. Take seeds from the bowl and sprinkle generously over cabbage. Serve 
Kale Chips for Kale Dust
1 bunch, around 5 leaves fresh kale
1 tbsp virgin olive oil
1 pinch high quality salt
1. Preheat oven to 120°C / 250°F. Rinse kale and pat dry with a clean kitchen towel.
2. De-stalk kale and break leaves into smaller pieces that you add to a large mixing bowl.
3. Drizzle with virgin olive and salt and massage kale for around a minute.
4. Place kale on a lined baking sheet and bake in the oven for 30-35 minutes or until crispy, turning twice in the process. 
Baklava Spiced Trifle
For the Sweet Cashew Cream
3/4 cup raw cashews
1/2 cup full fat coconut milk
1 tsp lemon juice, freshly squeezed
1 Tbsp rose water (start with 1/2 Tbsp and work your way up to see what suits your tastebuds)
1/4 tsp pure ground vanilla
1/2 Tbsp maple syrup
For the Honey nut crunch
1 1/2 cup almonds, roughly chopped
1 cup pistachios, roughly chopped
3 Tbsp raw honey
1/4 tsp high-quality sea salt
For the toppings
4 fresh figs, quartered lengthwise
16 fresh physalis berries, halved (golden berry, gooseberry)
raw honeycomb
Sweet cashew cream
1. Soak the cashews for at least 5 hours then rinse and discard the soaking water. 
2. Add all ingredients to a high-speed blender (an immersion blender works too) and blend until your cream is really fluffy and smooth. As previously noted, start small and work your way up when it comes to the rosewater. You want it to have a little hint of rose but not be perfume-y or overwhelming. Refrigerate while making the honey nut crunch below.
Honey nut crunch
1. Toast nuts in a dry skillet over low-medium heat until fragrant and golden. Add to a small bowl when ready.
2. Add honey and salt and stir until coated. Set aside.
To arrange
Pick 4 beautiful glasses and layer them with honey-coated nuts, sweet cashew cream, figs and physalis berries. Top with some freshly crushed cardamom, drizzle with extra honey, a small piece of honeycomb and serve.
Note: This dessert can be made beforehand and rest in the fridge until it's time to serve. If so, make sure to take them out of the refrigerator 20 minutes prior to serving. This will bring out the flavors of the dessert even more.
---
Here's to a holiday of putting what feels good first and of changing the world, one bite, thought and love-based action at a time. 
..and hey! Share your Healthy Holiday moments with us on Instagram using the #Earthsprout hashtag too. I'd be thrilled to see your creations!
°°Elenore°°
A special thanks to my friend Maria at MOOS Interior for lending me her gorgeous kitchen, green house, bowls (and hands!) on the day of the shoot!