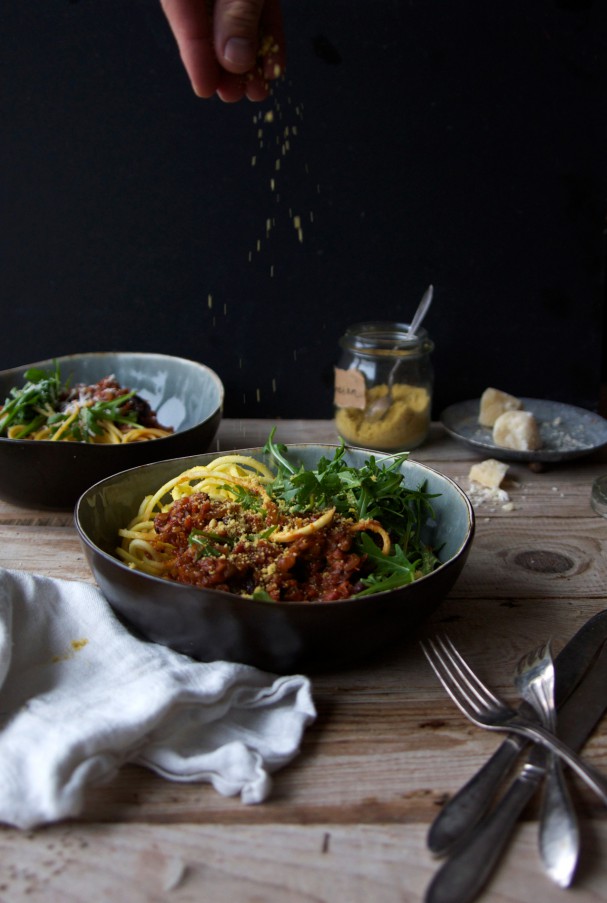 But how the heck do you do it? I mean, is he vegan now? No?..So do you use the same cast-iron skillet or what? Questions around how we create our meals in this house pop up very frequently and to be honest I'm stoked that they do. Peaked interest is the gateway to inspiration and ultimately change.
Due to all these questions I've finally collected some of our tips (& mistakes..) when it comes to combining two food worlds and not only making it work but turning it into something so awesome (neither of) you will ever want to look back. Fabians and my dinner plates sure haven't always looked mostly the same and there are definitely some raised eyebrows and weird looks in our history of shared meals. The first round of kelp noodles, salad as a main course, green smoothies for breakfast or a little bowl of dried fruits, soaked almonds and raw chocolate as candy (where is the pick'n mix?!) to name a few.
So. Just like every other couple we're two people with wildly different backgrounds when it comes to food. We fell head over heels in love and had to find + create some common ground. When we met, Fabian was all about potato, pasta, coca-cola and meat and had no clue how to create a meal outside of that beige/brown category. Lentils? Say what? He wasn't aware of what exactly it was that he was eating or how it affected his health, mood and physical presentation (he was a professional handball player at the time). I was still eating some meat, was sort of interested in food and healthy living but absolutely not to the extent that would come later. Still, to say that it was a huge collision of worlds would be to tone it down. Thank goodness for that collision because we both feel way more like the best versions of ourselves now. Physically, spiritually and emotionally.
Fabian often joke about the fact that he made a promise to himself to become a better cook when we started dating so that he could prepare an 'Elenore' meal for me. But due to my choice in career and following my passion (hello natural nutrition, organic gardening and all round' Greenylicious living) my dietary preferences changed so much over the years that he may not have been able to keep up skill-wise. But I will say this, his genuine interest and will to learn and grow is very much enough for me. In fact, it's pretty hot. To me it's not a huge deal that Fabian on occasions will eat meat because I know how aware and full of respect he is about it now. We are, have been and always will be two different persons making different choices in life. Would I love it if he was total vegan wizard in the kitchen? Sure! But I also love the fact that we're not the same and how that fact enriches both of our lives. If I surprise Fabian by getting him some potato chips on a Friday night (organic and super awesome of course) I'll totally get more points then if I had made us a raw decadent treat. He may not confess it but it's true ..and kinda cute.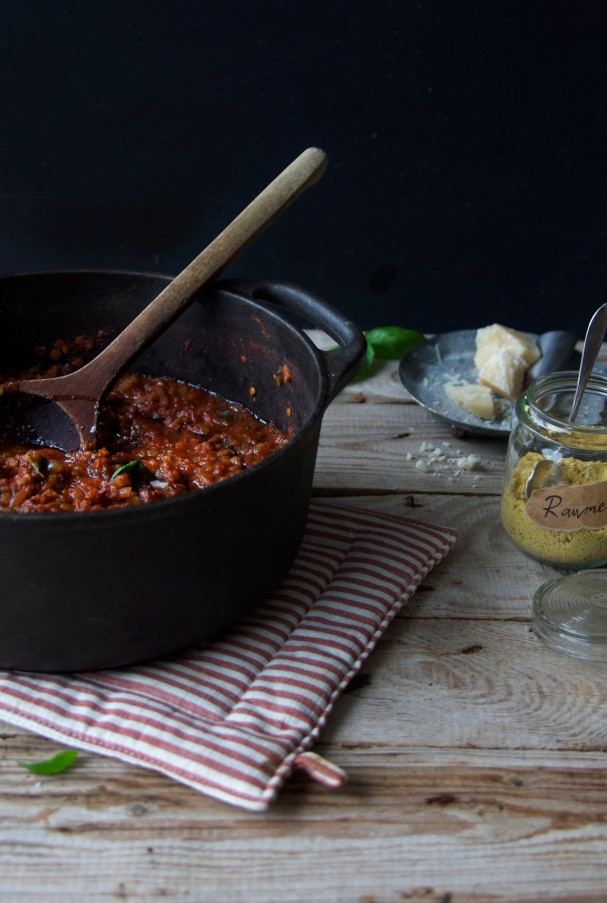 Fun & Fabulous Facts
– How to let two food worlds collide and make it wildly incredible
Find + create common ground
Explore what kind of common grounds/preferences you have when it comes to food and flavors. Create more of those and let that become the foundation for new adventures in the kitchen that you embark on together. You can even make a meal plan for the week ahead! For example: do you both enjoy fruit for breakfast but eat it in different ways? Awesome! Make a simple fruit salad to share. For dinnertime, create one sharable hearty main and then make a few other fun sides like dips, salads, veggie sticks, grilled root fruits, spreads, sprouts, marinated beans, cooked quinoa/millet etc. This is also a good way to spark the interest of kids.
Be open minded + flexible
We all have some funky blocks when it comes to certain things and that might be fine when you only share kitchen with yourself. However, if you're trying to make two food worlds collide -and in a good way-, guess what? You're not alone anymore! For example: Fabian may not have been hyperventilating out of  pure excitement when he got a green smoothie the first time but all it took to turn it into a big hit were some tweaks and an open mind.
Recreate healthyfied versions
We humans like to eat things we recognize as familiar and good so go crazy healthyfying your childhood faves together. It'll be tons of fun and you'll feel way better then after eating the 'real deal'. For example: Sugary cocoa-drinkers of the world, you may find that a healthy hot chocolate hits the spot just as much. A vegan Amatriciana sauce (below) is as rich and definitely looks like the regular bolognese. How about nice cream (blended frozen bananas) with a raw chocolate sauce. Not to mention pizza!
Keep your pantry & freezer well-stocked 
No more scrambling to create two totally different meals. By keeping your pantry and freezer stocked with healthy grains/pastas, cooked beans, nori & rice paper sheets, various nuts and nut butters, dried fruits and things like olives, dried mushrooms and sun-dried tomatoes can be the 'make it or break it'-factor when two food worlds collide. Everyone gets to add in their preferences.
Leftovers
Always, always, always make make double batches when you cook staples like beans, quinoa, oven-roasted vegetables, a dressing, veggie sticks and even sliced apples. Having things like this at hand makes meal (& lunchbox) prepping so much easier. For example: many times Fabian will want slightly more food then me and if we make double batches that is never a problem. Everyone will leave the table fully satisfied!
Make it really darn tasty
Just as with recreating old favorites in a healthy way, our food of course got to to taste amazing. There is no need for deprivation or calorie counting like that in whole foods-land. You need to be able to enjoy yourselves when whipping up and eating your new kitchen creations. For example: Does either of you need an additional handful of toasted nuts and some extra dip/sauce to feel like you're loving the situation? Then do it!
Don't..
..begin experimenting in the kitchen on an empty stomach – that never, and I repeat never ends pretty.
..make it too healthy. Believe it or not, an over the top green smoothie or salad can actually taste really awful.
..assume both of you have the same starting point. A "pinch" of salt, "knob" of coconut oil or even "rancid smelling garlic" can be total latin for some.
..loose faith.
Always be silly, wild, playful and crazy.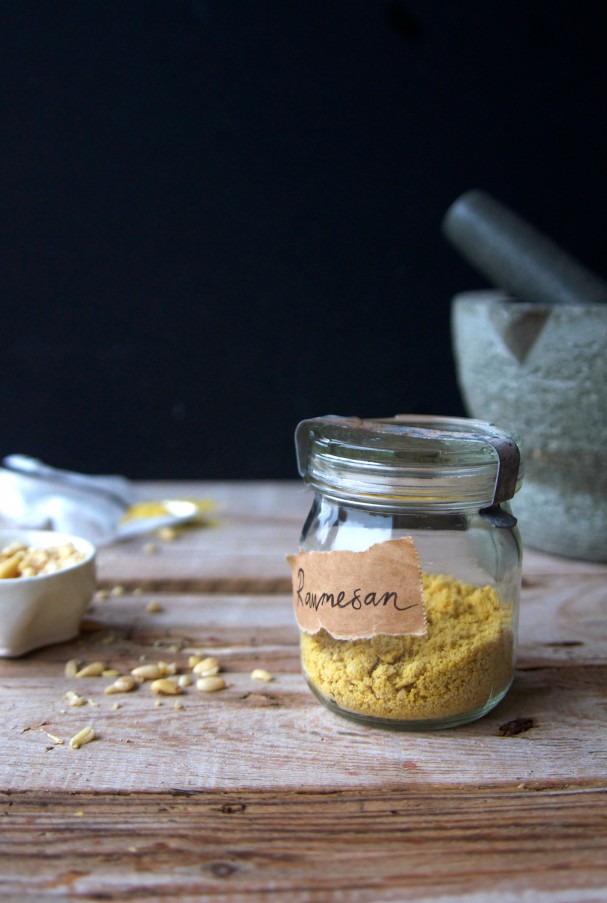 Vegan Amatriciana Sauce
If you find Fabian making dinner in our house, there is a high probability he's preparing this sensational yet simple tomato sauce. Or hummus. An original amatriciana sauce calls for pork, but our recipe uses other umami-rich ingredients like dried mushrooms, olives, red lentils and sun-dried tomatoes instead. We've developed this vegan amatriciana sauce recipe over the years and it never fails. A central dish like this one makes it easier to his-and-hers-ify the additions around it. Fabian is a die-hard spaghetti lover while I'd much rather go for a veggie spaghetti. I also leave the Parmesan cheese to him and enjoy a good rawmesan instead. So here it is, the perfect recipe for you and your honey to share. Bon appetit!
35 ounces / 2-3 cans (depending on size) organic crushed tomatoes, check for BPA-free cans/packaging
1 cup pure water
1 cup red lentils
2 yellow onions
2 stalks celery, finely chopped
3 cloves garlic, minced
5 sundried tomatoes, finely chopped
1 dried ancho pepper, optional
1 tsp crushed chili flakes, more or less according to taste
1 small handfull dried mushrooms
1/2 cup olives, pitted + more for garnish
1 Tbsp fresh thyme leaves
1 Tbsp fresh rosemary leaves
1/2 tsp good quality salt
1 tsp date syrup or other sweetener of choice
1 tbsp olive oil
1 knob ghee / virgin coconut oil

Her additions
Rawmesan (recipe below)
Celeriac spaghetti (recipe below)
Green salad (arugula/ kale/ heirloom lettuce)
Olives

His additions
Organic parmesan or pecorino cheese, preferably local
Gluten-free or whole-grain spaghetti
Green salad (arugula/ kale/ heirloom lettuce)
Olives

Rawmesan
1/3 cup pine nuts
1 1/2 Tbsp nutritional yeast
A pinch good quality salt or more to taste

Celeriac Spaghetti
1 celeriac
1 tsp turmeric
1 tsp olive oil

Making the sauce 
1. In a large saucepan (preferably cast-iron), heat ghee or virgin coconut oil on low heat. Add the crushed chili flakes and the halved ancho pepper and let steep as the oil warms up. When the oil is hot, add the garlic and let fry for 1-2 minutes, then add the onion and cook until translucent.
2. Add all ingredients for the sauce except the olive oil and the fresh rosemary and thyme. Let cook on low-medium heat with lid on for 1 hour. Stir 2-3 times only to make sure that the lentils have enough water to cook. Basically you can just leave the sauce to cook while you have fun crazy dancing and preparing the spaghetti and other additions.
3. Add olive oil and the fresh thyme and rosemary leaves during the 5 last minutes of cooking.

Rawmesan
Crush the pine nuts in a mortar, add nutritional yeast and salt towards the end. Rawmesan stores well in the fridge for a couple of weeks and makes any salad, soup or other meal even more delicious.

Celeriac Spaghetti
Rinse and peel celeriac and easily turn it into spaghetti by using a sprializer or simply a potato peeler/ julienne peeler. Add turmeric and olive oil and toss until coated.

Assemblage
Top the chosen spaghetti (gluten-free or celeriac) with the amatriciana sauce. Then add olives, green salad and sprinkle with some fresh basil leaves and either the parmesan or rawmesan depending on your taste.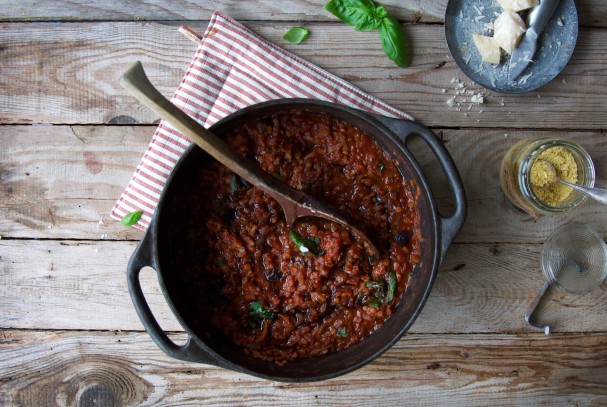 So go collide more! ..and tell us all about how you navigate in the world of sharing meals with significant others below!
Juicy, rich, hot'n healthy tomato sauce and lotsa love,
°°Elenore°° (..and Fabian who did help out a lot with this post)