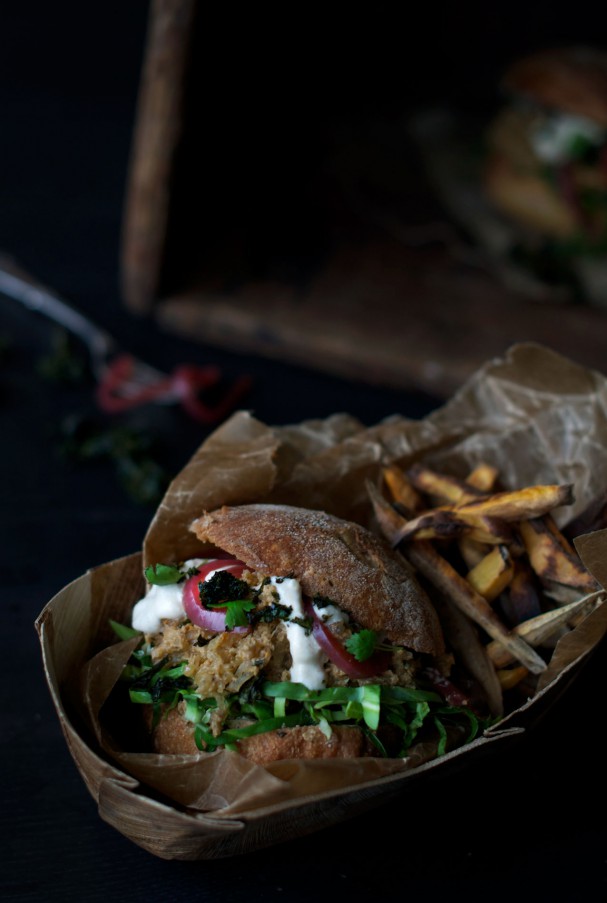 I had this idea to make Pulled Pumpkin Sliders because you know, Thanksgiving is just around the corner and wouldn't a pumpkin fingerfood dish (ok somewhat fingerfood) be perfect?! Tiny, cute, festive and fun. But then I realized that while I love the 'fun' part I'm not all that big on anything described at tiny, cute and festive. So I went with the original big ass burger idea instead because anything rough around the edges suits me way more then sweet and perfect.
While on the subject I actually also wanted to bake my own little gluten free buns for these 'festive sliders'. So why didn't I? Well, Being offered to catch a movie and get some juicy alone time (that would include treats!) sounded a bit more appealing then going home to a messy house and squeeze out non existing energy to bake. I'm slightly embarrassed to say that I thought about this for quite a while before making the decision to forget about perfect homemade gf buns, stay longer at Sarah's, pass by Lagerkagehuset Bakery on my way to the train and then hang out with The Mockingjay for a bit. ..and guys, big ass pulled pumpkin burgers on rye sourdough ain't to shabby, am I right?
While high standards truly rock and are what makes us stand tall and go for our big dreams and crazy ideas they ain't worth squat if they are based on what other people will think or feel about the end result. Self-imposed expectations does not equal true high standards of the soul. This is me, I hope you'll enjoy to the fullest (messy) bite.


Fun & Fabulous Facts
I'll be honest with you, I don't have a clue what Pulled Pork actually tastes like but I do remember the rich umami taste that meat can have. So when I was to season the pumpkin filling for these burgers I dug in our pantry and fridge for all things flavor wise multi facetted, deeply satisfying and very rich. But let's rewind the tape a bit here, what is umami anyway? This supposedly "fifth flavor" (after sweet, bitter, salty and savory) that have been all the rage for quite some time now.
To answer that we have to talk some chemistry. Umami is really nothing else then a savory taste brought to life when both glutamate, an amino-acid (protein) and ribonucleotides exist together in a certain dish or whole food. The term Umami was coined by Kikunae Ikeda in 1908 when he researched and discovered why certain things taste so appealing and what, on a chemical level it was that made it taste so good. Umami have since been used to describe the very full bodied and most of all delicious taste that's most noticeable in seaweed stock and animal products. The savory umami taste is very prominent in cured meats and fermented foods so some argue that this is what directed humans towards eating cooked or fermented foods thus helping us to stay away from potential harm (for example poorly handled raw meat) and to keep us healthy (hello fermented foods and an excellent gut flora).
Then of course someone smelled money and wanted a way to industrially produce this golden flavor that made everything taste so amazing. MSG (monosodium glutamate) was born. MSG has ever since been added to foods to make them more appealing. Some restaurants uses it to make dishes pop, it's sometimes added to hospital foods to make elderly people eat more, ready-made stock is often full of it and last but not least, MSG is what is used to fatten laboratory mice if such a state is required. Sounds natural? Tasty?
I say, why not forget about the laboratory version and turn to nature and it's pure flavors instead. Back to basic, baby! Vegetarian sources of Umami include tomato, asparagus, truffle, celery, mushroom, sweet potato, chinese cabbage, sea weed and parmesan cheese. Go have fun!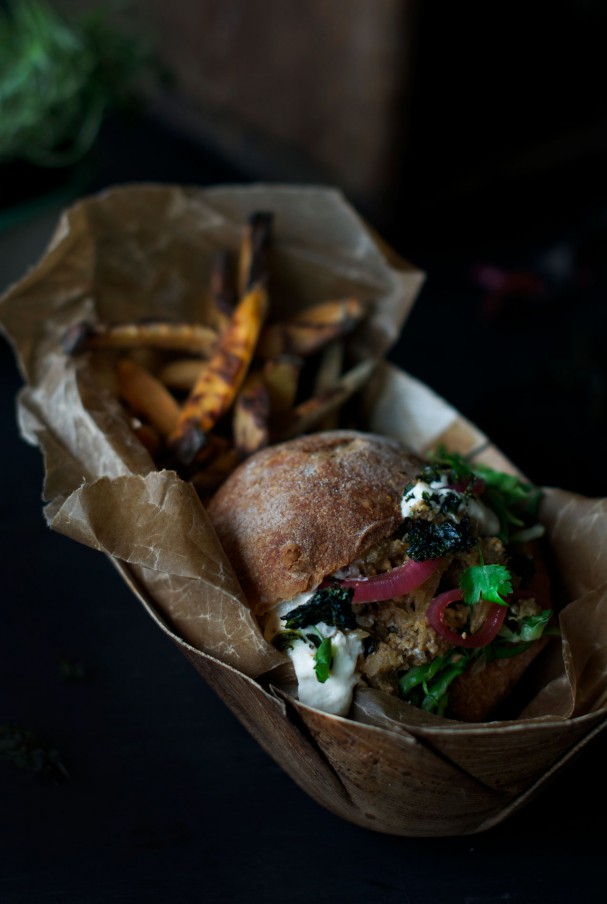 Pulled Pumpkin Burgers
Umami oozing creamy pulled pumpkin, thinly cut cabbage, tangy pickled onion, crunchy kale chips, mellow cashew miso sauce and fresh cilantro + a dash of lime. All layered between two slices of good bread and served with extra kale chips and rutabaga & sweet potato fries. However you may choose to enjoy it (it's really good thrown into your favorite cosy bowl aswell) this dish will not disappoint you and that's a promise. Happy Thanksgiving!
Serves 4
Pulled Pumpkin
1/2 large spaghetti pumpkin (or one really small)
1. Preheat the oven to 356° F / 180° C
3. Halve the spaghetti pumpkin lengthwise and scoop out seeds. Add the squash to a baking sheet and pop into the middle of the oven once properly heated. Bake for 25 minutes or until soft. Use a sharp knife or fork to find out if it's done
5. Using a fork, scoop out or rather pull out/off the meat of the squash (hence 'pulled pumpkin') – see picture below -. Add this to a large bowl and carefully combine it with the umami dip (recipe below) until coated.

Umami dip
1 large garlic clove, minced
2 1/2 tsp cumin seeds
1/4 chipotle powder
1 tbsp mushroom powder or 1 handfull dried mushrooms
8 halves of sun dried tomatoes
2 tbsp virgin olive oil
1 tbsp water
1/4 tsp high quality salt
1/2 tsp liquid smoke, optional but SO delicious
1 1/2 tbsp tahini
2. Soak sun dried tomatoes in 2 cups water, set aside for a minimum of 15 minutes
4. Add all ingredients aside from the tomato soaking water to a high speed blender (using an immersion blender works just fine too) and blend into a smooth dip.
5. Add the the bowl of pulled pumpkin (spaghetti squash) and combine until coated. Season with additional salt, liquid smoke or chipotle chili to taste.
Cashew Miso Sauce
1/2 cup cashews, unsalted & unroasted
2 tsp light miso paste
1/4 cup water
1. Cover cashews in pure water and soak for no less then 5 hours.
2. Drain and rinse cashew nuts, add to a high speed blender (or use an immersion blender) along with miso paste and water and blend until very smooth. Set aside.
Pickled Onion
1 red onion, peeled and thinly sliced
1/2 cup apple cider vinegar
1 tbsp aged balsamic vinegar
1 tsp good quality salt
1/4 tsp cloves
1/4 tsp whole black pepper
1/4 tsp fennel seeds
1. Add spices, salt and both vinegar varieties to a saucepan and bring to a boil on medium heat. Add onion, stir, turn off the heat and let let cool before transferring to a glass jar. Store leftover pickled onion in the fridge for up to a week.
Kale Chips
1 bunch, around 200 g/6-8 leaves fresh kale
1 tbsp virgin olive oil
1 pinch sea salt
1. Preheat oven to 120°C / 250°F. Rinse kale and pat dry with clean tea towel. Remove stems and break kale into smaller pieces. Drizzle with olive oil and sea salt and massage with your hands for a little less the a minute or until coated and slightly wilted. Spread kale on lined baking sheet and bake in the oven for 30-35 minutes until crispy, turning halfway. Store leftovers in air tight (preferably) glass container.
Serve with
Fresh Cilantro
Cabbage, thinly cut
Cashew Miso Sauce (recipe above)
Pickled onion (recipe above)
Kale chips (recipe above)
Root frites (recipe here) or oven baked/raw vegetables of choice
A squeeze of lime juice
Gluten free or regular sourdough buns, optional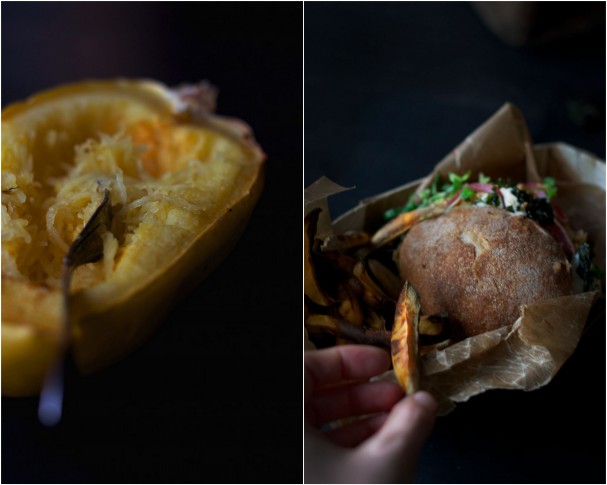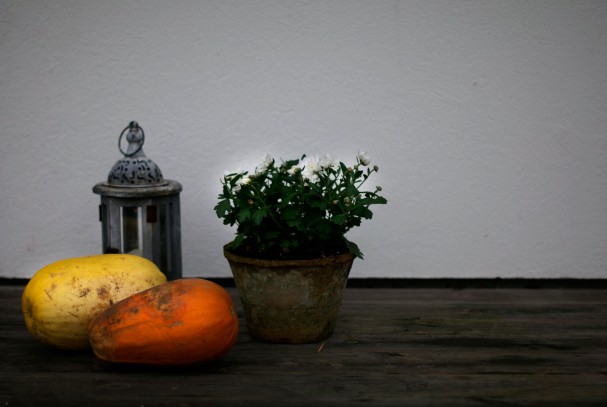 How do you keep track on whats your own real deal standards and what is plastic (fake) expectations? Let's hear it in the comments below! ..and hey – Happy Healthy Holidays!
Huge amounts of gratitude,
°°Elenore°°