Jet lag is holding us hostage in a weird reality of not really being rooted anywhere. Although we have now landed back in Sweden I woke up from a dream yesterday thinking I was supposed to head to Silverlake, LA to meet up with a friend that day. So yeah, it's a divine process including lots of forest walks, grounding meals and talking, processing and envisioning a new Now. While I give all of that some time, my friend Eva is gracing Earthsprout with her presence! I've been so insanely delighted to present a couple of incredible ladies of the foodie world while we've been traveling (Instagram adventures here!) as they've told us what 'Truly Nourished' sparks in them (the theme of the guest post series!). So far we've met Deliciously Ella, Valentina of Hortus Natural Cuisine & Laura of The First Mess – aren't they all pretty darn sensational!?
---
What's so striking about Eva Kosmas Flores of Adventures In Cooking to me is her undeniable warmth. A warmth that seeps through all of what this woman creates. Recipes, photography, writing, classes – it simply radiates a sense of passion and care that leaves you feeling blessed to get to witness it. Eva is one of the ladies l I'm honored to call my friend even though we've yet to have met in real life -but stay tuned, good things are coming!-. So I invite you to sit back and let yourself be swept away by the Truly Nourishing things that is Eva and her art. ..& the wonders continues over at Her Site!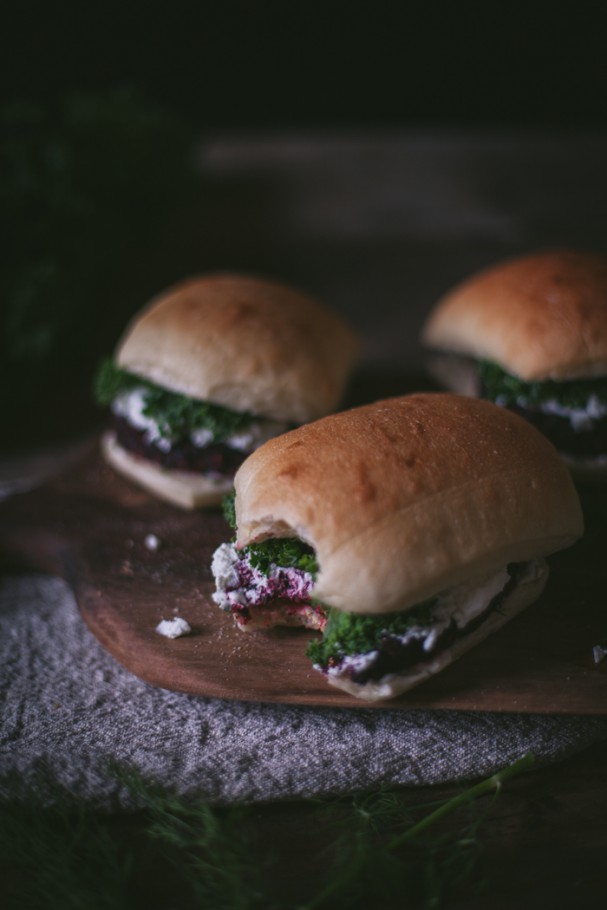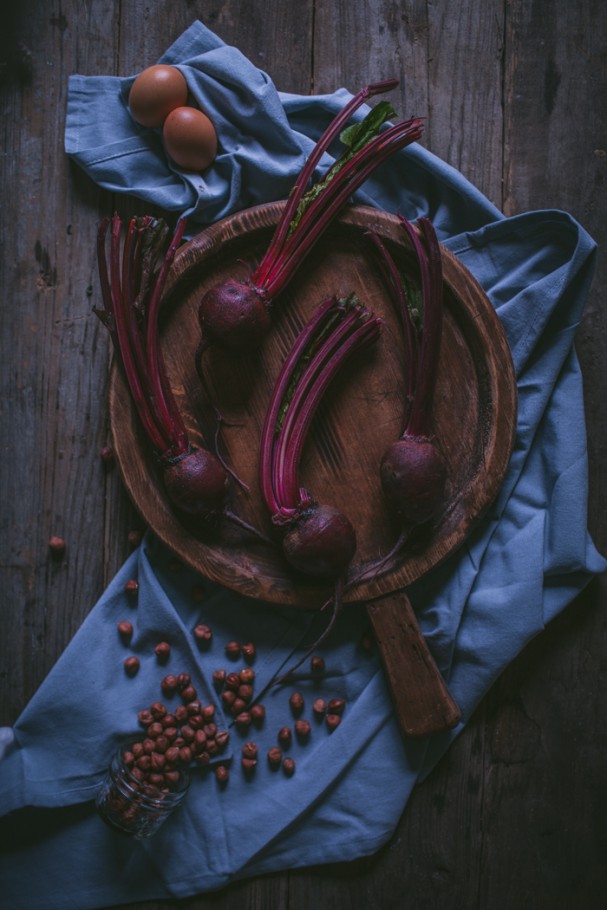 When Elenore asked me to guest post on her blog, I could not have been more excited. I have admired her writing, photography, and recipes for quite some time so it is very exciting to be here and say hello to you all! Today I am sharing a recipe that is truly nourishing. To me, nourishment not only means eating foods that are healthy and do the best for your body, but it also means eating foods that taste amazing and make you feel happy while eating them because they taste so darn good. Eating 'healthy' shouldn't mean enduring an unpleasant eating experience with something packed with nutrients that has no flavor or texture; true nourishment lifts you in both body, mind, and spirit, both during and after eating. It brings a smile to your face after the first bite, and it fortifies your physical form with all the wondrous nutrients that nature has to offer. And with that, today I am sharing a delightfully sumptuous burger recipe that involves beets, seaweed, hazelnuts, goat cheese, and shiitake mushroom powder. While that may sound like a strange combination at first, trust me when I say that they work wonderously well together.
The wakame seaweed adds saltiness to the patty, and the hazelnuts and beets toast up beautifully in the oven and release sweet and nutty flavors that you just can't get from eating them raw. And then there's the mushroom powder. If you don't have this in your cupboard, you need to go out and purchase it, immediately. It adds the most savory and striking umami flavor to any dish you add it to. Soup, burgers, salad dressings, rubs, roasts, the list goes on for pretty much forever. If you're a vegetarian or vegan, this will be especially useful to you since it instantly adds umami seasoning to dishes that is usually hard to accomplish without incorporating some kind of meat product. So, if you're looking for a savory and healthy burger to make indoors during the cooler weather, we have definitely got you covered.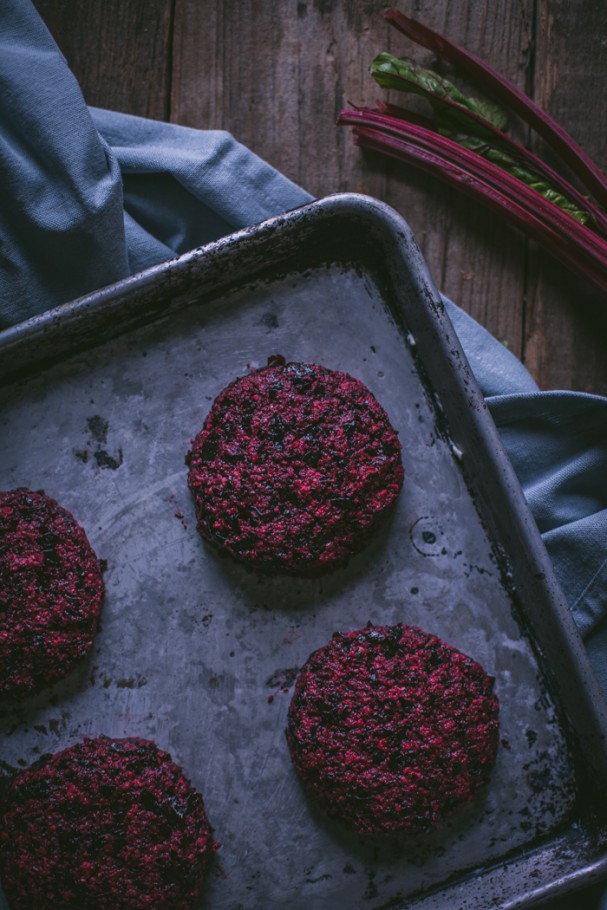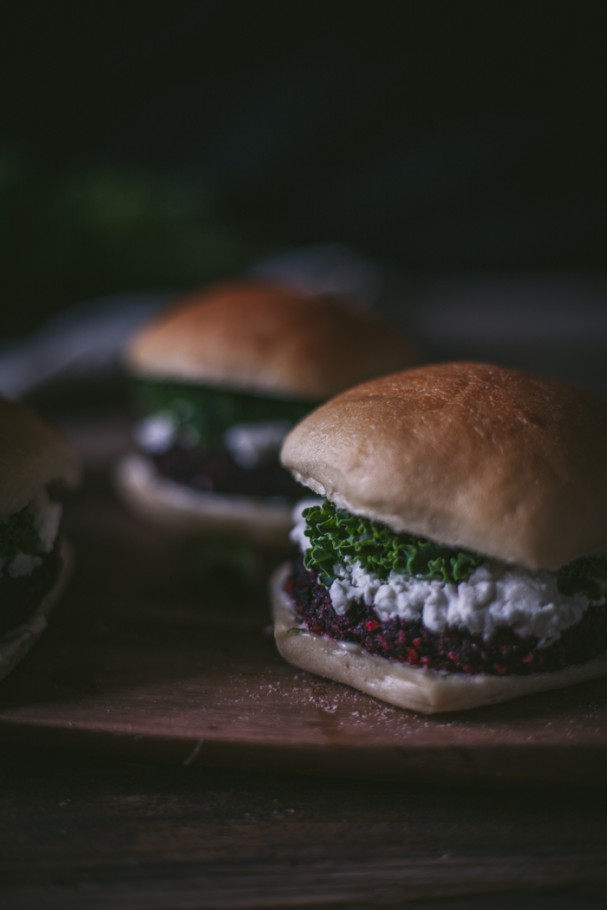 Roasted Beet & Hazelnut Burgers
By Eva Kosmas Flores of Adventures in Cooking 
4 small or 3 large beets, peeled and grated
1 cup ground hazelnuts
2 eggs / chia egg* (see below for instructions)
1 and 1/2 cups hydrated wakame seaweed
2 teaspoons shiitake mushroom powder
1 teaspoon salt
1 teaspoon ground black pepper
5 brioche/ sourdough / GF buns
8 ounces goat cheese, vegans use Sour Cream Sauce
kale or sprouts for topping
1. Preheat the oven to 400 degrees Fahrenheit. Take the hydrated wakame seaweed and squeeze out any excess water over a sink or bowl. Place the seaweed in a food processor along with the beets, egg / chia egg* (see below for instructions), and hazelnuts. Blend until a coarse puree forms.
2. Remove the mixture from the food processor and add the shiitake mushroom powder, salt, and black pepper. Stir to evenly distribute.
3. Grab a handful of the mixture and shape into a patty with your hands. Place the patty on a well-greased baking sheet. Repeat until you have made all the patties.
4. Place the pan in the oven and roast for 30 minutes. Remove and allow to cool for 10 minutes before handling.
5. Use a spatula to remove the patties from the pan and place them on the bottom half of the buns.  Add goat's cheese and kale or sprouts, then top with the upper bun and serve immediately.
* 2 chia eggs (2 tbsp chia seeds + 5 tbsp water) How to make: Place 2 tbsp chia seeds with 5 tbsp water in a small bowl, mix with a fork and let sit 5-10 minutes until thick and 'glue-y'.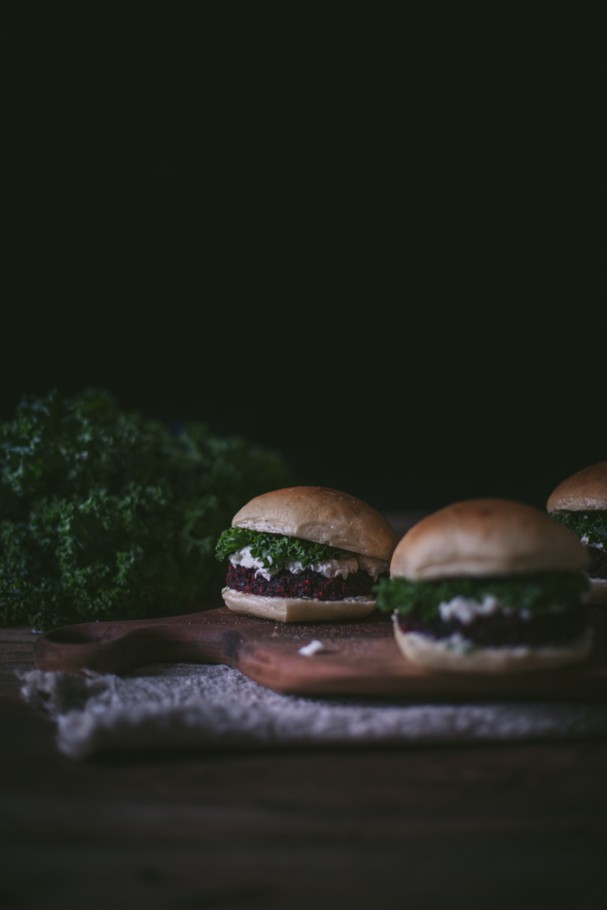 ..you can feel the warmth en passion that I mentioned, right? To finish things off today I want to second what Eva said about True Nourishment. It's not about forcing yourself to eat crazy nutritious stuff,
It's about creating a WHOLE nourishing experience and that is just so.much.more than a truckload of antioxidants, heaps of detoxifying chlorophyll, exercising 11 times a week or whatnot.
Peace, love and wishers of miracles (..& burgers)
°°Elenore°°