The desert sun is reaching it's peak here in Joshua Tree where me, Fabian and Caspian are loving life in the insanely awesome Dome In The Desert. Today we continue with the series of guest posts 'Truly Nourished – stories from wild hearts' that'll keep giving on you the best of the best while I'm off traveling (Instagram adventures here). I'm crazy honored to present to you some incredibly amazing ladies of the foodie world (and their wild hearts!) as they let us know what 'Truly Nourished' sparks in them. We've had the great honor to meet Deliciously Ella and Valentina of Hortus Natural Cuisine. This week we'll dive into a nourishing morning routine  a la Laura of The First Mess!
---
So. There is this rather remarkable and super rad woman called Laura who abides in a gorgeous house + garden in Canada and whips up sensational things for her site The First Mess. Laura is one of those people I've met through this space whom I wish I had on speed-dial and lived down the street from. Laura is an uber cool green chef and rocking photographer alike. Sidenote: her personal style always inspire me tons too. I mean, look at those mocs! So let's take a peek into Lauras (let's face it magic-overload) Truly Nourishing fall mornings and finish off with a remarkable breakfast recipe. Then continue over to The First Mess for more treats and fantastically written stories!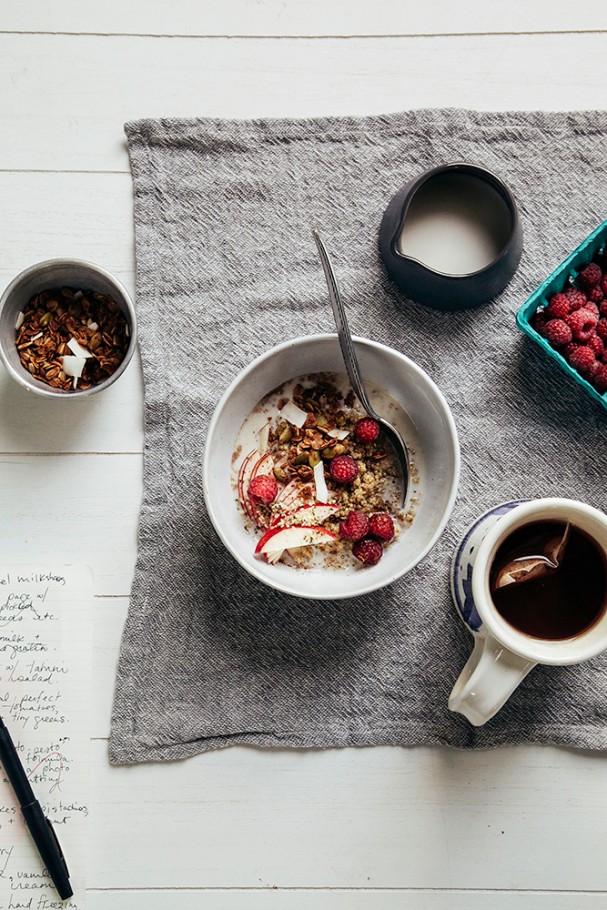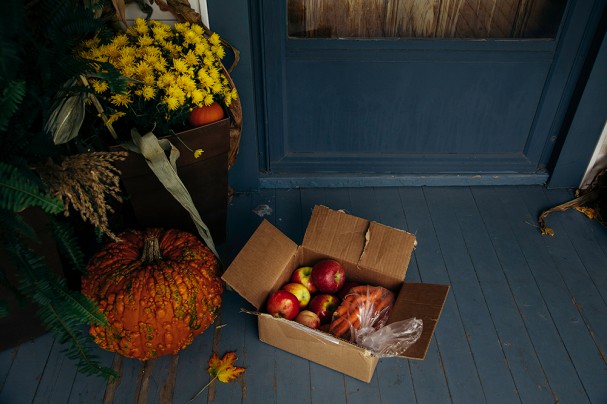 October means earlier (and longer!) mornings to myself. My shifts don't go so super late into the night at the restaurant I work at, and I spend less time there in general because the season has wound down once more. I get to reclaim my favourite part of the day, and just the thought of that is true nourishment for me.
I start stirring a bit when the light is barely greeting the day. The big maple tree in our yard is turning and from our bedroom window it glows red. My latest obsessive knack in the house is cozy-making, so there's a literal mountain of blankets, pillows and a puffy duvet to pull myself out of. I slip into my favourite moccasins, the ones that I got just outside of a national park after my first-ever wilderness camp with the love of my life. I think of that time, the woods, and campfires every time I put them on.
I have a sleepy, but energized shuffle down our hundred year old stairs to the kitchen that we're almost, almost done renovating, warm creaks from the wood gaps punctuating the whole thing. I have a warm glass of water and my first coffee with coconut milk and maple syrup. Every morning–weekdays, weekends, holidays, rushed days out the door, my birthday–they all start like this. I put the news on as background, fix up a cup of green tea, and start thinking about breakfast. While the water boils, I quietly tread outside to get the mail and check on the garden, but mostly just to feel the air on my skin. The leaves are falling with significant heft these last few days and just for a second, I think about snowflakes. I sit with my cup of tea on the couch with a blanket for a bit, sifting through the mail and figuring out what I have to do that day.
My first bite to eat is usually some kind of porridge or avocado toast. Lately it's been hot porridge with warming spices and Fall fruits though. It's deep-warming and I like hovering over the steamy and aromatic pot to stir. Steel cut oats are my favourite most days, but quinoa cuts to the chase a bit more and feels just as cozy. The grains are toasted in cinnamon and vanilla-scented coconut oil for a little extra luxury. My dad's been delivering the most delicious apples from his tree at home to us, so they've been the go-to topping lately. Hope you'll try it on your next slow and meditative morning, loves :)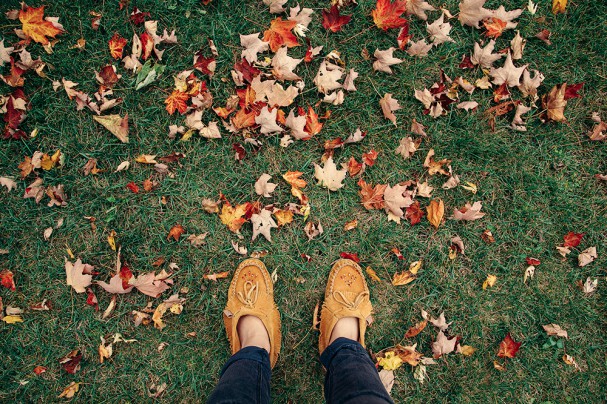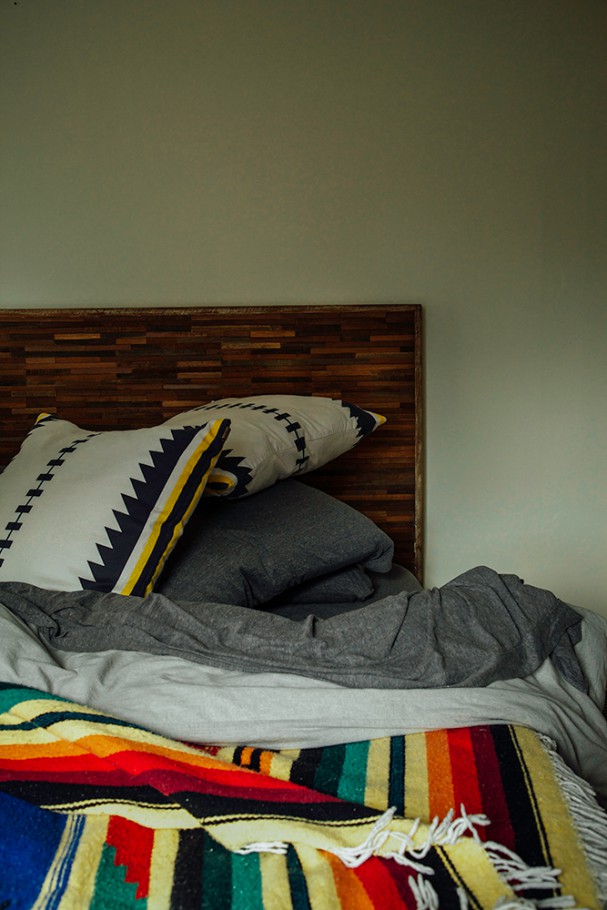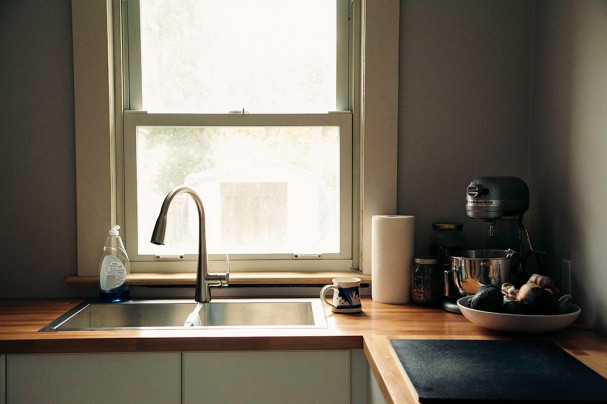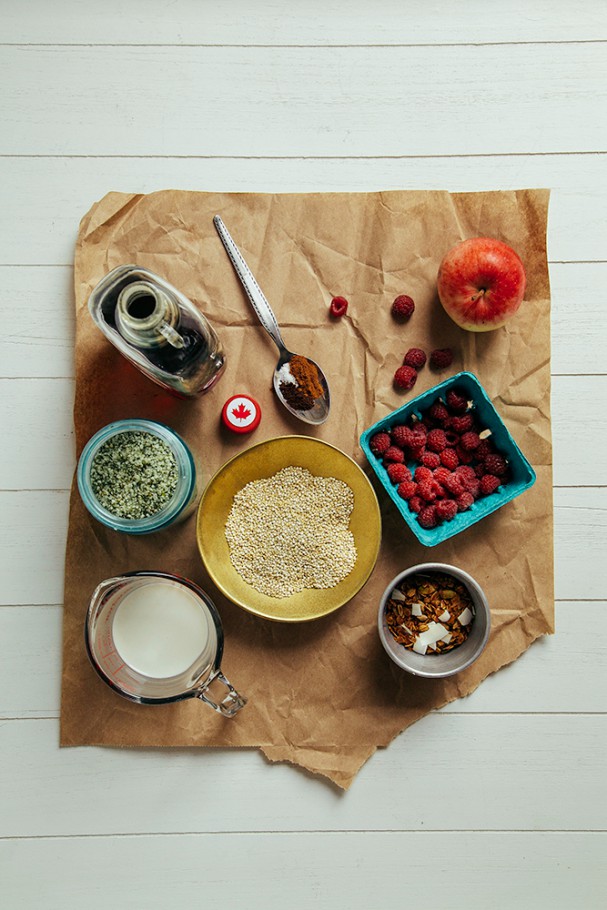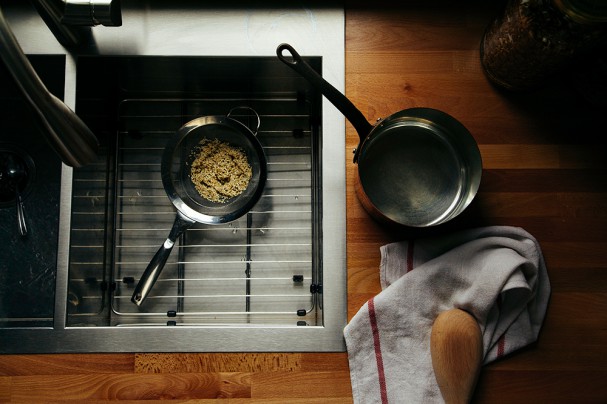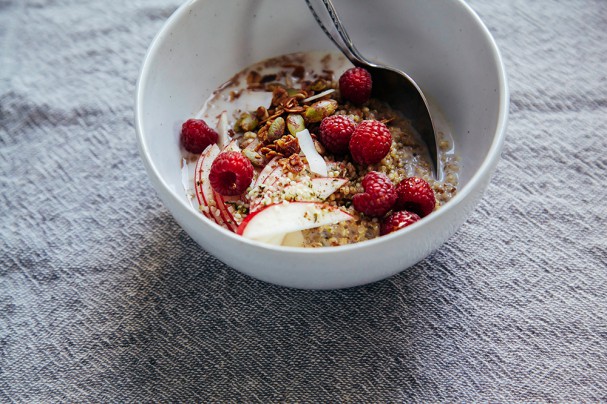 Apple Cinnamon Breakfast Quinoa
Serves: 1
Notes: I prefer a plant milk with higher fat content for this because I find it more satisfying long term–almond, coconut, hemp or cashew are all good bets. Also, I sprinkled a bit of homemade granola on top for crunch. And the raspberries were a very fancy last minute add-on. It's all up to you! :)
Quinoa:
2 tsp extra virgin coconut oil
pinch of ground cinnamon
smaller pinch of vanilla powder
⅓ cup quinoa, rinsed
⅔ cup unsweetened plant milk + extra for serving
1-2 tsp maple syrup
On top:
1 small apple, cored + thinly sliced
2-3 tsp hulled hemp seeds
extra ground cinnamon
In a small sauce pan over medium heat, heat the coconut oil. Add the cinnamon and vanilla powder to the oil and stir it about in the oil. When the spices are really fragrant, about 30 seconds, add the rinsed quinoa. Stir it around to coat the grains in the spiced oil.
Add the plant milk to the quinoa and stir. Bring the quinoa to a boil and simmer until most of the milk is absorbed.
Spoon the hot quinoa into your favourite bowl and top it with the sliced apple, hemp seeds and a few happy pinches of ground cinnamon. Pour a little extra milk on top if you like.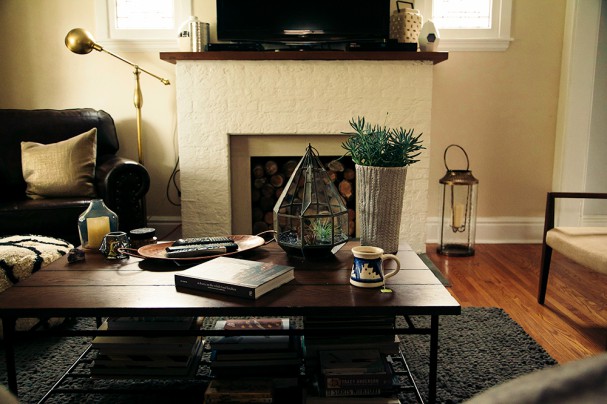 Let us know how your morning routine nourishes you OR how you'll change it so that it does! I mean.. pretty awesome inspiration up there, eh?!
Lot's of wild heart lovin' from me (& Laura!!) to you!
°°Elenore°°