Gorgeous friend! I give you 'Truly Nourished – stories from wild hearts' a series of guest posts while I'm traveling around California with my boys (Instagram adventures here). I'm so pumped and over the top honored to present to you some incredibly amazing ladies of the foodie world (and their wild hearts!) as they let us know what 'Truly Nourished' sparks in them. Last week we got a peek inside the world of Deliciously Ella and this week we meet Valentina of Hortus Natural Cuisine. Ready?
---
Valentina Solfrini blows me away with her creations every time. A wildly talented food photographer (+obviously a poet) who shoots away in a rustic back room on her family's farm in Italy. Hortus Cuisine and the things that take place there is the real deal, no bullshit, all natural and seasonal celebrations of what's going on in the gardens and forest. I have been a fan ever since I stumbled across Valentinas stunner of a site when she was nominated by Saveur earlier this year and my guess is you will love it too because, you know what? This woman is magical. Meet Valentina!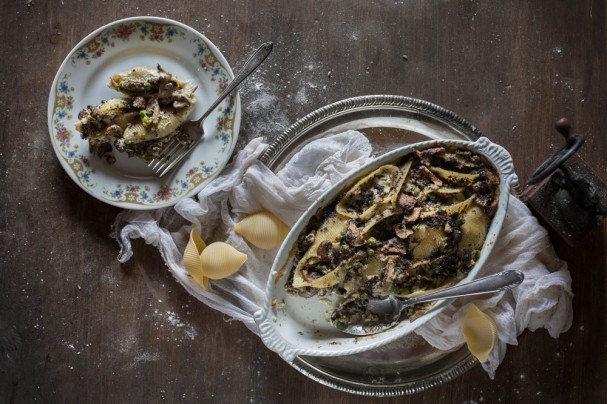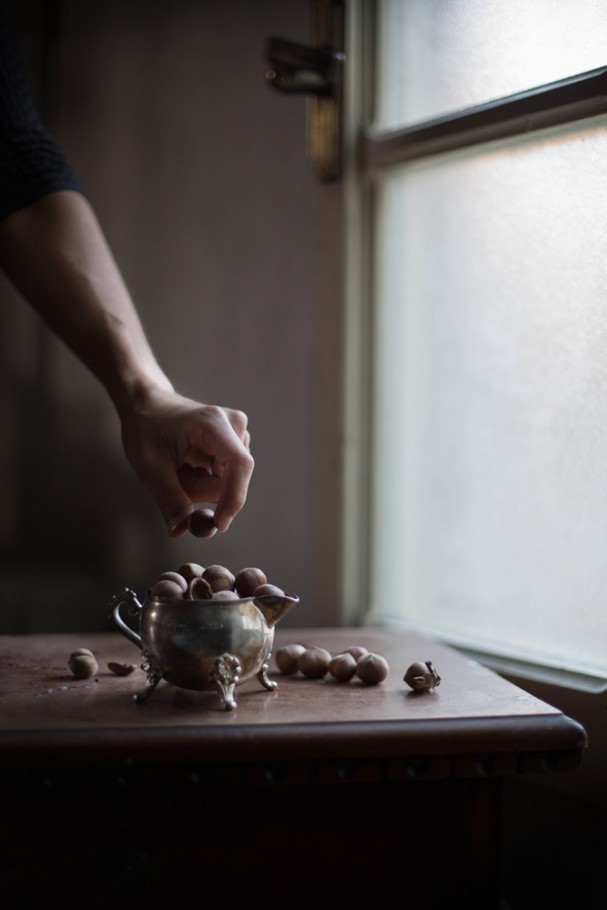 "October tinges this land of warm, watercolor-like hues. This unexpected, but welcome, pleasant sunny weather delays dreams of cozy afternoons spent indoors, like a sleepy snooze to our fall alarm clocks. Time stands still like the oak leaves that a re surrendering to the season – their colors yellowing, in a fashion similar to that of people's hair when they turn gray. As those leaves try to clasp onto the branches with their last breath of life, we enjoy making plans on how to use up the last droplets of sunlight. But the air is indeed getting chillier, and we gladly turn on our ovens, ready to embrace new harvests and dust off our fall recipes as we would do for a seasonal wardrobe change.
In the Marche region's inland,which thrives with products of the cold months, the hunt for truffles and porcini mushrooms started October 1st. Festivals dedicated to these gifts of nature start to take place, and the faint sunlight filtering through the misty woods on the Montefeltro area is the background of a season that does not even seem that cold, after all. 
I decided to make this pasta to celebrate a real Italian sunday meal, but with a vegan twist. It is rich, but all the ingredients are nice and clean and make for a truly warming sunday lunch or dinner that celebrates the season. 'Boscaiola' derives from the word 'bosco', which means 'woods, forest' and indicates a pasta sauce with peas and mushrooms. In most cases, Boscaiola is made with either Prosciutto or sausage, but we will compensate the lack thereof with some wonderful truffle paste. Truffle paste is actually a mix of truffle and porcini mushrooms, otherwise the costs would be unapproachable (also have a look at this selection!), that you can find in most italian groceries and supermarkets – especially when the season is right. I know truffle paste can be on the pricey side, but a little goes a long way and you can use it as a weekend treat. If it is easier to find or cheaper, go ahead and use truffle oil instead. If you can't find any, or for some reason do not want to use truffle, I encourage you to try this pasta all the same, omitting the truffle. The bechamel ties it all together in an intensely flavored concoction, and the sauce itself is delicious in its simplicity. You could try and use a combination of mushrooms – I recommend porcini and button.
A WORD ABOUT TRUFFLE: If you are new to purchasing it here are a few pointers. There are three kinds of truffle: black, white, and summer truffle. Black is intensely flavored and the most common kind; white is the most delicate and the priciest, and summer truffles are the cheapest, but also quite low in quality and rather bland (but still much better than no truffle at all, IMO)."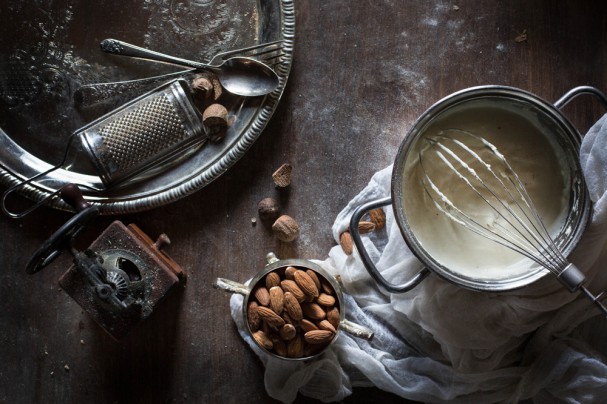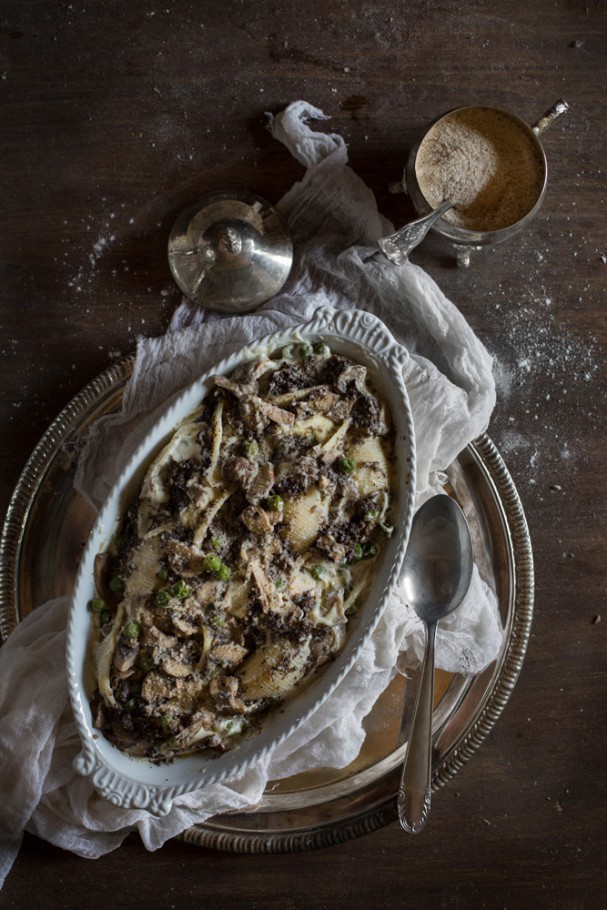 Vegan Shell Pasta Bake with Mushrooms & Truffle
(Serves 4)
For the pasta
200g Shell pasta, preferably the large kind
500g / 18 oz Cremini mushrooms, or a mix of porcini, champignons, button…
1 small yellow onion
1 1/2 cup frozen peas
4-5 tbsp extra virgin olive oil
1 fat garlic clove, peeled and crushed
1/4 cup white wine
1 tbsp truffle paste
1-2 tbsp fine breadcrumbs
Salt and Pepper
For the vegan bechamel
50g Extra virgin olive oil
50g flour
5oo ml / 2 cups homemade almond or hazelnut milk
A good grating of nutmeg
1 tsp salt, or to taste
EXTRA: 1 tbsp nutritional yeast
MAKE THE BECHAMEL
(Note that with this amount you will likely have leftovers)
To make the bechamel, heat the oil in a pot on low heat. when slightly heated, add the flour a little at a time, whisking as you go. You'll end up with a not really thick, smooth paste. Add the almond milk a little at a time, whisking continuously. Season with salt, a pinch of pepper, and some generous gratings of nutmeg. If using, add the nutritional yeast, too. When everything is nicely blended together, wait for it to come to a boil. When you see small bubbles form, start whisking slowly, without stopping. As the bechamel thickens you should start whisking more vigorously. When the bechamel reaches the consistency of a sort of loose mayonnaise, turn off the heat and whisk for another minute. Check for salt. Keep in mind that the bechamel will keep getting thicker as it cools. If it gets a little too thick, you'll just have to heat up a couple tbsps of almond milk and whisk it in the bechamel.
If you are not using all of it, you can freeze it. When you need to thaw it, you can do so at room temperature, or microwave it briefly and repeat the process of adding some warm almond milk if it's too thick.
MAKE THE SAUCE
Cut the onion in half, then slice thinly. Also slice the mushrooms, and take out the peas. Heat the oil in a pan that can fit all the veggies, add the garlic and onion, and stir-fry on low heat for some 15 minutes. If it threatens to stick add a splash of water (or, even better, white wine!). Add the mushrooms and peas, salt and pepper to taste, give it a stir, and cook for 5 minutes on medium before adding the wine. Turn again to low and keep cooking for 20-25 minutes, until the veggies are nice and soft and there is no liquid left in the pan. Fish out the garlic, add the truffle paste, and mix well. You can also jar this sauce and freeze it!
ASSEMBLE & BAKE
Preheat the oven to 200 C˚ / 390 F˚. Bring a large pot of water to a boil. When it comes to a rolling boil, add a tablespoon of salt and the shells. Cook for 3 minutes less than indicated in the package. Drain, and toss in the pan with the sauce. Add the bechamel, too (You will probably only need 3/4 cup), and mix well. Prepare an oven-proof casserole that can tightly fit your shells, and spread a layer of bechamel sauce on the bottom. Arrange the shells, and stuff each with the sauce. Spread a little more bechamel on top, and finish with a sprinkling of breadcrumbs. Bake for 20 minutes, until nicely golden on top. Enjoy hot! This pasta tastes great the day after (possibly, even better) and freezes wonderfully!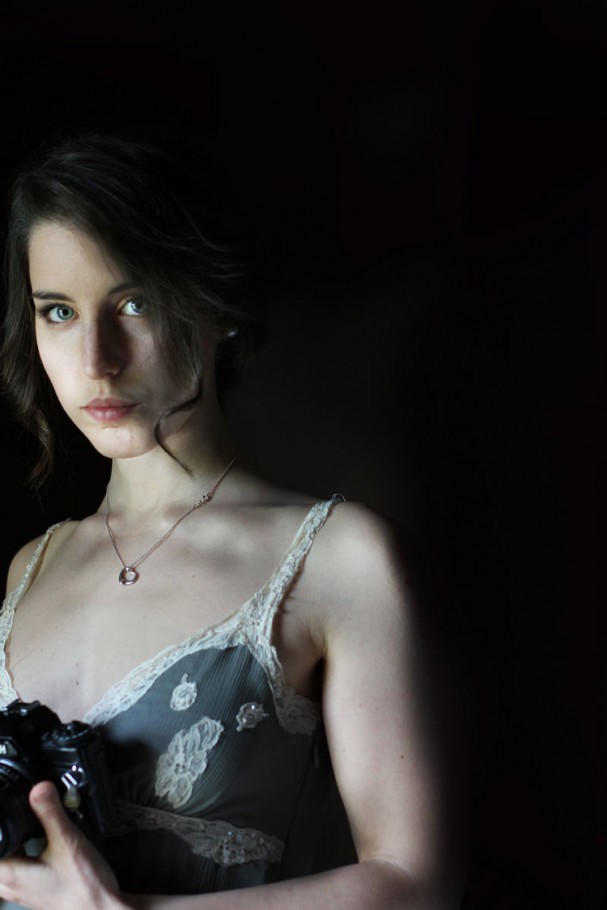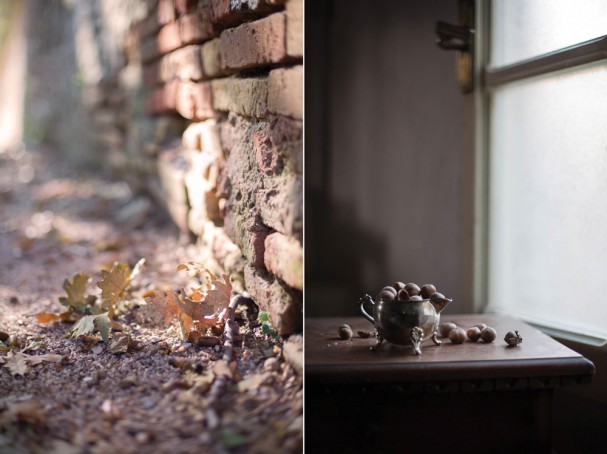 ..I know right?! Completely magical. I told you so.
How are things doing in the land of YOUR Truly Nourished self? Let us know in the comments below what stirs in your soul after reading + seeing this nourished offering!
Late night Californian love,
°°Elenore°° + a sleeping Fabian & Caspian