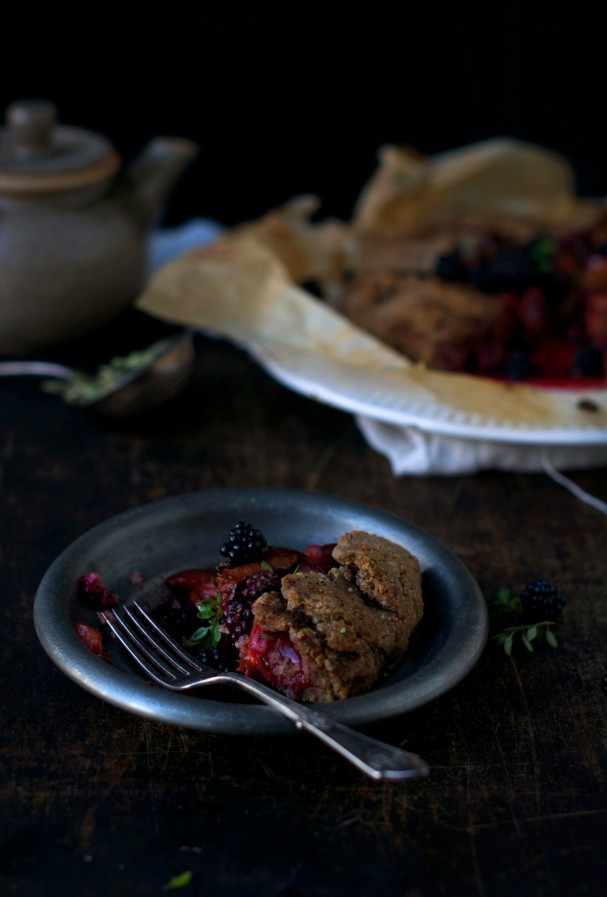 The other day my little sister overheard a conversation that was going on between some friends of the family in our house.  It's funny how I still, even though I'm well aware she's wise still think of her as really little. What I was reminded of when I sat down by my computer upstairs later that day was this: 1. My sister had left a note for me. 2. Kids are so darn spot on. 3. I am grateful. 4. ..and I love getting little notes!
What Lova wrote was this "Some people say that it's so easy to get sad and depressed during these dark months when really, all you have to do is go out and be with Mother Earth. She will take care of you."
Living in this part of the world during this time of year can be challenging to say the least. Or who am I kidding? Challenging? In wintertime when it's light out 9am – 4pm and all you did during that precious time was to work or study this place can be an effing black hole. So what can we do when all we get is a gray gloom for several months at an end and when it feels like your life is lived in a dark shoebox and that nothing really matters (I've been there many times!). Well, my sister was really onto something. What does it for me -and it's kind of a pretty rad miracle medicine- is heading out. It really doesn't matter where I am, it can be in the middle of a big city or on the countryside, filling my lungs with fresh air, getting some light -maybe even sun!- on my face and moving my body makes for a sensational seretonin-fest and will keep me (and you!) going for a while longer.
I do realize we're near the end of berry/fruit harvesting season but one thing that lures me out of my all too comfy indoor gear and getting outside is foraging. If you are not even close to having a garden, foraging is something you can totally do at the farmers market, right!? Almost at least. No but seriously, gathering the (free!) abundance of the earth in a friends/neighbors/relatives place or even at a park or a forgotten spot somewhere is one of the most satisfying things ever. What it does is it puts our buzzing thoughts into perspective, it let's us connect to whats real (and also really yummy), it lightens the load on our wallet and we also get food that is so much more nutrient-dense then anything picked before it's ripe and then flown from the other side of the world and whatnot.
While this is a huge thing that you can do for yourself and the earth during the darker months there are of course many other aspects to the situation. If you feel like you completely loose yourself during this time of year then please know it's ok and also very common. Be open about it and dig deeper into the things you can do that can help. And hey, make sure you are taking those Vitamin D supplements!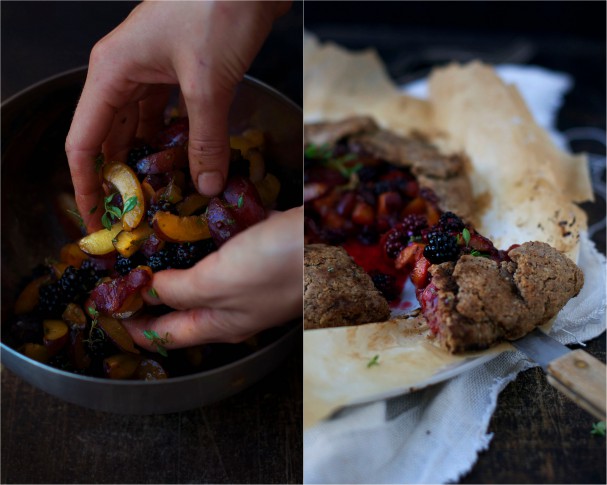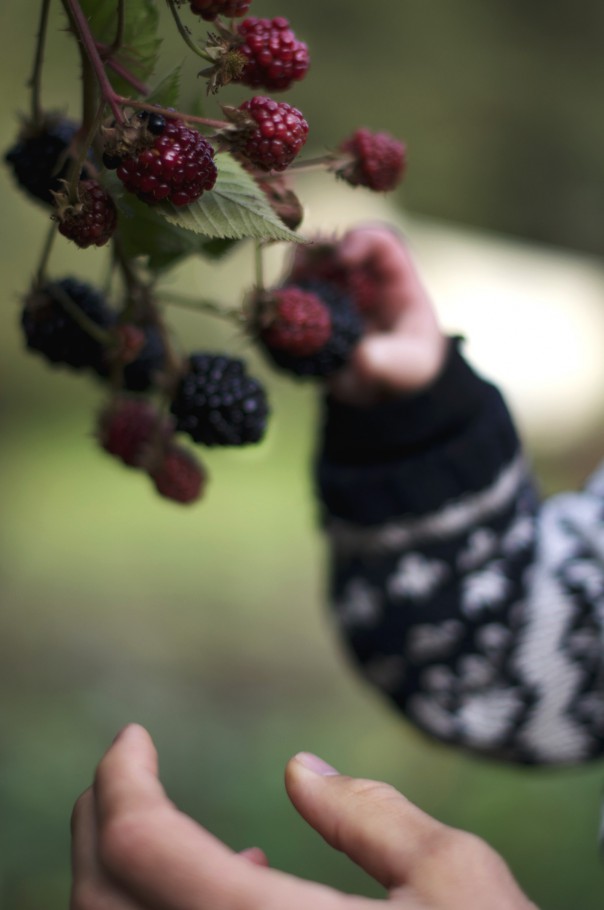 Fun & Fabulous Facts
We are very far from a reality where all families have a veggie patch of their own and let's face it, we are absolutely dependent on markets and supermarket to provide us with produce to fuel our body. In other words, whether we think of it or not we are finding ourselves in a situation where agribusiness is a part of our daily lives. Behind this huge business lurks major money, political agendas, exploitation of land and people and other things that we don't really consider when popping by Starbucks for a coffee, 7 Eleven for a trail mix or even the cafeteria at work for a piece of fruit.
While there are many great local stores and amazing farmers markets that I really do enjoy supporting there is a Greenylicious revolutionary part of me that dislike when I "have to" shop at huge supermarkets complete with fluorescent lighting and messy iles. I don't mean to sound snobbish so don't get me wrong, in fact, I'm very aware of how I can even save some bucks by keeping away from the "good deal" stores and head to markets with more heart instead. independently of where I am,  if say avocados are outrageously expensing (although not really considering how much of an effort it is to even get those gems to Sweden) I usually opt for local produce instead. For example, I can choose apples and hazelnuts in place of tropical fruits, letting them provide me with the nutrients and pleasure that the avocado otherwise would have. Not only am I then supporting local businesses, I'm also eating in season which is great both for my nordic body and for the wellbeing of the earth. If I want to take it all one step further I can..? Yup, you guessed it! I can go forage!
Foraging. Sounds like a lot of effort and investment of time and energy you say? Well, let me give you 5 pretty badass reasons to put on a comfy pair of shoes, grab and extra canvas bag and go wild.
It's healthy! Food growing in the wild is much more nutrient-dense than crops grown in depleted soil, plants that may also have been targets to pesticides, herbicides, fungicides and other toxins, natural or chemical. This rule can even apply to organically grown food aswell depending on the level of quality on the farm. Foraging or choosing organic is thus a major investment in your health and we all know that prevention is hellah sexy!

You'll save the planet! Heading out to take care of the apples in a forgotten garden instead of buying plastic wrapped Chilean apples may not seem like a big deal but it's actually pretty radical. Think about it, it requires no fossil fuel or other energy for transport and handling, it's not exploiting cheap labour or land and there is often times much less unnecessary and ridiculous waste.

You'll feel fantastic! Fresh air, light excercise, a connectedness to the earth and getting grounded are some rather priceless things that comes with foraging. Don't blame me if after a few rounds you'll have a thousands new ideas, brilliant energy and inspiration and want to change you life. Not to mention how calming a moment on your own in nature can be or how much fun an adventure in the wild with friends and family is. Food and Togetherness? Count me in!

You keep the power in your hands! Whatever you buy (more than food) is a vote made with your wallet as to which direction the world should take. Whatever you decide to eat is also a major statement. The things you do have a direct impact so to make it all count, always make informed choices. You have the power in your hands so keep it there to do good and don't give it away to big agribusiness compromising the delicate systems in nature. Forage / buy organic /local and say In Your Face to the seedy seed patenting companies.

It's free! Need I say more?
By foraging you are supporting the earth tremendously and the healthy flavorexplotions are of course a major bonus too.
You have the power in your hands so do good and make it count.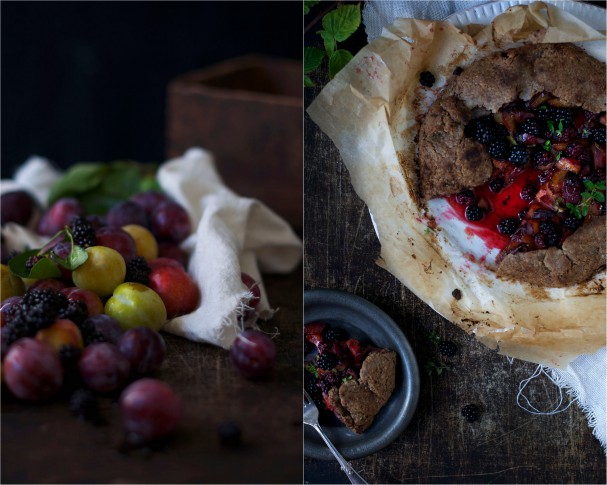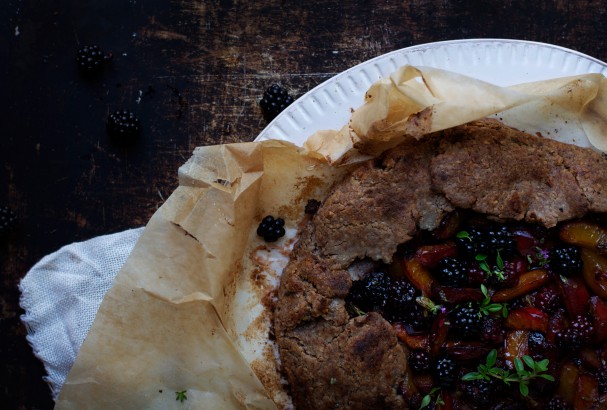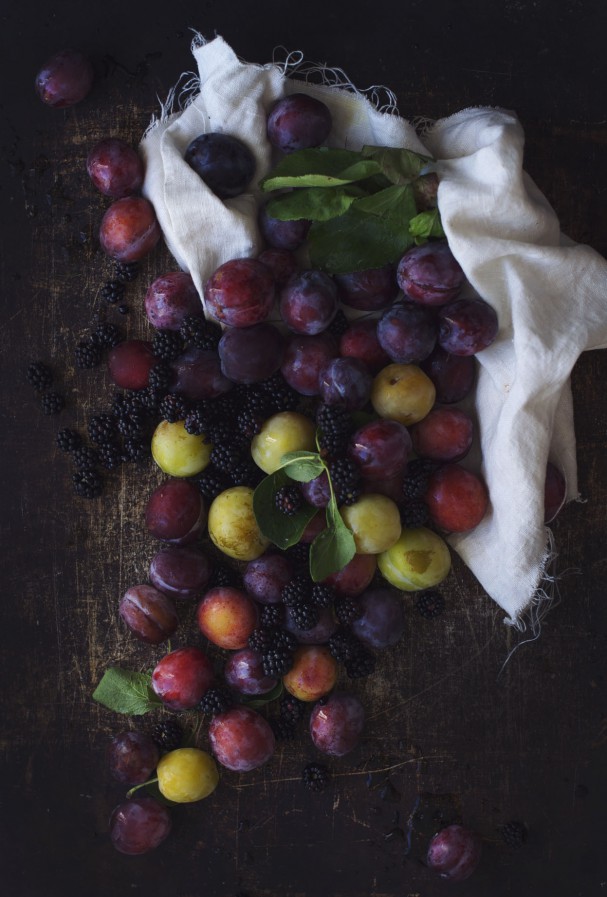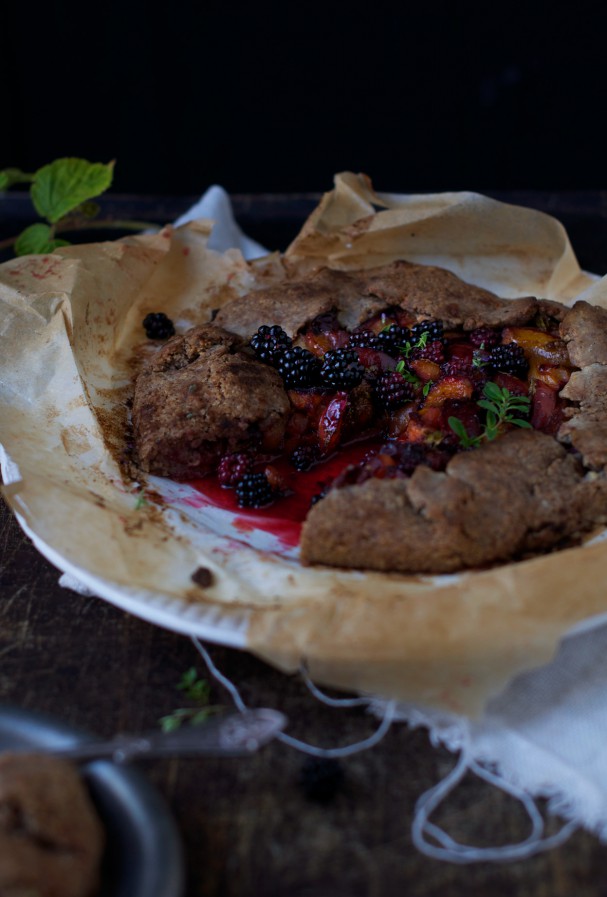 Verbena & Thyme Infused Plum & Blackberry Galette
This Galette is the embodiment of fall and all things healthy, happy and free about fall. Remember – foraged berries and fruit are best! Ask around to see if anyone you know has an abundance of plums or a forgotten blackberry bush in the back of their garden.
Serves 8
Herb infused fruit & berry filling
2 cups small plums, pitted and sliced
1 cup blackberries
1 tbsp maple syrup
1/4 tsp ground vanilla bean powder
roughly 20 lemon verbena leaves, if not at hand, cut open a lemon verbena tea bag
1 small handful fresh thyme leaves
1. Add all ingredients to a bowl and toss until berries and fruit is coated with herbs, maple and vanilla. Cover and set aside while preparing the crust.
Crust
1/4 flax seeds
1 cup walnuts
1 cup rolled oats, certified gluten free if needed
1/2 cup water
1/3 cup virgin coconut oil, cold
pinch high quality salt like himalayan pink salt or celtic sea salt
– Preheat the oven to 356° F / 180° C
1. Add flax seeds to a high speed blender or better yet a coffee grinder and blend until ground, now add the flax flour to a bowl with the water and stir until incorporated. Let sit for 15 minutes and give it a stir 2 or there times.
2. Add walnuts and rolled oats to a food processor and blend until you have oat/walnut flour.
3. Add coconut oil, flax gel and salt to the food processor and pulse until combined. Better pulse/blend less then too much.
4. Grab a piece of cling film to put the dough on and roll tightly into a ball. Refrigerate for at least 30 minutes. If you keep the dough in the refrigerator for more then 30 minutes (say overnight) then you'll need to keep it room temperature for at least 15 minutes before you start working with it or else the coconut oil will have made it too solid.
5. You are going to roll out the galette on a generously floured piece of parchment paper. Choose any flour of your liking, I used additional oat flour for example. Prepare that surface and fetch + unwrap the dough.
6. Roll out the dough as circularly as possible, to about 1/8 inch thickness.
7.  Place herb infused fruit and berry mixture in the middle of the crust (You can overlap them and put into rows/circles but I'm a fan of the beautiful mess).
8. Fold the edges up around the fruit in a shape you like. Place in the oven and bake for 15 to 20 minutes in the middle of the oven until the crust is golden brown and crispy. Remove from heat and let cool slightly before slicing it up.
— Serve on it's own (completely a-mazing) or with a dollop of organic vegan or non vegan yoghurt/ice cream/cream.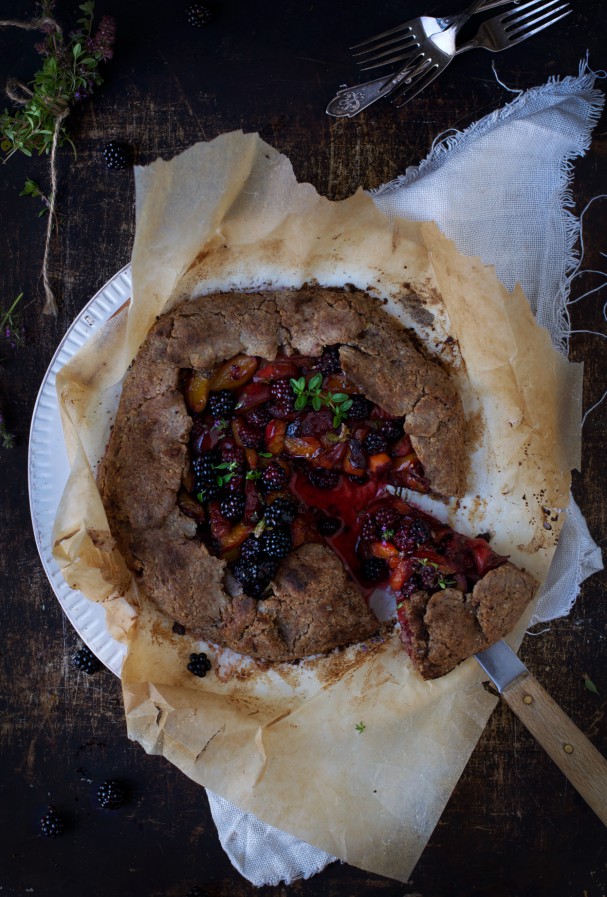 So go forage! Breathe that fresh air, spin around, be wild and have fun!
And why not share your Greenylicious moments with us? Put a lil' #Earthsprout on your pictures on Instagram and we can all help one another getting out of that occasional winter gloom-fest! Lord knows it's much needed from time to time.
°°Elenore°°