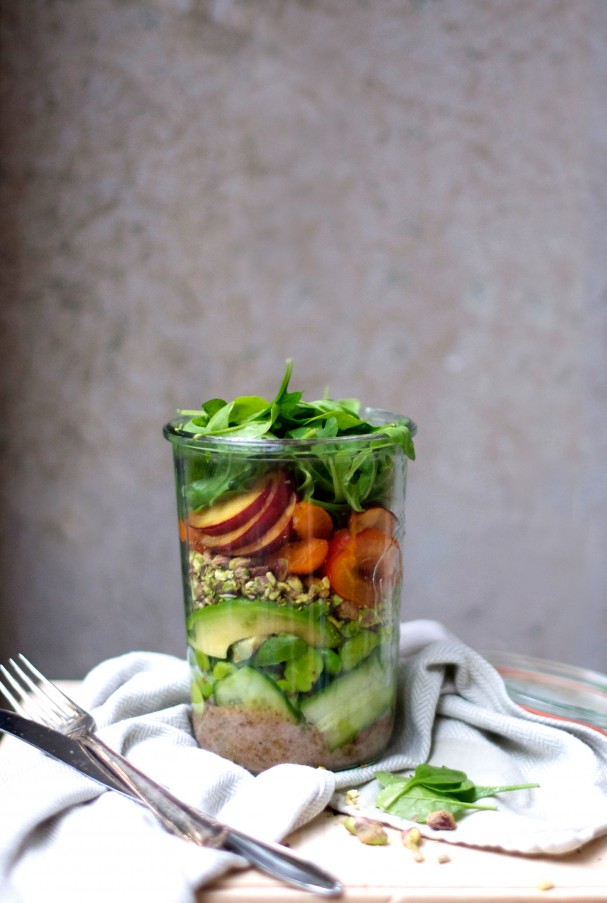 Holiday is so on which means I won't be posting full articles with the "Fun & Fabulous Facts – section" these weeks. Short´n sweet, baby, it's summer! Ps. I'm still sharing Greenylicious adventures and tips on Instagram – come join!

One year ago I wrote here on Earthsprout that "Fun should be taken seriously and resting is damn creative". Even if the rule ought to be applied to every day it did it's magic at that time and resulted in me being rested for the arrival of a certain Caspian (good because I haven't been well-rested since;).  As I'm writing this Fabian and Caspian is playing on the floor of a gorgeous apartment in Copenhagen, the sun is shining quite brutally, the supermoon is very much here and we have two more days left of summer vacation together. One thing that makes me sort of force-remember to take fun seriously and that resting is goddamn creative is just this. Leaving the place where I usually work. Home. Because at the end of the day, our real home is where our soul thrives. While people and places might remind us and make us think we need them to feel at home, that home is always within us in a tiny yet vast space in our hearts. Radical, scary and very true. Taking fun seriously and resting like it's my job reminds me of this.
..and because nothing says summer more then picnics I've created a really rather awesome in-the-season salad in a jar for you all to enjoy. It will keep you nourished and satisfied during family get-togethers, BBQ´s and impromptu dinners in the park where sad looking (and non-vegan) potato/pasta salads, meat and white yeasted bread are often abundant. Or better yet, make a few to share and spread that Greenylicious groove!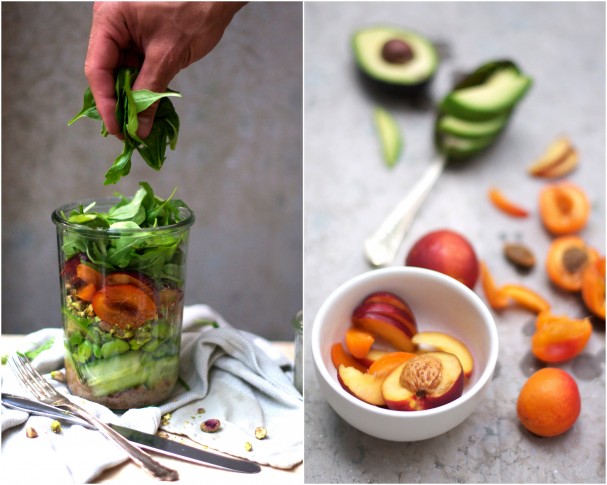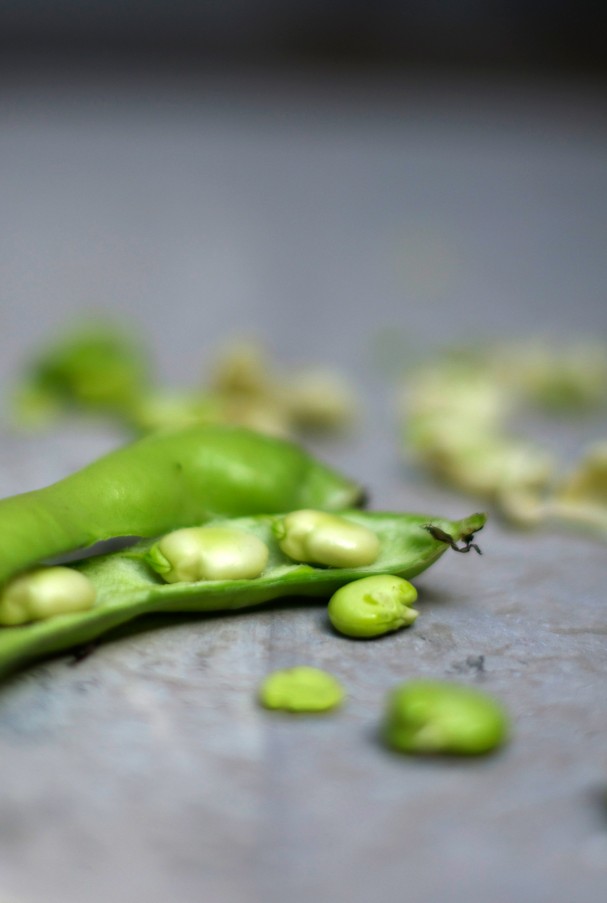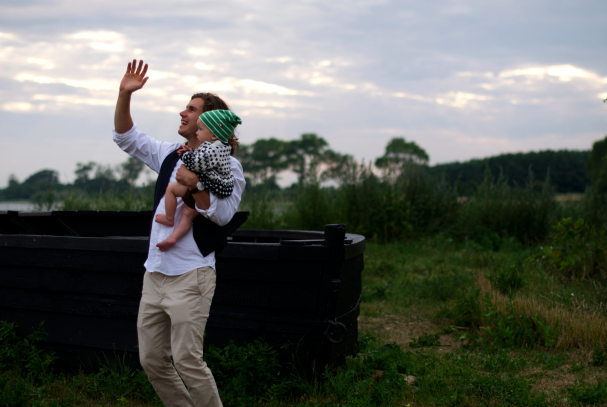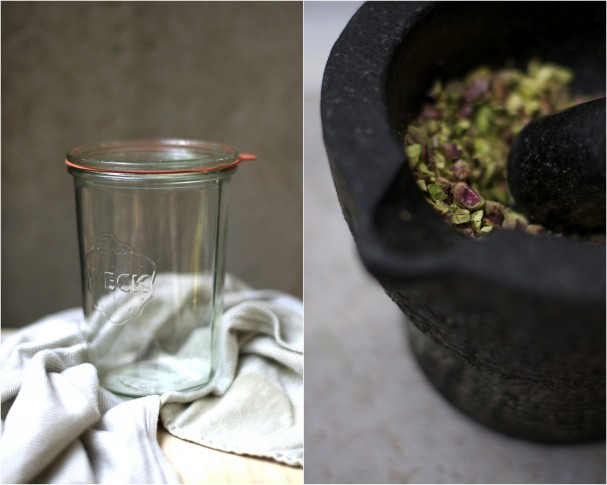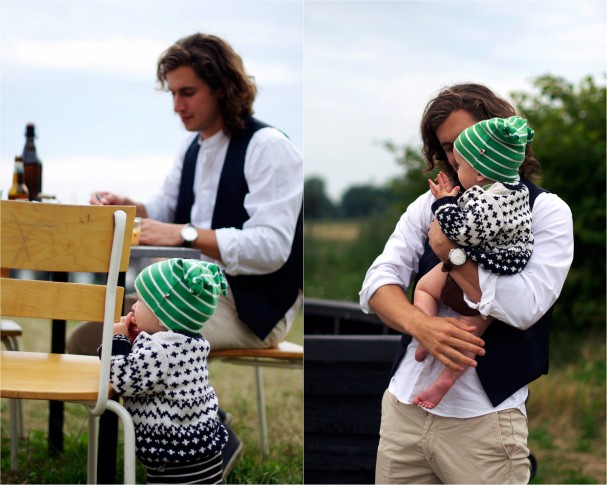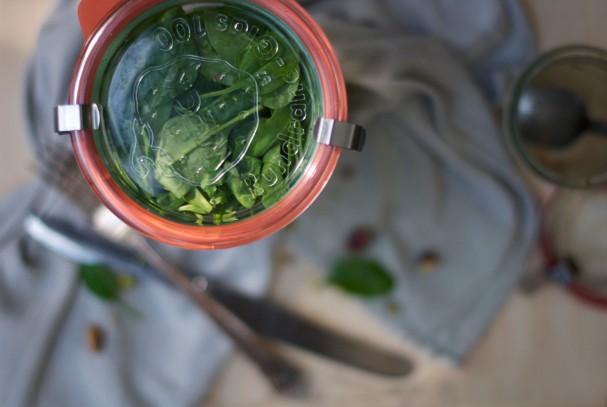 Stonefruit + Fava bean Salad In a Jar
Bringing good food on the go does not have to be rocket science. Pouring a yummy dressing at the bottom of a jar and then layer your favorite salad components and finish off with a generous amount of leafy greens (this way they wont turn soggy). When it's time to eat, turn the jar upside down onto a plate and dinner is served. You'll have the leafy greens at the base and the dressing will infuse all layers thanks to gravity. These ingredients are a reflection of farmers markets in July but you can create variations of this salad all year round.
Serves 1
Lime/Mint dressing
1 small handful mint leaves
1 lime, juice + zest
1.5 tbsp virgin olive oil
1 spring onion
1. Rinse, peel and finely cut the spring onion (save its greens for later use), add onion and all other ingredients to a mortar and grind using a pestle until well combined. You can also use an immersion blender to get the job done but it won't be as tasty. Pour into the bottom of your jar of choice.
Salad
1 small cucumber, julienned
1/4 cup pistachios (shelled, raw and unsalted)
1/2 avocado, pitted and peeled (1 whole if you're hungry)
2 apricots, pitted and sliced
1 nectarine, pitted and sliced
2 cups leafy greens ( I chose arugula, watercress and matché lettuce)
25-ish whole fava beans (will yield around 2/3 cup once peeled)
   -1 tsp virgin coconut oil (for frying)
   -1 clove garlic, minced (for frying)
   – pinch high quality salt, (for frying)
1. Remove the fava beans from their pods and peel off their light green leathery skin. This takes a while but is easily done using your fingernails and some patience so sit back, let go of your thoughts and have a little veggie-tation.
2. Heat coconut oil in a frying pan on medium heat, add garlic and cook until golden. Now add the fava beans and the salt and fry on for no more then 1-2 minutes. These beans are fresh and will cook in no time at all. The goal is just to remove the raw taste and infuse them in garlic. Set aside.
3. Start layering your jar. Julienne cucumber first, then fried fava beans, stone fruits (apricots, nectarine, avocado), crushed pistachios and greens.
How to eat it
Turn the jar upside down onto a plate and dinner is served. You'll have the leafy greens at the base and the dressing will infuse all layers thanks to gravity. If you won't have access to a plate at your on-the-go location then bring the dressing in a smaller jar and pour it over the salad at last minute. Enjoy!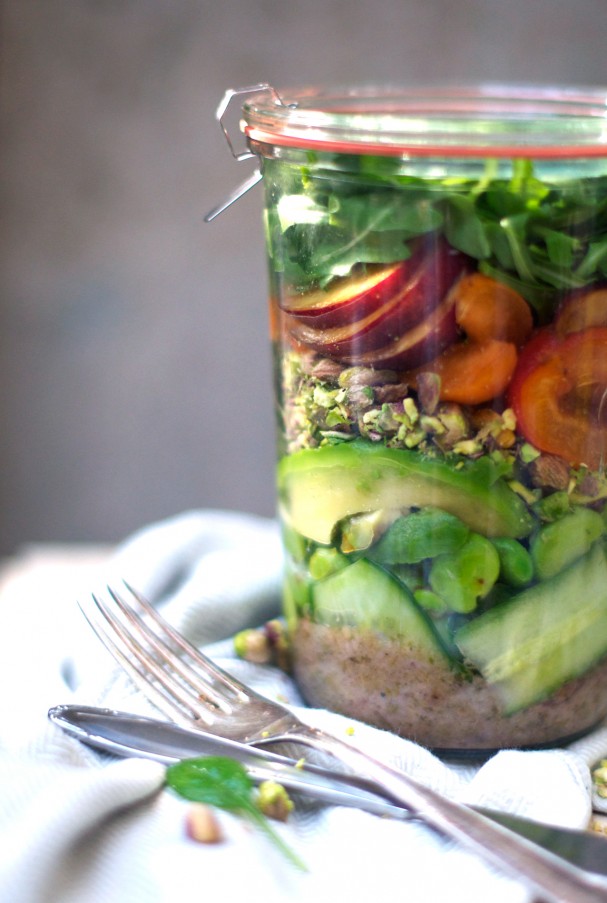 All right, I'm off hanging with my boys again. Excited to see what this day plan on bringing into our lives and excited to do a little full moon meditation tonight, giving gratitude for all that is now and attracting the right moments to come. Oh well, it's all one.
Go get some sun in that gorgeous face of yours and we'll all meet on the grass for a magical moon-lit picnic later. Deal?
°°Elenore°°
---
Todays Tweetable / Facebook Flirt: "Fun should be taken seriously and resting is damn creative – put both of em' in your calendar!" @ElenoreEarth