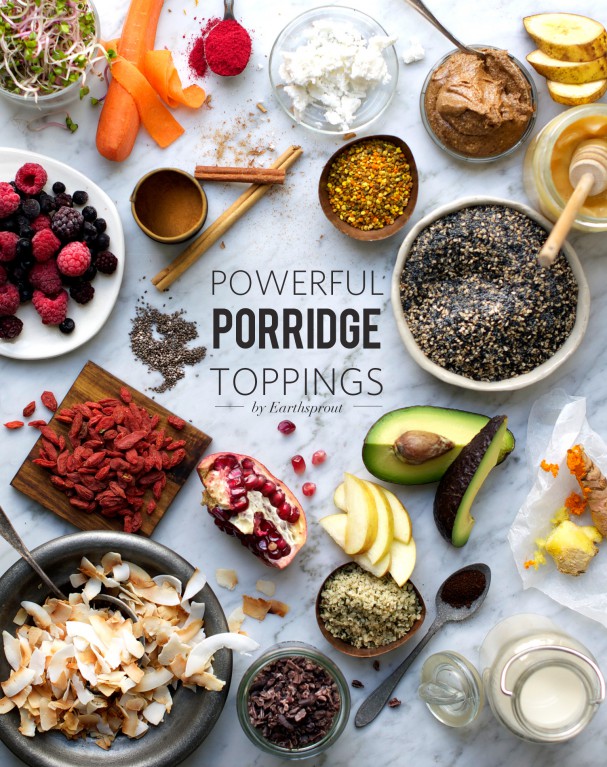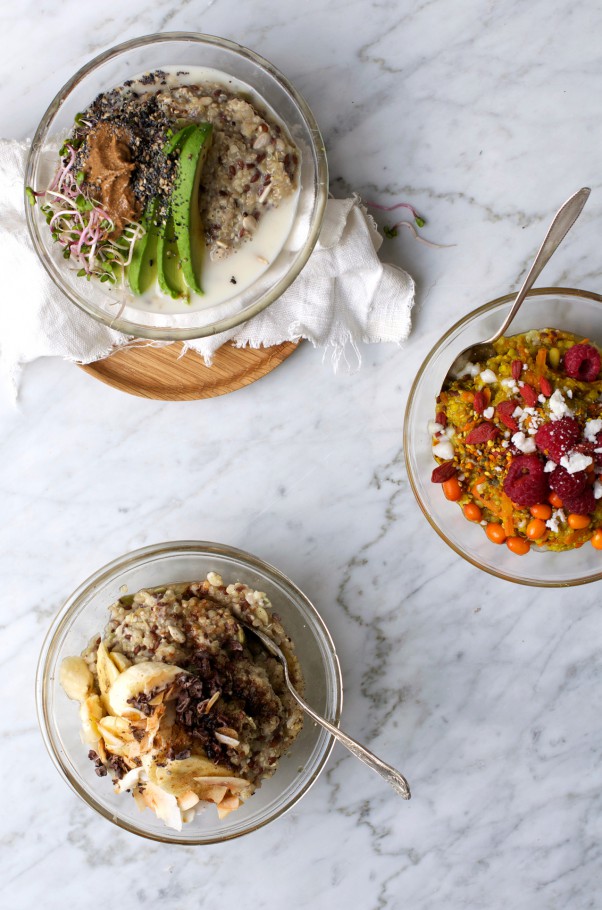 Look, I get it. I say 'porridge' and a smooth'n sexy tune doesn't immediately start playing softly in your head. You might even go as far as saying that the relationship you've had with porridge so far has been a series of disappointing turn-off's. Well, I'll tell you what. That's about to change. After soaking in all of what this post is, I'm hoping to have won you over to the Powerful Porridge Party. It's a really awesome party, just sayin'. It includes impromptu crazy dancing on the kitchen floor, a glowing body, energy to go after your most daring dreams (and beyond!) and eyes that sparkle like a freaking disco-lit night sky. Yup, an absurdly amazing breakfast will do that to a person. Can you tell I'm the biggest breakfast fanatic? I did make the 30 Raw Breakfast App for a reason..
I've been planning this post for well over 1 year now (seriously, I checked the date of the first draft..) so to say I'm excited would be the understatement of the century. Are You Ready!?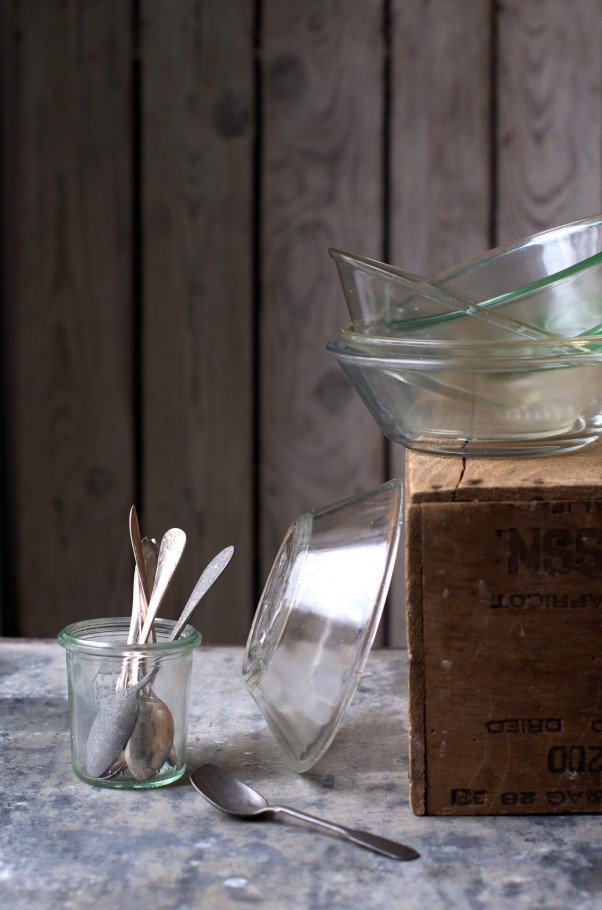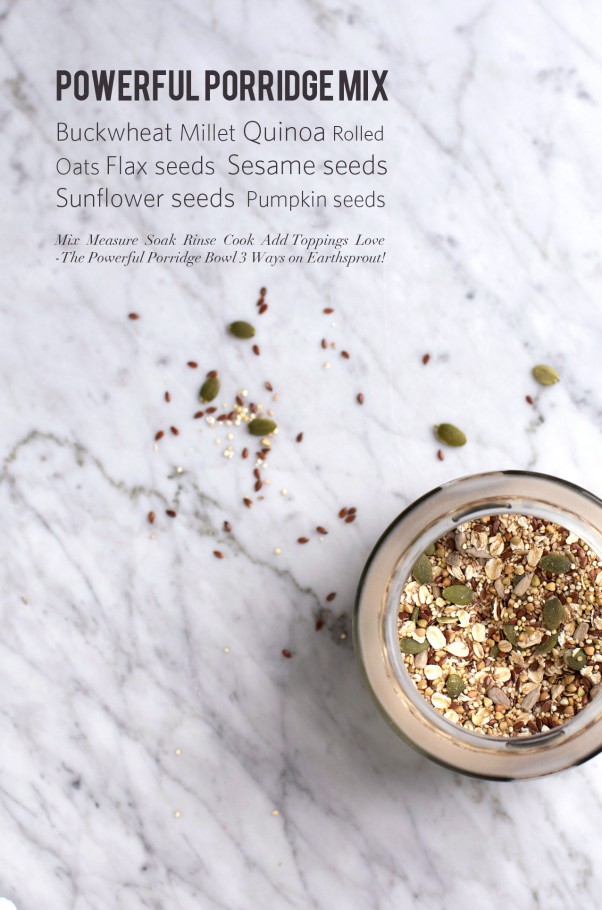 Fun & Fabulous Facts
If you've grown up in Scandinavia, chances are you've eaten a good amount of porridge and now you either love it or hate it. Fabian is still a member of latter but I've made it my secret mission (shh..) to convert him to the lover's. He's finally fine with washing the pan where porridge have been cooking and he can make Caspian porridge (but he can barely check the temperature before giving him the bowl & spoon). I'm not sure what experiance scarred him but I can't help but thinking that if he had grown up with any of these three breakfasts, the situation might have been different.
For the past five-or-so years I've made this mix of gluten free whole grains and seeds. (Read all about the amazingness of gluten free whole grains and why you out to be eating them in THIS GUIDE). It's a life saver when I crave a hearty, warming and high-quality breakfast that keeps me going for hours. It's my go-to during wintertime and sometime it doubles as dinner or snack. -Did I say how much I love porridge?-. For more of a summertime meal you can simply soak, rinse then blend -not cook- your Powerful Porridge Mix with some banana, plant based milk and vanilla in your blender/hand blender and end up with delicious and completely raw breakfast. 'Versatile' is the middle name of the awesome Powerful Porridge Mix.
However incredible this base is, life is always more interesting with some sparkles, am I right? In this case the sparkles I'm talking about are the porridge toppings. Topping and/or cooking your porridge with a rainbow of super-boosting This'n That makes for quite the unforgettable breakfast. Berries, fruits, spices, some veggies like carrot and beet, seeds, nuts + nut butters and various superfoods are the bomb when it comes to composing an out-of-this-world breakfast. All combined in a way that takes both flavor and texture into consideration. Pick one of my favorite compositions below or get creative and make your own!
#Sweet Powerful Porridge
Soaked then cooked with water and unsweetened plant based milk, a pinch of salt and vanilla. Topped with banana slices, toasted coconut, cinnamon, cacao nibs and a drizzle of maple syrup.
Why/When? Prepare the Sweet Powerful Porridge as your weekend breakfast treat, whenever you want to satisfy a sweet tooth or to make that regular Tuesday morning a little more fun. The Sweet Powerful Porridge is also a good way of getting used to having real whole grain porridge as opposed to sugary cereal/granola. If you're looking for a breakfast that's still sweet but has more of a nutritional punch then this one will serve you well.
#Boost Powerful Porridge
Soaked then cooked with water, a pinch of salt, fresh ginger, fresh turmeric and shredded carrot. Topped with sea-buckthorn berries, raspberries, goji berries, bee-pollen and coconut butter.
Why/When? The Boost Powerful Porridge is what I make when I feel like my immune system is longing for a little extra help. This creation is loaded with some of the things that top the ORAC-list meaning they are foods with an incredible load of antioxidants that'll give you good protection against free radicals and thus promoting overall good cell health. The Vitamin C content of the Boost porridge is through the roof and the bee pollen pitches in with some outstanding health benefits as well.
#Energy Powerful Porridge
Soaked then cooked with water and a pinch of salt. Topped with avocado slices, sprouts or microgreens, nut butter and a seed mix of black and white sesame seeds and poppy seeds. Served with some plant based milk.
Why/ When? This is the breakfast composition for you who require a meal that keeps you full for several hours without any spikes in blood sugar levels. Avocado, nut butter, sprouts/microgreens, crunchy seed mix and plant based milk all help with this by being sources of great fats and protein. This is a perfect savory breakfast and you can even add some fresh herbs like parsley or thyme for extra flavor. Get creative and have fun!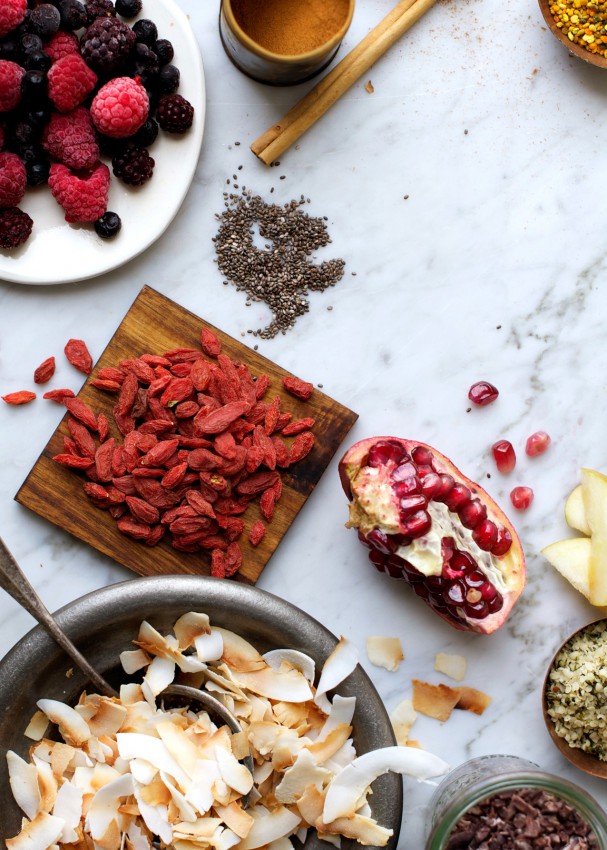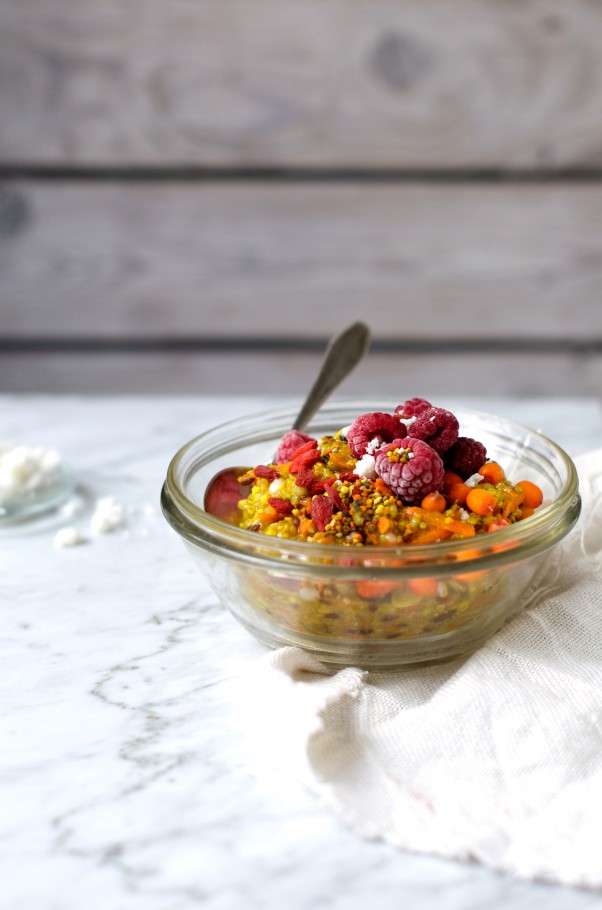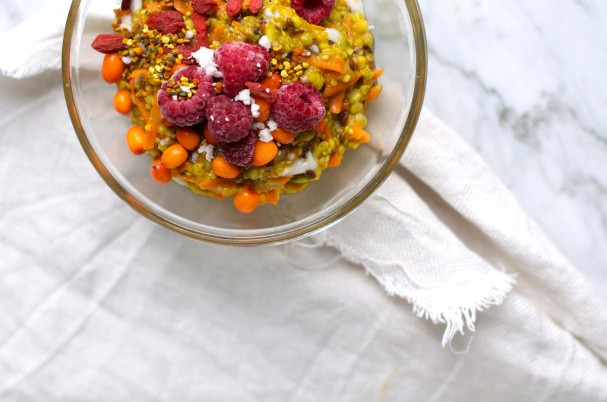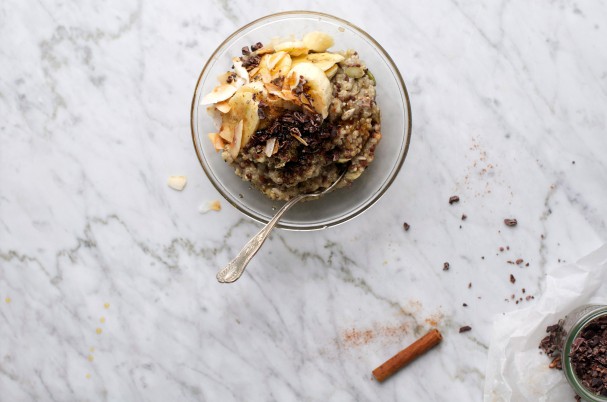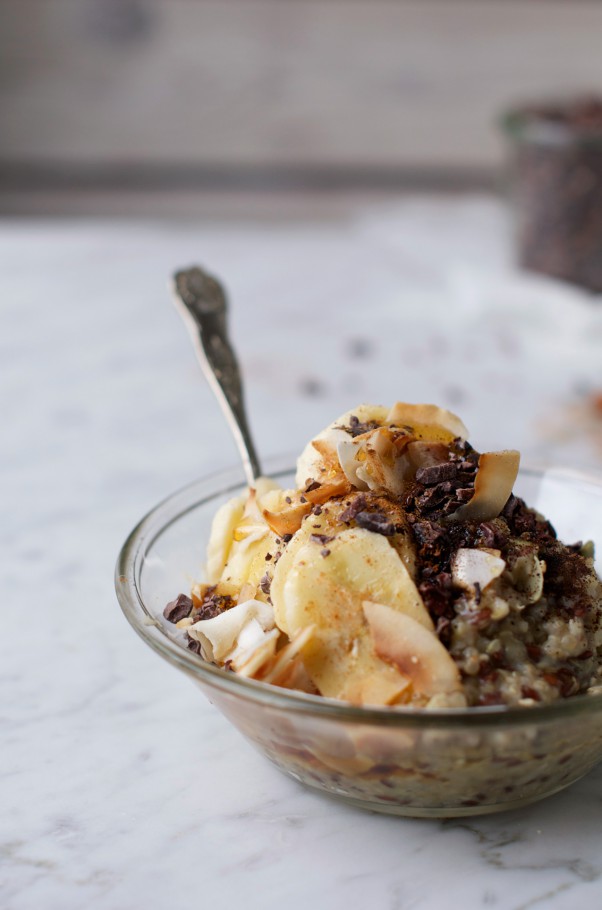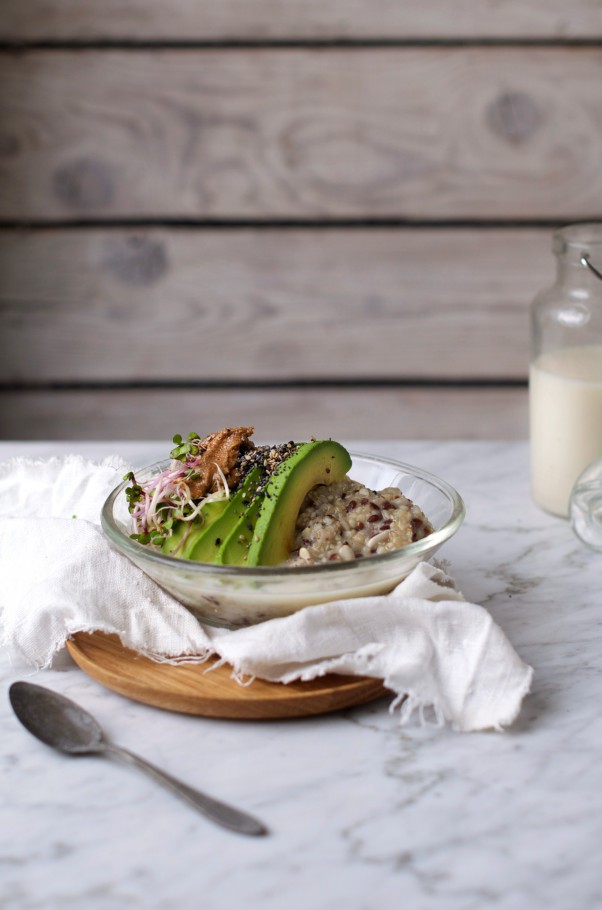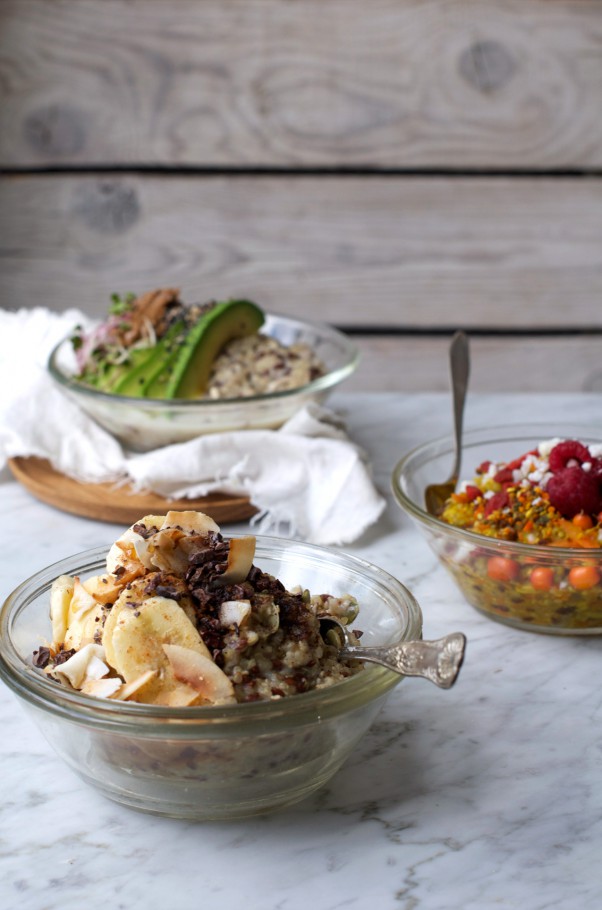 Powerful Porridge Mix
A breakfast mix with the incredible nutritional load and health benefits of gluten free whole grains and seeds that'll keep you full for a long time. Have fun experimenting with toppings and add-ins or go with one of my suggested compositions (Sweet, Energy or Boost, see below) to make the Powerful Porridge Mix seriously outstanding. 
Note on soaking: if you're not able to soak your serving of porridge mix overnight you need to give it a thorough rinse in warm water before cooking and then cook it with 1 cup + 1/4 cup water for 20 minutes. To cook the soaked porridge you'll need 2/3 cup water.
Note on measurements: I personally double this batch below when preparing my mix but if you feel like that's too much of an investment or chance then go with the measurements first.
Note on raw porridge: To make a raw porridge, soak, rinse then blend your serving of Powerful Porridge Mix with 1/2 banana, 1/4 cup plant based milk and 1/4 tsp pure vanilla powder in your blender/hand blender.
Makes +/- 12 servings
1/2 cup Millet
1/2 cup Quinoa
1/2 cup Buckwheat
1/2 cup Flax seeds
1/2 cup Sesame seeds
1/2 Sunflower seeds
1/2 Pumpkin seeds
1 cup Old fashioned rolled oats or steel cut oats (certified gluten free oats if required or buckwheat or millet flakes instead)
1. Add all ingredient to a large mixing bowl and combine well. Store in an airtight container in the pantry or in the fridge if it'll take a while for you to use it all up.
1 serving
1/3 cup dry Powerful Porridge Mix (or alter to suit your needs)
1 cups water for soaking
1/2-1 tsp lemon juice or apple cider vinegar for soaking
2/3 cup water for cooking
a tiny pinch of high quality salt 
1. Soak 1/3 cup dry mix in 1 cup pure lukewarm water and lemon juice or apple cider vinegar. This will help release phytic acid and other enzyme inhibitor that would otherwise mess with your digestive system and ability to absorb nutrients. Soaking grains truly makes a big difference when it comes to health benefits and soaking your breakfast grains before going to bed is a really smart habit.
2. Give the soaked porridge mix a thorough rinse in the morning before adding them, a small pinch of good quality salt and 2/3 cup fresh water to a sauce pan. Bring to a boil, reduce heat and let simmer uncovered for 10-13 minutes. See special cooking requirements for the Sweet, Energy and Boost porridges below.
#Sweet Powerful Porridge
Sub 1/4 cup of water for cooking with 1/4 cup plant based milk along with 1/4 tsp pure vanilla powder. Cook according to instructions above. Top with: some banana slices, a little toasted coconut, 1/4 tsp or so of ground cinnamon, 1 tsp cacao nibs and a little 1 tsp drizzle of maple syrup.
#Boost Powerful Porridge
Cook according to instructions above but add 1 tsp freshly grated ginger and turmeric (use 1/2 tsp dry turmeric powder if you cannot get your hands on fresh) and 1/2 small peeled + shredded carrot. Once cooked top with some fresh or frozen sea-buckthorn berries and raspberries, 1 tbsp dried goji berries, 1/4-1 tsp bee-pollen according to how used your body is to this potent superfood and lastly 1 tbsp coconut butter.
#Energy Powerful Porridge
Cook according to instructions above. Top with 1/4-1/3 pitted and sliced avocado, 1-2 tbsp sprouts or microgreens, 1.5 tbsp nut butter and 2 tbsp seed mix of black- & white sesame seeds and poppy seeds. Serve with a splash of plant based milk.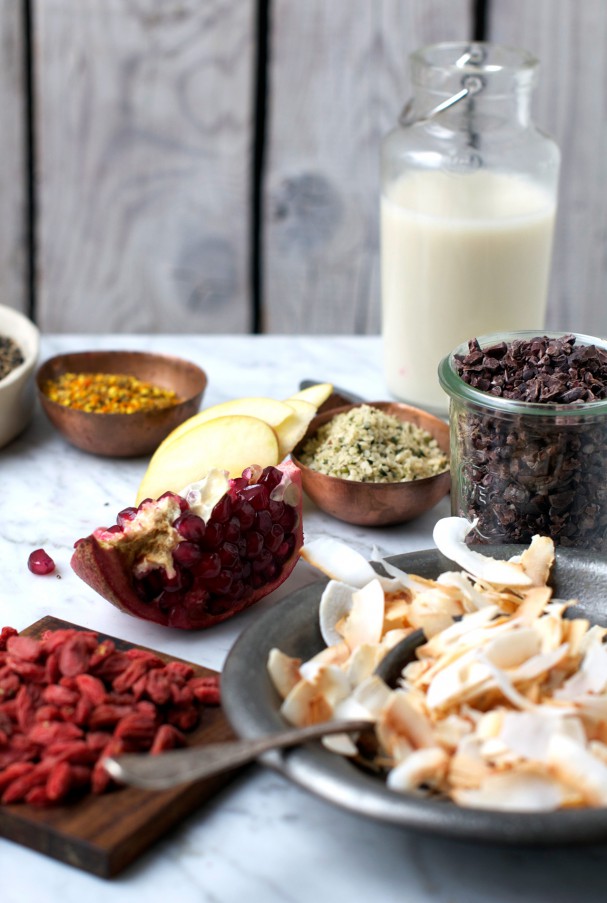 All right, dear friends – that's my long anticipated porridge post and now it's all up to you! Get soaking, cooking, creating and then tell us all about your insanely delish finds in the comments below! Tag your bowls with the #earthsprout hashtag on Instagram too for extra fun!
Lots of light from my breakfast-loving heart to yours!
°°Elenore°°