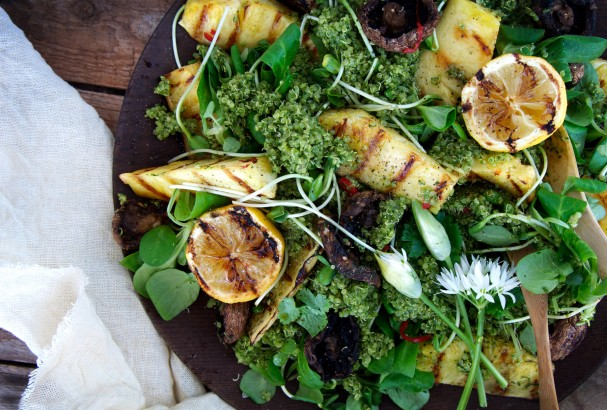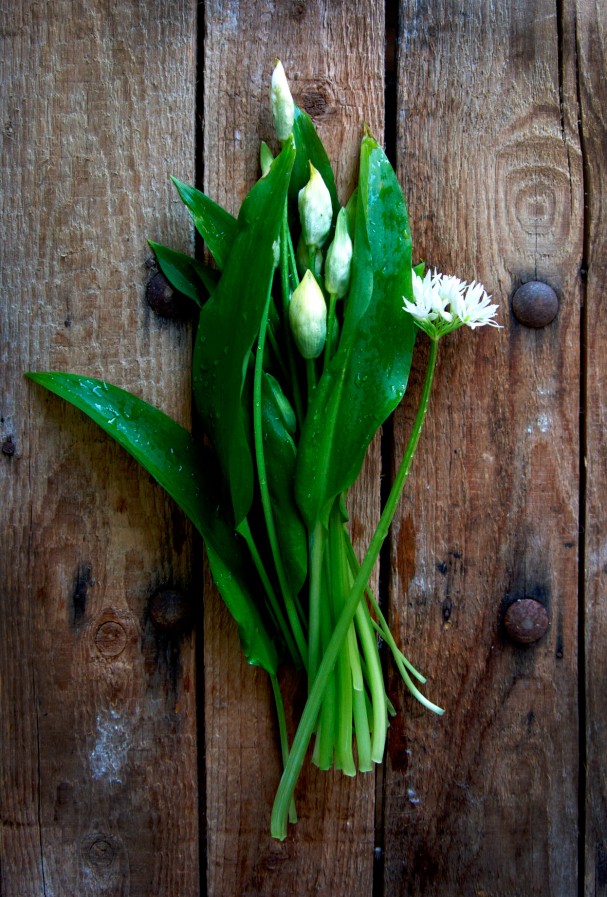 Friends, the love that expanded within the Earthsprouty world after this last post (Difficult Mamahood Times + a Semi-Raw Cake) blew my mind and made my heart swell. Honestly, I think we all felt something grow stronger. Sisterhood grew. You guys gave so much to everyone in the comments and I was yet again reminded of how raw honesty creates paradigm shifts, shifts that are so needed and longed for in this now. A big thank you. Huge.
It all reminded me of these words from 'A Return To Love' by Marienne Williamson. Actually I've never been much of a quotes-person and if I come upon quotes in a book or such, chances are I skip reading them (I know..). However, in the text below I've found something big for us all to soak up and so I thought I ought to share. It's a peace-infused reminder as we're both held and pushed into the power of the upcoming full moon. Let's step up and let's step into the blinding spirited disco-light that is us. Embarassing 90's tunes uncluded. Yeah? Yeah.
"Our deepest fear is not that we are inadequate. Our deepest fear is that we are powerful beyond measure. It is our light, not our darkness that most frightens us. We ask ourselves, 'Who am I to be brilliant, gorgeous, talented, fabulous?' Actually, who are you not to be? You are a child of God. Your playing small does not serve the world. There is nothing enlightened about shrinking so that other people won't feel insecure around you. We are all meant to shine, as children do. We were born to make manifest the glory of God that is within us. It's not just in some of us; it's in everyone. And as we let our own light shine, we unconsciously give other people permission to do the same. As we are liberated from our own fear, our presence automatically liberates others."
– Marianne Williamson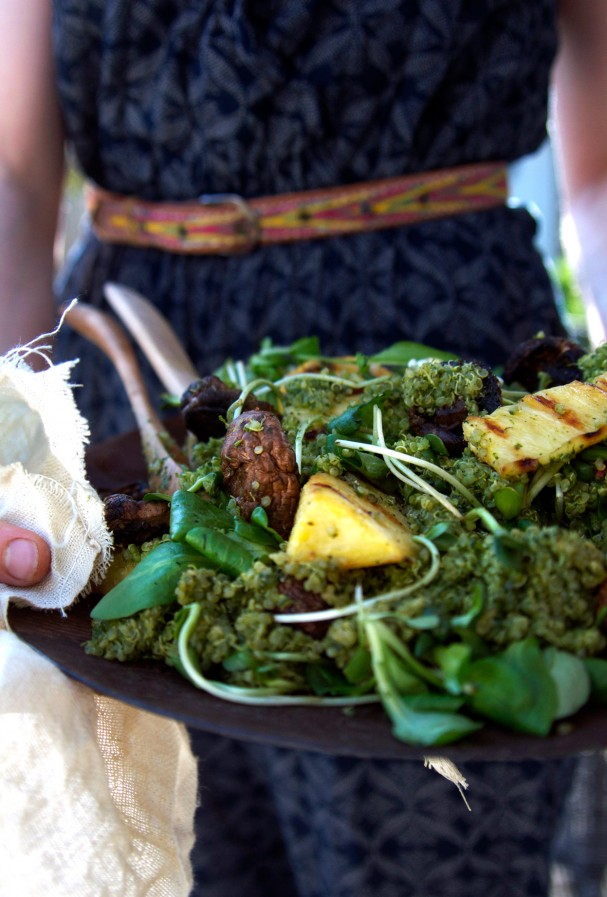 Fun & Fabulous Facts
As I looked down on this big power-packed spring-y salad I realised I had yet again created an eat-the-season-meal. Bursts of yellow in contrast to the green, green, green and the occasional flecks of brown mirrors nature at this moment so perfectly. All I see when I look around here in Sweden are the vast fields of canola in bloom and I don't think I'll ever see anything more yellow then that (= The Pineapple + Lemon). Next to the canola fields are green lush forests where ramps grow in damp shadows (= The Ramps Smothered Quinoa) but at some places the raw brown earth hasn't yet been covered with growing crops (=The Grilled Mushrooms). It all looks just like this plate, how brilliant is that?!
I remembered it was a while since I shared a recipe using bears garlic/ramps/wild garlic so we went over to the spot where we and I think everyone in my extended family get our fragrant, wild and free garlic-y ramps. Surrounded with wild garlic, me, Caspian and Fabian picked ourselves a few handfuls, thanked the forest and went home to cook this satisfying and creamy salad full of nutritional powerhouses.
Now I realize that I have blabbed my way through the Fun & Fabulous Facts-section without actually giving you my regular download on a specific ingredient and it's nutritional universe. Because we don't want to blab away anymore time that could have been spent under the spring sun let me leave you with a link for my Psycadelic Spring Rolls from two years back. Over there I talk a bunch about the sensational superpowers of wild garlic. Enjoy the recipe and Fun & Fabulous Facts Here. Other then that, my dear friend.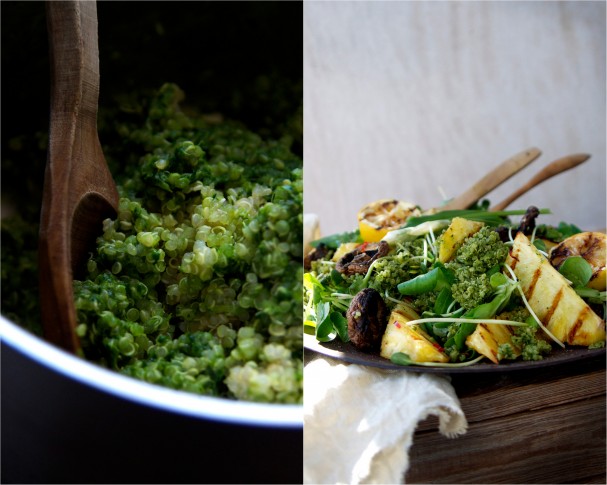 Ramps Smothered Quinoa w Grilled Pineapple & Shrooms
Covering grains in raw green sauces is a great trick to sneak more greens into everyday meals without feeling like you need to eat salads all.the.time. This way we can have both the greenified amazing protein- and mineral packed grains and a salad! Or in this case combined on one plate. This is a stress-free meal for the outside times ahead, simply smother quinoa with a green sauce, grill some mushrooms, a lemon and chunky pieces of pineapple (So delicious), add some micro- and leafy greens and you're ready to go!
Fluffy Quinoa
1 cup white quinoa
1  3/4 cup pure water
1. Rinse Quinoa then bring to a boil with the 1 3/4 cup water, lower temperature and cook for 15 minutes. While the quinoa cooks, prepare the raw sauce below.
2. Once cooked add the raw sauce (below) to the quinoa, gently stir to cover and let sit for 5 minutes before making the salad.
Raw Ramps Sauce
40 leaves of ramps/wild garlic
4 handful cilantro (stems + leaves)
1 clove garlic, finely minced
1 tbsp light miso
2 pinches good quality salt
2 tbsp virgin olive oil
1.Rinse and roughly chop greens and blend all ingredients into a sauce. Easiest done using an immersion blender.
For the grilled additions
1 pineapple
1/2 spicy fresh chili
1 tsp maple syrup
1 lemon, divided in two
400 g fresh shrooms like portabello or small button mushrooms 
pinch good quality salt
pinch freshly cracked black pepper
pinch dried chili flakes
1. With a sharp knife, cut off the leaves and about a 1/2 inch of the top and bottom of the pineapple. Turn the pineapple upright onto it's base and slice down to the bottom of the fruit slightly turning your knife at the top and bottom to follow the curved shape of the fruit. Stay close to the black "eyes" that run down the sides so you don't waste too much of the pineapple.
2. Now cut the pineapple lengthwise into approx. 8 chunks. Add these to a plate.
3. Thinly slice the fresh chili, add to a small glass with the maple syrup and a pinch of salt. Stir then drizzle over the pineapple and gently rub into the chunks or fruit.
4. Wipe mushrooms with a damp paper towel, cut off their stems and add salt, pepper and chili flakes onto the bottom side.
5. When the grill is ready, grill the mushrooms, lemon and pineapple for about 4 minutes on each side. Lemon is only grilled on one side.
Fresh additions
2 handful micro- and leafy greens (I choose sunflower shoots and mache lettuce)
To Serve
Arrange the Ramps Smothered Quinoa, Grilled mushrooms and pineapple with the fresh additions on a large serving plate or bowl, squeeze over some lemon juice from the grilled lemon and serve!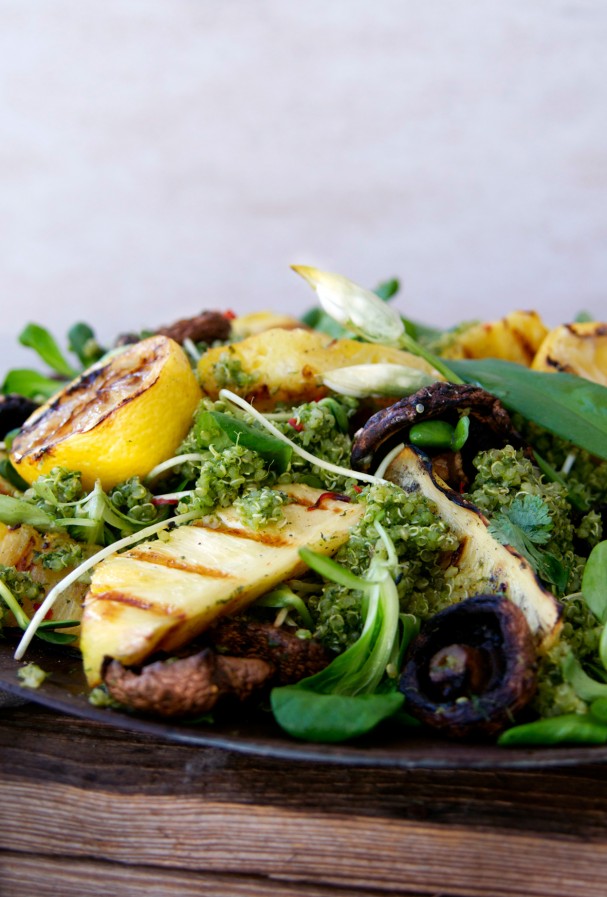 Get your wild foraging mindset on (or visit whole foods / a farmers market) then smother some quinoa with greens and get the grill going. Put your bare feet on the ground as much a you can and soak up the season for it is good – or you know, pretty darn miraculous.
Here's to sunshine!
With Greenylicous Love (like a lot)
°°Elenore°°