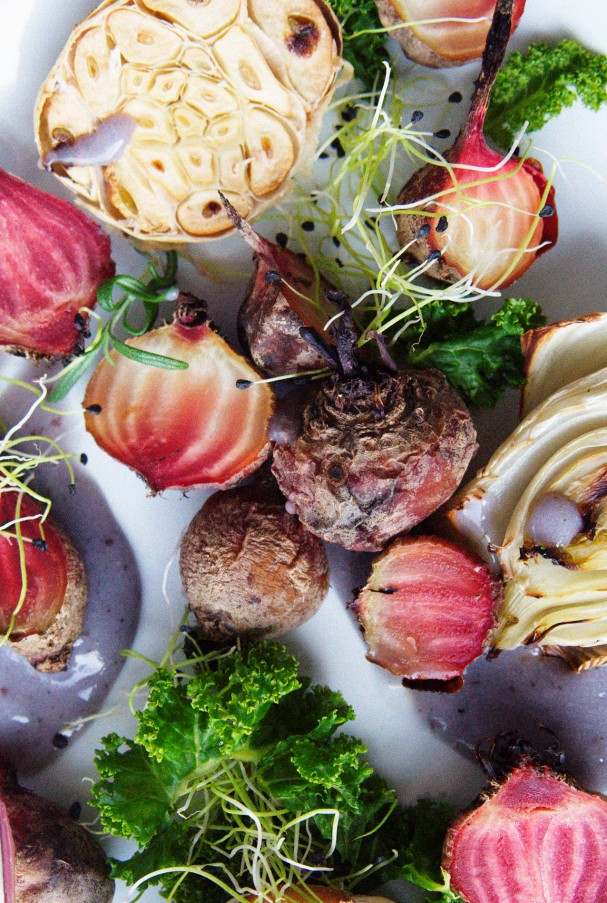 I'm a sucker for colour and if I'm wearing what seems to be the "wrong" color for the day it effects me like crazy. While writing this I peek down on my grey knitted sweater and make a face while glaring at it. It's just wrong. I can't dress Caspian in grey clothing either as it sort of feels beneath him. I want him to shine in his colorful hat made in Cusco, close to Maccu Piccu, I want him to glow in the tie dye from Kuwai that he got from Sarah and I love seeing his chubby hands sticking out from his beautiful danish off white organic wholen cardigan. I never ever thought I'd say this but being around him all day long I'm sort of relieved when our clothes go well together. It's somehow very satisfying, calming even. It makes me go: Ahhhhhhh. I can't believe how silly I sound and that I just said that, but still, doesn't it make so much sense? When our outer appearances match the inner feeling of who we are, something falls into place. In my mind, fashion is something that can be fabulously spirited and real and even help us rise up and meet our own grand potential. Fashion can be the game changer, the key and just the thing that help us stand strong in who we are and who we wish to be.
It's not about coming from a place of lack and giving yourself an identity through a particular style. I think it's about telling your body and mind from a soul perspective the story of who you are and thus allowing the fullness of YOU enter, be and grow. So I guess my soul isn't feeling very grey these days.
The other day after a night of particularly many Caspian feedings I felt a bit, ahem, shall we say uninspired to even go up the stairs and find something nice in the closet. I mean, wouldn't those fave worn-out jeans work one more day? (already stained with some of Caspians first porridge meals) and couldn't I pair them with one of Fabians cosy training sweaters that I know he took out of the washing machine previous night? This would allow me to stay on the ground floor all day! Brilliant idea! A couple of hours later when Caspian took his first nap I felt like my body had it's own personal pity party and I was so desperately chocolate crave-y that I couldn't take it any longer. I knew that if I spruced myself up bit and actually put on some clothes that reflected the way I wished to feel that life would suddenly feel a hell of a lot more fun and inspired. So I did and guess what happened? The sun came out and shone through our big dirty (like I care) windows and instead of stuffing my face with chocolate and putting more pressure on my adrenals then the sleep deprivation du jour already had, I made the kick ass Java Juice from the 30 Raw Breakfast app to boost my energy levels and let my body re-charge naturally. I went from Blah to Booyah in 15 minutes. Spirited fashion and high vibe colors (and healthy treats) for the win!

..Just like this crazy colorful huge of a salad and it's stop and stare beautiful vegetables.
Fun & Fabulous Facts
For many years potatoes have been quite a no-show in my meals as I've always thought there are way more exciting things to eat then that white mushy thing. Plus, my body is not into eating too many foods from the nightshade family (I'd rather indulge on tomatoes then) and I'm also traumatized by school lunches of over-cooked potatoes. We've still kept some good local organic potatoes around for Fabian sake as he's pretty crazy about oven roasted root veggies including the regular potato. I still love a good salad of the first new potatoes of summer though. I have to – I'm a Swede. Since Caspian was born however, I've been sneaking some of Fabians roasted potatoes onto my plate as my milk producing body has screamed for more energy-packed foods. When I saw organic Blue Congo potatoes at our local supermarket I felt an even stronger pull towards putting some of them rich and delightful potatoes on my dinner plate.
Besides the obvious gorgeousness and colour craze of the Blue Congo potato, these have a quite a different nutritional treasure then a regular potato. The purple in in these potatoes comes from their flavonoid content and flavonoids (the pigment) have been shown to promote overall good health (remember the blueberry maniac?) and cancer prevention. As the skin of the potato provides us with much of the nutrients and fiber, make sure you buy organic and keep the skin on. Potatoes are a 100% carbohydrate -nothing wrong with that!- just make sure you pack the other parts of your plate with whole foods from other food groups to get a complete meal and then use the amazing energy that you'll receive from the potatoes. How a bout a classic lil' Earthsprouty crazy dance? One last thing! If a potato is boiled, it'll loose 10 – 50 % of it's potassium into the cooking water (and in this case also it's color) so baking or steaming is a good idea.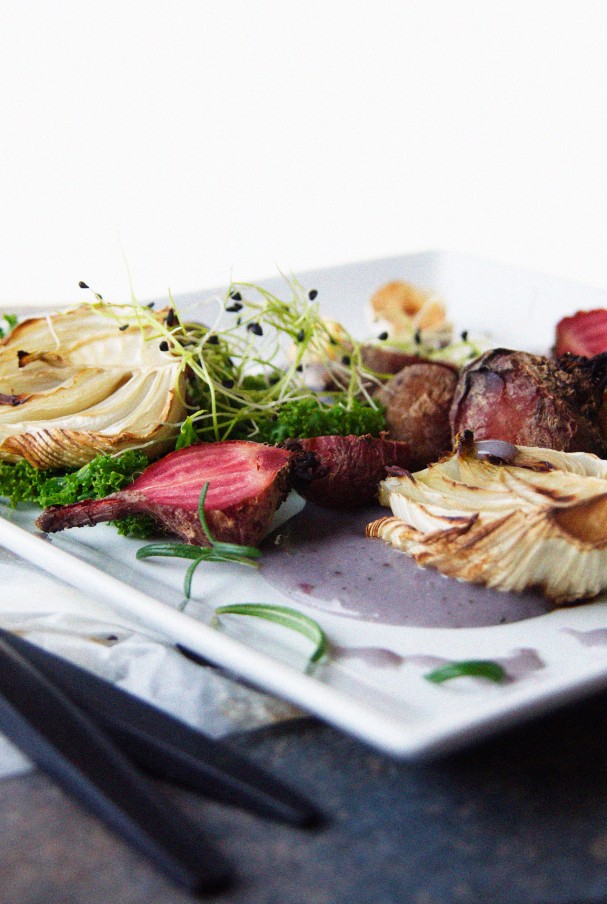 Colour Craze Salad w Blue Potato Pureé
With the warmth and creaminess that the blue potato purée provides to this rainbow salad it's the perfect way to soothe our winter bodies all while letting us load up on tons of antioxidants, protein, enzymes and other goodies. Try to make an effort to find or sprout your own garlic sprouts, they really add something extra to this dish. When preparing the (organic and non GMO, please!) potatoes, make sure not to use any that has greenish skin/flesh as it's poisonous.
Colour Craze Salad
2 fennel bulbs
10 small chioggia beets (or other variety)
1 whole garlic
2 large handfuls garlic sprouts
5 kale leaves
pinch of good quality salt
a few fresh rosemary leaves for decoration
1. Preheat the oven to 185°C / 365°F
2. Quarter the fennel bulbs, halve the garlic (skin on) and add these along with the whole beets onto a lined baking sheet. Before you put it all in the oven, wrap the potatoes that you'll use for the blue potato purée (below) in tinfoil and add them too. Bake for 40 minutes or until the potatoes are ready. 
3. Rinse and de-stalk the kale, tear it up in smaller pieces and massage it (in a bowl) with the salt using your hands until soft.
4. Grab a beautiful bowl, halve the beets, press out the cloves of garlic and add this to the bowl along with the fennel, massaged kale, rinsed sprouts and the fresh rosemary leaves. Serve with a dollop of potato pureé on each plate OR toss the salad in the bowl with the purée. 
Blue Potato Purée
2 large Blue potatoes (450g)
1 handful fresh rosemary leaves
1 cup plant-based milk of choice
1/4 tsp good quality salt
1/2 tsp freshly cracked black pepper
1. Heat up milk, minced garlic, rosemary, salt and pepper in a saucepan on medium heat.
2. Oven bake the potatoes (instructions in recipe above). Once cooked, add them – skin on – to a high speed blender (immersion blander or food processor works too but it might not get super smooth) along with the warm milk blend. Blend until velvety soft and creamy. Done!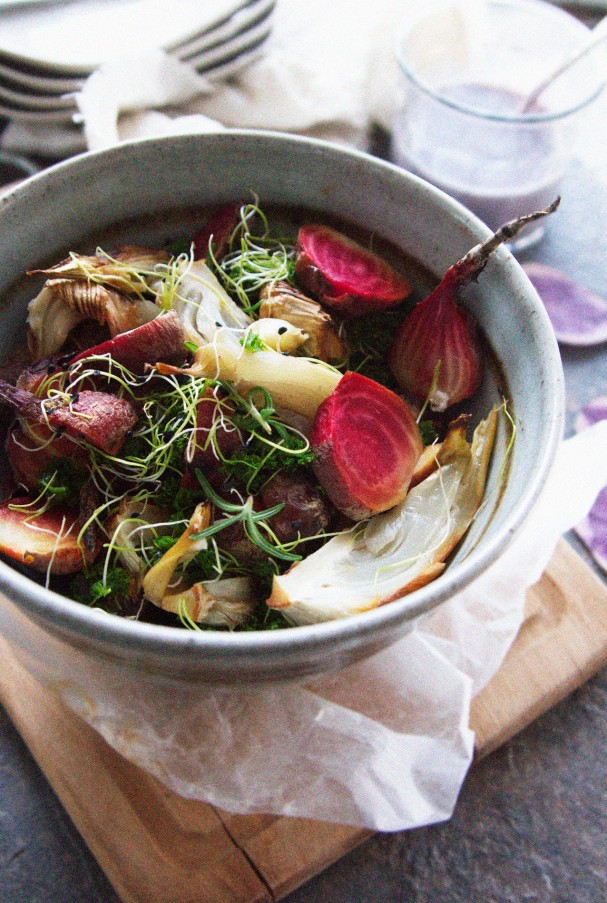 Now. I better go put this grey sweater in the box of clothes to swap/donate and instead put on something.. crazy!
What do you say? Can fashion be spirited in your mind? How? I think it's a huge topic. We have the opportunity to change the world of fashion into something fare, honest, real and good. In fact. We have to.
All colorful love and Greenylicousness
°°Elenore°°
……………………………………………………………………………………………….
Ps. Have you met the ever so amazing Rachel McDonald over at In Spaces Between (speaking of clothes, this lady sports a lot of amazing high vibe outfits, let me tell you). Anyhow, Rachel is one of those woman that I am ecstatic to have in my little atmosphere and even though we haven't (yet) met in real life I just love her to bits. She is a passionate fueld business, life and blog coach (have a peek at her new course Bright-Eyed & Blog-Hearted) and she did a huge interview with me a few weeks back. So if you feel like diving deeper into my Earthsprouty world, all laced with Rachels love and gloriousness (and sexy design) hop over HERE.