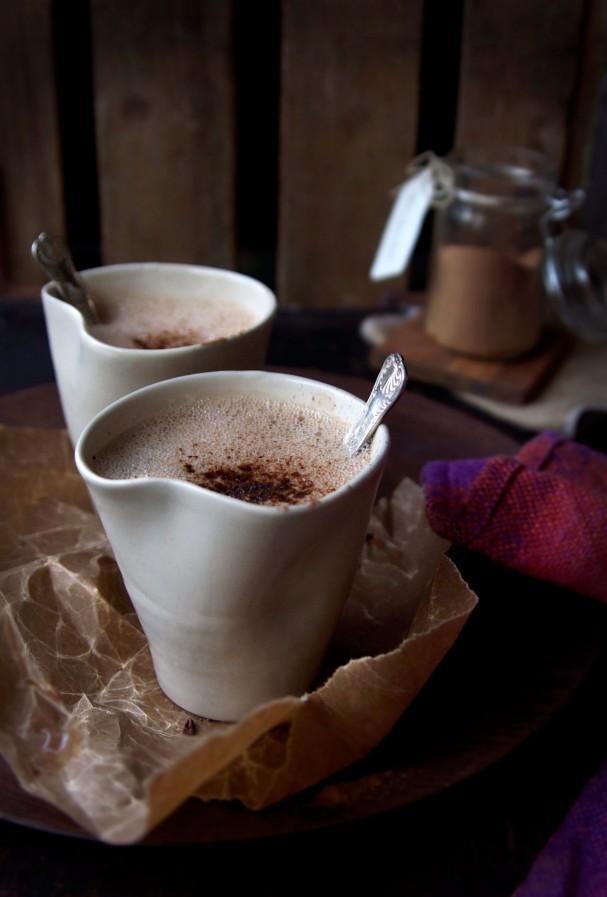 There are few things are sacred to me. Starting a fire on a Sunday, wrapping myself up in a blanket, watching the snow fall outside the big windows of our home all whilst holding a big (sorry, huge!) cup of something warm in my hands are one of them. This is also sort of the epitome of Swedish winter (minus the fact that the actual snow can be a rarity) and the two goes together like Pocahontas + talking trees / Live concerts + euphoria / Hot milk + chocolate. Because let's not fool ourselves here, tea might be all kinds of wonderful but sometimes a girl just needs something more to feel completely satisfied. Sometimes all a girl really need is a steamy cup of rock'n roll hotness so tasty one might tip over. Yup, we're still talking drinks. We're talking Hot Chocolate! ..and not just any kind of hot chocolate, it's time for some medicinal magic, my friends. Something to love and savor all while it makes our cells and bodys both heal and party at the same time.  If you walked by our house on that wintery Sunday morning you'd probably not only see me in front of the fireplace, you'd also be able to spy Fabian standing by the stove. Caspian on one arm, a whisk in the other all while singing some silly made up song to entertain the particular someone on his arm. To tell you the truth, I'm not the hot chocolate whiz in our house, Fabian is (he should've probably been the one writing this..) but after he's worked his chocolate magic I come over and add a tiny truckload of superfoods in my cup (and he'll add a tiny truckload of honey in his). Obviously this is very inconvenient as I have to leave my personal cosy town on the couch. This is why I, a while back decided to make the whole superfood-procedure easier by pre-combining all of the ingredients in a jar. You know, cause Sunday mornings are supposed to be super slow and this way I can stay put on the couch and get the medicinal hot chocolate magic that I love. Taa-daa!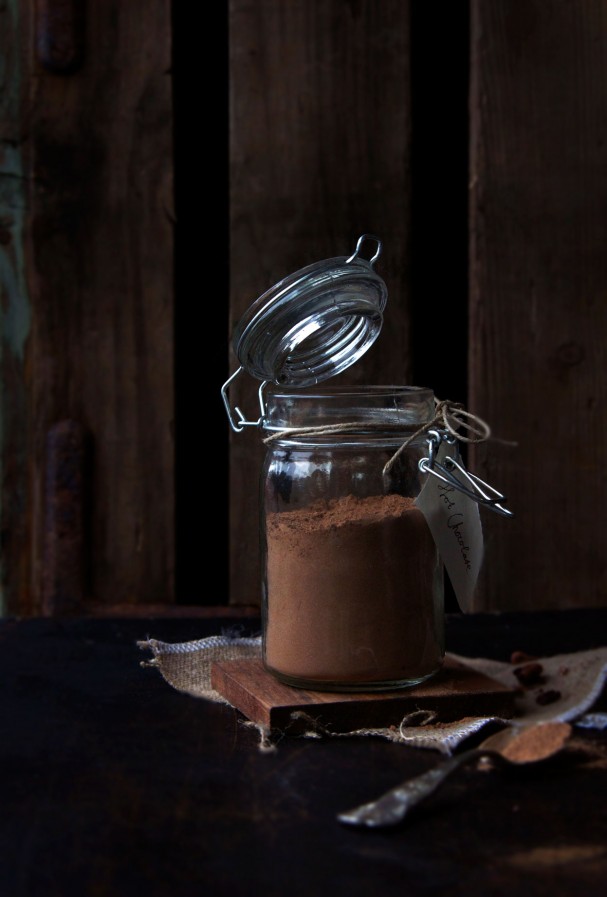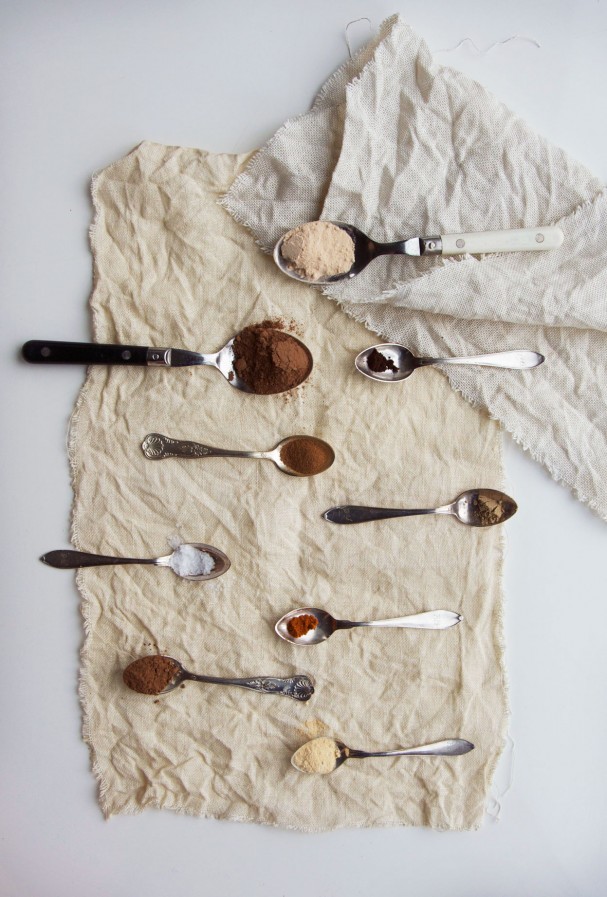 Fun & Fabulous Facts
Over the centuries food as medicine and the sacred connection to the earth has lost it's glamour (pretty much the point of Earthsprout to bring it back) and one sacred and very much loved edible have been (and is!) the Lucuma fruit. Lucuma (Lucuma obovata) is a spectacular fruit known as the 'Gold of the Incas' (obviously awesome to pair with raw cacao then..) but since I've never actually been able to lay my hands on a fresh fruit I've been loving the raw Lucuma powder -in the top spoon up there- for many years now. What it tastes like? Imagine nuts, yoghurt, maple syrup, salt and cream at the same time – that's Lucuma! Sounds like a total indulgence, right? Well, Lucuma is not only a total flavor fest, it is a magical medicine too!  As humans we are programmed to look for sweetness in the things we eat. As Lucuma is low on the glycemic index scale it's a great way to get the desired sweet touch without the downsides of refined sugar, artificial sweeteners, crazy glucose and even fructose kicks. Meaning Lucuma is a safe sweetheart to fuel our lives with (even for diabetics!). The Lucuma powder in this medicinal and sacred Hot Chocolate Mix recipe adds so much sweetness that I don't feel the need to add any honey/maple/other. And while we're indulging we will get a good amount of Zink (supports reproductive health and fertility in both men and women), B3 (Niacin = great for vegans) and a load of anti-inflammatory beta-carotene. In a recent report by the state university or New Jersey you can read the following: "Lucuma powder not only stimulates wound closure and tissue regeneration, it also affords anti-inflammatory, anti-aging and skin-repair benefits for our skin". All this thanks to that important beta-carotene that converts into vitamin A in our bodies where it supports and encourages cell repair and growth, visibly improves skin tone and reduces fine lines and wrinkles. The sacredness of Lucuma not only show's itself in the nutritional value, in ancient Peru it was also a symbol of fertility and creation (how amazing is that!?) and carvings of Lucuma have been found on ceramics during archaeological excavations. And of course the Lucuma fruit very much resembles a woman's breast. Have a lil' google search and you'll see what I mean..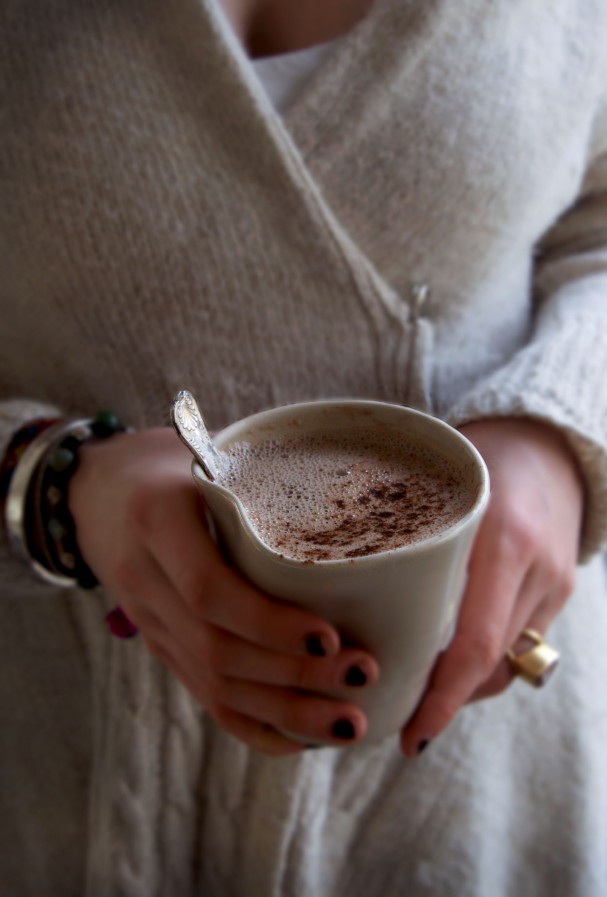 Medicinal Hot Chocolate Mix
This is hot chocolate that grew up and found it's ancient medicinal roots. It is a hot chocolate that left it's rebellious teenage years of refined sugar, cheap dairy and marshmallows behind. If you don't feel like going superfood bananas, simply omit those ingredients and go for a basic version of cacao/vanilla/cayenne/cardamom/cinnamon. A blondie  (without cacao) version of this drink is also divine. Please use milk as liquid and reserve water for making tea – calorie counting does not belong here. Oat milk, cashew milk and almond milk are my go-to's here.
Medicinal Hot Chocolate Mix
6 tbsp raw cacao powder
2 tbsp lucuma powder
2 tbsp carob powder
2 tsp maca powder
1 1/2 tsp cinnamon
1 tsp cardamom
1/2 tsp pure ground vanilla powder
1/4 tsp good quality salt like himalayan pink salt or celtic sea salt
For two steamy servings of hot chocolate
2 tbsp Medicinal Hot Chocolate Mix
2.5 cup milk of choice
Note: I think the result is sweet enough on it's own but you can add some coconut sugar/honey/stevia concentrate or other if desired.
1. Add milk and the 2 tbsp of dry mix to a saucepan, heat gently until lukewarm if you want to keep as much of the nutritional ka-pow as possible. Add sweetener of choice if you wish. Serve with an extra dust of cacao powder. Enjoy and stay warm, honeys!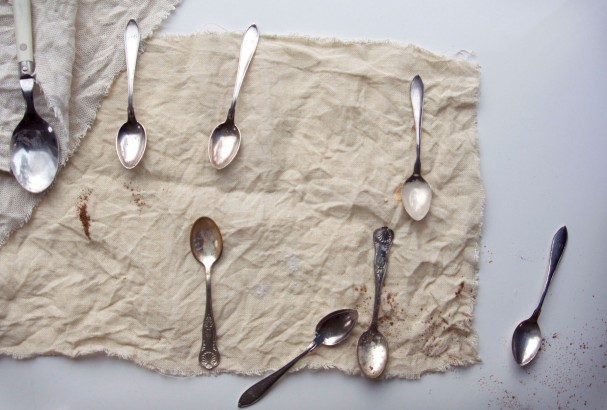 What is Sacred Indulgence for You? Let's hear it in the comments below! Sharing is pretty damn special and indeed sacred too.
Huge hugs from the snowy Swedish mountains and a body soar from skiing. That medicinal cuppa hot chocolate looks pretty good right about now in a world where hot chocolate equals crazy sugary hot cocoa. Now, why didn't I bring the mix..!?
°°Elenore°° + a sleeping Caspian