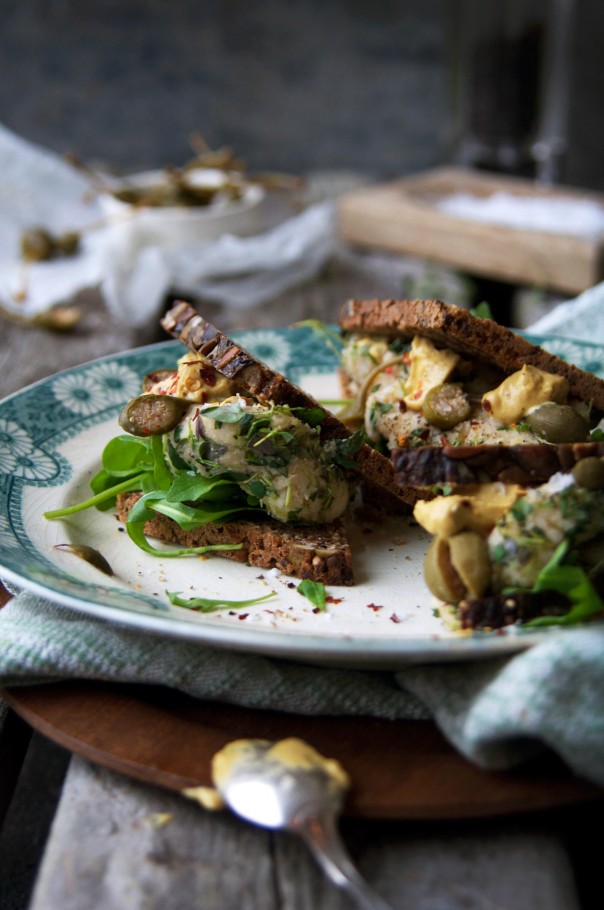 It's been a rough week. A week where it's been hard to keep my head above the water, to see with those eyes that I usually see the world and to be slightly more enthusiastic about life then a zombie (or a human in a zombie apocalypse).. It's funny that the most incredible peek moments this week has had revolves around little Caspian (of course. He's just too darn cute not to be the reason). But goodness gracious, sleep deprivation turned me inside out these past days as he suddenly decided that 1.30 in the morning was a good time to fall asleep. As I'm writing this I'm amazed of the sensation of not feeling like I want to bang my head agains the wall and faint because that would sorta be sleeping. Yes. That kind of week.
In other words, I've enjoyed plenty of awesome-stuff-on-toast kinda meals. Luckily for me I shot this fancy pants Provencale Celeriac Paté last Sunday and it has seen me through many days of zombie-ness. This baby + mustard + capers + some leafy greens + danish rye bread (because no one really know how to make rye bread like the danes) proved to be a real winner. And when I was out of toast, well.. let's just say this; the Provencale Paté can save lives even when it's simply sliced up and eaten with a fork right out of the fridge. That's how little energy I've had and that's how good it is.
How I made my way from zombie-mood to, well, myself? As Friday afternoon rolled in and I found myself trying to fall asleep in my little brothers bed of all places, I found his "The Secret for teenagers" thought, why the heck not, flickered through it and was brought back by remembering gratitude. Because however insane things get, Caspian still laugh when I tickle him, banana ice cream exists, the snow falls and make our world bright, we're healthy, I get to connect with you guys.. and I love Fabian like a nutty 14 year old.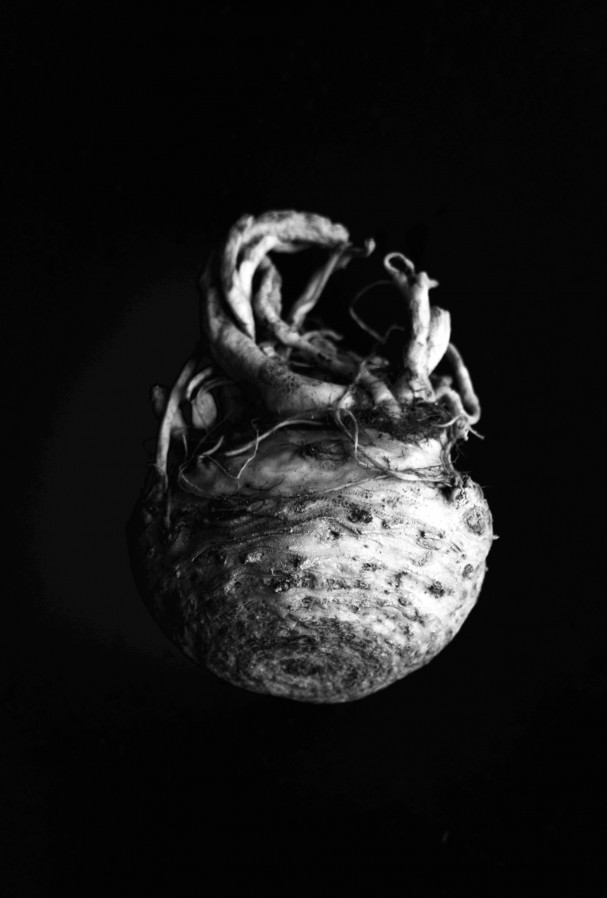 Fun & Fabulous Facts
As I edited these pictures last night right in the middle of the kitchen and dinner makin' both my big sister and Fabian passed the computer screen saying how the celeriac looked really beautiful.. but sort of like an alien or the crazy baby of an alien. Even though that might be true I'd still take a real earthy celeriac/alien look-alike over some pre-packed stuff with actual alien ingredients any day. I know that root up there might look a bit intimidating but I'm telling you, under the dirt and weird peel celeriac hides a plethora of pretty amazing stuff. First of all, it's in season! In the middle of this nordic darkness and what seems like zero fresh harvest, there comes the celeriac in all it's versatility. It tastes completely amazing raw so why not try a celeriac slaw of some kind? Then there is puréed celeriac or celeriac in soups or stews – divine creaminess (and no potatoes needed). And now a celeriac paté! Whichever root (ahem, sorry – route) you choose to embark on, celery is your friend.  
I'm certainly not one to count the load of calories/starch but if you are looking to keep your weight down then mashed celery might be a better option then mashed potatoes. However, celery is so not only a "weight-watcher", it also serves you with incredible amounts of fiber thus balancing blood sugar, keeping your digestive system healthy and smoothly running (awkward to talk about but insanely important) and it leaves you feeling full and satisfied after eating it. Less known is that celeriac has been used for centuries to keep high blood pressure down (and safe to use if one has high good pressure during pregnancy).
Celeriac also has a lot of the interesting Vitamin K which in very important for good bone and blood health. Vitamin K is a fat soluble vitamin so when you eat celeriac, make sure to pair it with some kind of good fat. In this recipe I got it covered with ghee/virgin coconut oil.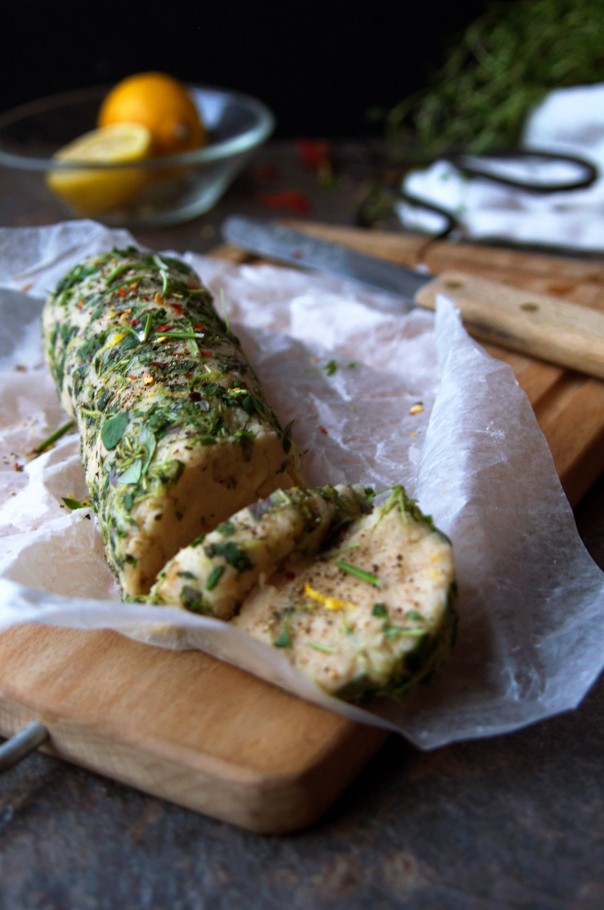 Provencale Celeriac Paté Sandwich
This is not just any ol' veggie/bean hummus rolled up in herbs and spices. The Provencale Celeriac Paté miraculously firms up in the fridge after just a few hours and turns into a superb slice-able (and non crumbly!) paté. I chose to season it in this particular french inspired way because I think it pairs well with the celeriac but why not roll it in other spice blends like za'atar or dukkah!? Have fun!
Paté
1 celeriac (when peeled & diced it measures 350g/3.5 cup)
350g/2.5 heaping cup cooked large white beans
1 lemon, the zest (organic!)
1/2 tsp freshly cracked black pepper
1 clove garlic, minced
a pinch good quality salt
1/2 tsp ground nutmeg
1 tbsp ghee/virgin coconut oil
To roll the paté in
1 handful fresh thyme
1 tbsp rosemary leaves
1 tsp chili flakes
1. To prepare celeriac rinse the root then use a sharp pairing knife to peel and cut it (sort of a chunky dice). Bring water to a boil in a saucepan, add celeriac to a steamer and steam on high heat for 5 minutes or until you can easily stick a the knife into one of the celeriac cubes.
2. Add rinsed beans, minced garlic, ghee/coconut oil, salt, pepper, lemon zest and nutmeg to a bowl. Add celeriac once cooked and blend using a immersion blender until you have a slightly chunky mash.
3. Put a large square of cling foil onto your cutting board, spoon up the mash and roll it up into (and with the help of) the cling foil. It should be firmly rolled otherwise the paté might end up difficult to slice.
4. Unwrap the cling foil, sprinkle fresh thyme, fresh rosemary and chili flakes all over the paté and roll it in the herbs and spices until it's fully covered. Wrap up into the cling foil again and refrigerate for at least 2 hours.
5. Now the paté has set and ready to be sliced up for the sandwiches.
To make the sandwiches
leafy greens (I went with arugula)
big capers
dijon mustard
salt flakes
additional chili flakes if desired
Arrange
Slice up your dark bread of choice, add a small handful arugula, a few paté slices, mustard, capers and some salt and chili flakes. Eat and savor the earthy, deep, spicy and full of hope that spring is around the corner-flavor. Ps. A napkin might come in handy.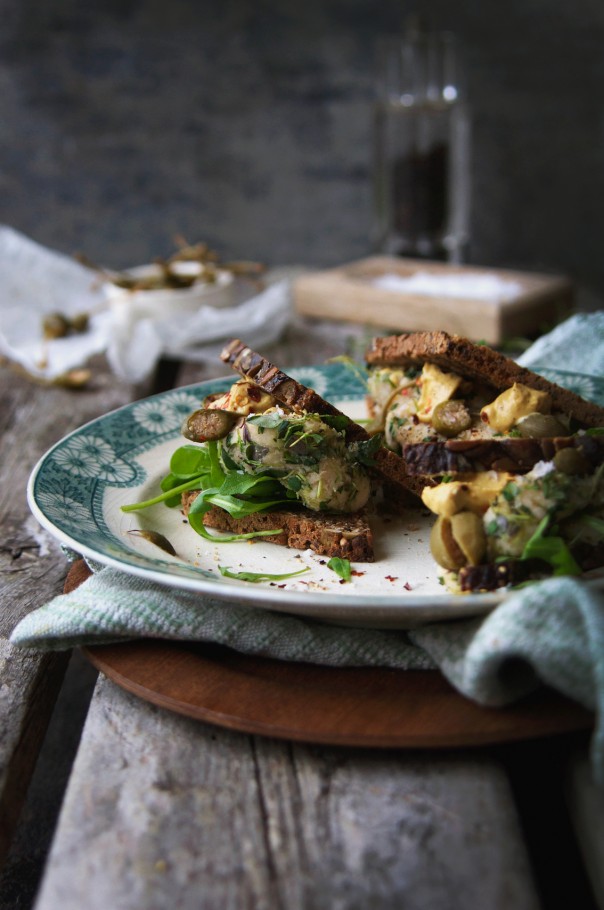 ..So thank goodness for the G-spot (gratitude that is) and awesome stuff to put on toast – you saved my week and I love you for it. Even though I'm hoping that this sleeping phase of Caspians is so over, I'm curious – what sees You through rough days?
Can we let our amazing brains

 collide in the comments below to make sort of a care package for those zombie feel-y days (

which

, let's face it pops up from time to time)?
The sun is out again and I'm off to enjoy the snow. Until next time – you are incroyable!
°°Elenore°°