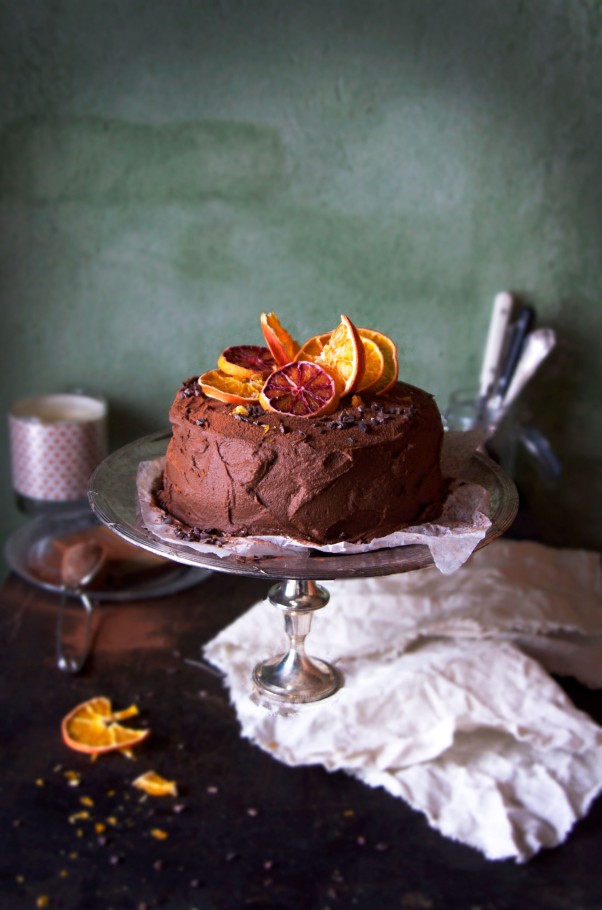 In two hours I'll turn a quarter of a century. How's that for an opening line? In two hours I will have breathed the air of this atmosphere -in this now- for 25 years and you know what? It feels damn fine.
We (even I!) have a habit of measuring knowledge and wisdom in years and I feel like my age in years is finally catching up on my real age. It feels good, sort of safe. To tell you the truth, every 10th of February for the last few years I've been relieved. Relieved that when people ask how old I am and I respond, I'll be a little less strange. A little less too young to be doing what I'm doing and unapologetically being who I am. I feel a bit stupid for saying this because another side of the story is that I've always been deeply happy and also proud that I have known where I stand for a very long time. However.. when I flicker through old journals, I'm not entirely sure that I'm getting any wiser. Kidding. Sort of. :)
Oh well, enough of that. When can we talk about the ridiculous I-want-to-bury-my-freaking-face-in-it Cake?! Well, let me start by saying that this year round I so not felt like making a raw food cake for my B-day. Nope I wanted an over the top real life baked cake (gasp!). I wanted something that resembled the wildest cake fantasies of the lil' kiddo in me (I guess that's me revolting against the new grown up mama role). Even though this may be my "I'm turning a quarter of a century and I' sort of growing up-cake" I feel like the 5 year old Elenore in me still got a substantial amount of kiddo cake ridiculousness. Thank goodness. I think we all need our fare share (ahem, abundance) of the "it feels a bit nutty but I'll do it anyhow"-things-. Like whimsical forest frolicking, singing some Westlife-song at the top of your lungs in the shower (?!) or making that crazy-town moist, rich and decadent chocolate cake of your dreams that you saw on Earthsprout.
Since this is a special occasion and I'm in the silly play time mode, I am not doing the regular full article with the Fun & Fabulous Facts section this week. Because, first of all it's my birthday and second of all you can feel rather safe with this cake, it's still worlds away from a regular tired old refined sugar/trans fats/preservatives heavy cake (I mean, this baby has vegetables in it!). The wisest thing we can do this day is a.) drool at the sight of these pictures b.) make the cake. Important though: Put on your polka dot apron and a flipped out playlist. It's time to be a little bit ridiculous.
..and do try not to eat all of the ganache before you spread it onto the cake. It will really effing hard but please try.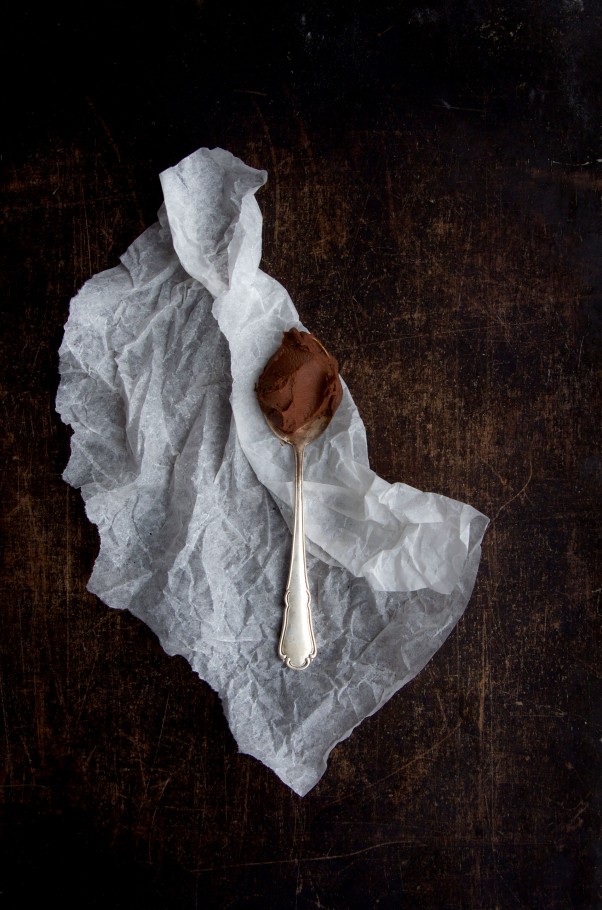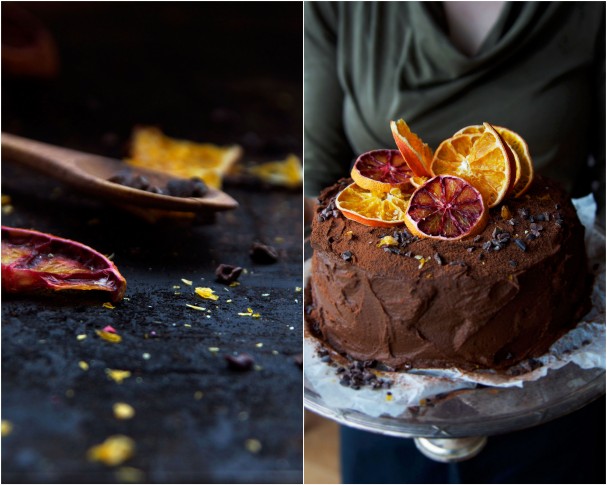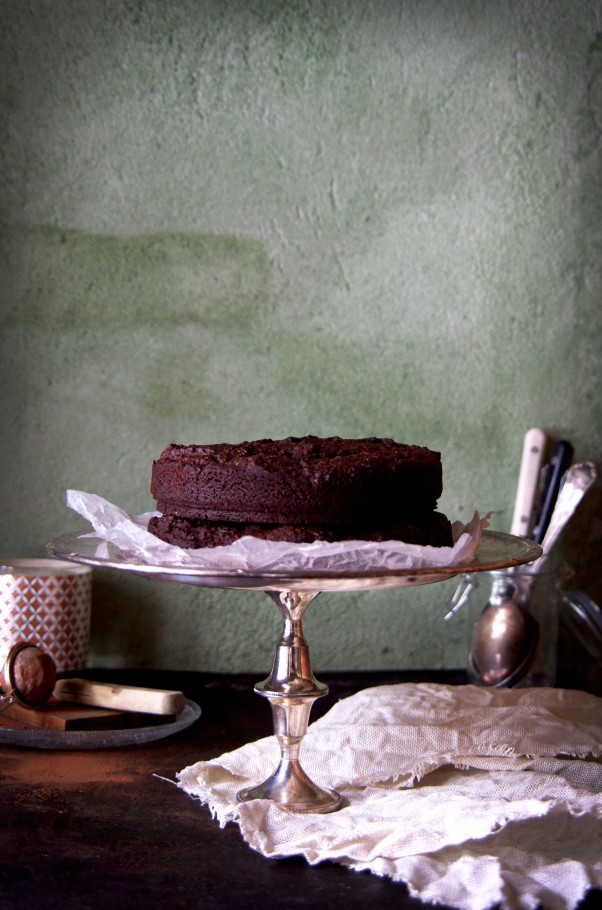 Chocolate Orange Cake w Sweet Potato Ganache
Healthy ingredients combine to make this almost sinfully tasty cake. The chocolate cake tastes amazing on it's own (maybe with fruits/berries!) but here the Creamy Sweet Potato Ganache goes ahead and makes it even better/richer/more fabulous. I use roasted cacao powder here (organic of course) because I wanted the deep notes of it but you can of course use raw cacao powder, the end result will simply be a bit more light and fruity. The date syrup/molasses also adds to the richness of the cake and I highly recommend getting a jar of that. Otherwise maple syrup/rice malt syrup/barley syrup/honey will work perfectly fine.
Chocolate Orange Cake
Serves 8-12
Dry ingredients
1 1/2 cup almond flour
1 cup light spelt flour
2 tbsp chia seeds
2/3 cup real cacao powder (not cocoa powder!)
1/2 cup coconut sugar
1 tsp baking soda
1 tsp baking powder
1/4 tsp real vanilla powder (ground whole bean)
a pinch of good quality salt
Wet ingredients
5 tbsp date syrup
4 tbsp plant based milk of choice
6 tbsp virgin olive oil (or virgin coconut oil)
1 tbsp apple cider vinegar
2 1/2 cup sweet potato, cubed (around 3 small/1 1/2 big sweet potato)
2 organic oranges, the zest
1. Preheat the oven to 175°C / 375°F
2. Thoroughly mix all dry ingredients in a large bowl using a wisk, set aside
3. Peel and cube the sweet potatoes (preferably prepare and steam the sweet potatoes for the ganache at the same time). In a steaming basket over boiling water this will take sometime between 4-8 minutes depending on the potato and the size of the cubes. The cubes are ready when you can easily stick a knife all the way though. Set aside. Take 2 1/2 cups of the sweet potato cubes and add to a blender, save the rest of the sweet potatoes for the ganache.
4. Add all other wet ingredients to the blender and blend until really smooth. Carefully fold wet ingredients into the bowl of dry ingredients using a wooden spoon or the like.
5. Grease two 7″ spring form baking pans/regular baking pans, divide chocolate cake batter in two and add to the spring forms. Bake until a toothpick inserted in the center comes out clean (which took 40 minutes on all of our tries). Remove cakes from baking pans and put on a cooling rack while you prepare the ganache.

Sweet Potato Ganache
3 cup sweet potato, cubed (around 3 small/1 1/2 big sweet potato)
5 tbsp real cacao powder (not cocoa powder!)
1/2 tsp real vanilla powder (ground whole bean)
6 tbsp date syrup
5 tbsp virgin coconut oil
a pinch of good quality salt
1. Take the rest of the steamed sweet potato that you prepared when making the cake batter and add to a high speed blender (immersion blender will work just fine).
2. Carefully melt the virgin coconut oil in a hot water bath, add to the blender with the rest of the ingredients for the ganache. Blend until really smooth. Refrigerate for at least 1 hour to set.
To serve
1 tbsp cacao nibs
1 tsp cacao powder
10 dried orange slices (make sure they are organic /dehydrate your own)
Arrange
Using a rubber spatula, spread a generous amount of ganache onto to top of one of the cakes then sprinkle a handful of orange "glass" pieces over it. Add the other cake layer and cover the entire cake in the rest of the ganache. Upon serving, dust the cake with cacao powder, add a sprinkle of cacao nibs and 5-ish slices of dried oranges. Enjoy!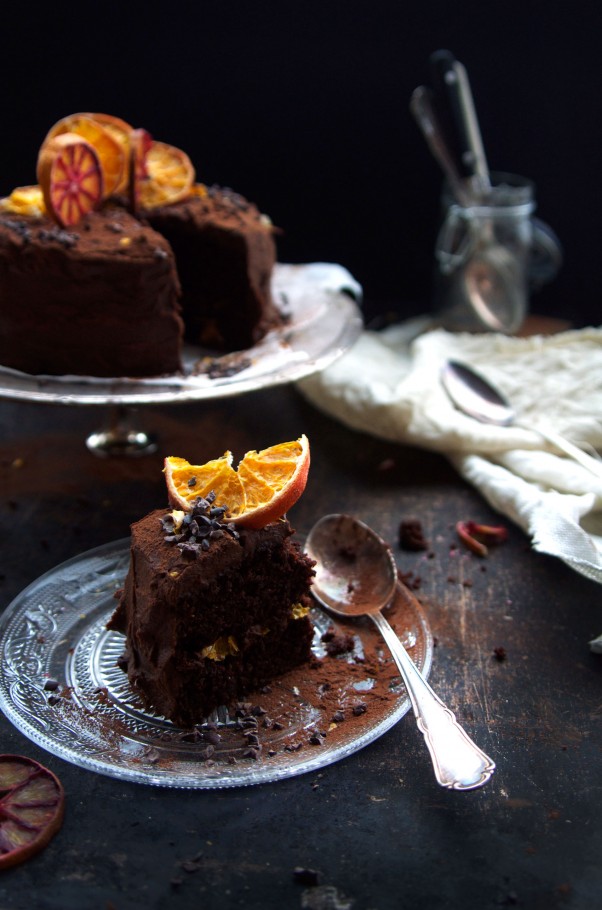 Even tough I miss a good layer of snow, I'm planning to have a miraculously ridiculous birthday with my little family and I fully believe 25 will rock my world. I hope you'll join me for the ride!
Thank You for being here and for being a loved and important part of the Earthsprout tribe. Now. Let's go be  silly, shall we?!
°°Elenore°°