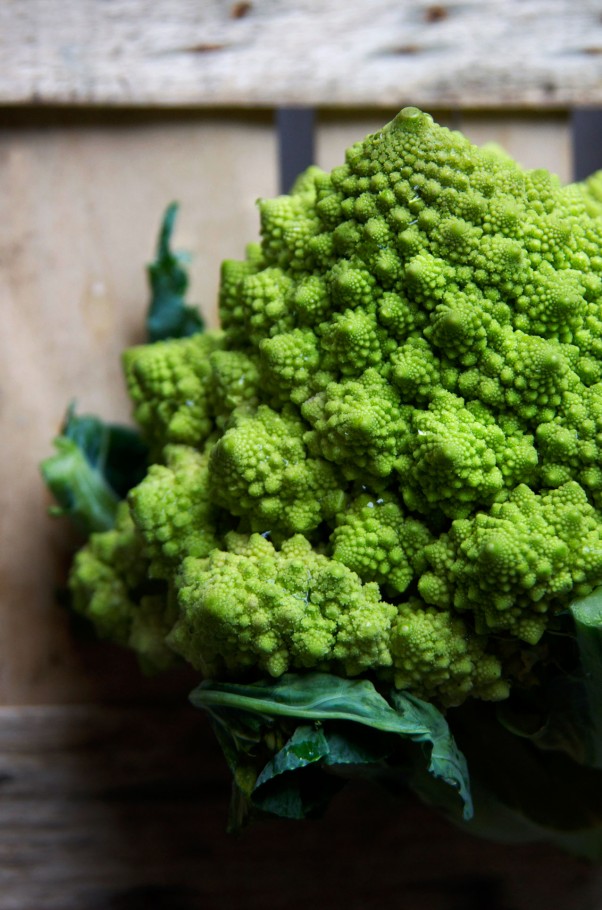 I'm just going to say this once (and then regret saying it). Ok, here it goes: never let me into a supermarket/grocery store/health food store/ market with your master card or money. Or you know, please do. No one would probably ever think of labeling me a shopaholic but I have to admit that when it comes to food I can go a bit crazy and find perfectly reasonable reasons (hello, one have to eat..) for spending a tad too many bucks on edibles. I have had a weird flair for grocery shopping ever since I fell in love with great food/nutrition/gardening some 6-ish years ago (is it really that long?!). I could honestly spend hour after hour strolling the aisles of a good store, reading labels, admiring great packaging design, finding new friends to take home (no, not human ones) and greeting the gorgeous beings hanging out in the vegetable/fruit section (not human either). I mean, would you be able to pass an organic Romanesco like this and hold back a "Hello, Beautiful!" while being totally in awe.
The ironic part is that Fabian, me and Caspian live in the teenziest village on the Swedish south coast which means that we can't just go for a stroll and find good quality organic produce of all sorts and variations. Finding food that meets our wishes takes a lot of planning especially during wintertime when the garden isn't overflowing with gifts. It's something I'm totally used to and fine with but imagine my surprise and delight when I visited our local mini supermarket a couple of weeks back and stepped straight into organic heaven(!) Ever since we moved here one year ago I've kept on lovingly suggesting they'd order some of the most basic organic stuff and so suddenly.. Right there in front of my eyes – cauliflower, cress, fresh ginger, beets in all variations, parsnips, carrots, passionfruit, kiwi, grapefruit, fresh turmeric, blood oranges, apples, salsify, mango, lime, leafy greens of all sorts, sweet potatoes, bananas and even Romanesco! I seriously felt like I was hallucinating but then I remembered I hadn't sprinkled hemp seeds on my breakfast that morning, phew! This was obviously real life beautiful organic food some of which I'd have a truly hard time finding even if I'd go into Malmö and visit four different stores. I hugged the storeowner, she was all smiles and ever since I might have spent a little more on food then I regularly do. A day. Ahem.. But then again, someone has to support their bravery to stock up on organic produce in the middle of the winter in a village that sort of only lives during summertime. A perfectly reasonable reason to buy food, I'm telling you. Also, taking Caspian for a little walk only to let him get to know wonders like Romanesco is pretty priceless.

Ps. Only kidding, hemp seeds won't get you high. If so, then only on sensational nutrients.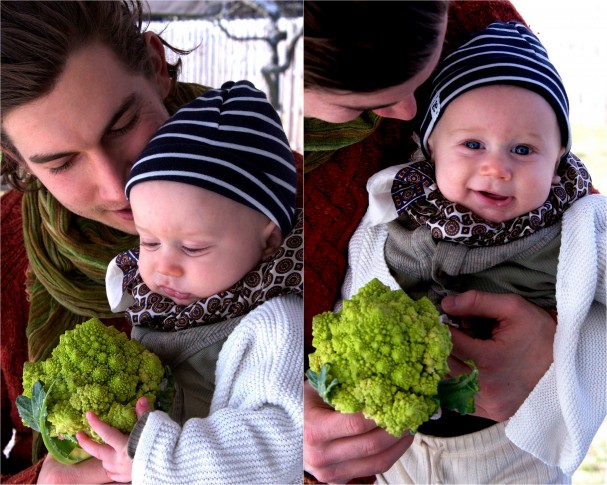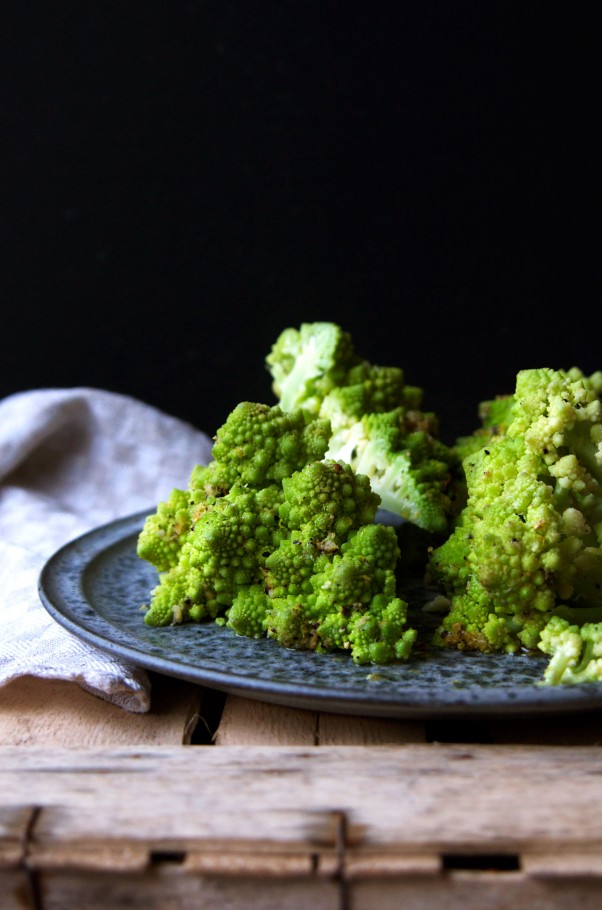 Fun & Fabulous Facts
While spring sure is around the corner I still need warm hearty meals to keep grounded and well, warm. The steaming basket is probably the most used item in our kitchen these days and provides our bodies with cooked and nutrition-packed foods. By gently steaming the Romanesco you'll keep as much as possible of the vitamins and minerals not loosing them to cooking water or a very hot oven. To preserve as much of the nutritional love of this amazing brassica as possible we could of course also break it into small bouquets and massage it (to make it easier on the digestive system) but let's save that for summer, shall we? 
So what is it that's so rocking about Romanesco, it's obvious bold Lady Gaga-ness set aside? Well all Brassica vegetables (like turnip, broccoli, cauliflower, kale..) are recommended in general for cancer prevention. Then we have it's amazingly high sulphur content which works as an antibiotic. Just like Broccoli, Romanesco has a remarkable Vitamin C content, supporting our immune system and meaning this darling is kind of great to incorporate in our meals during these sniffy months of winter/spring confusion. But honestly, I don't need any of those reasons to enjoy and savor something that is  so remarkably sacred, sexy and show-stoppingly beautiful as a Romanesco. Thank you mama earth for showing off.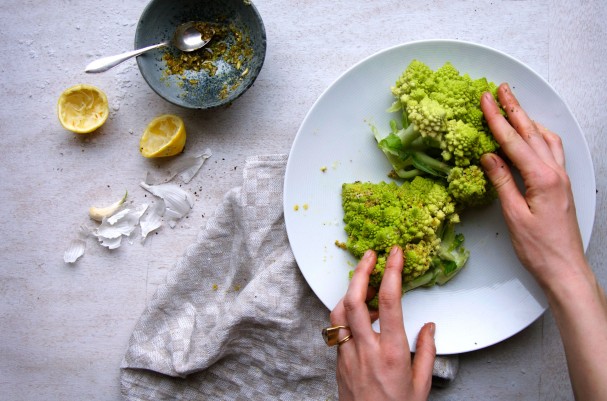 Garlicky Whole Steamed Romanesco
It took me a while to find my preferred way of eating Romanesco. I wanted something that honored and accentuated the incredible beauty and natural flavor of the Romanesco. While rubbing this vegetable with the garlicky mixture you'll not only enhance it's flavor but you can also really get in there and enjoy it's magnificence. I served it with steamy Quinoa packed with fresh herbs and some lightly toasted almonds. Simplicity rocks.
Garlicky Whole Steamed Romanesco
1 head Romanesco, quartered
1/2 tsp sea salt flakes
1/2 tsp freshly cracked black pepper
1 clove garlic, minced
1 organic lemon, the zest
1 tbsp virgin olive oil
1/2 nutritional yeast, optional
1. Add all ingredients for the garlicky rub in a small bowl, stir to combine with a spoon.
2. Rinse and quarter the Romanesco (save leaves and stem for stir fires, soups, juices, smoothies)
3. Rub the garlicky mixture all over the four pieces then place them gently in a steaming basket over boiling water and steam for 4-6 minutes. We want the Romanesco to still have some crispness to it and absolutely not be mushy.
Serving Suggestions
Fluffy cooked quinoa packed with fresh cilantro and parsley, some toasted almonds, a handful of sprouts + a drizzle of creamy tahini.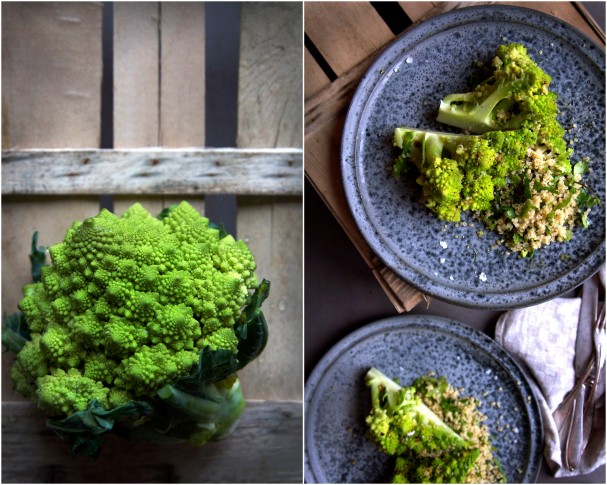 One day, we just might find ourselves in the total epicenter of our version of heaven. Organic food, traveling the world, writing a book, building a house, embarking on a fabulous sprited adventure or learning how to make raw chocolate. What ever floats your boat (wanna share in the comments?) Dream it, move towards it, meet it…and LIVE it!
°°Elenore°°