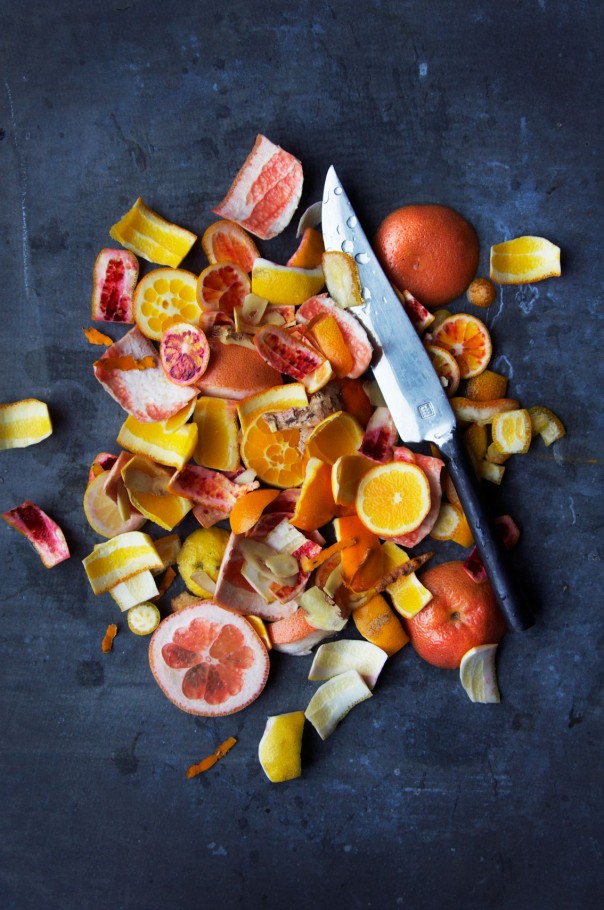 Let´s talk addictions, you in?
No, not the regular stuff like sugar. Or Dairy. Or boose. Not even chocolate or shopping.
Let's talk about Instagram. I feel so darn silly for saying it but I am an Instagram addict – which is why I decided to dig a little deeper and think about the why, for real. What is it that draws me to it? What is it that makes my thumb itch to slide across my Iphone screen to unlock it and then open the beige icon that sort of looks like a camera?
I got real serious (even though I smile while writing this) and completely outlined what it is I seem to get from scrolling, sharing, drooling, smiling and most of all loving the itty bitty pictures on my electronic device. Curiously enough, once I got down to the core of it all it sort of looked like the visions I carry for Earthsprout and my own life. I know, heavy stuff for discussing social media.
What I found? I thrive in a creative, sharing and beautiful atmosphere and wherever and whenever I find it, I lit up. With Instagram, I notice how those very powerful aspects combine. People that in a beautiful way truly share from a loving and inspired heart space what they have seen or made or learned, stir up something deep within. Something real and something that is greatly missed today. Close community connecting. The honest sharing and exchanging to bring forth good.  Inspired togetherness. That's it. 
How the heck I can get so deep talking about Instagram? But if I am obsessed, better find it's roots so that I can be nuttily in love in a good way. But honestly, togetherness seems to be my word for 2014. What's yours?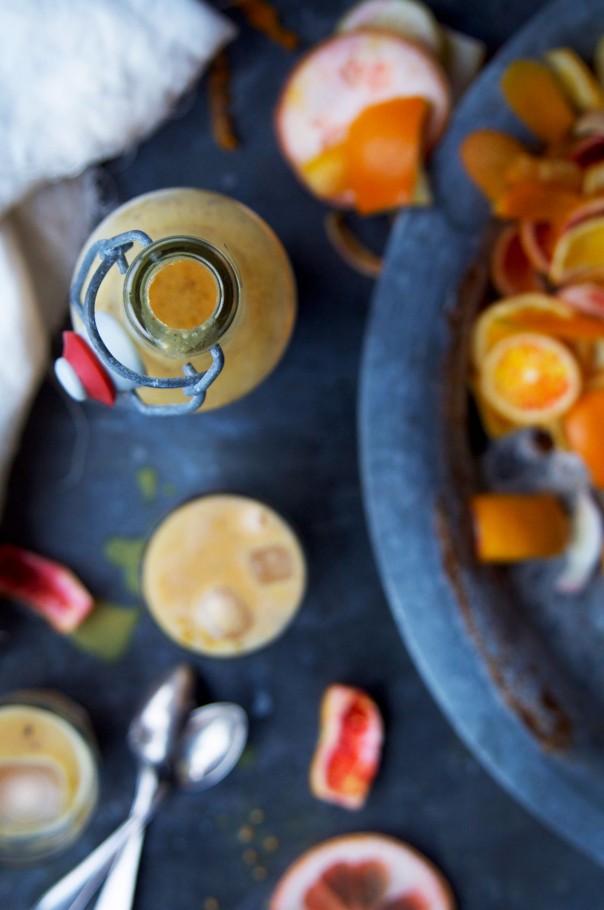 Fun & Fabulous Facts
I went all in this week and even invented a word for combining a juice and a smoothie (although I know doing just that is not something very new. I just have way to much fun playing with words). May I introduce the 'Sumie' and in this specific case, The Sun Salutation Sumie.
I don't know about you but I am craving sunshine these days. January in the south of Sweden can be enormously pretty and I love winter a lot but (major but) there is no snow around to light up the otherwise grey landscape and when the sun shows itself my entire being uncurl to soak up as much of it's warm goodness as possible. When the sun isn't around I turn to citrus fruits, celebrate the light in them and hope the sun hear my prayers and decide to grace us with more frequent visits (hence the name Sun Salutation Sumie if that wasn't already very obvious).
So if I say citrus fruits you say… Vitamin C, right? Connecting those two is something we've done for a very long time and rightly so (then came broccoli and sea-buckthorn and messed it all up, but that's another story). The Vitamin C, readily available for us in citrus fruits is a much discussed Vitamin and there is a lot of controversy around it. Some scientists say upping our intake of Vitamin C could solve almost all serious health issues and some still limit it to being rather good for preventing colds. Although it's something very obvious I want to talk a bit about just those immune boosting factors today. Did you know that if we and our bodies are under a lot of stress we use more Vitamin C and can easily get depleted? Vitamin C support the adrenal hormones that help us cope with stress and invisible inflammation (which in my mind is one and the same). So stressing about maybe getting the flu might not be a very good idea. What Vitamin C does in our gorgeous bod is stimulating the immune system and together with it's antioxidant function thus helping to prevent and treat both infections and other diseases.  By "it's antioxidant function" I mean that the C Vitamin actually help prevent oxidation of molecules that when oxidizing could otherwise create a bounty of free radicals which in turn can harm our cells and lead to disease. So load up on your Vitamin C, people! (Preferably in the form of this Sun Salutation Sumie). Also, I do encourage you to read up on this superhero Vitamin as I've only scratched the surface of it's powers today and I'm telling you, it's rather fascinating.
..and do you like both feeling and looking great? Vitamin C supports the maintenance and formation of collagen in our skin (can you say smooth and soft?) and help woulds heal, blood vessels stay healthy and all tissues flexible.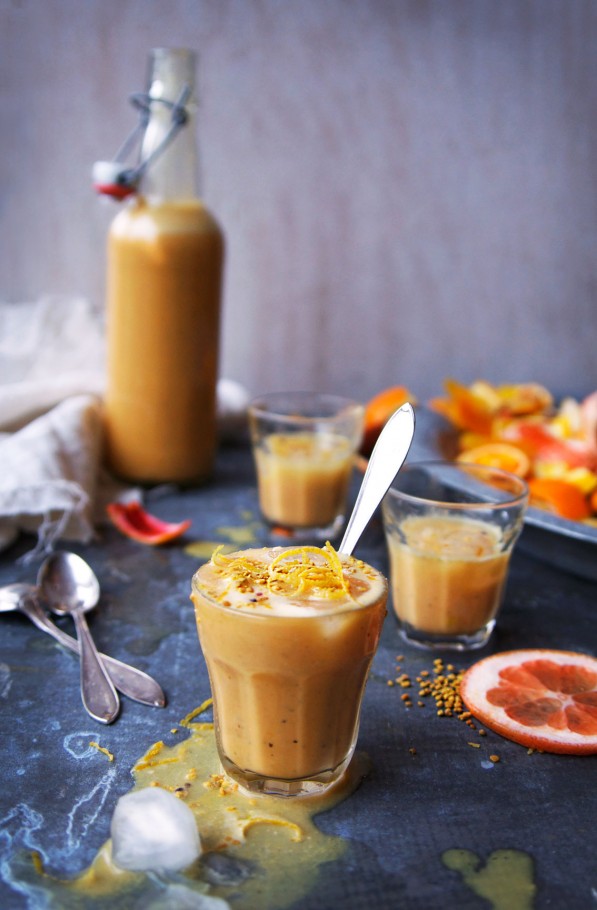 Sun Salutation Sumie
If a Smoothie and a Juice had a love child it's name would be Sumi. I love juicing gorgeous veggies then blending it up with superfoods and something to make it a bit thicker and milkshake-like. This Sumi meet my cravings for a sunny and very satisfying drink in the midst of winter. The turmeric, ginger and grapefruit explodes in my mouth while banana, vanilla and juicy oranges sweetens things up. Flavor fest!
2 large drinks
For the juice
2 blood oranges
2 oranges
1 red grapefruit
1 lemon
3 kumquats
1-2 knobs of ginger
2 fresh turmeric 'fingers'
Blend it up with
1 banana, peeled & frozen is divine
a pinch of pure ground vanilla
3 tbsp hemp hearts
10 sprouted almonds, peeled
For extra Vitamin C kick add
1 tsp rose hip powder
1/2 tsp camu camu
1. Peel citrus fruits and scrape off peel of ginger and turmeric with a spoon, cut up in smaller chunks and run through the juicer. Don't forget to taste this juice alone – it would wake up any zombie. Promise.
2. Add juice to a blender with banana, vanilla, almonds and hemp hearts (and optional extra superfood boosts). Blend until smooth and frothy.
3. Serve!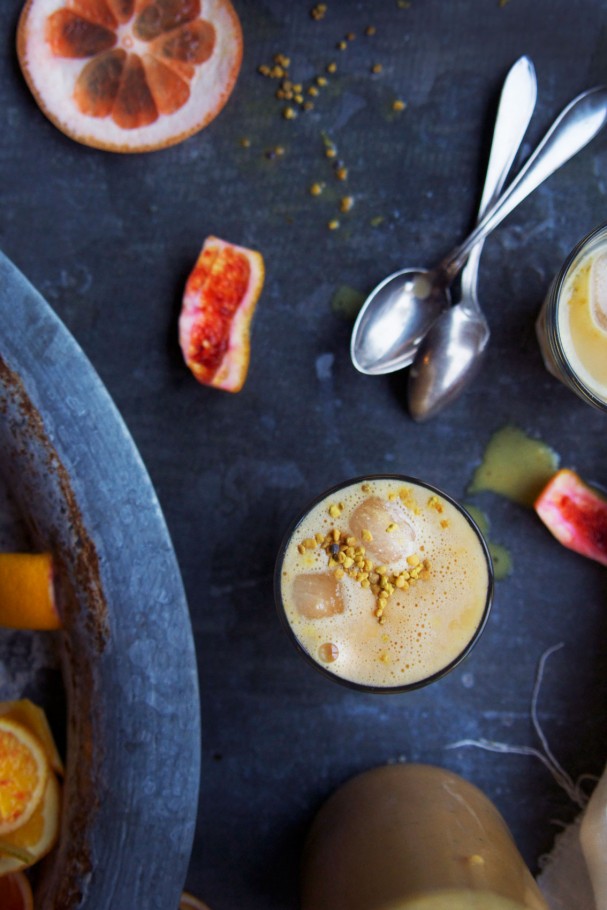 So if 'Togetherness' is the main focus for 2014 and inspired sharing and learning certainly is a big part of that then let me ask you this:
What do you wish to see (or see more of) on Earthsprout this year?

If you had a moment to pick my brain and soul what would you want to know?
Tell me in the comments below asap so we can make great things together. It's all I wish for!
Oh, and come share the rest of the Sun Salutation Sumi waiting in the fridge with me and Fabian (and Caspian, although indirect).
°°Elenore°°