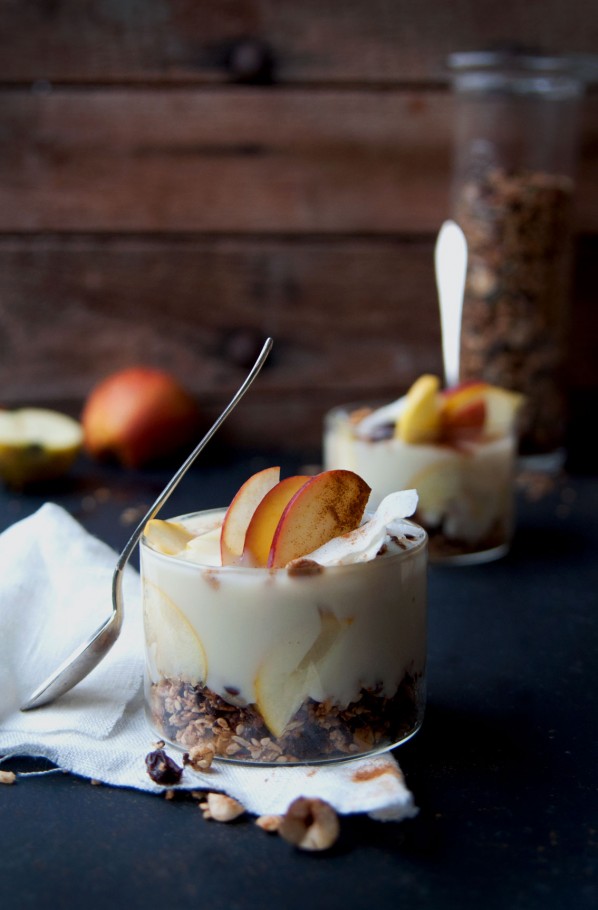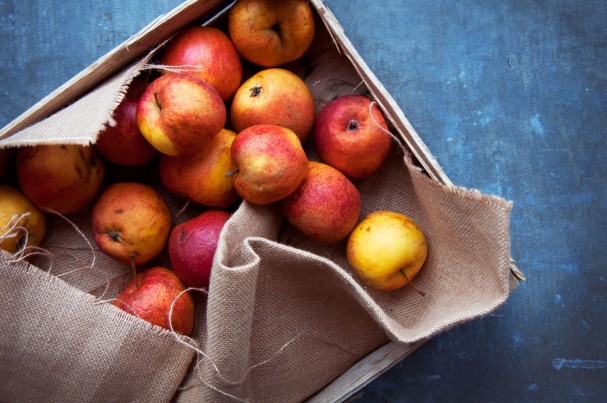 I didn't have any serious cravings during my pregnancy (..ok, if there were some kind of theme foods will have to be sourdough bread and omega berry bowls). When Caspian was born however all I wanted was to stuff my face with apple pie. Day and night, lots and lots of apple pie. I can't say Fabian is a big baker (even though apple crisp may be the easiest thing one can ever bake) but we were fortunate enough to receive truckloads of help and support from our family during my postpartum (and now, oh my goodness – now as well). I'll tell ya this; my mom is the one and only maker of killer yet super healthy apple crisps (other than being a total breastfeeding/hypnobirthing guru).
Although I'm incredibly grateful for all of the apple crisps (hells yeah!) that's not the reason I wrote "it takes a village" in the headline. I think we first said it the day after I gave birth to Caspian when my mom came with food and to give me acupuncture. Then there was this really late evening that I'll forever remember when we cried and laughed at the accuracy of that expression again. My little sister and brother (9 & 15 yrs old) made soup and warm milk with honey while my mom, myself and Fabian tried to help Caspian to latch on my overly milk filled breasts. This, all while I was crazy emotional & mental breakdown-y. I remember sitting there in front of the fireplace with tears streaming down my face not knowing how the heck I'd work this out. Even though I can't write this without having tears well up in my eyes, they aren't present because of remembering sadness or helplessness. It's because in all that helplessness and raw love I can also remember and feel my little brothers strong arms around me, Fabians light kisses on my forehead, Caspians tiny tiny hands and the smell of a right-out-of-the-oven fresh apple crisp. It takes a village to raise a child. If there is one truth I continue to learn, it's that.
Luckily Caspian was born during the harvest moon / fall equinox which means apples were abundant and apple crisps were easily whipped up. To preserve the flavor of these delicate moments of love I made some extremely easy unsweetened apple sauce of winter apples that I bought a couple of weeks back ago (!) and came up with.. wait for it.. a healthy Apple Pie Granola! Hello heaven..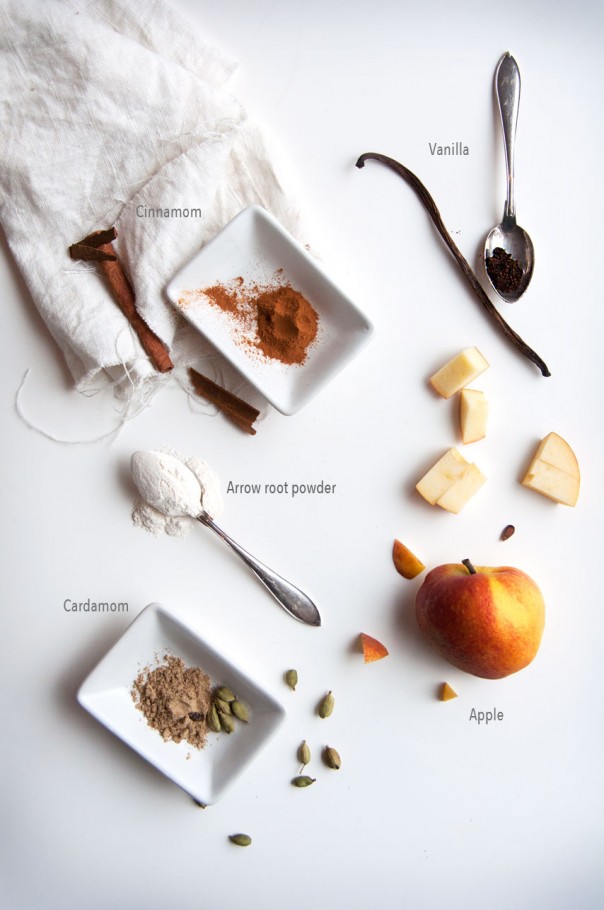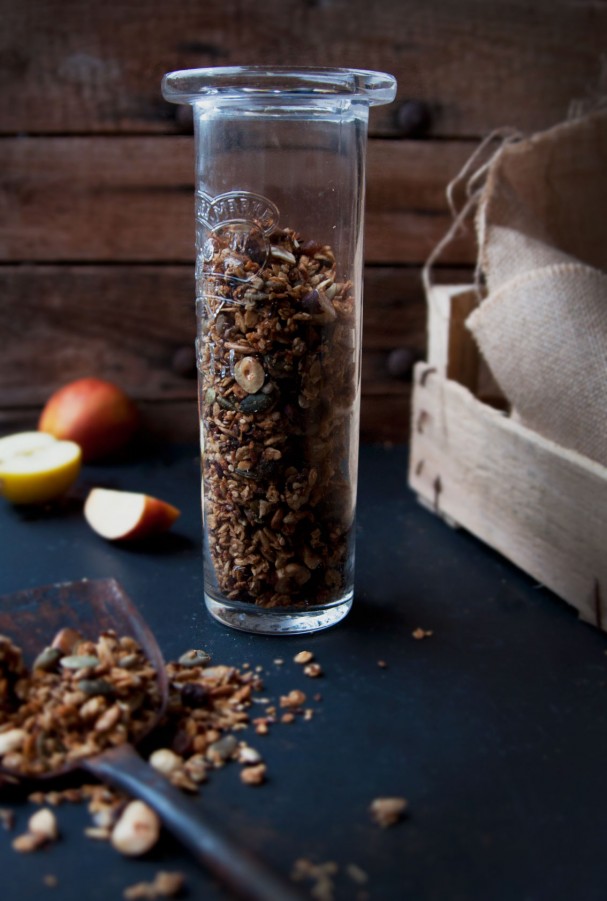 Fun & Fabulous Facts
Now, let's straighten out one major misconception. That you can only eat apples during the fall. Uh-uh, so not true! As a matter of fact, the first apples (delicate ones like Transparente Blanche) ripens mid-summer closely followed my a whole party of other fabulous varieties during mid-season and late-season. Some apples, like the summer apples are to be picked and eaten straight away. Other apples (like Cox Orange or Mutsu) are to be picked late-season and aren't actually ripe until after some weeks of storing in a dark, cool place. Many of the late-season apples are "Keepers", apples that can be stored well into April! So instead of forgetting all about apples when Christmas is over, love them and cherish them until the trees bloom again. So, to be wise and not only fall for imported citrus fruits and bananas this time of year I remember to eat locally grown apples even in the midst of January (or March!). Filling my freezer with unsweetened apple sauce and making apple pie granola is one way. The Gingered Rawpple from the 30 Raw Breakfast App is another winter apple favorite. Or a generous sprinkle of Nordic Superfood Mix in my smoothies.
Eating and preserving winter apples (Malus sylvestris) is not only an incredibly environmentally kind act, it's also one of the most healthy things to incorporate in your daily meals and snacks. When it comes to apples and nutrition the most commonly thing discussed is apples and fiber. But is the "one apple a day.."-thing really true? Well, damn right it is! The fiber content of apples contribute to incredible intestinal and digestive health so yes, an apple a day is a clever thing to aim for (enjoy organic with skin on to optimize fiber intake). The phytonutrient pectin in apples is actually a kind of soluble fiber that has been found to lower cholesterol. And then we have the antioxidant quercetin which help protect against cancer, asthma and heart disease. And then we have the Vitamin C.. and the..
Fresh apples reduce the auyurvedic doshas Kapha and Pitta whereas they when cooked reduce Vata (perfect for postpartum).
Apple Pie Granola + Healthy Apple Sauce DIY
Go get yourself some organic apples and make their flavor last all though the year with this Apple Sauce and Apple Pie Granola. The Apple Sauce is an easy DIY that can save many a breakfasts and baking projects (and bucks!). Plus, you'll know it's completely free of sugar or sneaky preservatives. If the Apple Pie Granola can double as a dessert? You betcha! Use your imagination and add in whichever nuts and dried fruits you like. Just make sure to add the dried fruits after roasting the granola.
Unsweetened Apple Sauce
1.5 kg Apples, cored and roughly chopped up (not peeled!)
1 tsp cinnamon powder
1 tsp cardamom powder
1/4 tsp pure vanilla powder
1 tbsp arrow root powder
2 cups water
What you'll need
5-ish small glass jars
1. Bring the water to a boil in a large saucepan and add the arrow root powder little by little (using a tea strainer works brilliantly). Whisk to make it fully incorporate.
2. Add the rest of the ingredients and let it cook under a lid on medium heat (or less) for 20 minutes. Stir. Let cook for another 20 minutes. Stir. Done. I simply mashed it all together but if you wish, you can blend it into a smooth mash using an immersion blender.
3. Now onto the glass jars. Put the glass jars and it's lids in a large pot, add water to cover and bring to a boil. Let simmer for 2 minutes. Now they are sterilized and ready to use.
4. Fill jars to the top with apple sauce, put the lid on and let them stand lid down until cooled. Pop into the freezer to store. When you wish to have some apple sauce at hand, grab a jar and put in in the fridge. The apple sauce keeps well in the fridge once thawed, around one and a half weeks.
Apple Pie Granola
Fills two baking sheets (meaning it makes alot)

Dry ingredients
2 cups rolled gluten free oats
1 cup buckwheat flakes
1 cup sunflower seeds
1 cup brown or golden flax seeds
1/2 cup pumpkin seeds (pepitas)
1/2 cup sesame seeds
1 cup shredded (or flakes) unsweetened coconut
1 cup hazelnuts, roughly chopped
Wet ingredients
2 cups apple sauce (above)
1/2 cup virgin coconut oil, room temp or liquid
1 1/2 tsp ginger powder
1/2 tsp good quality salt
1 tsp pure vanilla powder
1 tsp cardamom
1 tsp cinnamon
*Optional sweetener could be 8 drops of high quality liquid stevia or a few tbsp maple syrup/honey/date syrup but personally I think the apple sauce, vanilla, spices and dried fruits makes it sweet enough.
After roasting
2 large handfuls unsulphured raisins
1. Preheat oven to 180 C° / 356 F°
2. Add all dry ingredients to a very large bowl
3. Mix wet ingredients in a smaller, separate bowl and mix with a spatula. Add this to the bowl of dry ingredients. Stir until coated and chunky.
4. Add granola to two lined baking sheets. Bake for 10 minutes then remove from oven and stir. Place back in oven but remove and stir every 4 minutes or so until golden brown (approx. 15-20 minutes).
5. Let cool, add dried fruit. Store in a big beautiful glass or metal jar. Serve with your yoghurt/milk of choice (preferably plant based), sprinkle over fruit salads, make an apple crisp with it or keep with you as an afternoon snack.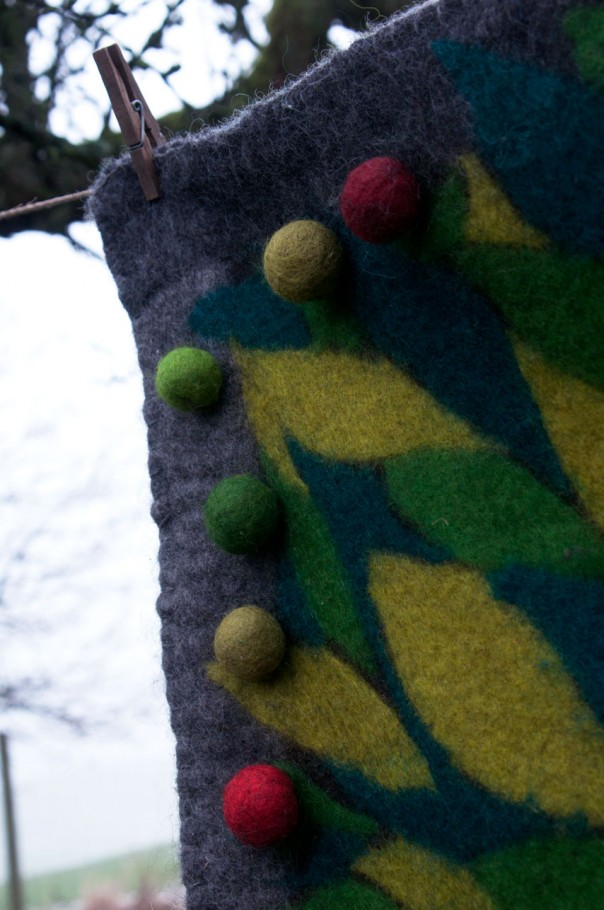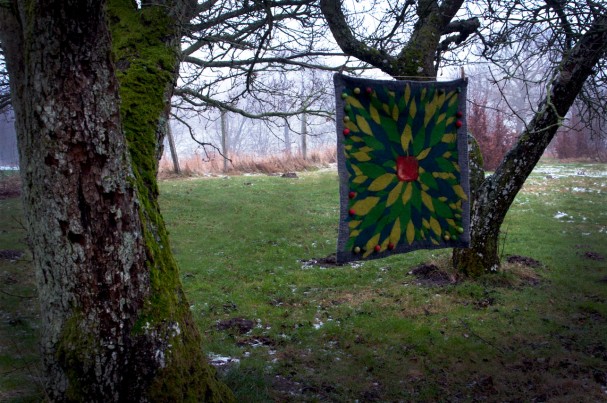 Speaking of "It takes a village to raise a child" I wanted to show you guys this obviously incredible blanket that were gifted to Caspian (it's my mom and her friend that makes these). I honestly could barely believe my eyes when I first saw it. It's a real piece of handmade art that Caspian lays -and soon crawls- on. It's colorful, thick and soft and he loves it (+ it has an apple as center). These unique naturally colored, wool felted baby playing blankets are made upon request based on your personal stories/touches. For orders/inquires send an e-mail to info@resursbalans.se
******************************************
Ps. a Pregnancy/Birth/Postpartum post is in the works – this was just a little story I wished to share with you today.
All love to you (really) and winter apple crazyness
°°Elenore°°