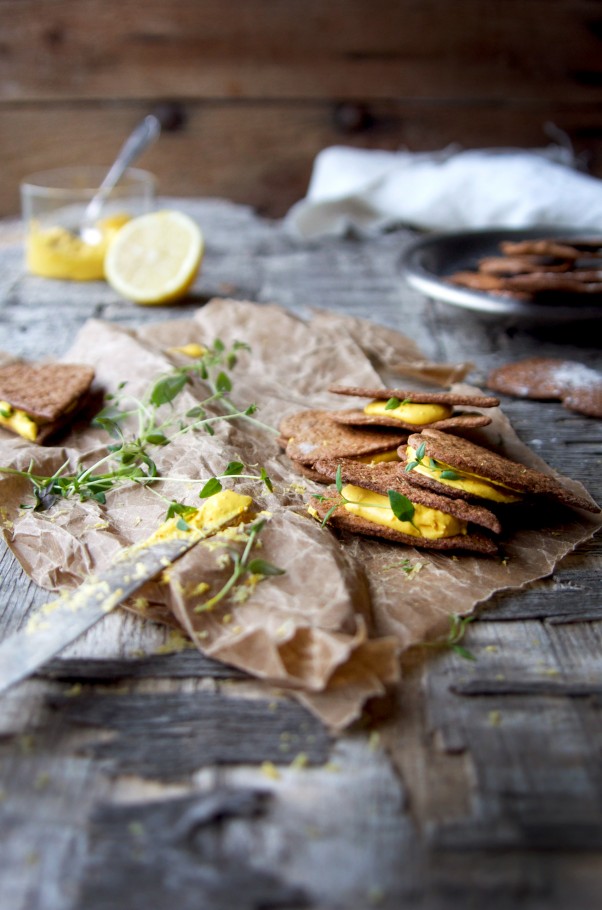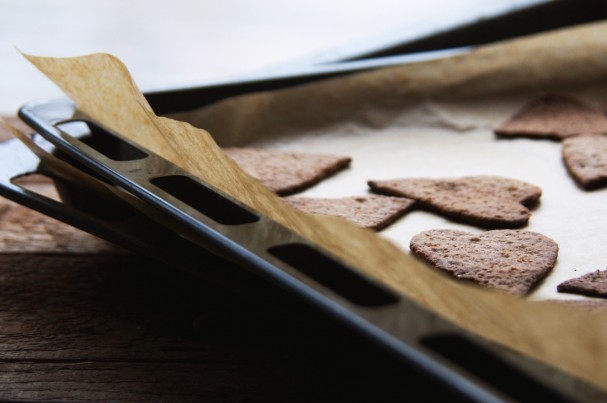 They are sitting on the kitchen floor, Fabian is juggling three lemons and Caspian watches fascinated (I think), while trying to eat up his hand. Oh, no, wait. Both of them. The house smells of Christmas from all the ginger bread cookie making and baking. I look at the flour on my shirt, jeans and camera and feel happy even though my legs and eyes are tired from all of the full time mama-ness. I brush off some of the flour from my cheeks and try to breath in the whole scene. But then I realize I'd have to breath in for an awful long time. Better just continue breathing. And writing.
It's a huge transition not to work in the kitchen as much these days and as soon as I can be there, developing a recipe/shooting/editing/writing I feel myself lighting up. It sure is bliss to have a baby Caspian in our lives and the time I spend with him really is filled with miracles and love beyond this world. Our forest prince. What I realize though, when Fabian gets back from work and I have both hands free (!) is that even if it's just dinner I'm making or pulling out my pencils and drawing a plate of food from a recipe idea, I so freaking love my job! I feel a sting of guilt when I sometimes rush away to edit some photos or write a newsletter just after Caspian falls asleep for a nap. Should I lay there beside him in the bed and look at him until he wakes up? Breath in his sweet milk breath and soak up his perfect little features? Sometimes I do and sometimes I don't. What I know is that even if a big part of me is now a mama, all other parts of me are still there and if I were to think I'd need to forget about them/press them away I'd be loosing myself and my way big time.
I love the fact that I'm sitting here with flour everywhere, I love the creative chaos that I make when shooting a recipe and I love when I nail a shot and have to make a little crazy dance and sing to the foods currently in front of the lens about how absolutely stunning and sensational they are.
I don't think there is something absolute as so called 'balance' but I do know that I need to be all of me if not every day then at least every week. Baby cuddles and messy photo shoots hand in hand.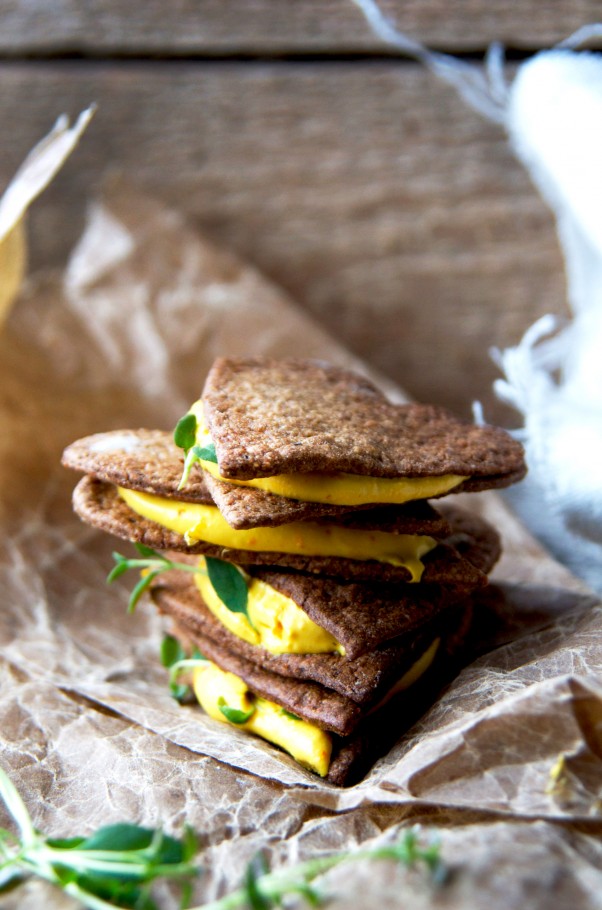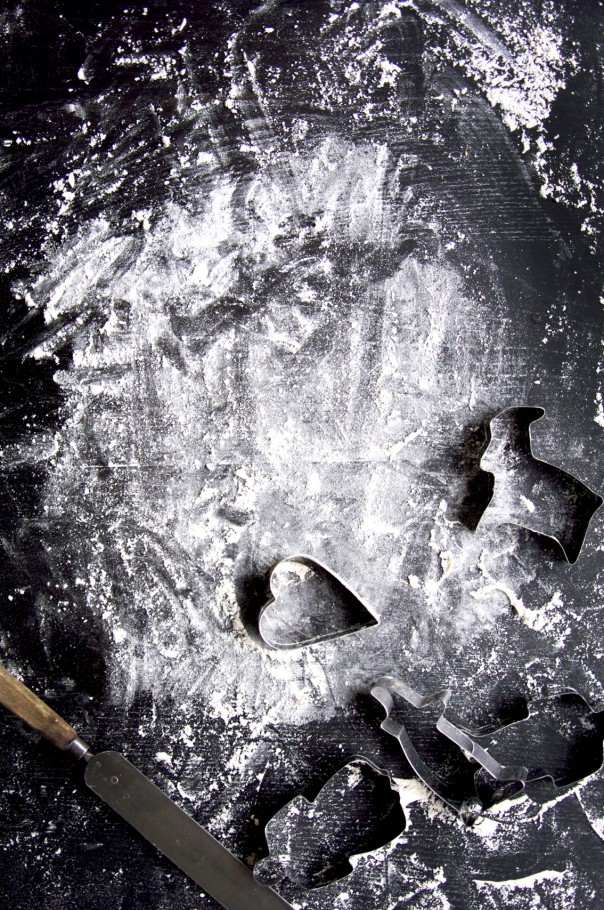 Fun & Fabulous Facts
I developed this Ginger Bread Recipe last December but never found the time to shoot and post it (but I did make that Epic New Years Cake, remember?). One thing I wanted to include in this recipe was freshly cracked black pepper. See, the the swedish name for ginger bread cookies would be translated in english as "pepper cookies" and I have always thought it was incredibly stupid since there are no black pepper in these traditional Christmas cookies. Even if I have a sneaking suspicion ginger bread cookies are called pepper cookies in swedish because of their peppery flavor from all other spices. But you know, still so dumb…
This is all coming from a girl who has actually been called black pepper due to my slight obsession with it. Yeah. But! Adding black pepper to loads of what I eat just might be the smartest thing I ever did as it has incredible health benefits. The aid in digestion that we get from black pepper is widely known but do you know why it's such a digestive helper? When we eat black pepper it makes the hydrocolonic acid in our stomach to increase and thus help our body to digest the food we eat. When hydrocolonic acid is insufficient it leads to poorly digested meals (nice) and feeds unfriendly bacteria in the intestines which in turn promotes gassiness and -hrm- pooper problems. Just note that black pepper can irritate the digestive tract in some people so changing up our peppery routine with some cayenne or chili is a clever thing to do. Also remember that ground pepper stays fresh only for three months so get yourself some whole pepper corns and a handsome pepper grinder, friend!
A good tea tips: add a few black pepper corns when you brew tea on the onset of a cold as it opens up our pores for sweating (and the tea will be really delicious).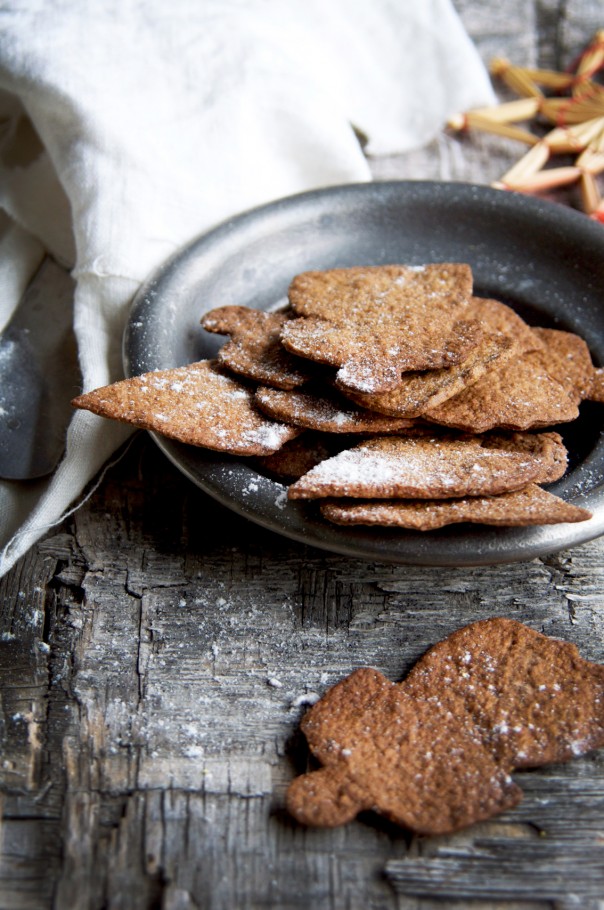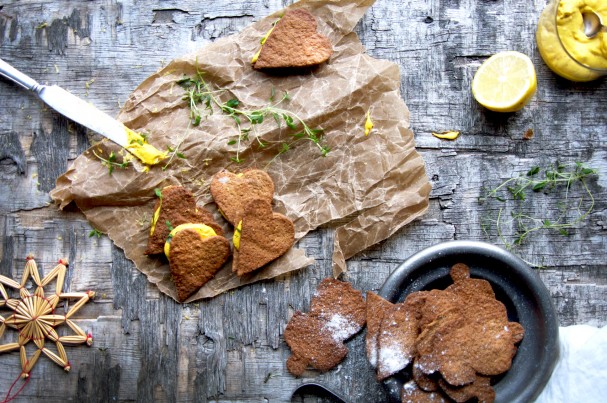 Vegan Ginger Bread Cookies w Tangy Saffron Cream
Christmas and ginger bread cookies goes hand in hand and while I really love making raw food ginger bread cookies there is something so special about letting a warm oven fill the house with the smell of spices and then bite into a warm, crisp cookie. So. This recipe is as whole and healthy as possible but (even if it's spelt and rye) it's still one of the few recipes that include gluten in the Earthsprouty world. Hey, it's Christmas, the cookies are darn delicious – go enjoy!
Ginger Bread Cookies
1 1/3 cup (180g) freshly ground rye flour
1 2/3 cup (170g) light spelt flour
1 tsp baking powder
1 tsp xanthan gum
1/2 cup coconut sugar
1 tsp black pepper, freshly ground
1 1/2 tsp ground cinnamon
1 tsp powdered ginger
1 tsp ground cardamom
2 pinches good quality salt
1/2 tsp ground cloves
1 pinch pure vanilla powder
————————————————–
4 tbsp date syrup*
3/4 cup plant based milk of choice (unsweetened)
1/2 cup virgin coconut oil
*To make your own date syrup, blend 10 pitted medjool dates with 1 cup water and 1/2 tsp lemon juice and store in the fridge for no more then 2 weeks.
1. To make freshly ground rye flour simply purchase whole rye and grind in your coffee grinder or blend in your high speed blender. If this seems like to much work you can buy regular rye flour but you will miss out on a whole lot of nutrients and the nice slightly coarse texture of these cookies. In a large bowl, mix all dry ingredients using a whisk or wooden spoon. Set aside while preparing the wet ingredients.
2. Gently melt virgin coconut oil over a hot water bath, add to a small bowl along with date syrup and your plant based milk of choice and stir/whisk until thoroughly combined. Now add this mix to the big bowl of dry ingredients.
3. Knead the dough with your hands for a minute or so (in the bowl) and from into a ball which you then cover with plastic wrap. Refrigerate for two days to let all flavors and sweetness fully develop.
5. Preheat oven to 180 °C / 356 °F
6. Lightly flour a table / working space, take a handful of ginger bread dough and roll out thinly (ideally 3mm) using a rolling pin, flipping a few times and adding some flour to the surfaces to make sure it does not stick.
7. Use cookie cutters to cut out different shapes, place on a lined baking sheet and bake for 8 to 10 minutes or until edges of cookies are set and just begin to brown. Cool on baking sheets for 1 to 2 minutes. Remove to a wire rack and let cool completely while making the saffron cream (or stop here, store in an airtight container and enjoy the Christmas flavor for weeks). 
Tangy Saffron Whipped Cream
1 can organic full fat coconut milk
1 tbsp coconut sugar
1 sachet high quality saffron
1 organic lemon, the zest

1. Open the can and scoop the top layer of solid white coconut into a mixing bowl (save coconut water on the bottom of the can for smoothies/soups) and blend with a hand mixer on high speed for 20 seconds, just until perfectly fluffy and light.
2. In a mortar, mix saffron and coconut sugar then spoon it into the creamy coconut along with the lemon zest until fully incorporated and bright yellow. Refrigerate.

To serve
1 handful fresh thyme leaves
Arrange
Add 1 tsp of the tangy saffron cream onto 1 ginger bread cookie, sprinkle over some leaves of thyme and top with another cookie. The cream sets in a few minutes and you can actually wrap a few filled cookies up and you'll have yourself a little Christmas gift (that needs to be eaten stat not to soften). Yummylicious!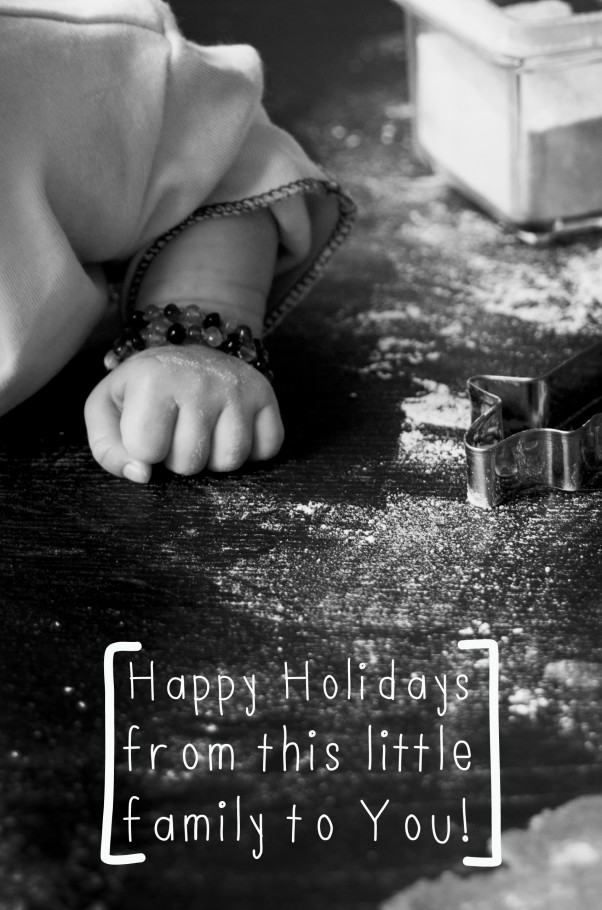 Honey. From the warm corners of my heart and soul – happy, healthy, blissed, joyous, spirited and loving holidays to YOU! Be all that you are even if it includes flour everywhere or not ;)
Stars and hugs,
Elenore + Caspian + Fabian