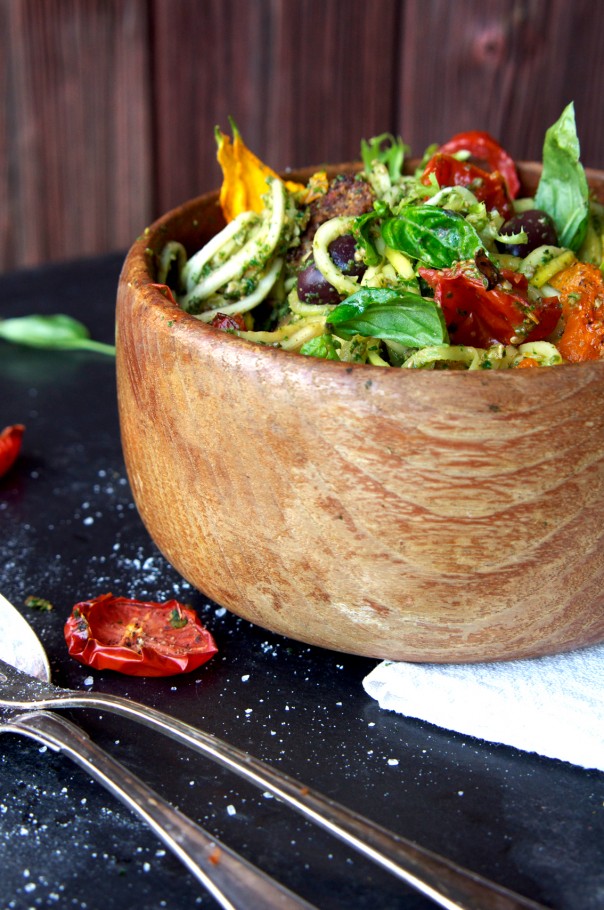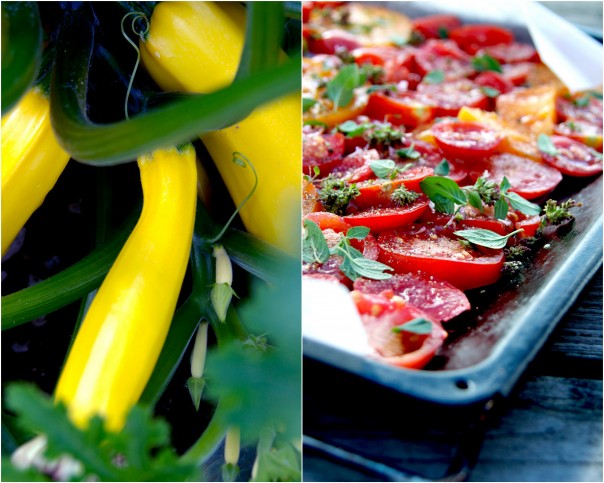 First. Of. All. – Thanks to everyone who read, commented and took my last article/story/post to your hearts. It's a huge conversation still going on over there. I am plowing my way through and answering your emails with teary eyes and many smiles. Sharing is big. Sharing is brave. You are brave. I love you.
………………………………………..
The life of a food photographer is wild. The life of a 9 months pregnant (full term this week!) food photographer is even more wild. Jumping up and down on various tables/chairs/corners that might or might not support you, all to get the perfect angle is still.. erm, fun but way slower than before. More then once I find myself  both laughing, crying, yelling or intriguingly conversing with the object of interest in front of the lens. Yes, during each and every photoshoot that is.
It's not as easy to crawl around on the ground or bend in extremely weird positions with this belly of mine, but (there's a huge but). I love it and there is no pregnant belly ever changing that.
The veggie garden keeps on giving and all I want to do is be there with all of the explosively gorgeous creations taking my breath away. I sit on a bench and breath it all in. Sometimes I try to figure out a great way to turn those ridiculously long beans into lunch (next post?), sometimes I pick caterpillars off the kale and (as lovingly as I can..) hand them over to the chickens. Sometimes you can see my camera stick out of the artichokes growing tall but as often as I can I try to put my ass down on that bench. I try to somehow slow things down in the midst of the explosions because even though life is, as I said, wild (not just food photographers) we can try keeping it both calm wild and crazy wild.
Things will never seize to grow and as hard as it sometimes may be, all we can do is choose to grow ourselves and choose how long or short we want to stick around on each and every step of the stair. Sitting on a bench in a vegetable garden helps and definitely adds to the calmly wild side of my life at least.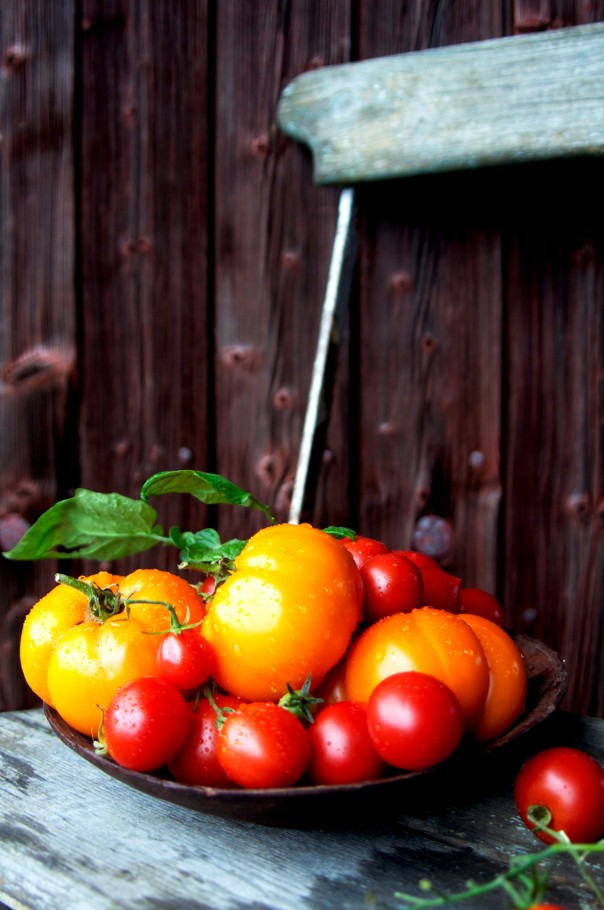 Fun & Fabulous Facts
"The hero in me (Basil speaking)
Hiya everyone. I am here to finally clarify one thing. I'm happy you like me, I really am, but to be honest you are in a basil rut and I could be so much more then your round the clock herb of choice if you let me.
It's not a bit fun to be left hanging on the bottom of the salad bowl or sitting at the edge of a plate once you've finished your meal. I mean, don't you think my round, gorgeous, delicate and aromatic leaves look a teensy bit appealing? I do try you know. Thank god for the Italians, I say (pesto saved my life). Oh and did You know, Basil-pusher-asider that in India I'm considered to be pretty holy (the Tulsi Basil variety). Yeah I know, it's rather rad. So let's make this work, shall we? Let me give you a little tour into the potential that I carry and that I'd be so happy to share with your bouncing body your sensual soul. It's on and it's basil time"
Why, thank you Basil for that, hrm.. interesting introduction. I totally agree. You are indeed pretty badass and so far beyond a pretty decoration. But what exactly are we looking at here? Basil, Ocimum Basilicum is believed to originate from the tropical parts of Africa and then spread far and wide all over our planet. Anyone and everyone can grow basil at home. It's easy, accessible, medicinal and so delicious. I personally fall into the large category of people that have got pesto to thank for introducing us to basil and since I was around 13 years old we've always had a pot of Basil on the kitchen counter. Often forgotten though (sorry!).
In gardening school we worked a lot with medicinal herbs (and I loved it). I was so pumped to learn more about the cool properties of herbs, knowledge that has been around for very long but seems to have taken us only around 30 years to forget. For example how Basil, that forgotten kitchen counter plant maintain and generate heat thus supporting a healthy digestion and strengthens poor appetite. The essential oils within fresh basil is pumped with antioxidant, antiviral and anticancer properties. In other words, load up on basil ya'll! Worth mentioning are the aphrodisiac properties of basil which makes it a good remedy to headaches and depression and… You know.
Just last week I found a new use for Basil when I read a rather sensational book on pregnancy and herbs. Apparently Basil can help the placenta to naturally and easily detach (yes, raspberry leaf too) so I went out and picked a couple of handfuls, dried them carefully and hope to remember to get that basil infusion into my system right after giving birth. I'll keep you posted;)
So, Basil, I hope you don't mind me pairing you with kale to make the pesto for this dish, It seems you two really hit it off in the food processor I have to say.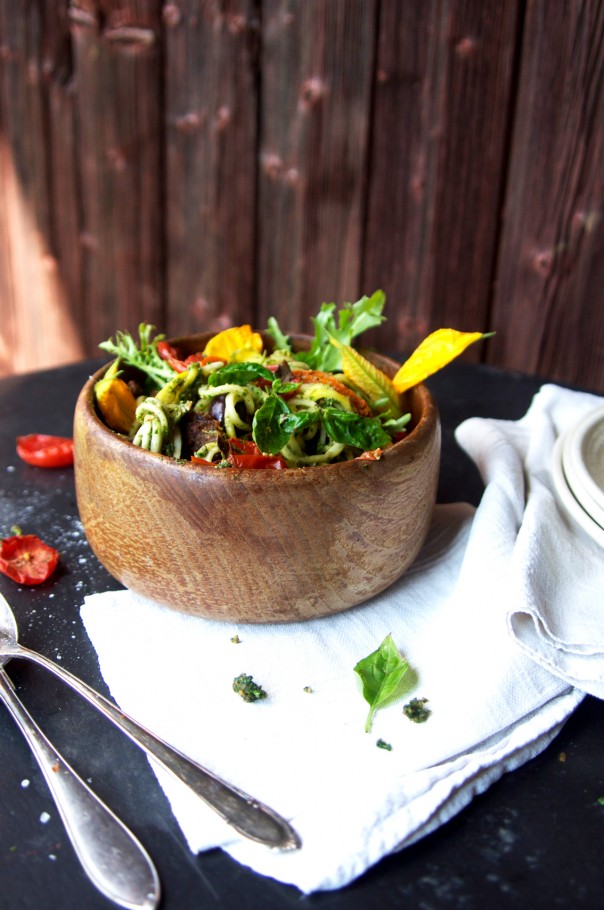 Slow roasted tomato inferno pasta w kale pesto
A perfect late summer dinner or lunch with all the glory of harvesting days combined. Of course you can choose not to slow roast the tomatoes and keep them fresh but the aroma and sweetness that they provide after hanging out in the oven for an hour is rather priceless. If you've never tried eating zucchini flowers, they are perfect in this meal!
Pesto
2 handful's young kale leaves (approx 90 g)
1 handful fresh basil
1/2 cup toasted sunflower seeds
1 clove of garlic, minced
4 tbsp virgin olive oil
1/4 tsp good quality salt like himalayan or celtic
1. Prepare the kale and basil by rinsing and removing the stalks. Add all ingredients to a regular food processor and blend away until you have a tasty pesto. Feel free to add a splash of lemon juice if you wish.
Slow roasted tomatoes
1 kg tomatoes in various colors
a sprinkle of salt flakes
freshly cracked black pepper
a handful of fresh oregano, preferably flowering (yum!) but others works great too
1. Preheat the oven to 150 degrees C / 300 degrees F
2. Slice tomatoes and sprinkle with oregano, salt and pepper on a baking tin. Slightly rub in the herbs and seasoning before placing in the oven for 60 minutes.
Pasta
1 midsized yellow or green zucchini/courgette
4 zucchini flowers
2 handfuls of fresh lettuce
1 cup kalamata olives
some extra basil leaves
3 slices of dark rye sourdough bread
1. Peel the zucchini and make the pasta by using either a spiralizer, a potato peeler or a julienne peeler.
2. Make large irregularly sized "bread crumbs" of the rye bread and toast them in a skillet with some ghee or coconut oil
2. Grab a large bowl and arrange the tomato inferno pasta complete with pesto, slow roasted tomatoes, flowers, olives, basil leaves and some lettuce.
Foodgasm time!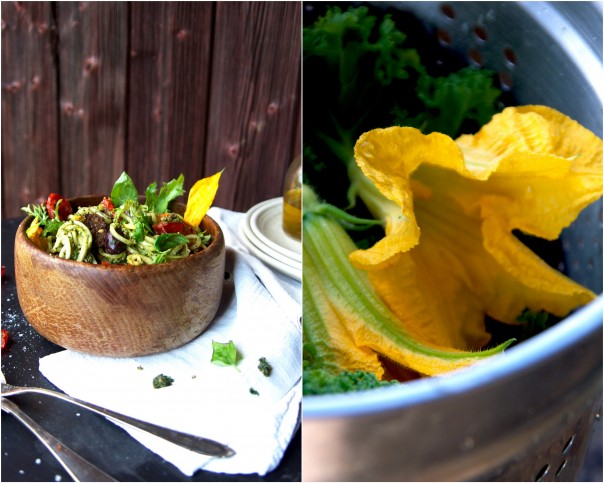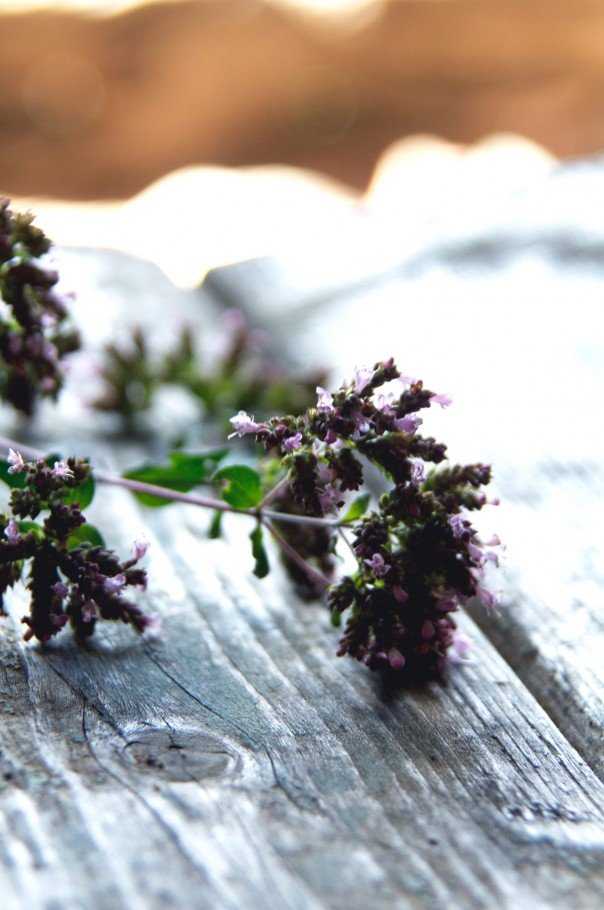 So now head out and sit on a bench for a while.

Ride the waves and live the steps. One at a time for as long as you need. Stop for a bowl of pasta and have fun!
With harvesting love,
Elenore + minisprout