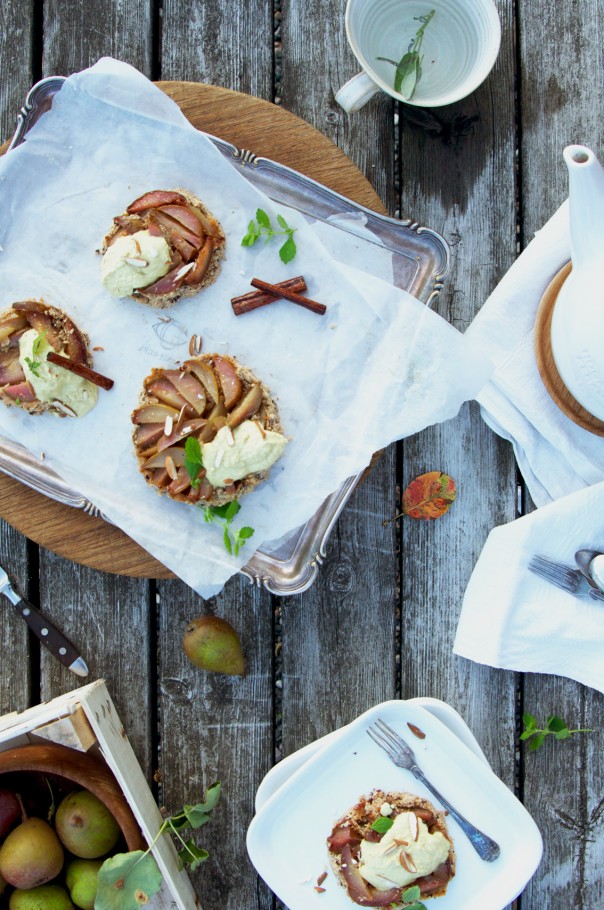 I remember standing outside our little house in the middle of the forest with dear friends on new years eve last year, eyes beaming and loud silly music playing (we may or may not have danced a bit to the Wii – Just Dance-game too). It was all in the air and in the dreams, we knew 2013 would be a big year.
Little did I know it would be THIS effing big (I didn't even know I was pregnant at that time!). I do love my life as the beautiful mess it is (just as perfectly messy as these upside down pear crumbles) but this year must claim first price as the most preciously productive mess ever. Why it's been a preciously productive mess? Well, that leads me to the big news. This year I have nurtured and birthed (soon all of them) three babies.
1st one out into the world was the Nordic Superfood Mix – my heart project, an exclusive raw superfood product handpicked in the wild. Long in the making and finally here to spread some gorgeous mama earth love.
2nd one out into the world was little forest prince Caspian whom I carried for nine life-changing months and who's changing my life every minute that goes by (in fact, that reminds me we need to wash some cloth nappies today ;)
3rd one into this world will be Earthsprouts very first (but longed dreamed-up) a-amazing application! Yup, there is an app on it's way to your hot hands, Greenylicious trailblazer! I'll tell you more about this baby once it launches in just a couple of weeks (hello Christmas/ new years present!) but for now let me just say this; be ready for something different, something exceptionally drool-worthy, something both detoxing and totally decadent. It's in all ways Earthsprout-approved and of course THE app for Your Ecstatic life.
The app has been a secret project for way to long and I am so stoked that I can share it with you soon! That said.. there might turn up some sneek-peeks on Instagram, Facebook or Twitter before launch day so keep a close eye!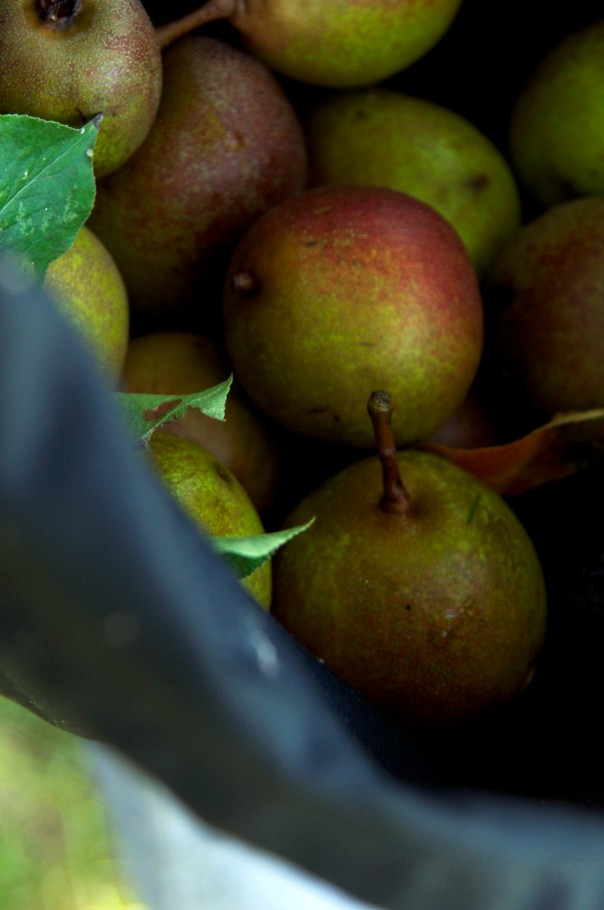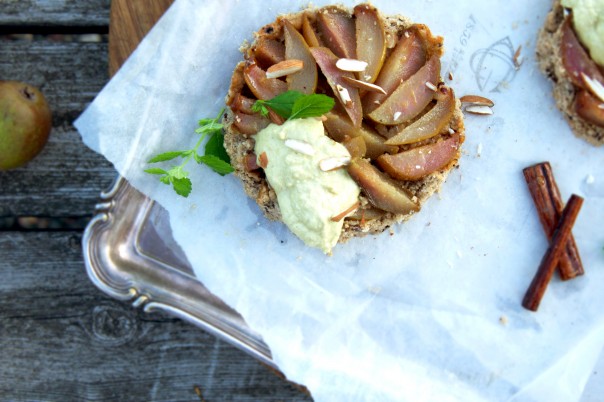 Fun & Fabulous Facts
Every time fall rolls in here in Sweden it's all about the apples. And plums. And cabbage. And onions. And kale. And leek and.. well you get the point. Why are pears forgotten / lost in the harvesting hype? I'm not sure why but I do know it's time to turn that trend around! Pears climb up the healthy food ladder more and more for  every year and if it's not because of their crazy high amount of dietary fiber (say hi to a total internal clean-up and reduced risk of chronic diseases) then it's often because of the flavonoids (all pears) and anthocyanins (red pears) found in this beautiful creation of the earth. These two things make sure pears turn up in all kinds of studies around diabetes since flavonoids can improve insulin sensitivity and pears have been shown to reduce the risk of type 2 diabetes! Mentioned above are some of many reasons why it's so important not to cut whole fruits from your diet even if you are trying to consume less sugar. When it comes down to it, aren't there tons of other things that you can skip that does not have the marvelous health benefits of a whole foods diet? (ehm, vegan cupcakes, ice creams, chocolates, anyone?). Fruits do rock, you know! Sure we don't have to eat our way through a package of juicy dates every week but apples, pears, plums, oranges.. do not give'em all the red light! And hey! Remember not to peel fruits that have edible peels as the peel itself is quite golden and help our body to level out the slight blood sugar rise we get when eating fruits and it's also where the most nutrients are found. So get organic fruit and stop peeling for pear's sake.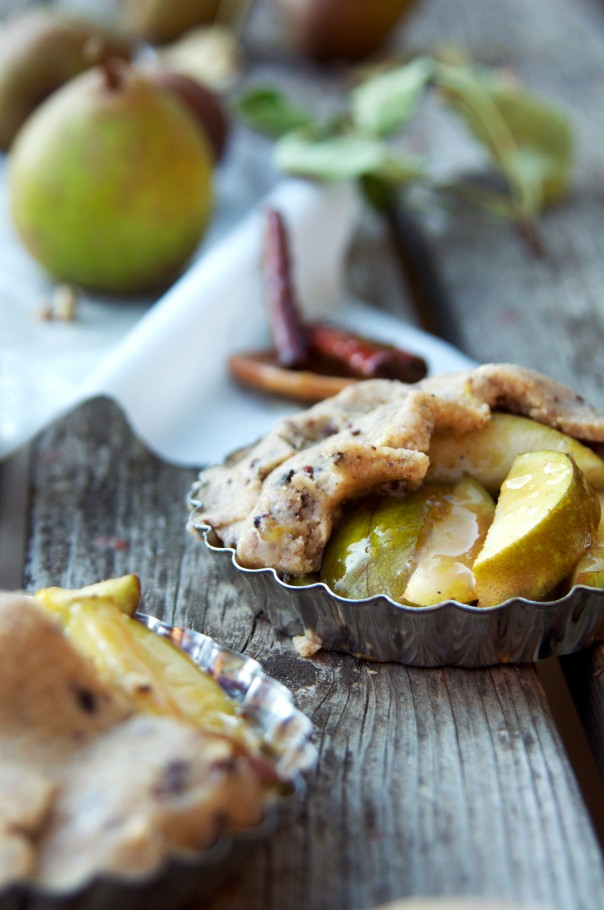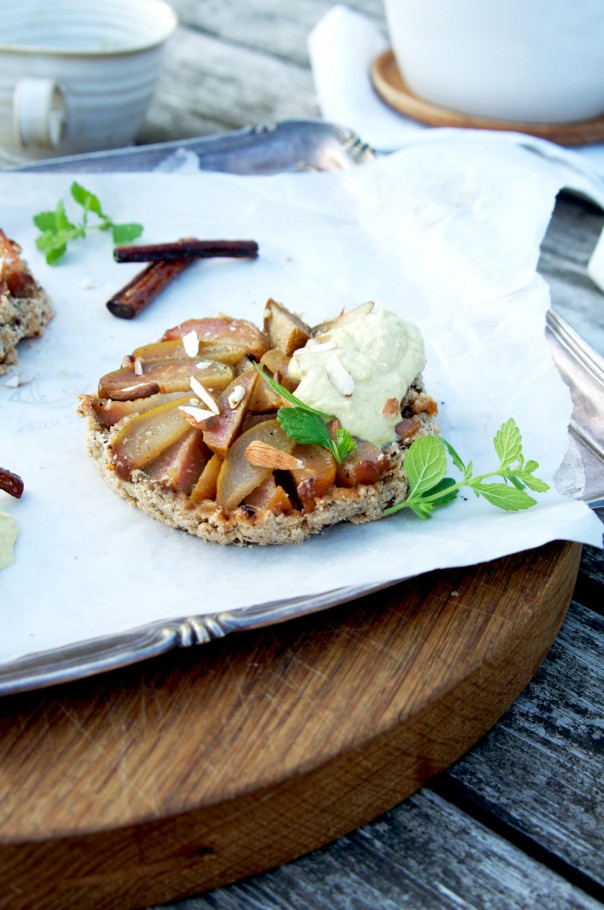 Upside Down Pear Crumble w Raw Zabaglione
This dessert has it all. Bitter hints of cacao nibs, creamy & delicate deliciousness from the zabaglione, cookie crumbly crust and soaked-in-goodness pears. It's easy to make (and easy to gobble down) plus it's so versatile! Make more of the zabaglione and save for your weekend breakfast bowl, use the fruit of your liking instead of pears. Your imagination can make this one even more drool-worthy.
'Raw' Zabaglione
1/2 cup cashew nuts
1/2 cup full fat coconut milk
1/4 tsp ground pure vanilla
1/4 tsp ground turmeric
2 tbsp coconut sugar
1. Soak cashews for at least 5 hours, rinse and add to a high speed blender with rest of the ingredients (or use an immersion blender). Blend until creamy and completely smooth. Refrigerate while making crumble crust and glaze
Crumble 'Crust'
Makes 5-8 mini pear crumbles depending on the size of your tart pans
1 cup oat flour (rolled oats, ground)
1/2 cup millet flour (millet, ground)
1/3 cup virgin coconut oil, cold
2 tbsp raw cacao nibs
1/3 high quality salt
2 tbsp plant based milk (I used almond)
1. Grind millet and rolled oats in a coffee grinder or high speed blender to make the flours. Add to a food processor along with all other ingredients
2. Pulse until the dough starts to hold together but still has not turned into a dough ball. Wrap in plastic film and refrigerate for 15 minutes (while making the pear glaze)
3. Grease tart pans with coconut oil or ghee (or other), arrange pear slices in them, spoon over glaze mixture (see below)
4. Grab dough from the fridge and roll rather thinly using a rolling pin (or wine bottle). Cut and cover each tart pan with a dough round as seen in picture above
Glazed pears
3 large pears, cored & thinly sliced
4 tbsp pure water
3 tbsp maple syrup
1 lemon, the zest
7 pods whole cardamom
3 cinnamon sticks
1/4 tsp ground nutmeg
1 tbsp arrow root powder
1. Preheat the oven to 180 °C / 356 °F
2. Add all ingredients but pears and arrow root powder to a sauce pan over medium heat. Once the mixture is hot, add arrow root powder and use a whisk to thoroughly combine. Cook for 10 minutes on low heat.
2. Arrange pears into the greased tart pans, spoon over glaze mixture and cover each tart pan with a dough round as seen in picture above.
3. Bake for 10 minutes or until golden (keep an eye out as this depends on the size of your tart pans too)
Arrange
Turn tart upside down on a plate, add a large spoonful of zabaglione and some roughly chopped raw almonds. Enjoy with a cuppa!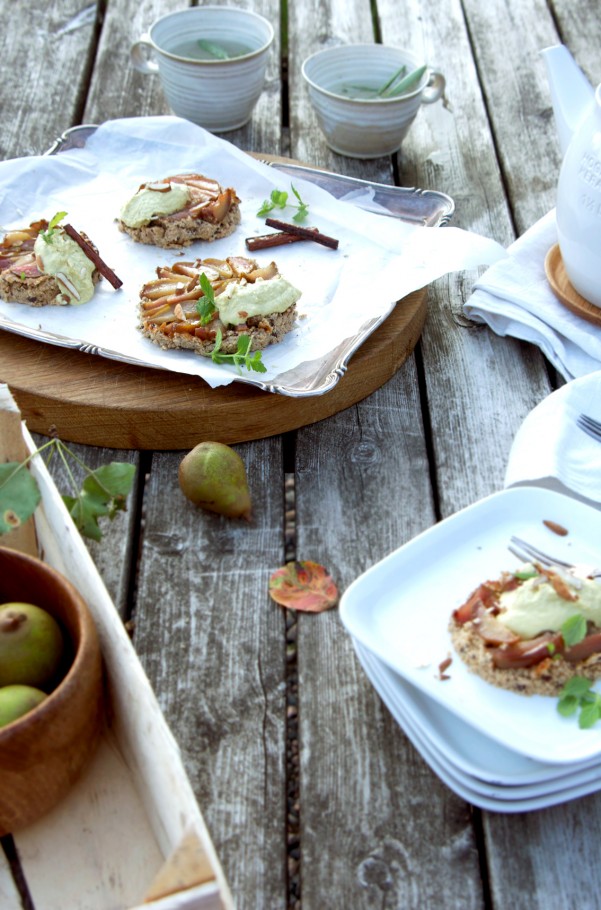 So.. three babies, one year and some finger-licking good upside down pear crumbles for your weekend!
Be sure to keep an eye out here, in the newsletter and on Instagram for updates on the Big App Launch Day if you are interested in something so, so gorgeous and tasty (can you tell I'm psyched?)
A truckload of Greenylicous love to YOU,
°°Elenore°° + Caspian