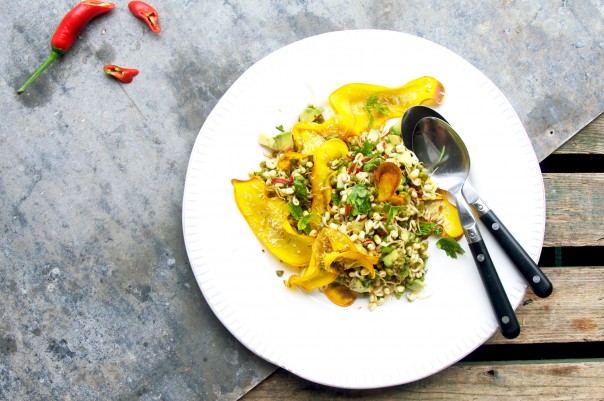 Sometimes the sensation of awe is lost on me and I feel like I am doing exactly what everyone else is doing. Like there is this certain society mold that sucks us in and spits us out looking very much alike. This only ever happens if I have been working too much by the computer and when the moments of bare feet touching grass is too far apart. I know it's not real. I do know that but when I spend a bit too long scrolling through instagram or answering e-mails it's like the buzz and electronic fields makes me forget stuff.
Stuff I remember when I (after one to many sighs) head outside and let my feet be tickled by the dewy grass. When I let my skin be touched by the glimmering sunlight that follows a full blue moon and I pick up and savor an apple that just fell to the ground. When I sit down on the now slightly cold earth and reach for a blackberry – that's when the bliss enters again. That's when the awe trickles in and when all things magical starts to sprout. All left to say at that point is thank you.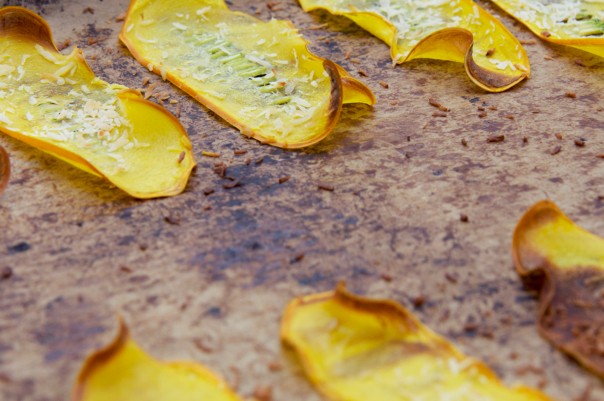 Fun & Fabulous Facts
Mung beans must have a very prominent magical gene in them. Somehow this little tough green stone-like legume can be transformed into creamy delishiousness when cooked or delicate crunchyness when sprouted. And the sprouting process is a chapter on it's own since it's so effing easy. I first met the mung bean was when entering into the world of auyurvedic / yogic cooking, many years back. Honestly I had never seen this weird thing before yet there it was, hanging out in bags of several kilos each. So I rolled up my sleeves and started to learn.
But what's the magic in them, really? What does that particular magical gene actually hold?
When it comes too Chinese medicine, mung beans are seen as the most important therapeutic bean and it's widely used to treat and heal all sorts of conditions raging from minor heat outbreaks, high blood pressure, swellings and toxicity. Can you find a red thread in these examples? Yes, mung beans are used in cases where heat is ruling. Being an incredibly cooling food ( much like all other legumes apart from soy beans and fresh green beans), mung beans ought to be combined with good fats if consumed by a rather cold person or simply consumed very regularly by anyone. Eating raw mung bean sprouts as opposed to the common cooked store bought version will give you an incredible amount of gorgeous enzymes and fresh water to help your body restore and rebuild. I always strive to up my intake of those precious buzzing enzymes and pure water as they help my body to easily combat the negative effects from things I have a hard time controlling. Like say the electronic field from this computer friend of mine. Hrm.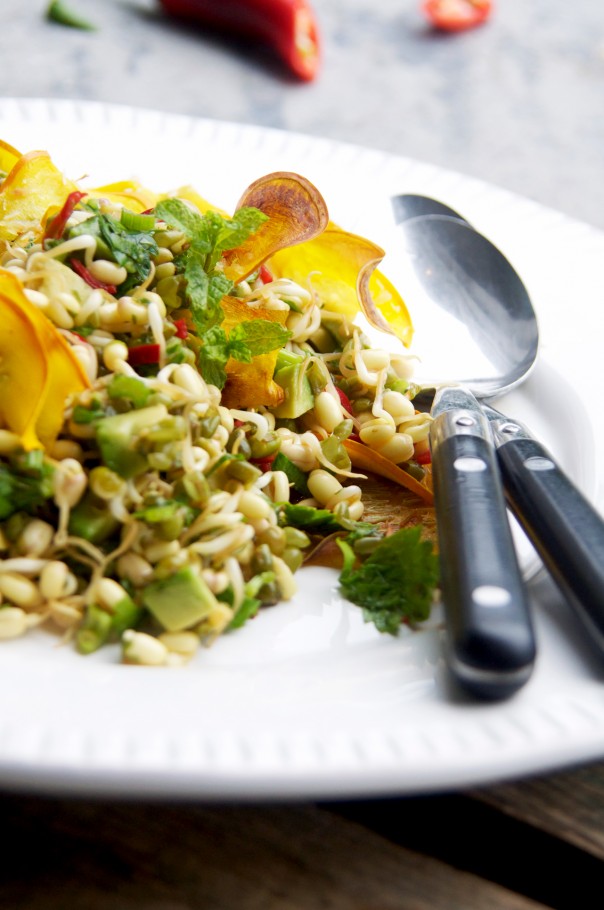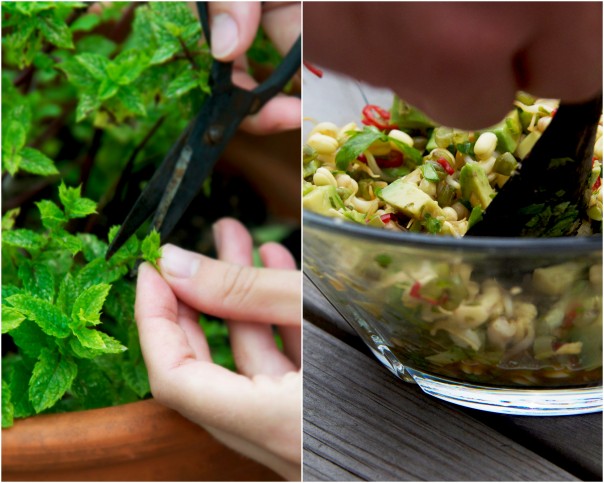 Magic mung bean sprouts with zucchini coconut chips
Friends, meet my go-to and all time fave way of preparing mung bean sprouts. I hope you'll fall in love with it as much as I have over the years. It's a true savior when you need to prepare a meal really quickly. Just through everything together in a bowl, let marinate and pair with whatever the season has to offer or whatever floats your boat. And yes, the zucchini chips are pretty sensational on their own too.
2 light meals – and a lil' extra chips
Magic Mung beans
2 cups mung bean sprouts (see how-to below)
1/2 clove garlic
1/2 tbsp (heaping) tamari
1 tsp freshly minced ginger
1 tsp honey
1 fresh chili, sliced
1 stalk celery, the greens too
a small handful mint leaves
1/2 lime, the juice
1/2 avocado

1. Add garlic, tamari, ginger, honey and mint leaves to a mortar and turn it into a paste using your best muscle power (and a pestle). Rinse the mung bean sprouts one last time before mixing with the paste and the lime juice in a bowl. Add the thinly sliced chili and celery and the diced avocado. Let soak while making the zucchini chips.
Zucchini coconut chips
1 small yellow zucchini
2 tbsp virgin coconut oil
2 tbsp shredded coconut – unsweetened
1. Preheat the oven to 180 degrees C/ 350 degrees F. Thinly slice the zucchini lengthwise (easily done by using a mandolin slicer) and arrange the slices onto baking tins covered in baking sheets to prevent the chips from sticking.
3. Let the coconut oil liquify over hot water and the brush the zucchini with the oil before sprinkling over the shredded coconut.
4. Let the zucchini bake in the over for no more then 7 minutes (but keep a close eye, all ovens are different!)
How to easily sprout mung beans

Take one cup of beans (will double once sprouted), wash with cold water and drain them in a bowl. Fill the bowl with 2 to 3 times as much water as beans. Soak for 8 to 12 hours. Drain the water and rinse again with cold water. Cover the mung beans with a light cloth and at room temperature. Continue to rinse and drain the sprouts until little tails emerge. You can keep them growing longer if desired. Store in the fridge and eat within a few days.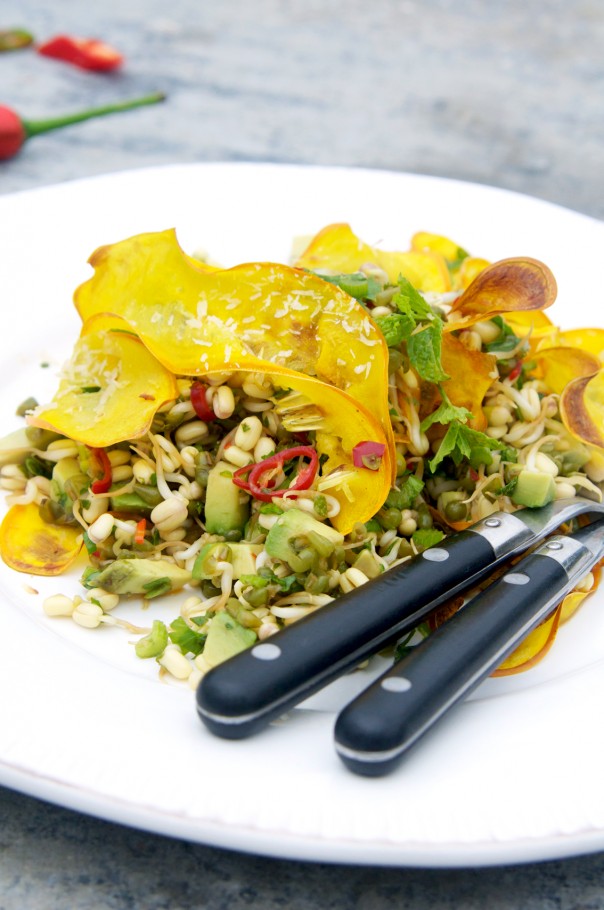 So, how do you remember to keep your magic sprout button on in life? Do you also get that high kick out of stepping onto dewy grass like me?
We need new genius tips and we need to keep sprouting, right!? Share in the comments below, dearest honey!
Early Swedish fall vibes and full moon love,
Elenore + minisprout