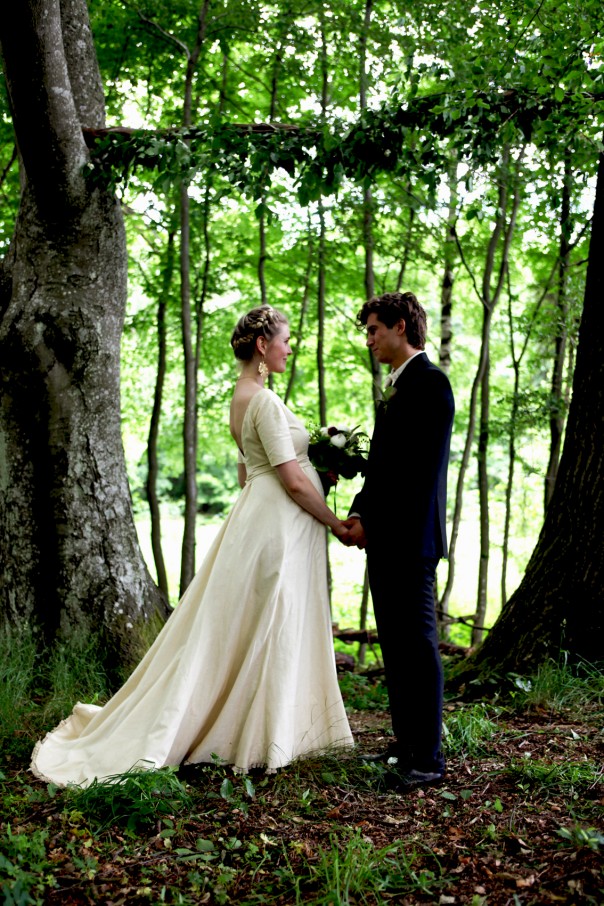 I've never really had a dream wedding.
I never spent time trying to form a dream scenario of a wedding either. You know the kind where you walk towards the love of your life in a flowing white dress surrounded by family and friends and be the happiest you've ever been.
I will say, however that I've known for some time that I wanted to marry Him. I wanted to be next to Him in a magical, powerful ceremony of love, saying words I really meant even though there is no way the languages of this earth would be enough. He'd still know, I'd still know. We'd be standing in a sphere of complete light and openness, we ourselves would be that sphere and somehow someway the love shared would expand into something grander and stronger then ever before. We'd be held by mama earth and all around us would be leaves of green, angels, passion, laughter, giggles and of course some bare feet, off-white linen, organic champagne and raw desserts. In short, Greenylicious and very much Earthsprout- approved.
So. It seems I fooled myself into thinking I didn't have a dream wedding. Either that or I am simply describing what happened this summer when I actually married Him (that would be it). When we stood beside each other between an oak tree and a beech tree in a large sacred circle we'd made of fallen branches. I could try and try to describe it all without sounding over-the-top cliché or dorky but it just doesn't work because what took place on the 21st of June, on midsummer's eve, on the summer solstice is beyond words and very far from the ordinary. Let's just keep it over-the-top. I mean there is no way I could otherwise tell you things like "the energies were vibrating on such a high frequency that day", deal? Because they were and honestly, there was a serious shift that took place and I don't think I will ever stop being moved by remembering the moment when I realizing that fact.
Promises of a heightened awareness of what we share was in the air. Not just what me and Fabian (and Caspian who was in my belly) share but also what we all actually share. We do decide ourselves how much of that to remember but happenings like a ceremony as grand as this one gently (or fiercely) pushes us to remember. We can either fall, completely overwhelmed or we can rise, shine and meet the explosive magnificence of being us, here, now.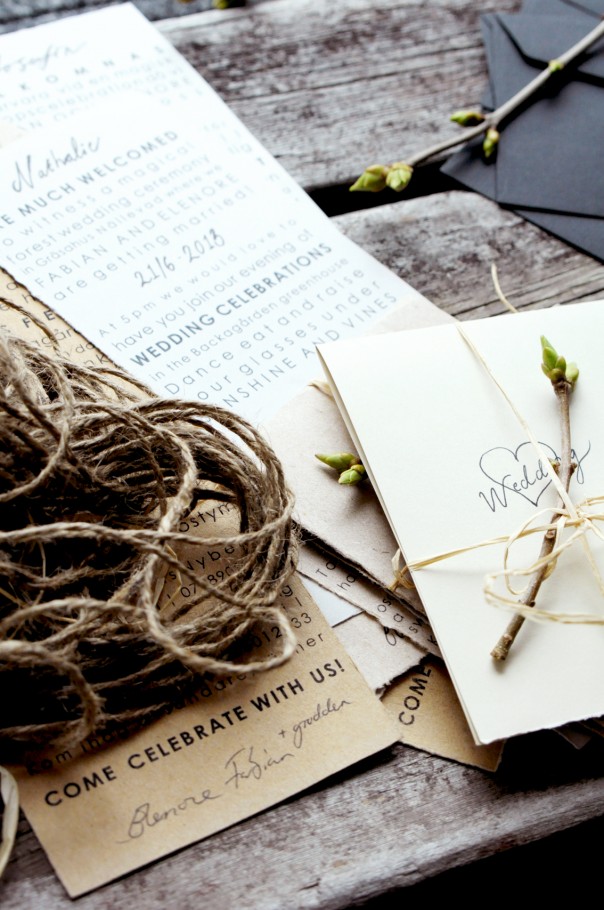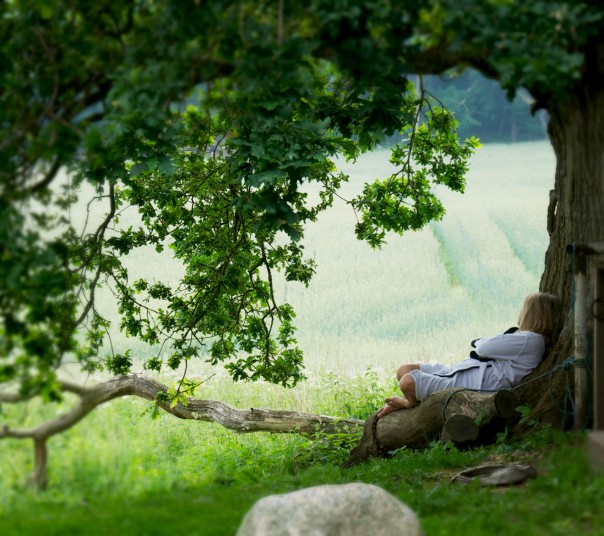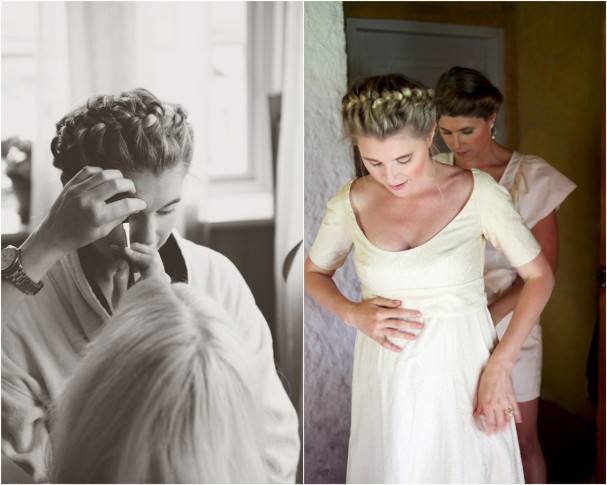 I won't go into too much details here (because this post would end up waa-ay too long and it's just awkward spreading far and wide that the day Fabian proposed to me happened to be April fools..;) I have a feeling the pictures can speak for themselves here and honestly, my words would not make the story in my heart justice. Instead I have compiled a little love list of things that can make a big event like this more Greenylicious (aka, yummy, rocking freaking awesome and kind for both earth and people).
It all began in the early morning light. I had barely slept (nerves and late night raw wedding cake making) as I sat together with big mama oak tree (my extra-dad snatched the pic up there) thinking about the things I wanted to tell Fabian in my vows, trusting that the right words would be there when the time came (which they did). After this our day continued as tons of magical moments and everyone helped to make it that way. Family, sisters and brothers, soul family, friends, the weather, the chef, the rainbow and of course the forest. The forest in which I have run and played in since I was little. To the improvised flute music of my uncle I followed Lova my little sister, Lovisa, Sarah and my big sis Amelie. We walked to the sacred circle where Fabian awaited. Lova carried our rings and I suddenly knew what it was like to cry and laugh at the same time. Read the rest of the story in the pictures my dear, dear friend and let the light, love and life hug your heart.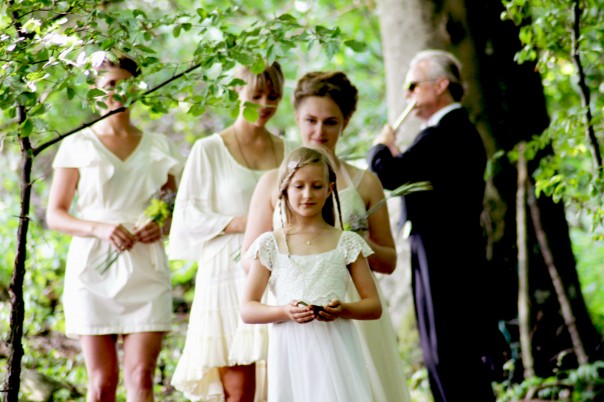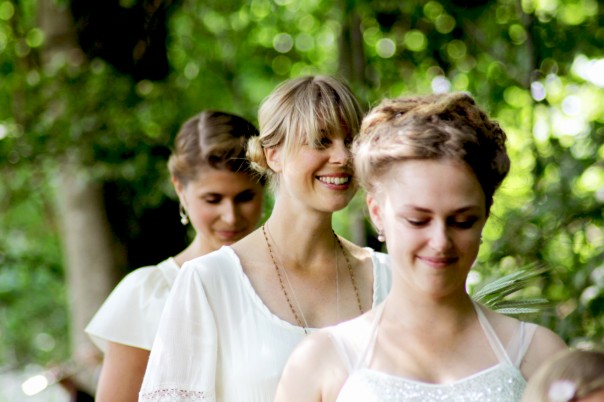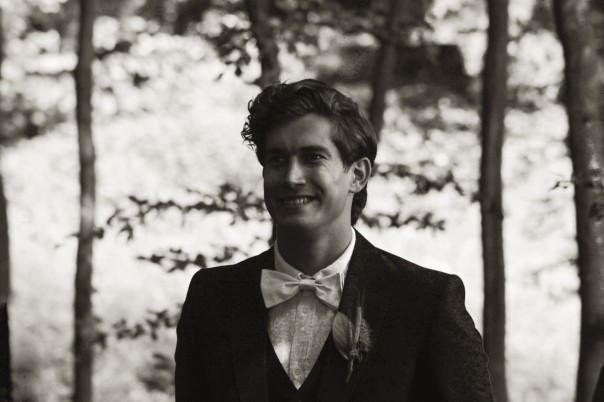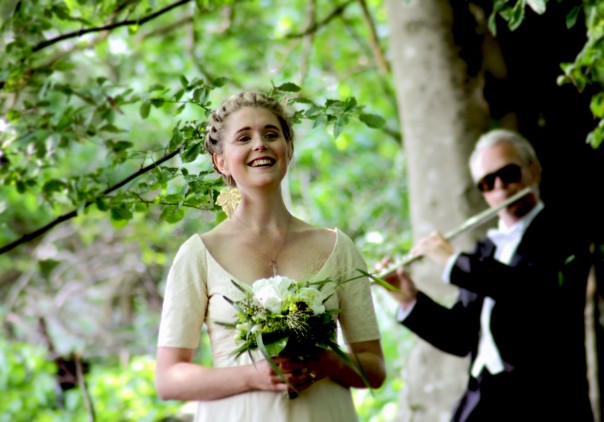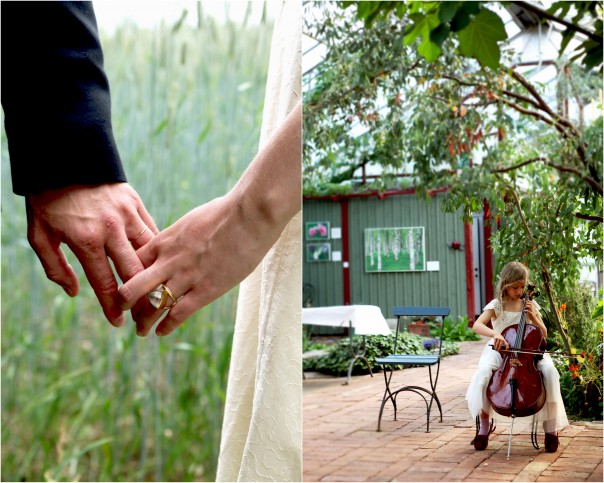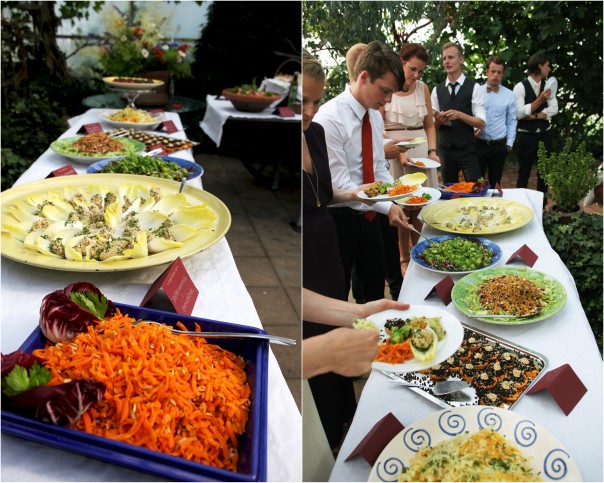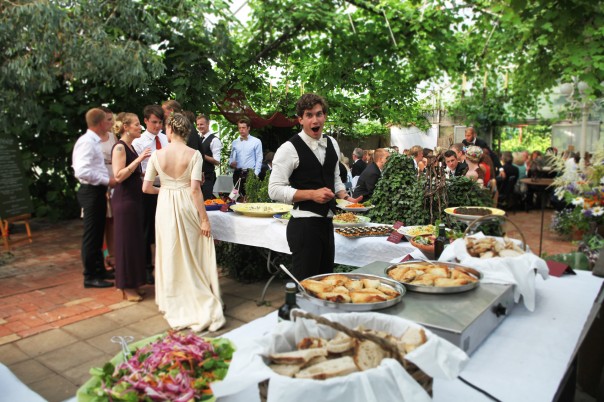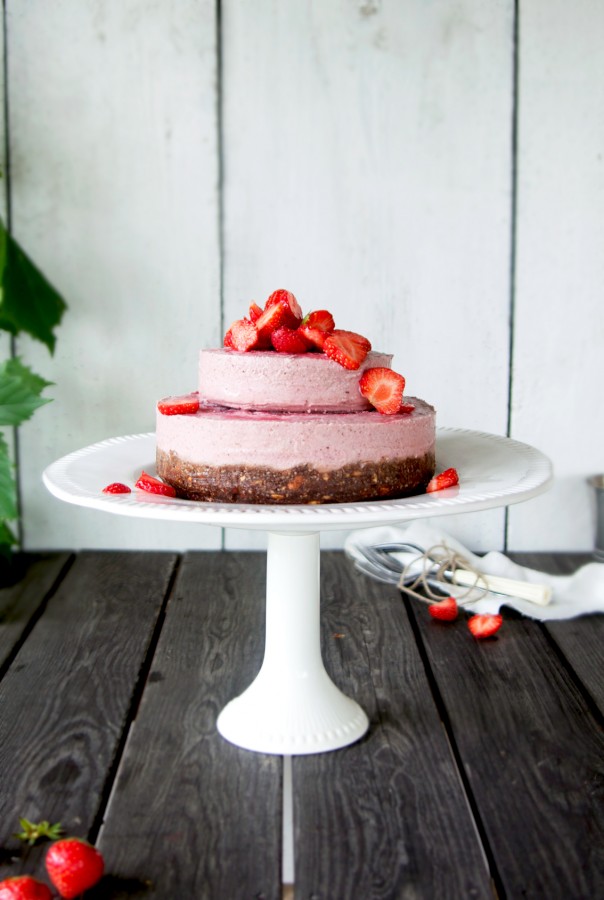 The vegan wedding menu
The goal: awesome, delicious food that could suit a lot of different people and that simply happened to be healthy. After a major search for the right person I finally co-created the buffet menu with chef Daniel Quartey. The result was nothing but insanely tasty. Not listed here, after the wedding ceremony we also served a baked vegan citrusy layer cake with spiced strawberry raw jam and a pink beet root colored coconut sugar frosting. This creation was covered in edible rose petals of course.
Welcome drink
and paper cones with stove popped popcorn
Buffet
served with organic champagne and herb infused fresh water (herbs from the garden)
– Tartar hummus in endive leaf boats
– Salad on the first summer potatoes tossed in ramps pesto, roasted garlic and fresh spring onions
– Tricolored quinoa salad with diced veggies, toasted almond flakes, raisins and berbere spice blend
– Colorful carrot salad with toasted sunflower seeds and apple cider vinegar
– Baked sweet potato with herb heavy beluga lentils and dijon mustard creme
– Warm samosas with a mix of fried mushrooms, fresh herbs, miso paste and brown rice
– Crisp fennel salad with oranges and chives
– Baby tomatoes filled with cumin and cinnamon flavored black beans
– Leafy green and cucumber salad with raw carrot "pasta" and lime marinated onions
– Beautiful artisan sourdough bread
Dessert
served with a selection of organic teas
Raw strawberry mousse wedding cake on brownie base (scroll down for recipe)
Night meal
served with red wine (made of grapes from the greenhouse in which we were sitting)
Tomato & chili tapenade / golden turmeric hummus on freshly baked rye bread.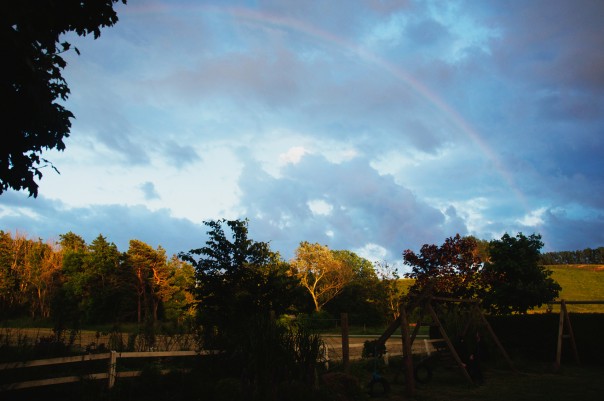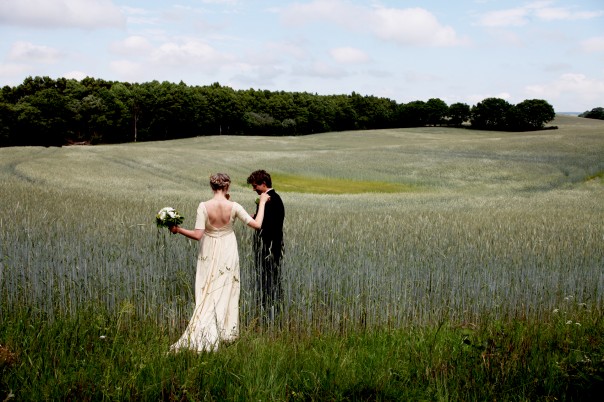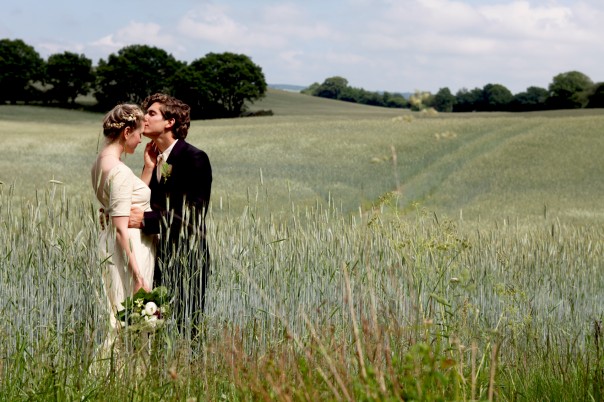 Greenylicous wedding tips
We wished for a wedding with nothing but the most important core – love and all around green, organic and beautiful simplicity. Also, we only had two and a half month to pull it all together.. We wanted an event that was kind on us, the earth and all guests from beginning to end and these are some of the things we focused on to make that happen.
Food & Drinks
Organic goes a long way, yes but also think about the local and seasonal aspects when choosing your food. Our choice was to go with an all vegan menu because that is what we, in our hearts felt was right. Plus I'd be able to eat of all dishes and it would be an exciting introduction of exquisite vegan foods for all guests including some hard core carnivores and lentil virgins. Fresh water served in glass jugs packed with fresh herbs straight from the garden is way more environmentally friendly, beautiful and healthier than any bottled water. I do love a glass of bubbly and even though I was pregnant and therefore enjoyed other drinks (like local apple sweet cider and herb water) I still loved that organic champagne was served throughout the evening. It was either that or a green juice bar and I just did not feel it was realistic to invest in a handful of masticating juicers at the time.. When evening turned to night we also served red wine made from the grapes that grows in Fabians grandmothers greenhouse where we were sitting. Very much organic and local. Also greenify table cloths, napkins and cutlery. Real stuff that can be used again and again is way better than a paper napkin or a plastic spoon for example.
Clothes
My wedding dress is a vintage gem that I have had hanging in my closet for a few years. It's cream white, dreamy, beautifully hand sewn and it just needed to spend some time at a tailor to be transformed into something simply perfect. Fabians suit is all organic and the clothes worn by the best man and the bridesmaids were all pieces that they love and selected from their own closets. All that was needed was a color scheme. Organic, pure and vegan skin care and makeup goes without saying.
Venue
What is more green that actually being in a forest and in a greenhouse? Of course it all depends on what kind of wedding you want but having an earth-vibe venue adds a lot of feeling I think. May it be wild and natural table decorations or a full blown forest ceremony – you will find your way.
Honeymoon
Traveling to the other side of the earth is very much exciting and yes, I do love those trips. However it's great to remember to check out some close-by destinations to skip the flights. You might be surprised at what you find, I know I was. Fabian and I chose to stay in Sweden for our honeymoon and it was the best choice ever! We went to the west coast and had a few days of yoga and nature with many friends at Mangalam, a yoga center where I have done many a sun salutations and cooked at yoga teacher trainings over the years. After that we headed to Stockholm, the city of water. We ate great food, saw some exhibits, strolled around and had a blast. The honeymoon ended with a total firework of awesomeness in the Swedish archipelago at Island Lodge If you ever come to Sweden (or even Europe), go there, it's so unique.
Wedding bouquets & corsages
I'm not a huge fan of things that look like someone "tried too hard" and I wanted my wedding bouquet and the other things that involved arranging flowers to be more of a beautiful mess. So on the morning of our wedding day I went outside, bare feet to pick barley and some other greens and flowers for my bouquet, the bouquets for my honey bridesmaids and for the corsages. I also picked up some gorgeous  feathers that the chickens had kindly left lying on the grass. Oh – and why not mix veggies and flowers?

Invitations/ Place cards/ Menu/ Thank you cards
Here's the thing. You need em', they can be amazingly pretty and they are really fun to make. I'm talking about all the stuff that you need paper for. Call me crazy but even if I'm not a fan of over-using paper (I love you trees!), I'd never send out digital invitations for a wedding or such. So how did I solve the problem? I looked in every corner of our house and asked around to see if anyone had a forgotten stash of pretty paper lying around collecting dust. The stuff that came up were so fun to use! I mean check out this on instagram at https://www.instagram.com/explore/tags/earthsproutwedding/ – a huge board in the perfect color that a dear friend with the craziest handwriting (in the absolute best possible way) then compiled the menu on. In the end, all that had to be bought were two sheets of paper because the printer messed up some of the invitation cards (I'm telling you, it was the printer, not Fabian and I).
Rings
Sure, you could braid a few strands of grass and you'd have rings but we did wish for something that would last a bit longer. By now we all know about so-called blood diamonds but how about the silver or gold? Yes, before that precious metal ends up on someones finger it can have a rather horrible background story too. What we did was we reused old gold that we had and yes, hippie as we are cleansed it in the moonlight. The gold that had to be bought in new was certified for ethical working conditions and environmental friendly mining. A good example of a certification like this: Jeweltree foundation. We designed the rings and had them made by http://kinnasturesson.se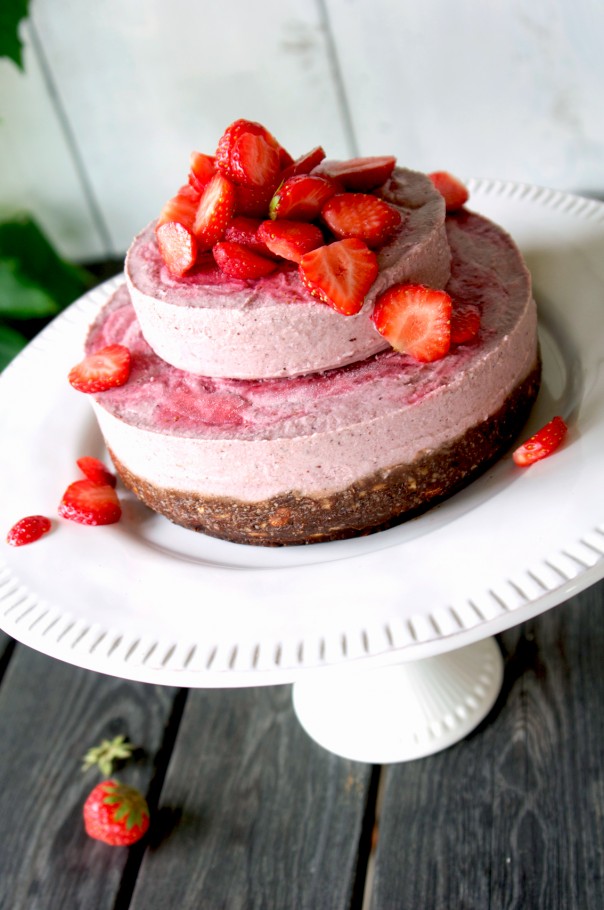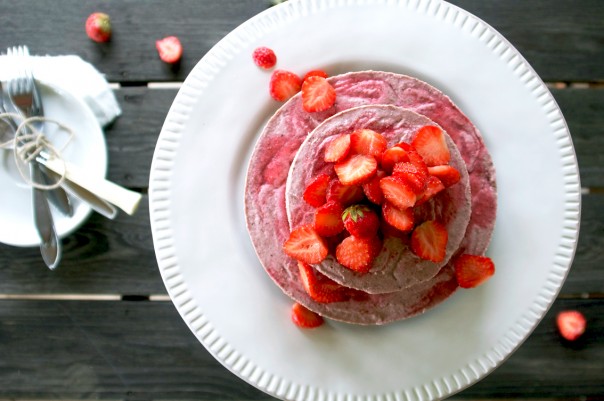 Raw Strawberry Mousse Brownie Cake
Even though ridiculously healthy this creation is still very much of a crowd pleaser with it's heavy brownie base and creamy, sweet yet light mousse. There is a lot of buzz around Irish moss, an algae and a strong carrageenan and because it can be tough on the gut  I only use it once a year or even less (never use extracted carrageenan). Here you can choose to make the mousse either with or without Irish moss gel and you will find both recipes below.
Serves 6-8
Brownie base
1 1/2 cup Sunflower seeds
1 cup / 210g dates, pitted
6 tbsp raw cacao
pinch of good quality salt
1 1/2 cup almonds
1. I toasted the almonds for the brownie base because I think it gives this cake that little extra flavor punch but you can choose to keep them raw if you wish. If you feel like toasting the almonds preheat the oven to 356 F / 180 C and toast for no more then 10 minutes or until lightly golden.
2. Add sunflower seeds to the food processor and blend until flour-like, add toasted almonds and pulse until the almonds are somewhat roughly chopped -rather big pieces, please-
3. Add pitted dates, cacao and salt to the food processor and mix until a dough is formed. Using your hands, press the brownie dough evenly into a 7″ spring-form pan (If you don't have a spring-form pan use a pie plate lined with saran wrap). Refrigerate.
Strawberry mousse (not using Irish moss gel)
1 1/2 cup cashew nuts
1 cup / 210g dates, pitted
2 1/2 cup strawberries, sliced + 1/2 cup extra for swirl
3 tbsp lime juice
4 tbsp coconut oil, gently melted over hot water
1/4 tsp pure ground vanilla powder
1. Soak cashew nuts for at least 5 hours then place in high speed blender along with other ingredients (not the strawberries for swirling), blend until you have a silky mousse that you then pour over the brownie base
2. Blend that 1/2 cup of strawberries for swirling until you have a strawberry sauce. Pour sauce into the spring-form pan in 4 "dots" that you then swirl out into the mousse using the backside of a spoon or a knife.
3. Freeze for 2 1/2 hours and then enjoy with some additional strawberries. OR you freeze the cake for a longer period of time and take out of the freezer 1 hour prior to eating.
Strawberry mousse (using Irish moss gel)
1 1/2 cup cashew nuts
3 cup strawberries, sliced + 1/2 cup extra for swirl
1 cup / 210g dates, pitted
4 tbsp lime juice
2 tbsp coconut oil, gently melted over hot water
1/4 tsp ground pure vanilla powder
1 cup irish moss gel*
1. Soak cashew nuts for at least 5 hours then place in high speed blender along with other ingredients (not the strawberries for swirling), blend until you have a silky mousse that you then pour over the brownie base
2. Blend that 1/2 cup of strawberries for swirling until you have a strawberry sauce. Pour sauce into the spring-form pan in 4 "dots" that you then swirl out into the mousse using the backside of a spoon or a knife.
3. Freeze for 2 1/2 hours and then enjoy with some additional strawberries. OR you freeze the cake for a longer period of time and take out of the freezer 1 hour prior to eating.
* Irish moss gel
20 g dry irish moss (approximately 1 handful)
1. Rinse the moss really well. I put it in a colander right under running water and scrub off lose sand or debris. Soak  in water and refrigerate 6 – 12 hours, rinse and replace water twice.
2. After the final rinse chop the moss into small pieces. Blend Irish moss with 2 cup fresh water. Blend well in a high speed blender until the gel is warm (the heat is necessary). Frequently scrape sides of blender and make sure there are no small pieces. Be patient, this takes some time. Use leftover gel for face masks or such.
Note: You can use any berries or fruit in season / of your liking in place of the strawberries. Also, frozen berries works just fine if let them thaw first.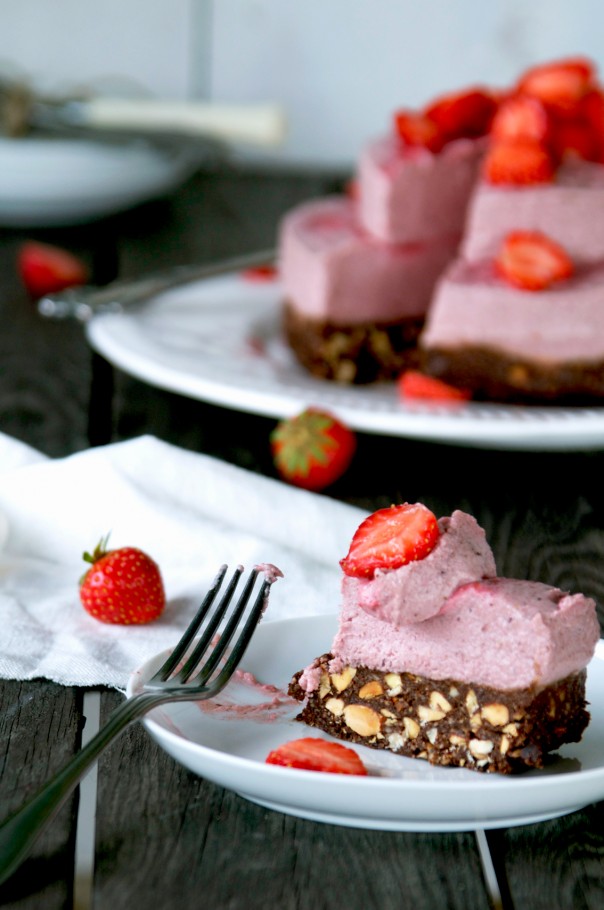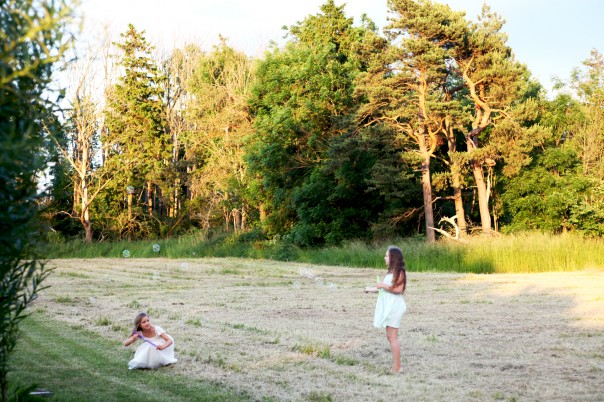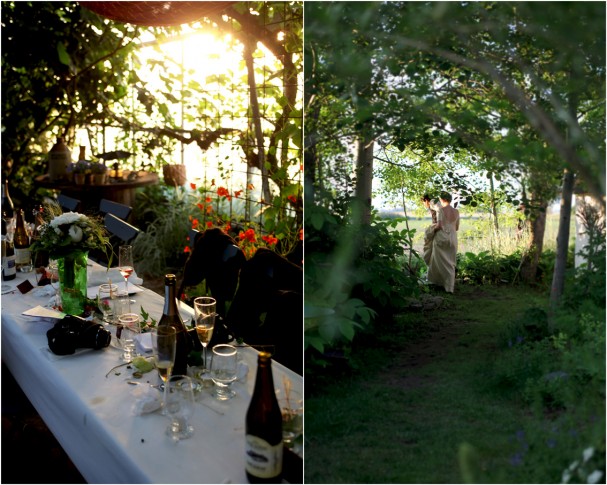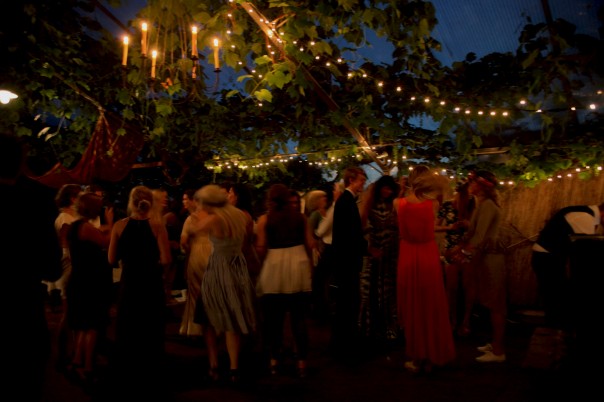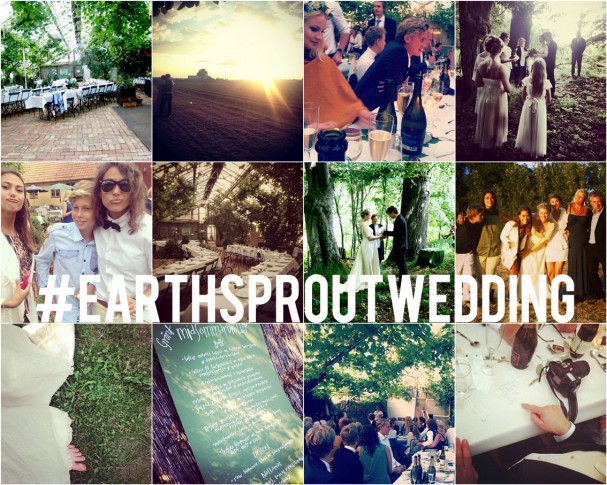 A gazillion thank you for all amazingly loving words and congratulations that reached us during our wedding day – it means oh so much! I hope you've had a good time reading and enjoying the pictures (I know I got a bit distracted by the latter when writing..). If you feel like checking out more snapshots from the wedding then head over HERE.
Major love note to Sarah B and my cousin Oscar who took such gorgeous pictures. We are overwhelmed and yes we are planning to completely cover our walls with em'.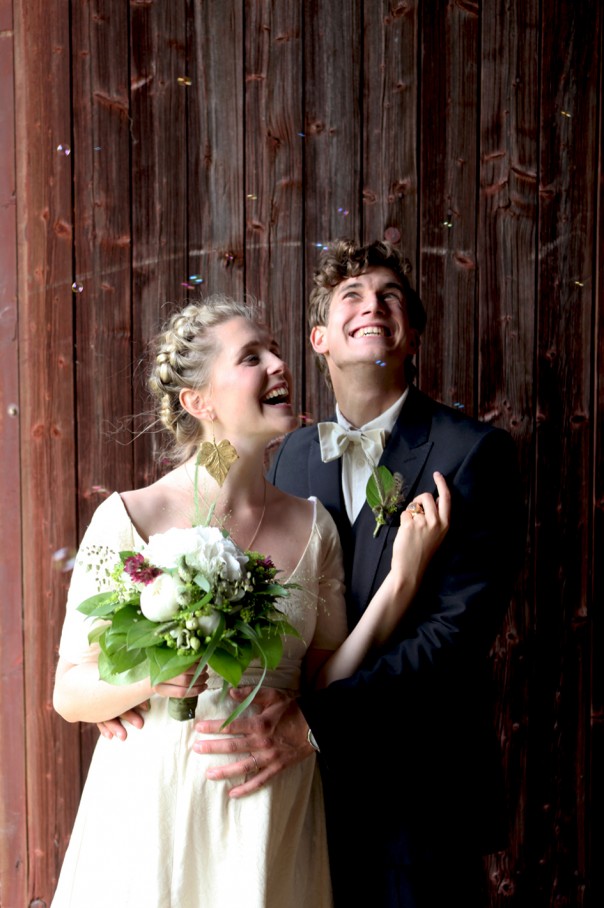 All love and a bunch of Greenyliciousness to you,
Elenore Fabian Caspian
– Now go make that cake! (and then tell me all about it) –