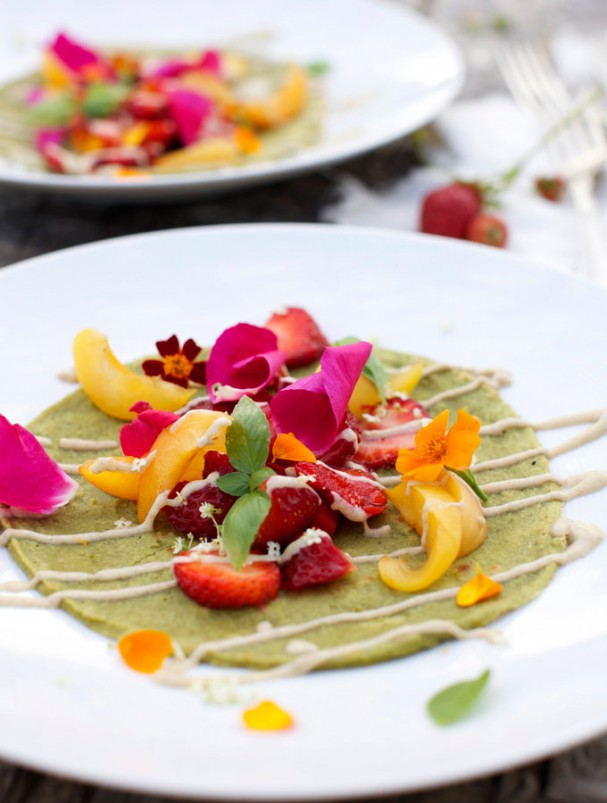 There is a little homemade sign on our front door and as I pass by every day, I read the words "I believe in miracles".
Sometimes I really need to see those words and take them to my heart but sometimes I just laugh at the obvious truth of them and get on with my rad and magical day. This story (be warned of the lovey dovey and gushy-ness) is one where miraculous explosions and heat waves of ridiculous love collide.. and finally ends up on a crepe. Makes sense, right?
I bet you've already met the brilliant and ever so awesome superstar Sarah of My New Roots but do you remember our shared Ecstatic Raw Chocolate post from last summer? If not, go here after you've read this post and you'll end up nibbling on a choco bar that will seriously rock your socks -eh, sandals- off. Since that time, many get-togethers has followed and even if Sarah and I live in different countries it only takes us a little more then an hour (thank god) to end up crazy dancing, hugging and laughing on a random train platform in Sweden or Denmark. We've always known that our our brains will keep colliding (or not colliding, we're actually pretty certain that we share brains – honestly, it's rather creepy sometimes) but we have not found the thing that would top the Ecstatic Raw Chocolate post and the story that went with that recipe. Until now.
Apparently our shared brains and magnetic love rubbed off on another dimension as me and Fabian and Sarah and Mikkel found out we were pregnant at pretty much the same time (7 weeks apart). Whoa. So as we played around in that strawberry patch last week, filling our bowls (but mostly bellies) with red-hot berry gorgeousness, Minisprout was 30 weeks and Miniroot 23 weeks. Pretty miraculous and well manifested indeed I'd say.
Now the green gluten free crepe and vanilla infused hemp sauce that follows is just as magical. When we finally got to taking the pictures it was a little too dark, then suddenly the last rays of sun showed up from between the clouds and saved our asses (or photos). Plus, how the heck did the end result look exactly the way both of us imagined when we had that brief recipe chat over the phone the day before? Beets me, but as I walk past that sign on the door I'll smile and remember the miracles we co-create. Cuz that's just how we roll.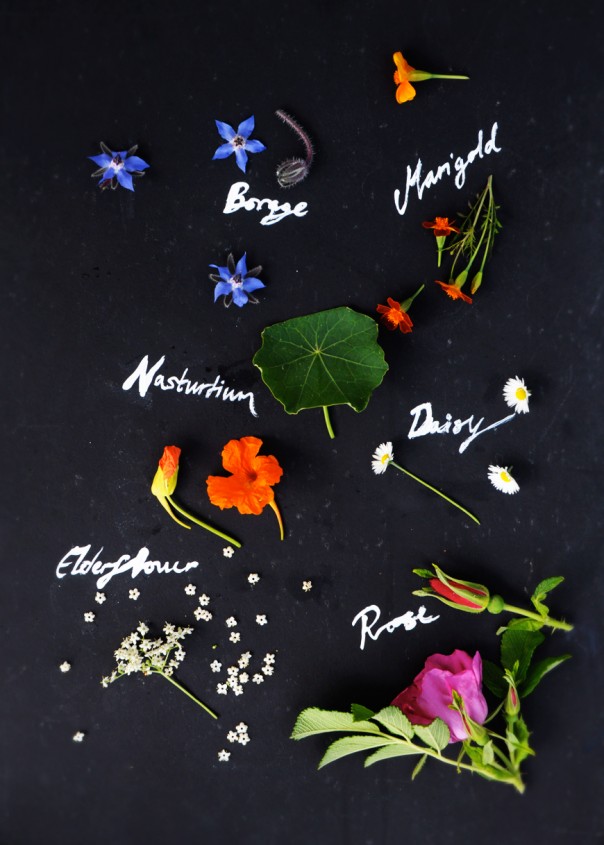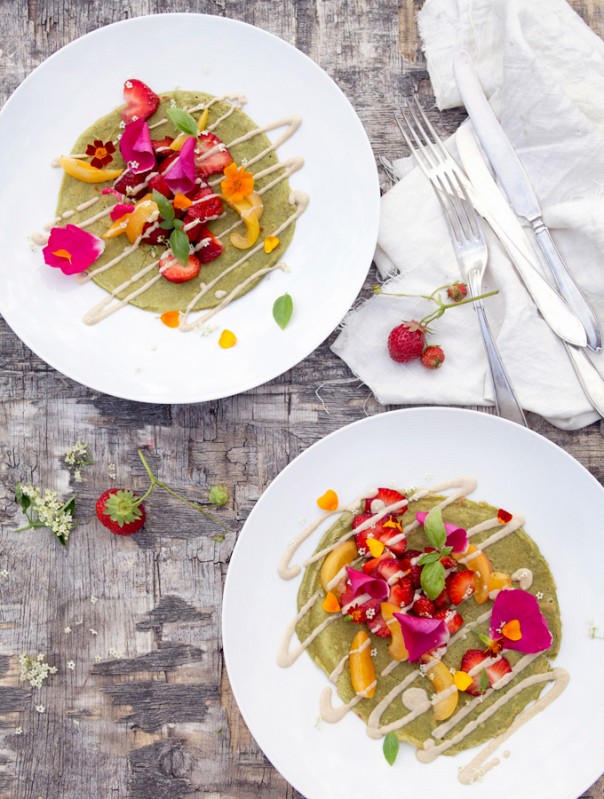 Fun & Fabulous Facts
Flowers, you guys. I can honestly not think of anything more ridiculously high vibe then actually eating flowers. No I have not lost my mind and gone to hippie-land (at least not completely). Edible flowers are that little extra thing that will add a new dimension to your kitchen creations. Yes, they may look all cute and fragile but they are pretty bad-ass when it comes to flavor, texture and complete uniqueness. It's time we fall for flowers in more ways then as lovely looking in the park. Did you know that the nectar of edible flowers is packed with vitamins, minerals and macro-nutrients? Or that the petals and leaves also contain a wide array of powerful nutrients? Here is a little introduction of some of the flowers that you can safely enjoy. Now, either head to your nearest gourmet food store to get the goods (expensive & wrapped in plastic) or start foraging/ plant some seeds by your window (unbeatable & cheap). And hey! Who says you have to eat them fresh? Dry flowers and make tea or put in your own fancy skincare products!

Marigolds (tagetes variety): Comes in different shapes and sizes but are all quite peppery and adds a sensational burst of color and an impressive amount of carotenoids.
Violets: Carry the phytochemical rutin inside it's sweet tasting petals which works wonders in our body as an antioxidant strengthening our capillary walls.
Wild roses: The distinct aromatic & dessert tasting petals are believed to relieve headaches and soar throats while the pure essential oil of rose petals are known to be hormone balancing, anti-depressant, blood cleansing and acts as an aphrodisiac.
Elderflowers: The flower that (for me) carries the pure taste of summer can actually help your digestive system and promote regularity as well as help treating sinusitis and colds. (The exceptional elderflower berries can be found in my handmade & raw Nordic Superfood Mix).
Daisys: The cutest one around! The petals does not taste much but the yellow middle of the flower does and also adds an interesting texture.
Nasturtiums: With it's overwhelmingly spicy and mustard-like flavor, nasturtiums is amazing in savory foods and salads. These flowers contain plenty of Vitamin C and iron. Both flower, leaf, seed and stems are edible.
Borages: The flavor of this little blue fella reminds me of cucumber and feels really light and watery when eaten. Both plant and flower contains impressive amounts of Omega 3,6 & 9.
Calendulas: Has been used for centuries for their health benefits such as preventing new cancer cells to form, wound healing and eye protecting. (You can find petals of calendula in my Raw Nordic Superfood Mix).
Note: all flowers are not edible so be sure to check which ones in your garden/park or on your walk that are before you start munching away. Ps. the importance of organic goes for flowers too so only eat those that are not sprayed with pesticides.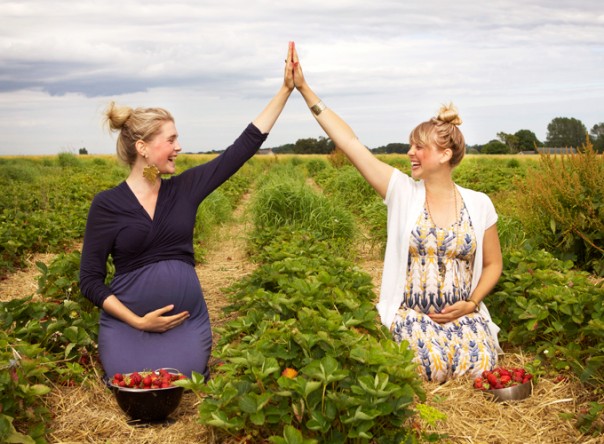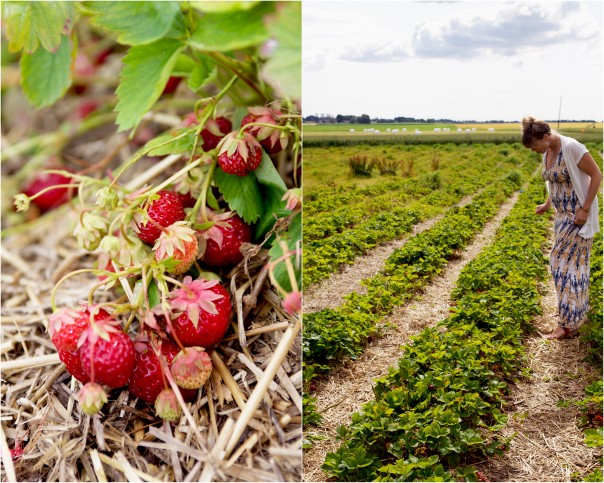 Miraculous summer crepe
Do not be fooled by the girly dessert-like look. These green basil crepes are insanely versatile and can easily be a part of an amazing savory meal. We filled some with freshly grilled veggies and portabello mushrooms and enjoyed as dinner with a green (+ flowery) salad. If you want to use them as wraps, simply let them lay under a fresh tea towel right after frying and they will stay very soft and pliable.
Green summer crepes
Makes 8-10 crepes
1 1/2 cup buckwheat flour
1 cup brown rice flour
2 1/2 cup water
2 cups fresh spinach
1 handful fresh basil leaves
2 tbsp virgin olive oil
1/2 tsp Himalayan salt / Celtic sea salt or other mineral rich, good quality salt
1 tsp apple cider vinegar
1 tbsp coconut oil, for frying
1. Combine the dry ingredients in a large bowl.
2. Blend water, spinach, basil, olive oil and apple cider vinegar using a high speed blender or an immersion blender until smooth. Pour over the bowl of flour and salt.
3. Combine the dry and wet ingredients thoroughly using a spatula or a wooden spoon.
4. Fry the crepes over medium heat and use a teensy amount of coconut oil before you pour batter into the frying pan. Use a spatula to make a thin round crepe.
5. Fry and flip each crepe until they have a bit of color on each of the sides, stack crepes on a plate and cover with a clean tea towel while you continue frying.
Hemp & Vanilla Sauce
1/2 cup (75 g) hemp hearts
3/4 cup water
5 large medjool dates, pitted
1 vanilla bean, scraped
a pinch of salt
1. Rinse hemp hearts well and add them to a high speed blender along with dates, salt and water. Blend until smooth and creamy. (If you do not have a high speed blender, soaking hemp seeds for 30-60 minutes prior will help soften them)1.
2. Open the vanilla bean and scrape out the seeds using a sharp knife. Add the seeds to the sauce in the blender and blend again.
Filling
Strawberries
Apricots
Edible flowers
Basil leaves
Hemp & Vanilla sauce
Arrange
Slice the fruit and berries and put onto a crepe, drizzle over the vanilla sauce using a spoon or a spritzer and add flowers and basil leaves. Remember that it does not have to be a dessert though! These crepes would for example make a perfect and easy savory picnic wrap!
Now I know you´re all excited to go make that flavor bomb up there, visit My New Roots to check out Sarah's fun & fabulous insights tied to this recipe or read all about our Ecstatic Raw Chocolate (phew) but first;
What´s your miracle today? Share and spread your rock´n roll shine in the comments below!
Summer heat waves to you,
°°Elenore, Sarah + our little ones °°
Ps. See you om Instagram for all kinds of Greenylicious adventures!