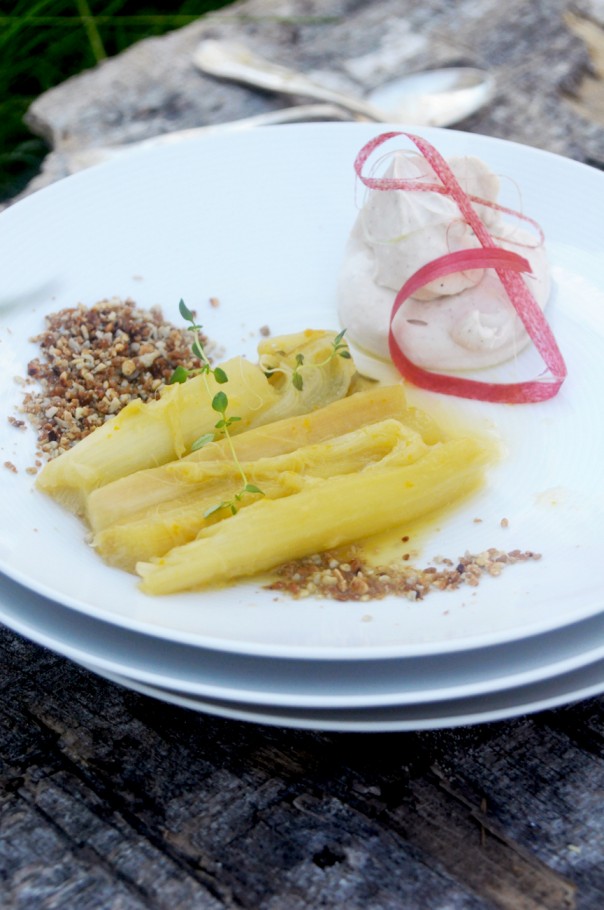 A couple of minutes from our house there is a tiny road with the name "Road of winds". One day not long ago I was heading home with a brain totally buzzing when all of a sudden I saw that sign – the road of winds. Everything went blank and calm and I was beautifully reminded of the love and deep care that surrounds us all. After that moment in the car I saw more clearly the little honey things that appeared before me and others. Like the almost obscenely sweet smell of lilacs floating through the open glass doors while I write this, or when I miraculously manifested the stunning piece of wood (that you see here in the pictures ) while taking a walk on the beach.
Then as if the world started to compete with itself, the most glorious things got put in front of my by now sun-kissed nose. Some of them tough gifts that makes you cry, fall, rise and evolve and some small hints of glimmer like a warm-hearted comment from you. One day as to top it all off I received the most thoughtful and gorgeous package all the way from Denver and my friend Kelsey. Tears and laughter are good companions, just saying. Oh and by the way, the lovely lady wrapped it all in a brown bag from Whole Foods. If that made me faint just a tiny little bit? Correct.
So why am I rambling about all these things here? I guess mostly to say; keep your eyes open and allow for your soul to see those sudden little road signs that puts you right where you're supposed to be. Raw, Alive, Fierce.
Being totally whipped on the adventure and sudden turns of life. That for me is living ecstatically. BAM.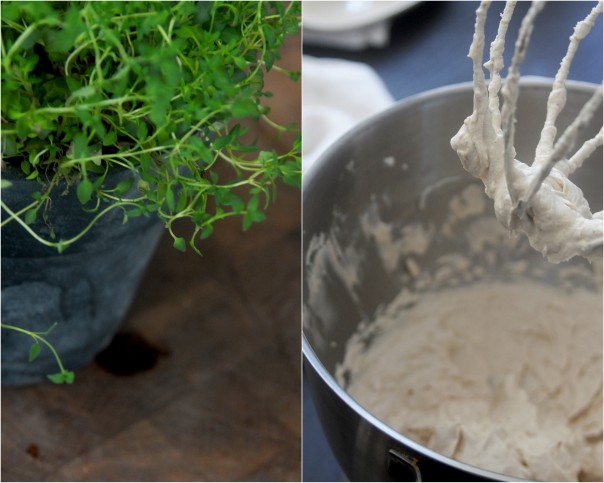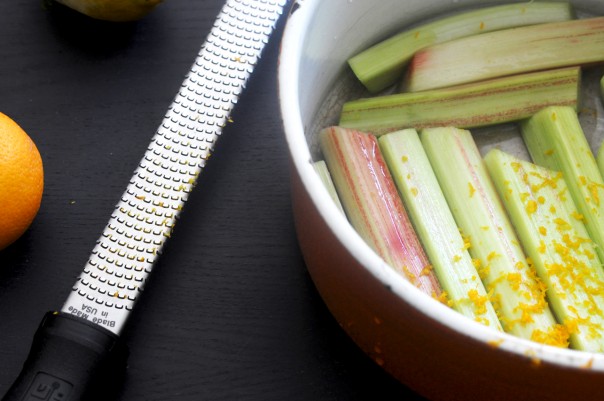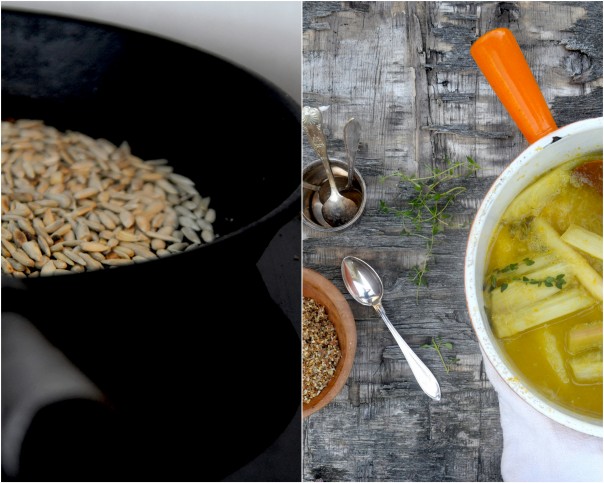 Fun & Fabulous Facts
What goes with spring better than the ridiculously rocking rhubarb? Honestly, not much. Seeing those curled up leaves sprouting out of the mud is a safe sign that sunnier days actually are coming. Leaves and little pink stalks not caring about endless days of rain and fog. Rhubarbs are one of the bravest spring superheroes, hand in hand with asparagus and ramps. See, they do rock! But there is more to the green or pinkish stalks that make your mouth sort of pucker up if you decide to chew on a raw piece of rhubarb (that's the astringent tannins by the way).
If you feel like giving your quite possibly hard working liver a little treat then the rhubarb is your go-to guy. It will cool down an inflamed liver and is widely used (many times in tea) to cure or soothe liver-related problems. Even if the effect is cooling on the liver, eating rhubarb has a long-term heating effect on the digestive system. This is something many people need today with all the not so awesome things going through that precious digestive system of ours – hrm, hello unwanted constipation – but of course, it's only a quick-fix to an issue that eating a whole foods diet would actually many times solve. The funny thing is, it's actually the rhubarb root that has been used for thousands and thousands of years as a medicinal herb (I had no idea!) while the positive effects of eating the stalks were only found after sugar entered our lives. Ah well, I have found a way for rhubarb to enter our lives without the white sugar and without the need to make a totally weird face.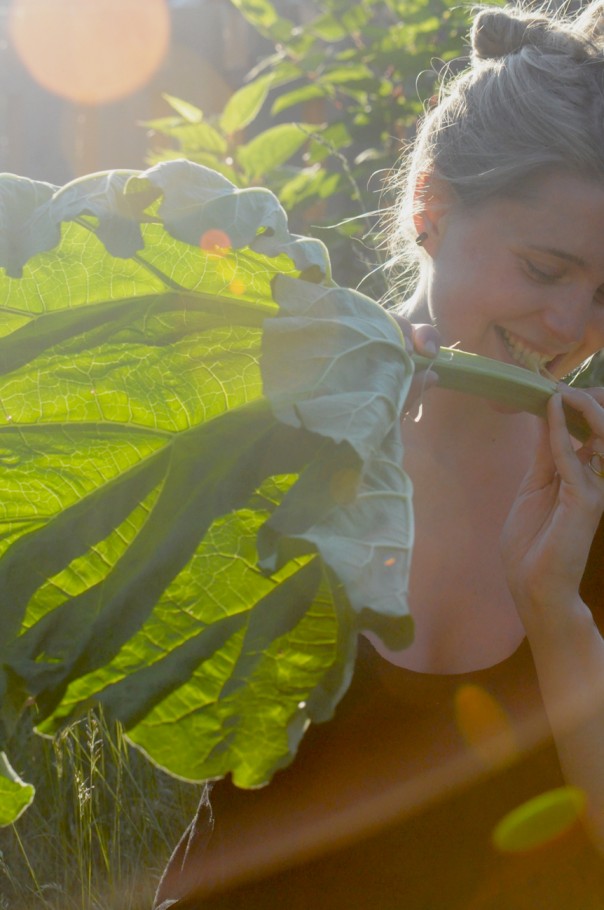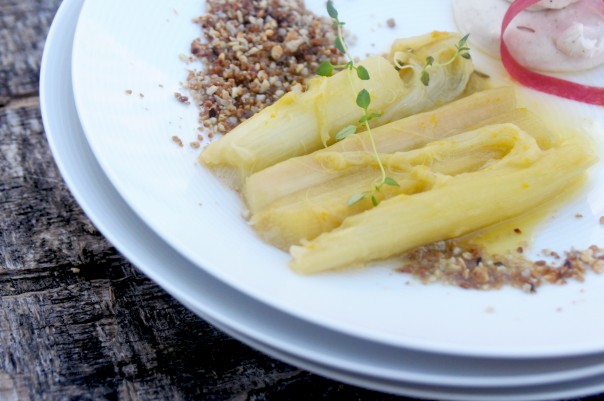 Stewed rhubarb w caramel whip cream and crunch
The rhubarb here is rather sour and tangy, the caramel whip cream is really rich and sweet. When paired with some crunch they accompany each other in a beautiful way. And hey – it's a totally vegan and sensationally easy-to-make whipped cream! I'm hooked – no, I'm whipped! Ps. to make vanilla/caramel ice cream simply let the whip cream take a few turns in a ice cream maker.
Serves 8-10
Caramel whipped cream
3 cans of coconut milk, refrigerated overnight
2 tbsp coconut sugar, powdered
1/4 tsp ground vanilla bean powder
1. Open the cans and scoop the top layer of solid white coconut into a mixing bowl ( save coconut water on the bottom of the can for smoothies/soups).
2. Add the coconut sugar and vanilla to the bowl and blend with a hand mixer on high speed for 20 seconds, just until perfectly fluffy and light. Put the coconut whipped cream in the fridge until you are ready to serve. If refrigerated for a couple of hours, you'll need to give it a spin with the hand blender again to make it softer. The whipped cream can be stored in an airtight container in the fridge for 3 days
Stewed rhubarbs
15 stalks rhubarb
1 orange, juice + zest
1 lemon, zest
1/2 lemon, juice
8 springs of fresh thyme
1. Peel and cut the rhubarb in pieces of your preferred size. Put in a large pot along with the rest of the ingredients and let simmer for 10-15 minutes depending on the size of the rhubarb.
Toasty crunch
1/2 cup sunflower seeds, toasted
1/2 cup unsulphured raisins
a pinch of salt
1. Blend lightly toasted sunflower seeds, raisins and a pinch of salt in a food processor until perfectly crumbly and crunchy. Done!
Arrange
Scoop up caramel whipped cream onto small plates, add a sprinkle of the toasty crunch and finish off by adding the stewed rhubarb. Serve with leaves of fresh thyme and perhaps a strand of pink rhubarb peel.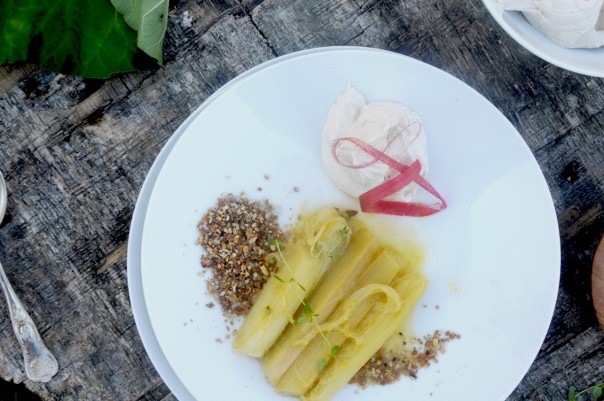 Because acknowledging and taking action makes things stir: What puts you in the mode of being totally ecstatic? What's your road sign, what's your "road of winds"?
Put it in the comments below!
With more love than words could convey,
°°Elenore°°