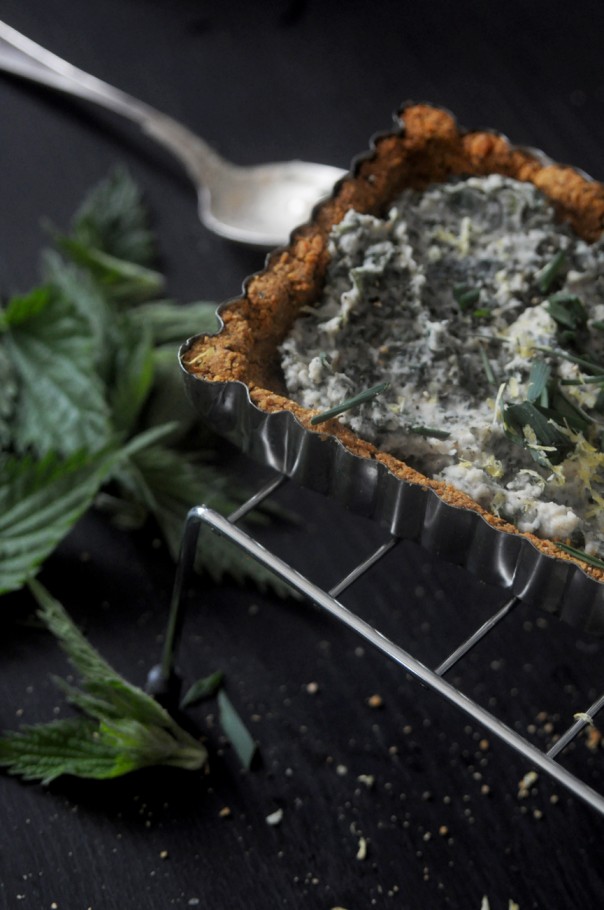 ..Sometimes I tend to lean a bit too much towards being the most serious person on the planet (ahem), then he'll say something ridiculous and I remember to be my silly self again. Like when I am buzzing around the house planning, soaking, cooking, writing, tidying bla bla bla. There he is, making a wierd face, saying something funny or simply making me realize the absurdity of a particular situation.
Yesterday after dinner I was so effing exhausted that he ordered me to go lay on the couch while he cleaned up the kitchen. But did I? Um, not really. I went into that buzzing mode and began organizing 35 000 things all at once. Finally I dropped a huge package of matchsticks on the floor… and buried my face in my hands. He led me to the couch, said stop and a few minutes later I found myself laughing my head off. Not sure what he said, but I laughed.
It's the same when he gobbles down a piece of nettle tart without countless cups of cheese or butter and I remember the things he ate (or rather didn't) when we met. That makes me smile. I'm telling you, those meals were beige and pretty empty of nutrients, color, fun and adventure. This man really do keep surprising me. The way he sees, feels, reacts, thinks and holds me is remarkable. Also, anyone that goes from bringing an icky gas station bought baguette to a picnic, to loving up a nettle tart has my deepest respect. Fabian, you rock.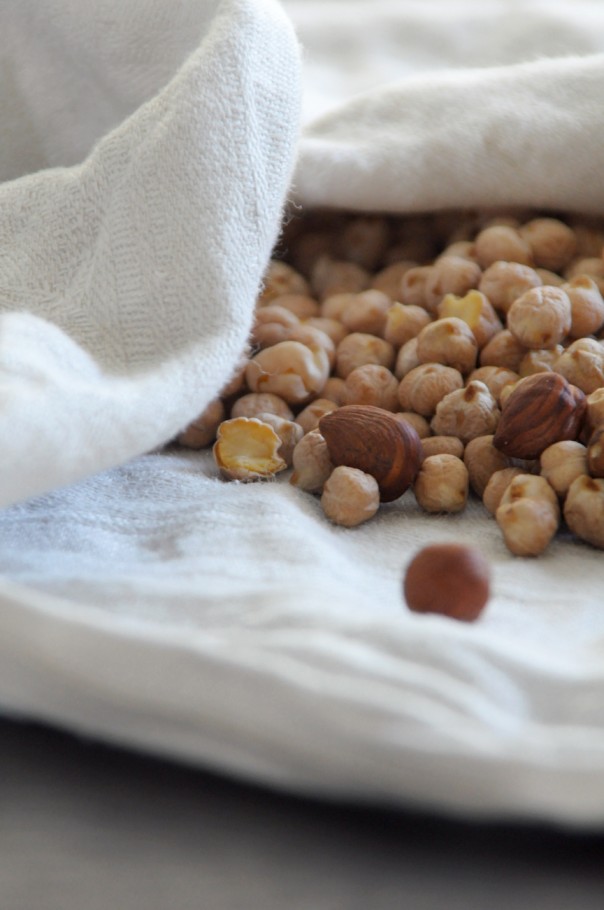 Fun & Fabulous Facts
I have a particularly loving love affair with anything that I have seen growing in the wild during my childhood (and now adulthood) in Sweden. In this recipe two of my faves meet up: the nettle and the hazelnut, but for today's Fun & Fabulous section let's focus on the heavenly hazelnut!
Hazelnuts (Corylus avellana) also called Filberts are grown pretty much all over the world today but they originate from the southern parts of Europe and are closely related to the birch tree. What I love about hazelnuts is their very fruity flavor when eaten really fresh and preferably soaked. Wow, it's such an experience (and no, not all things hazelnutty is nutella;)
If you add their nutritional value to the out of this world flavor it's easy to understand why it's so widely cultivated and loved. Being exceptionally high in hard to get minerals like folate and magnesium they are a great addition to your already greenylicious diet. The hazelnut is also next in line after the almond when we talk about calcium loaded plant foods – Halleluja, Hazelnut milk! Right?! Ps. ever tried young hazelnut shoots from the hazelnut tree? It's outstanding!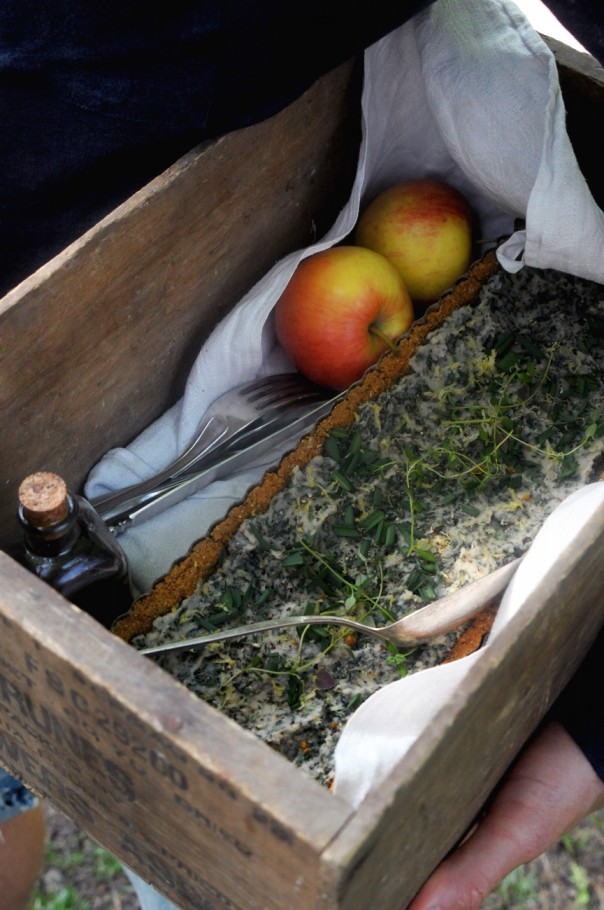 Nettle tart with chickpea and hazelnut crust
Brace yourself, it's time to make your very own flour. Yes, you heard that right! The delicious (and vegan, and gluten free) crust is based on homemade flour of lightly roasted whole chickpeas and hazelnuts and honestly, it makes all the difference in the world. The creamy filling is made of small white beans so this tart is rather rebellious and outside of the regular tart rulebook.
4-5 servings
Crust
1 1/3 cup dried chickpeas / garbanzo beans
1/2 cup hazelnuts
5 tbsp tapioca, potato or corn starch
4 tbsp coconut oil, room temp
1/2 cup cold water
1/4 tsp salt
1. Preheat the oven to 180 degrees C / 350 degrees F
2. Rinse the chickpeas and dry using a clean kitchen towel.
3. Put chickpeas and hazelnuts on two separate baking tins in the oven and roast until light golden, about 8 minutes. Let roasted chickpeas and hazelnuts chill in a bowl in the fridge for 10 min.
5. A high speed blender, a good food processor or even a coffee grinder will help you make the chickpea flour. Note that you should NOT blend hazelnuts and chickpeas together.
6. Now, combine both flours with the rest of the ingredients in a mixing bowl by working it with your hands. Gather dough into a ball, wrap in plastic and chill for 30 minutes.
7. Press the dough evenly onto bottom and up the sides of a large tartlet pan and bake until golden in 180 degrees C / 350 degrees F for 10 minutes.
Creamy nettle / lemon filling
6 cups fresh nettles (use spinach if you can't find)

2 1/2 cup cooked small white beans
1/2 tsp nutmeg
2 cloves of garlic
2 small springs of fresh rosemary
1/4 tsp salt
1/4 tsp black pepper
1 lemon, the zest
2/3 cup water
2 tbsp virgin olive oil
1. Rinse the nettles (use gloves) and roughly chop them. Heat up a large sauce pan, add a knob of coconut oil or ghee and cook nettles on medium heat for 3-4 minutes.
2. Put all ingredients for the sauce (not the nettles) in a high speed blender or food processor and blend until really creamy. If you feel like you need a splash of more water, go ahead. More salt & pepper to taste.
3. Pour sauce into a bowl and add the nettles. Combine well before spreading the filling evenly into chickpea/hazelnut crust and decorating with some spring onion, fresh thyme and additional lemon zest.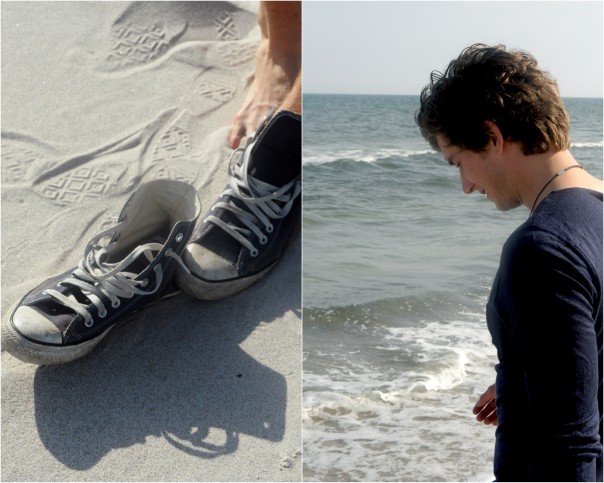 …and so the picnic palooza begins. Are you in? Let´s start the party in the comments below by each one of you dropping a line with 3 of your top picnic foods – and hey – they are Earthsprout approved, right? ;)
Mine? Well.. tarts, fruits & berries and jars of fresh smoothies or juices. Oh and a Fabian along with that, please.
°°Elenore°°