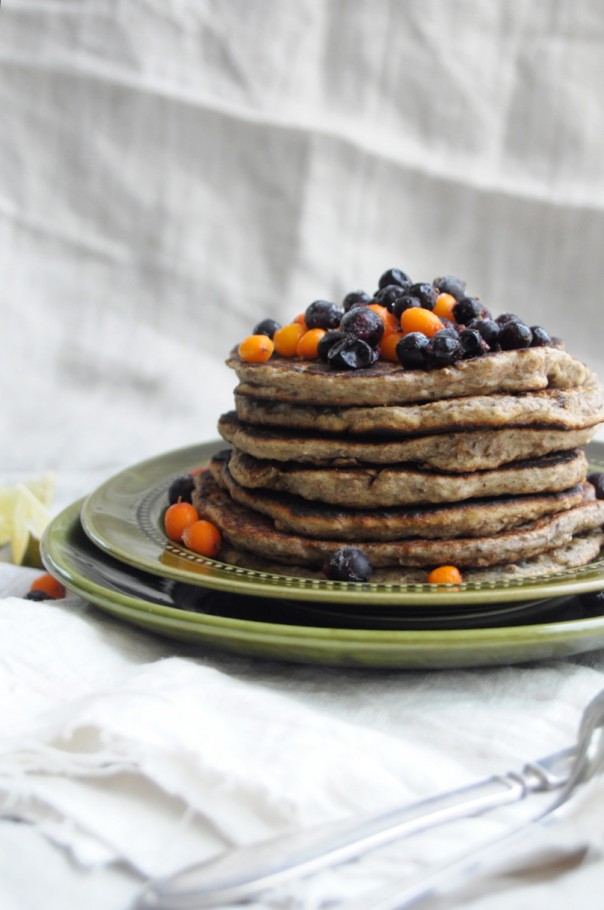 There are times when you really just need to be held. When the entire universe seems too grand and overwhelming to swim around in and all you long for is a great big hug… or indulging in a plate of pancakes and approximately bathtub worthy amounts of Lapsang tea.
Growing up, my dad always made really tall pancake cakes for my birthday. Layers and layers of thin Swedish pancakes with jam dripping from the sides that we devoured with a scoop of vanilla ice cream. Needless to say, the pancakes in this post are very far from the ones my dad used to make (bye bye eggs, refined wheat flour, dairy and ..ehm, more dairy) but as traditions tend to stick, so does the feelings that go with them and my new version therefore makes me feel little and held. Also, when it rains as much as it has been doing lately I can get away with a plate of these for lunch without being left with a gnawing feeling of not having given my body what it needs. I mean, who says I cannot have that salad as dinner instead? .. or a Green Jazz Juice in a while .. or a Greenylicious Super smoothie as dessert.. Ah, I'll just start my day with a Golden Detox Drink … tomorrow ;)
Indulging is life. Weather it's about laying on your back watching clouds and letting your mind and body be tickled by nature or sipping your favorite cuppa something in the sun, kissing or eating pancakes. Indulge, baby – indulge! Those are the moments we remember.
Plus, I firmly believe that everyone needs an awesome pancake recipe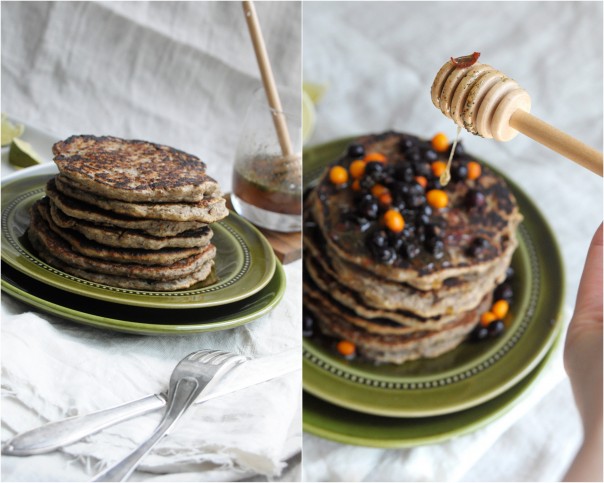 Fun & Fabulous Facts
If you do not happen to live in a tropical climate, chances are few you have ever eaten a fully ripe banana. Those of you who have tasted the difference in flavor between a green-when-harvested, green-when-bough-banana and a ripe, straight from the tree-version knows that it's pretty enormous to say the least.
There are days when it feels dead wrong to eat a tropical fruit in Sweden but since I do cheat with these things almost every day (no lemon tree, dates or almonds in our back yard as far as the eye can see..) I try to do the next best thing by letting the produce fully ripen before I do eat it. I am the person you see rushing to the aid of ripe but not so perfectly polished looking fruits in the supermarket. Bananas with tiny brown spots and juicy kiwis, don't fret, here I come!
Of course it's far better nutrition-wise to eat fresh produce right after it's been harvested (go gardening, folks!) but honestly, sometimes – even if you live in Scandinavia- you just gotta have a sweet banana. Ehrm.
Is there any other reason that ripe bananas are so rad? Oh you mean aside from agricultural aspects, personal emotions and natures pretty obvious intention? Well, I'm glad you asked;) A ripe banana, and by ripe I mean a soft, slightly sprinkled with brown spots, is much higher in potent antioxidants then a green one. These antioxidants will help your body to handle potentially dangerous cells (yes we all have abnormal cell formations/activity and it's up to us to help our immune system to naturally see to them). The key to the rise of antioxidants is actually the change of color that occurs as the level of chlorophyll lowers. So while we do want tons of chlorophyll in our diet, as the chlorophyll breaks down in a fruit it actually transforms itself into powerful antioxidants called NCC's that help our white blood cells stay strong. Told you it was rad!
I know you might be wondering this: "isn't really ripe bananas much higher in calories?" No, they are not higher in calories, however a ripe banana will rise your blood sugar more and faster than a green one because the starch has now turned into simple sugars and those simple sugars are easier for our body to digest. This is simply a change in the composition of the carbohydrates and in my mind not a reason to eat bananas that are slightly green. If you are diabetic or very sensitive to a rise in blood sugar, simply enjoy small pieces at a time and it will still be a thousand times better then a doughnut (or P&J sandwich for that matter), promise. Plus, contrary to common belief, the levels of potassium -a fantastic mineral-, stays the same weather or not the banana is ripe or green. Time to go (ripe) bananas!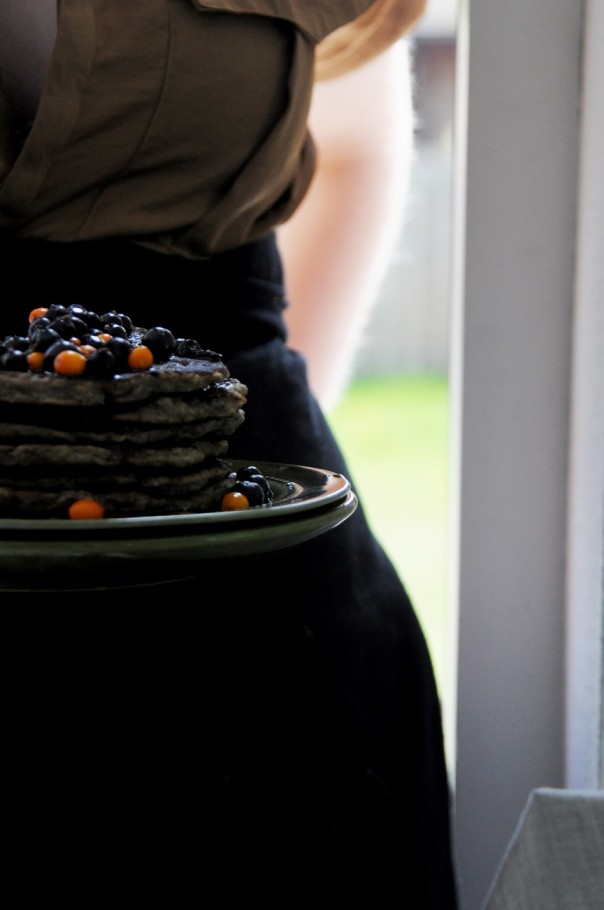 Banana & Buckwheat Pancakes with a Nordic Superfood infused syrup
Some days ago, Sarah and I agreed that pancakes are mostly a vehicle for awesome toppings. However, I only paired these banana & buckwheat pancakes with some berries and a delicious (and boosting) syrup because they actually do taste fantastic all on their own. Fluffy and light yet rich and filling. Dominant and strong yet easily paired with your favorite topping. I know, a little bit contradicting – but hey, it's the truth. See for yourself!
Nordic Superfood infused syrup
3 tbsp rice syrup
1 tsp lime juice
2 tsp Nordic Superfood Mix
1. Whisk together the ingredients in a glass using a fork. Set aside while you make the pancakes.
10-15 midsized pancakes
1 cup buckwheat flour
2 tsp baking powder, aluminum free
1/4 tsp salt
2 ripe bananas
4 tbsp chia seeds
1 1/3 cup oat/nut/seed milk
2 tbsp coconut oil, melted
4 drops of stevia concentrate (or a tbsp maple syrup/honey)
1 tbsp coconut oil, for frying
1 cup mixed berries, as topping
1. Thoroughly combine flour, baking powder and salt in a bowl.
2. Add the rest of the ingredients to a food processor and blend until all is well combined, fold batter into the bowl of dry ingredients.
3. Heat up a cast iron frying pan (no non-stick, please!), add just a little bit of coconut oil between each pancake and fry them just over medium high heat. Flip when one side is ready (time depends on your pan and stove). Keep a close eye:)
Arrange
Pile the pancakes on plates, sprinkle with berries and drizzle with Nordic Superfood infused syrup. Hello rainy day indulgence!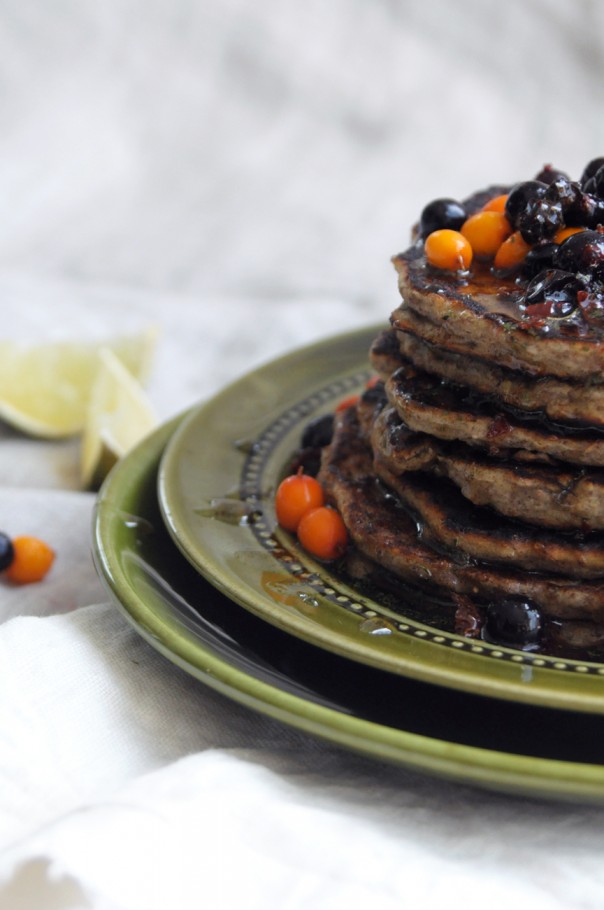 With what and when do you let yourself indulge, honey? You ought to be able to come up with at least 3 things in 10 seconds (and put them in the comments below) or else you gotta get out there and indulge some more. That's and order;)
Go howl to the full moon today and I'll see you next week!
Ps. It stopped raining, maybe it was the sunshine syrup.

°°Elenore°°