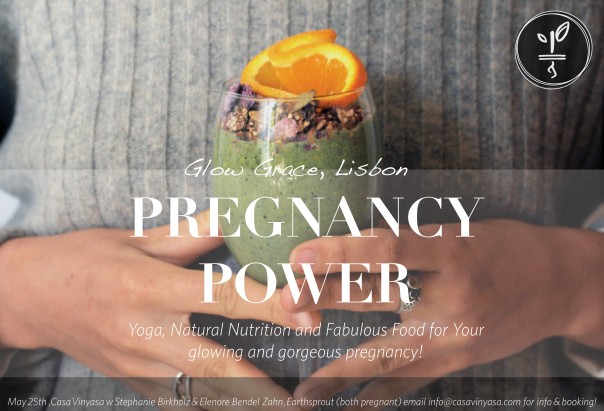 I am writing this due to the enormous amount of questions I have received regarding pregnancy and nutrition. I know this might be exciting for some but for others not so much and that's totally ok. (I love you unconditionally either way).
I'm thrilled to announce that wonderful Casa Vinyasa in Lisbon and Earthsprout has teamed up to present a totally fabulous and sensational workshop for pregnant ladies the 25th of May.
Under the Portuguese sun we will bask in the sweetness of prenatal yoga, gorgeous food and natural nutrition tailor made for this special times.
The ups and downs, do's and dont's of these 9 intense months can be pretty crazy and sometimes nerve wrecking. Let's meet in a sonic boom of love for all you babymakers out there and support one another with precious knowledge and inspiration.
See you behind the sunglasses in the Portuguese sunshine. (Seriously, I even bought a new pair;)
—————————————————————————————————–
Glow & Grace,
Pregnancy Power
Yoga, Natural Nutrition and Fabulous Food for Your
Glowing and Gorgeous Pregnancy
w Elenore Bendel Zahn & Stephanie Birkholz
Lisbon, 25th of May
I seriously cannot wait to meet you there so RSVP asap by sending your sparkling request to info@casavinyasa.com
  —————————————————————————————————–
°°Elenore + minisprout°°
Ps. Is your sister/friend/relative/honey or history teacher growing a baby? If so, please send them this info and give them the opportunity to breathe some Lisbon air and breathe the gorgeousness of pregnancy powered knowledge.