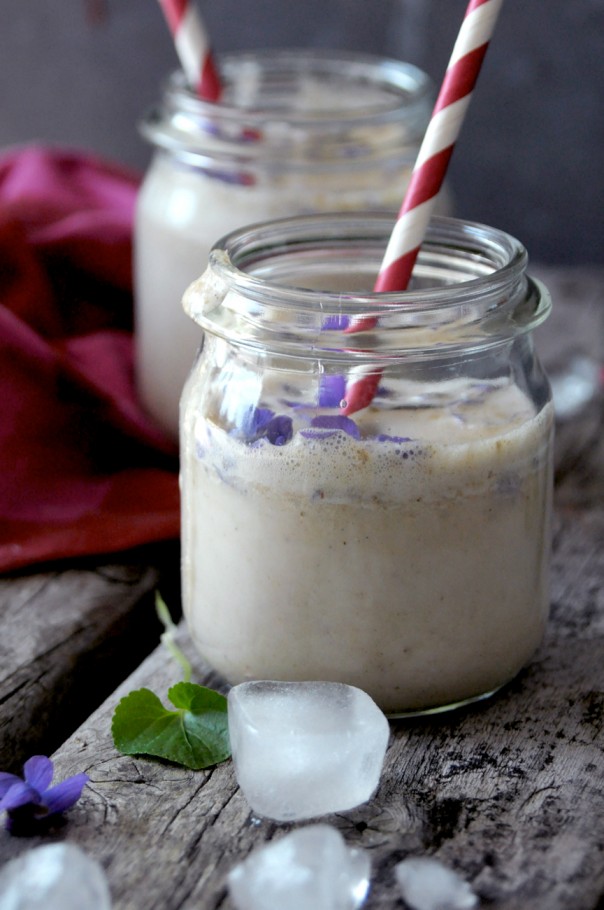 What a mess. You think you´re going for a quiet, beautiful and pretty uninterrupted ride on the river of life, where the only feeling is freedom and the only exciting event is the various formations of circles as your fingertip touches the water. Sometimes I think I have it aaaall under "control", everything is as I've planned and all I have to do is float along with it. Today is not like that.
It reminds me of us. I remember falling high over heels in love with a young man and I very clearly remember resisting it all. Hey, I was not planning to meet the man of my heart and soul, barely eighteen years old and with too many other dreams ahead. I remember our first spring, we had been sharing our days for about 3 months when the violets came and covered this part of the world in their dream scented cloud. I lay down on the grass, buried my nose in the ground and smelled earth and spring and violets. I remember saying to Fabian, next year at this time I won't be here to smell them, I won't be around.
I wasn't but our love still was.
I did not plan for this to happen and as so many other things it wasn't part of my idea of how life would look like, but is it ever? Could I ever have planned something as beautiful as the love that him and I now live? I don't think so. Could I have resisted following the stream and also my heart? Yes indeed. But I surrendered (thank gosh!) and sometimes, like today I have to remember that the most precious plans and ideas that form in our minds may not be the ones that are supposed to happen. Sometimes a new reality will reveal itself and you will realize it's a dream way more ridiculously grand then you could have ever imagined (or planned for).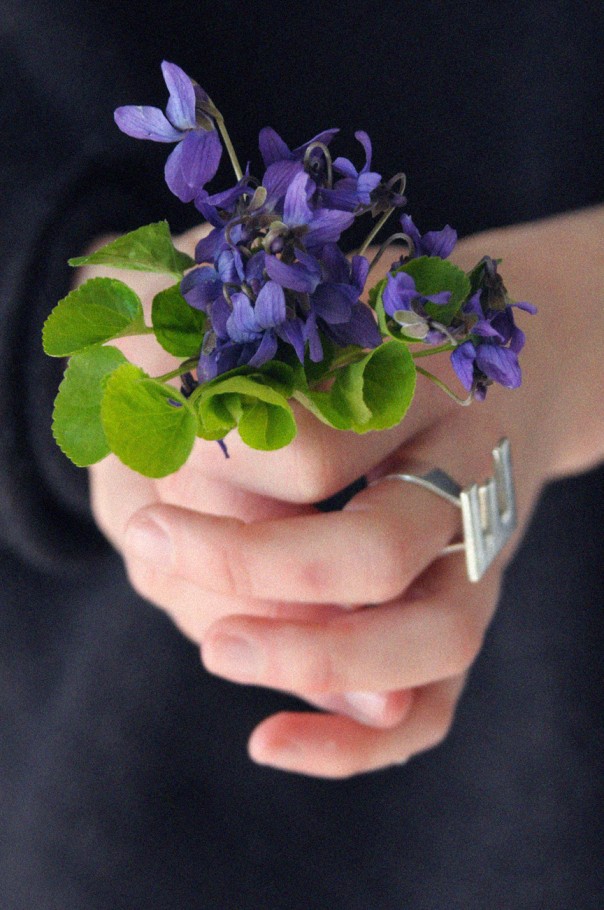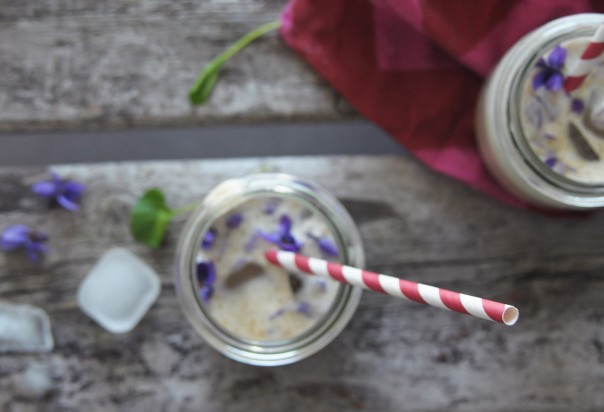 Fun & Fabulous Facts
As you know, in this section I focus on one of the ingredients of this weeks recipe and the fabulous health boosting factors (and fun stories) of this particular ingredient. At this point I've managed to tell you the nutrient dense stories of both the almond and liquorice root (which are a major part of this drink) so what to talk about today? Violets of course!
Edible flowers do not only belong on wedding cakes or in haute cuisine. I think that having the honor of munching on edible flowers are one of the most precious things of summertime. The history of eating these growing little works of art goes way back but are very seldom incorporated in our meals today. Let's change that! Why? Well, for one the nectar of edible flowers is packed with vitamins, minerals and macro-nutrients plus the petals and leaves also contain a wide array of these powerful nutrients. Violets hide the phytochemical (coloring agent) rutin inside it's pretty petals which works wonders in our body as an antioxidant strengthening our capillary walls. Wowza, Violets!
Just be mindful with edible flowers and make sure they actually are edible. Only eat edible flowers with no pesticides on them (in other words not from a regular flower store). You can either go forage yourself or head to your nearest farmers market or gourmet food store. Also, be extra careful if you are allergic to pollen of course.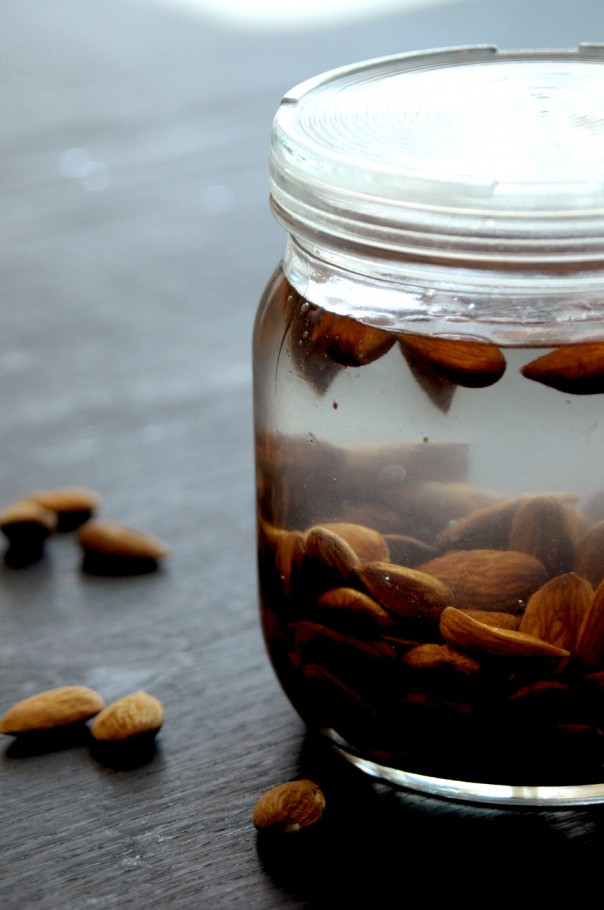 Violet & Liquorice Cloud Drink
This is THE drink to celebrate the first warm rays of summer with. If you are a liquorice lover like I am, double the amount of liquorice powder, if not then follow the recipe and get that subtle flavor and nutrition punch. It's a flowery white russian á la Earthsprout, enjoy! Of course you could exclude the violets, it's just not as fun..
Sprouted Almond Milk
1 cup organic almonds
4 cup water (plus extra for soaking)
1/2 tsp ground cardamom
1/3 tsp ground pure vanilla
a tiny pinch himalayan salt
1. Soak the almonds in pure water overnight or for at least 5 hours, rinse thoroughly and peel them.
2. Add the almonds (peel goes in the compost) to a high speed blender along with the 4 cups of water. Blend for 30 seconds and strain through a nut milk bag or the like. Save the almond pulp for tarts, smoothies, pancakes etc.
Add nutmilk back into the high speed blender along with the spices and blend. Done!
Violet & Liquorice Cloud Drink, serves 2-4
2 cups almond milk (see above)
1 large organic banana
1/2 tsp raw liquorice root powder
1 tsp unpasteurized honey
7 ice cubes
+ a small handful of violets and some extra ice cubes
1. Add all ingredients except the violets and additional ice cubes to a high speed blender and blend until foamy and smooth.
2.Pour the drink into small glasses or jars, add the petals of 5-10 violets to each drink.
3. Some additional ice cubes is nice and pretty straws are a must.
You'd think that the uneventful ride on the river of life is what you want, but then your boat starts to rock hard and you fall into the water. It's like a punch in the pit of your stomach but after a few moments you reach the surface and see a brilliant rearranging of your puzzle. More beautifully put together then you could ever have done in total "life planning mode".
It's Beltane. Make a bonfire to embrace summer and all things new. What will you surrender to the fire? What will you let go into the flames? 
Peace and a milky violet cloud drink,
°°Elenore°°