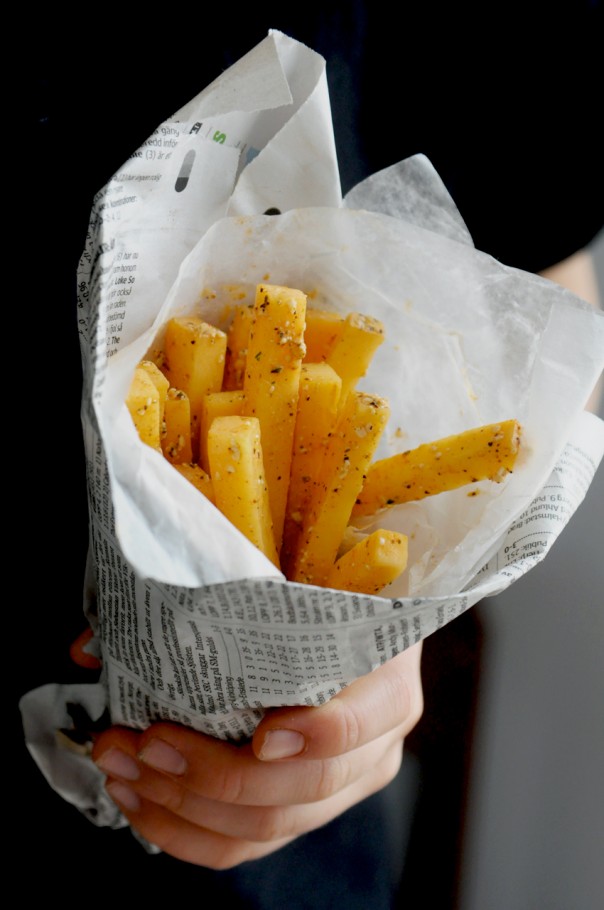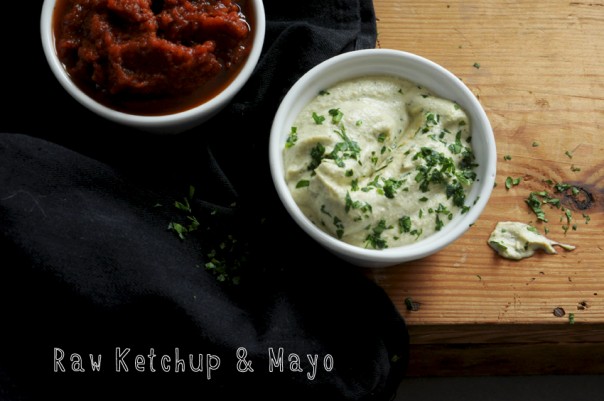 Last night I had one of those dreams that makes you kinda wish you'd never wake up. As you might know Fabian and I (& minisprout) have moved into to another home just by the sea. Honestly I feel like a plant with a huge sign that reads "Natural habitat – a forest of oak trees and deers" and still I get planted on a sandy shore. I truly do adore our new home despite the change of that natural habitat – we can never really know where the tango of life takes us, can we? Even if you think you have it all planned out and really well scheduled (ha!) surprises hide around every corner. Here I am living by the sea though I never thought I would (at least not in Sweden), I'm pregnant even though I was super hormonally challenged and I am a gardener without a vegetable garden (yet). Well that last part brings me to last nights oh so very passionate dream.
 … "it was suddenly summer, I went outside to greet the sun and say hello to the trees when I suddenly became aware of a certain smell. I know that smell, I said to my self. It lead me to think of deep forests, sprouts, damp autumn days by a lake or simply the purity of new possibilities. It was a smell that lead me to turn around and while my jaw dropped in pure surprise and joy I took a few steps ahead. A huge, huge, huge pile of gorgeous soil lay right there in front of me. Just as I had asked for. I dug my hungry hands into the moist and warm softness of it all. I felt it fall through my fingers and before I woke up still feeling the sensation of fertile summer soil on my hands, I remember thinking "someone did a good composting job..""…
Needless to say I long for my veggie garden but I will need a lot of good soil to get things growing in all of that sand. Still, after that dream I'm pretty certain that the universe supports me.
Anyway, there are still some pretty great winter vegetables left -like the Rutabaga- that require our attention.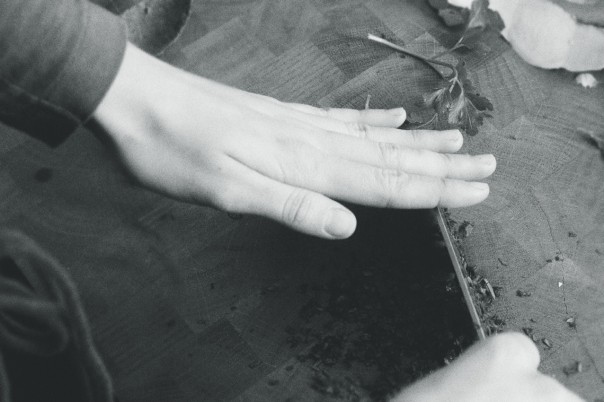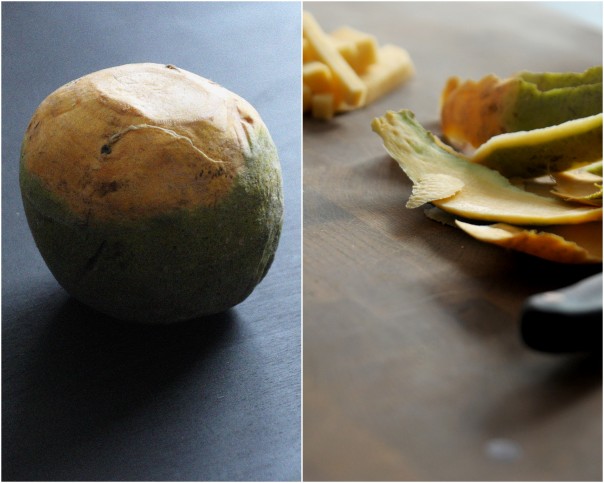 Fun & Fabulous Facts
It's a Rutabaga Revolution! My little sister and brother stayed over at our house last weekend and when eating these fries at dinner my brother asked me if I was inspired by a recent trip to Brussels (aka the city of moules frites) but that's not really the case. These golden babes are probably as far from the fried-to-death ones served at every corner in Brussels. Plus, the kind of fries that usually hang out at various restaurants and fast food joints does not have as many antibiotic properties as the ones presented to you in this post. Yep, you heard me right, it's time to quit walking past that odd round vegetable that you never know how to use. Let's reach for the Rutabaga!
So let us peek inside this yellow fleshed root vegetable, Brassica napus once and for all. It looks rough and plain but it's pretty outstanding with properties that strengthen digestion, detoxifies the liver (yay! we all need some of that) and as I mentioned before there are antibiotic as well as anticancer and antiviral properties. What really got me hooked was the antibiotic properties as I believe it is of extreme importance that we start recognizing food as medicine and rock a little prevention. It's so much better then pumping your system full of antibiotic pills left and right just to end up with a weaker and weaker body. Sure the pill kind might be necessary at times but if we start valuing prevention (like rutabagas and many other friends) that number will get so much lower. Write Rutabaga on the medicine list and off to the market with you.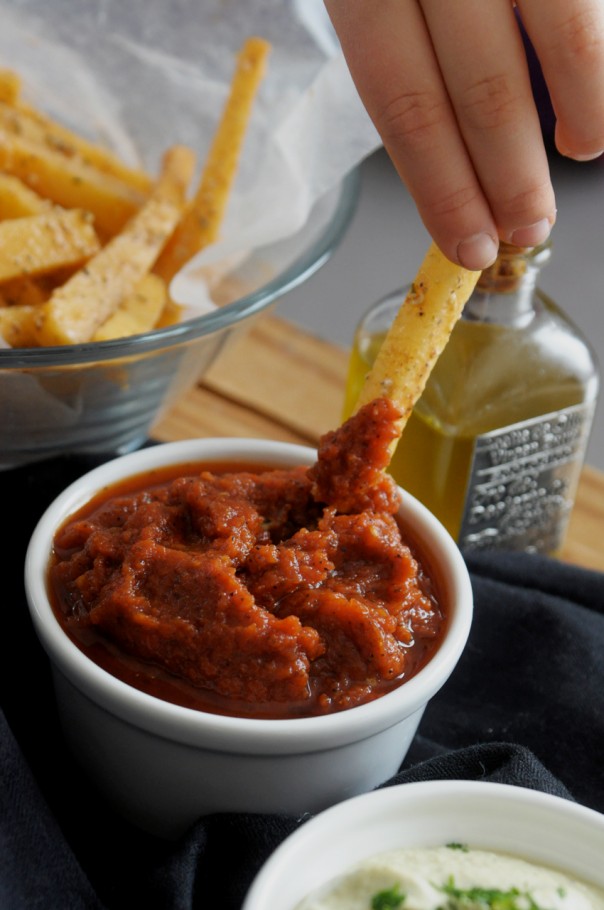 |Raw Vegan| Rutabaga fries, Ketchup & Mayonnaise
You can choose to either eat these fries baked, raw as they are or dehydrated. I have tried all three versions and they all turn out absolutely delicious with the creamy and dreamy coating of hemp seeds and spices. Then dip them in the herb ketchup and ridiculous mayo.. Let me just say, it's definitely a trip to heaven (the healthy kind!)
Fries
1 large rutabaga, peeled
1/2 tsp good quality salt
1/2 tsp smoked paprika
1/2 tsp freshly cracked black pepper
3 tbsp hemp hearts, ground
1 1/2 tbsp olive oil
1. Cut the peeled rutabaga in fries sized sticks and put in a large mixing bowl
2. Add all other ingredients and make sure the fries get evenly coated.
For Baked
Preheat oven to 200 degrees C / 392 degrees F
Place fries on a lined baking sheet (or two), making sure that they are not overlapping and bake for 20-25 minutes or until golden.
For Raw/Dehydrated
Let the fries marinate in room temperature for 2 hours OR put them in the dehydrator for approx 10 hours
Ketchup
15 halves of sundried tomatoes
1/2 cup water
3 dates, pitted
1/4 tsp salt
1/2 tsp black pepper
1/2 tsp dried basil
1. Soak the tomatoes for at least 5 hours, add to a high speed blender (or use an immersion blender) and blend with all other ingredients including the soaking water until smooth. Done!
Mayonnaise
1/2 cup Cashews
2 tbsp hemp hearts
1/4 avocado
1 tsp apple cider vinegar
1/4 tsp salt
1 small clove of garlic
1 date, pitted
+ a small handful of finely chopped fresh parsley makes it pretty and adds a final flavor boost.
1. Soak the cashews for at least 5 hours, rinse well and add to a high speed blender (or use an immersion blender) and blend with all other ingredients until really smooth. Add some black pepper and salt if you wish. Done!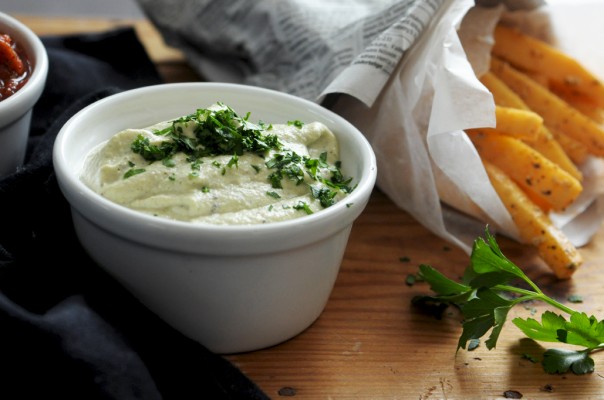 From a passionate garden dream and the powerful Rutabaga to a lovely weekend. Fill it to the top with things you adore and love and just need at this time, my dearest friends. I promise I will (ok, ok, I need to do some cleaning too..;)
..but here is the question; When are these fries going into your mouth and what will you pair them with? A sunset? A friend? A good book? A crazy dance?
°°Elenore°°