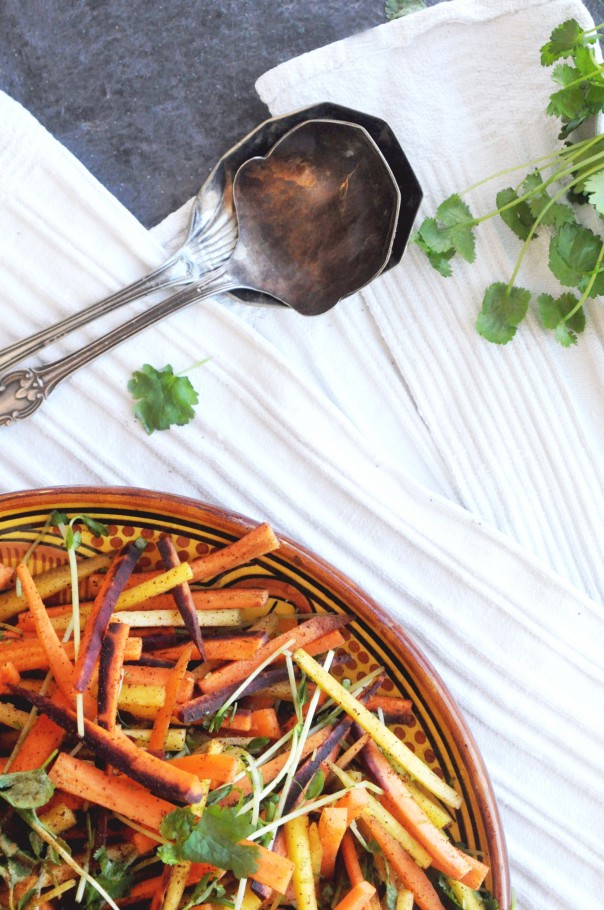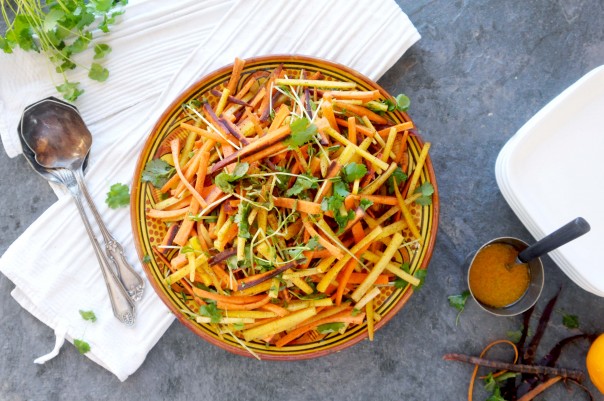 Even though there really are no "lasts" I can't seem shake off the melodramatic feeling these days. We are moving. We are moving (maybe if I say it enough times it will be easier).. So as I sit here in our bed on a Saturday morning watching the sun shine through the crystal in the window, making rainbow colored stars float around on the walls, that feeling hit me again. It's a mixed sensation of giggles, pure joy, teary eyes and a heart so full of emotions I feel like exploding. But I don't, the build up of all of these emotions seem to swim around in me creating little sighs of happiness instead. A completely relaxed feeling – all is well. I trust that the inner tree hugging forest gal in me is making space for new adventures, adventures that will take place by the sea. This baby better be an ocean baby (you hear that, mini sprout?!)
Talking about radical change really fits this recipe as well. I used to hate Cilantro and believe me, I use the word "hate" extremely rarely, so for a girl that has been hanging out a lot in South East Asia this has been quite the obstacle. I could not even sit beside someone munching away on a cilantro smelling creation, let alone order something with cilantro myself and simply not eating those green leaves. There are a few extremely potent foods in this world and cilantro is definitely one of them with it´s in-your-face smell and taste. BUT THEN a radical change took place. As I moved to Spain two years ago, something about cilantro became beyond appealing to me. I planted and grew insane amounts of this herb and probably included it in my meals every single day. Then I paired it with cinnamon and orange = a full blown food orgasm. Conclusion, change? – pretty damn good.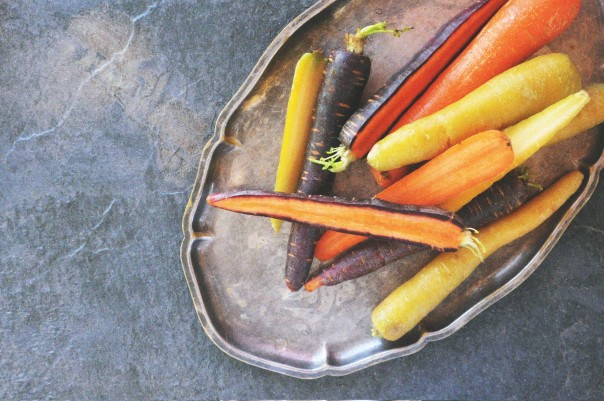 Fun & Fabulous Facts
There could be a million reasons to why I suddenly fell head over heals in love with cilantro because this lil powerhouse can do a ton of amazing things in the body. Coriandrum Sativum, which is it's name in latin is widely but most commonly used in the warmer parts of this world (like say morocco). It´s brilliant medicinal benefits include treating nausea, soothe inflammation, mental stress and headaches but that´s only the beginning of the genius of this plant. Cilantro is often used to safely remove heavy metals and toxins from our body, something quite necessary in the world and environment we live in today. Toxins seep into our system from skin "care" products, non organic foods, the polluted air and even our houses (not to mention there can be a lot of quite toxic thoughts floating around in our brain from time to time). Now, I'm not saying you need to dress in a piece of hemp textile and move to the forest – simply grab a bunch of cilantro and chose to live consciously in an environment that supports all of You. As a bonus, both the seeds and the leaves are tridoshic which means that they support all three of the auyurvedic doshas aka body compositions.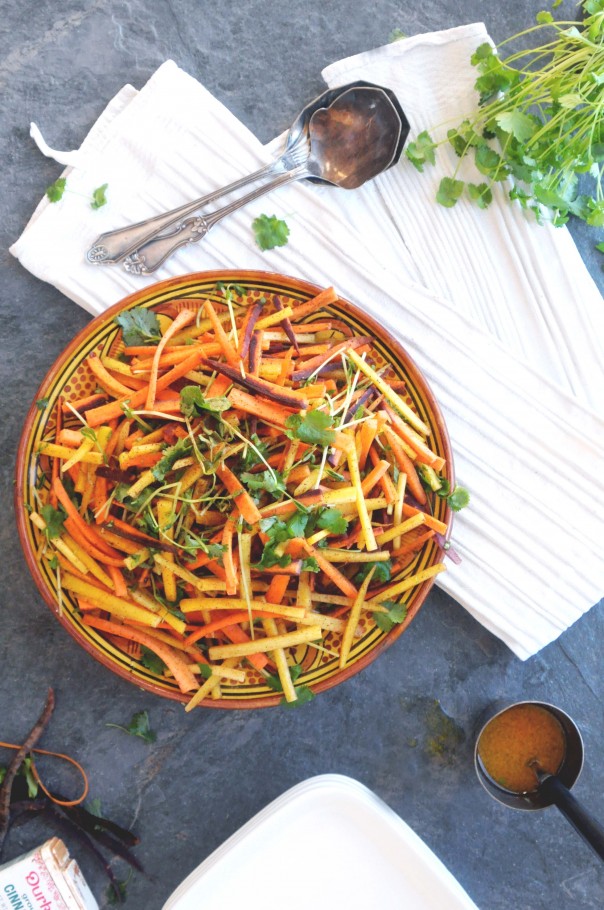 MoRAWccan carrot salad with cinnamon dressing
A salad like this with a ton of really gutsy flavors is perfect to pair with something more mellow like whole grains or some sprouted bread and a bean dip (cooked amaranth with ghee would be perfect for example). Go find some fresh cilantro and make yourself a beyond exciting raw winter salad.
Salad
7-8 large rainbow carrots
a large handful fresh coriander leaves
2 large handfuls pea shoots
2/3 tbsp cinnamon
1. Peel and julienne cut the carrots (here is a pretty smart video showing you how to do this)
2. Rinse the pea shoots thoroughly and cut them in half or more finely if you prefer that.
3. Now add all ingredients to a big mixing bowl so you can get that cinnamon all over the carrot sticks.
4. Arrange the salad onto your bowl/plate of choice and drizzle over some of the dressing and leave some of it for people to add themselves.
Dressing
2 tbsp water
1 tbsp sesame oil
1 tbsp raw honey
a pinch of chili
1 orange, zest and juice
1. Mix all ingredients thoroughly in a high glass until the honey is dissolved. Done!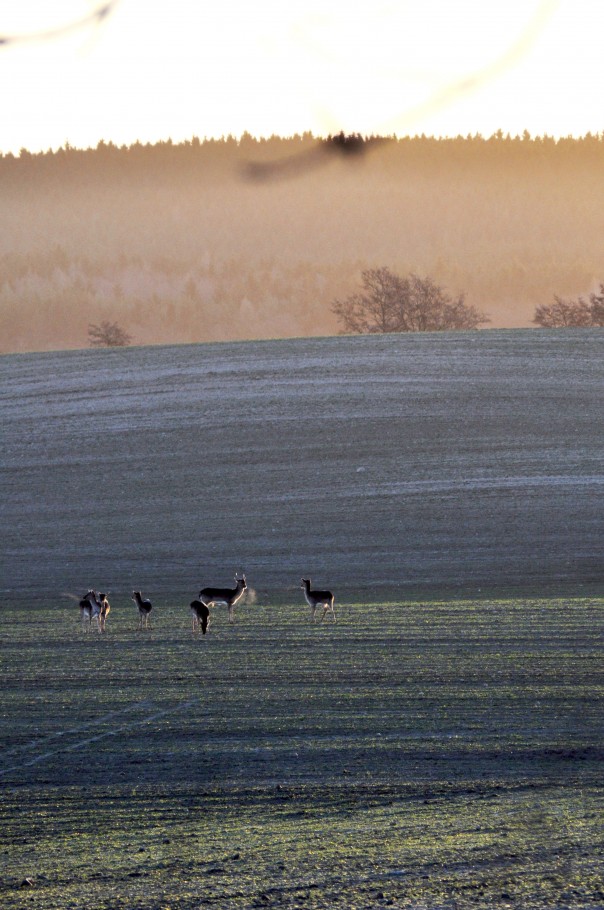 Change, weather it's a home or cilantro is good I have decided and in the grandness of all. I'll always carry with me the mornings in the forest watching the animals and I'll always be supported by what has been given to me here.
You're letting go of at least something, right? Identify it and name three spectacular things in the comments below that this something has lead to in your life.
°°Elenore°°